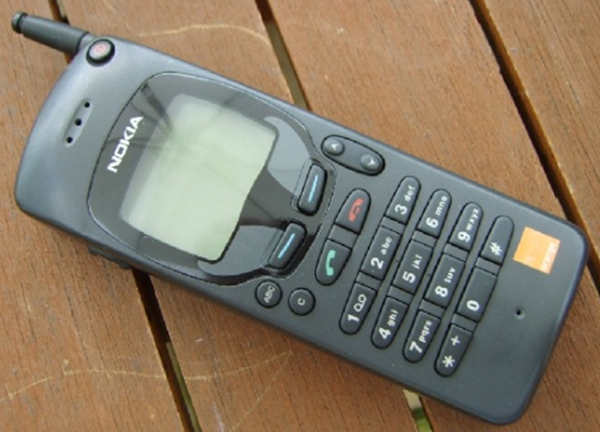 I remember when mobile phones first started being a "thing". I was at college and got this, the Nokia 5.1. It was also known as the Nokia 2110. Strangely the 5.1 name has now re-appeared on the Nokia site, albeit under a completely new design.. and no pull-out antenna. I wrote about it four years ago and said..
It had 3 rows of text my friends. Feel that. 10 characters per row, and it could send text messages.

That thing saw me through two years of solid drinking, in which time I was apparently studying at college. You could hammer nails in with that puppy, and you charged it every now and then – not every half a day.


Back then we used to do something unusual with our Nokia handsets. We made phone calls. Texting was still fairly new and we had a tiny monochrome display plus buttons – actual buttons on the front of the phone with numbers printed on them. Real numbers.
Now though, it seems that people aren't making phone calls on their mobile phones as much as they used to. The latest update from Ofcom reveals that the amount of voice calls placed on a mobile phone fell for the first time ever last year.
Are people making those calls on a home or office phone instead? Well, the figures don't suggest that. Some 78% of all adults now have a smartphone and, during waking hours, people are looking them every 12 minutes on average.
Director of Market Intelligence at Ofcom, Ian Macrae, tells us..
Over the last decade, people's lives have been transformed by the rise of the smartphone, together with better access to the internet and new services. We can do more on the move than ever before. But while people appreciate their smartphone as their constant companion, some are finding themselves feeling overloaded when online, or frustrated when they're not.
Indeed, the stats show that 71% of people never turn off their phones and 78% say they could not live without it. Although 75% say that voice calling is an important feature of a smartphone, a much higher percentage – 92% – say that data and web browsing is key.
The average time spent on a smartphone per day is now 2 hours 28 minutes. Those aged 18 to 24 are spending 3 hours and 14 minutes glued to their phones.
Head here for the full report and more detail.
* – If you missed the Cliff Richard reference, go here. Apologies in advance, you will be singing it all day.