Discord is software primarily used for people to talk while playing games. So you may think well why is this relevant to me? Well Discord is something I use everyday and it is growing to be a social network of sorts to. There is an iOS, macOS, PC and Android applications so its on lots of platforms. It can be used to talk in instant message and voice chat.


When I first started playing PC games I ended up using Skype. Now Skype is good. But its not quite Discord. The reason behind that is Skype calls tend to be unstable and there are dips in quality now and then. So six hours of playing and 12 call resets where annoying and difficult. So thats where Teamspeak came in. Now with Teamspeak you have to pay to host a server and then fiddle around to get all your friends/clan in to the server to play. Plus I also once had Teamspeak flag an anti-cheat software attached to a game so we soon ditched it to head to back to Skype.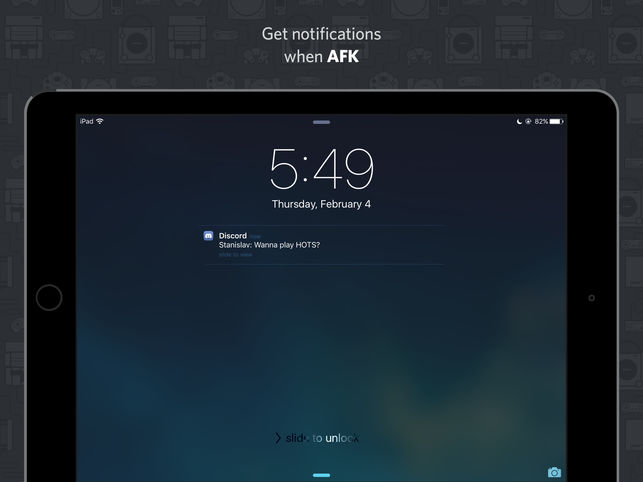 Then came discord. Now at first it was weird. A service which advertised its self as the reason to ditch the others because not only was it free but the program was light weight for the machine so the resources could be privatised for the game. I couldn't believe a free service could be better than Skype which was also free but from Microsoft and Teamspeak which you pay for that reliability.


Discord has core values. Its free. To download, to install, to use. No members only areas or anything like that. Its in encrypted and secure. Server to client communication keeps your IP address safe along with DDoS protection and automatic server failover.
An always connected via mobile app and the ability to tell your friends via a "@" mention you are ready to play. Share content by dragging it into the app. That includes images, videos, links and files. Share Gifs to that only play when your mouse is over them so that they spare CPU resources.
Minimal CPU impact so game performance does not drop unlike on other services such as Skype. Easy setup. Just sign up, download and once installed you can make your own server. No weird configuration. Send a link to your friends to join instantly.
Easy to use user interface with multiple levels of permissions to mange small or big groups. Add your friends and chat to them outside of servers for private messaging. A handy block function to get rid of the trash talkers and annoying people.
An overlay that is quick and easy to use. No more need to Alt + Tab to see who is online and what they're doing. Also the ability to change someones individual audio settings. The overlay also lets you kicks people all without leaving the game.
But most importantly, stellar audio quality using a modern jitter buffer automatic gain control, noise suppression, Echo cancellation, system attenuation on windows and more. And all of that over every platform with no noticeable decrease.
Now for the stats and to show where discord is at as of last year, 2017: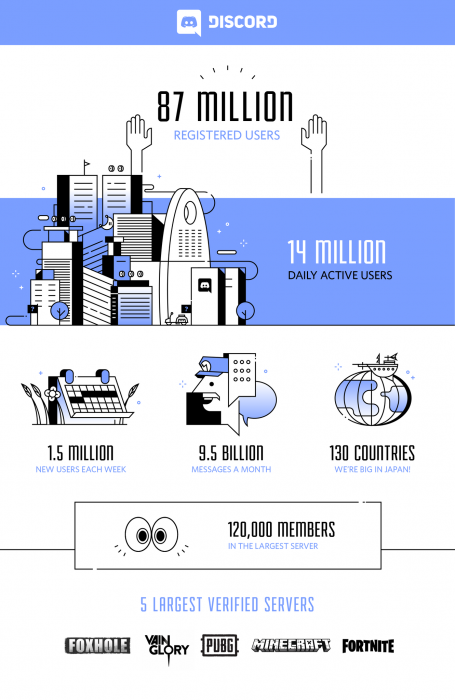 And where they are this year on their 3rd birthday: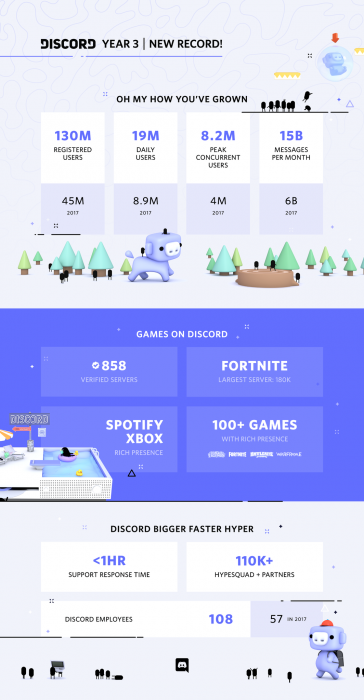 When you first get onto discord it can be a bit intimidating and it doesn't look as busy as this screenshot from Discord's press kit. But as you may be able to see, servers you are in are down the left hand side and the rooms in those servers right in the list next to it. Text rooms are at the top and voice chat rooms are further down. The the room your in is on the right and has a feed of chat messages and so on. Its a simple to use layout and easy to get to grips with.
Discord is becoming so popular that companies like Spotify are adding integration to identify music and Microsoft are working on adding Discord to the Xbox Store as an app people can use along side their own party system to enhance their cross platform play and play anywhere titles.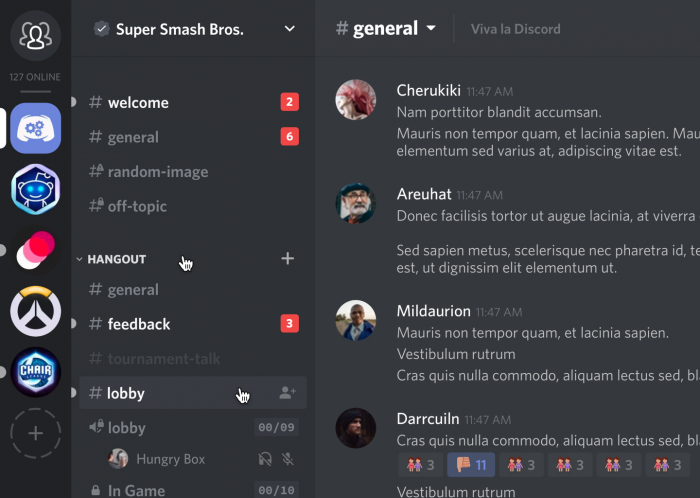 The beauty of discord is you can chat do text or voice or both at the same time and its the same layout and service across all devices. However you can only be active in one server at a time you can be in many and jump in and out at your will. adding customised rooms and logos to the server only enhances the experience.
As you may think there is a subscription service for a little extra and it does give you a bit more customisation to the platform. Called Nitro it lets you choose your own discord tag which is a "#" followed by a number, an animated avatar in the form of gif, it ups your screen sharing capabilities to 60fps, use custom emojis everywhere instead of just your own servers, the ability to make your own custom animated emojis, they file size sharing limit is increased from 8mb to 50mb and then you get a nice little profile badge showing how long you have supported discord. While Nitro is unessacry it is also a nice set of features to have if you want that little extra to make your account shiny and it also supports the service which is a bonus.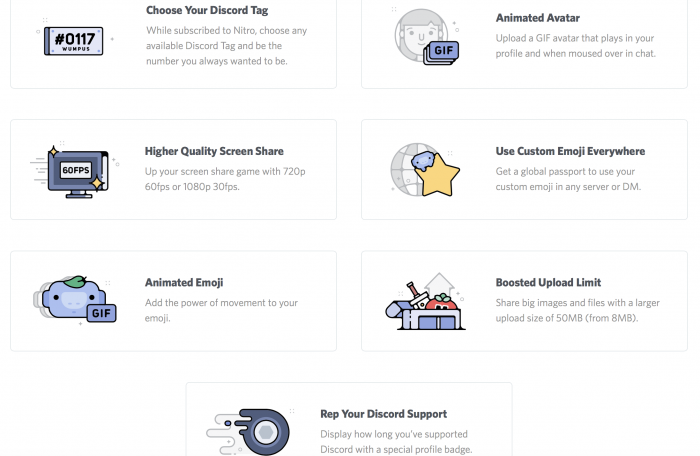 A server can also get a verified stamp on the top of their page. Verified is similar to twitter in terms of the owner of there sever/account is that person or company. There are only a select number of servers that currently have it. Usually these are public and let anyone join. Overtime they also gain things like a moderator team to keep everyone in check.


But Discord being a big communication platform for gaming does mean it can't be for just friends or, hint hint wink wink lets get on this, the CoolSmartPhone team and business. Instant messaging and prompting when not online can be a quick way to get someones attention. The audio quality could be used for lets say… recording a podcast off. And productivity can be improved in general.