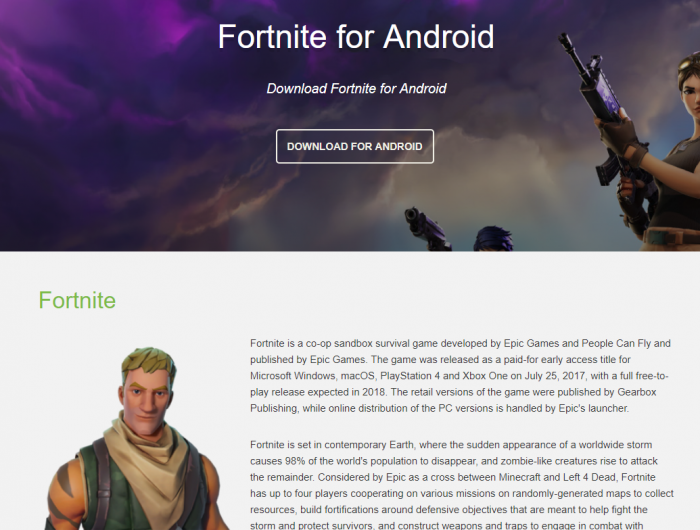 A number of weeks ago we tweeted about the Android version of Fortnite. The game, for the uninitiated, is proving a massive hit with gamers and the console version has seen some huge numbers. Not only that, but the "free" game is also earning a very decent amount of cash for the developers. You can buy a Battle Pass, skins, pickaxes and daft little dances for your character to perform. All of these in-game purchases mean that the game is more than paying for itself.
Fans will also take part in "weekly challenges" and some have even been known to find bears, craters and refrigerators.
The "Battle Royale" sees 100 players landing on an island and staying alive for as long as possible. It's become extremely famous now, with an astonishing 125 million players around the world. You can join in now, and play on the Playstation, Xbox, Nintendo Switch, PC / Mac plus certain iOS devices … but not Android.
There are sites, though, that have an "Android Fortnite" app ready to download. Those sites will look and feel like the read Fortnite site and will trick you into downloading a scam app which will trigger your Android antivirus if you have one installed. These apps are tricking more and more people now, even though it's not in the official Google Play store. Ince the APK is side-loaded, it'll usually ask you to download a whole stack of other apps to "unlock" the game.
It's malware, it's dangerous, and it's taking advantage of the big antipation for the Android version of Fortnite. Be careful if you're searching Google for "Install Fortnite on Android" because you could end up installing malware.


Our advice is to wait, be patient. Check out the other apps that are available from Google Play in the meantime. There's the very similar PUBG Mobile app, or JYDGE – a top-down twin-stick shooter that is an absolute blast to play. There's also Modern Combat 5, another fantastic shoot-em-up, the popular Genting Casino App, Asphalt 8 (a great driving game), Clash Royale or Sky Force Reloaded.
Stick, though, to the Google Play store. Sadly Google can't do a great deal about the fake APK's that are floating around the internet. These links are appearing on sites and on YouTube videos which also apparently show the game running on Android phones. Some YouTube videos are being monetised by the links that are inserted into the descriptions or by the amount of hits they're getting because they're apparently playing an "early Android beta" or something similar. It's all fake. It's effectively social engineering – you're seeing people playing the game that you can't play, and you'll click on anything in order to get the app.
Be careful, be wary, and ask yourself whether Epic Games would actually roll out the app in this way or whether they'd do it through the official channels. I can tell you, it's definitely going to be the latter.