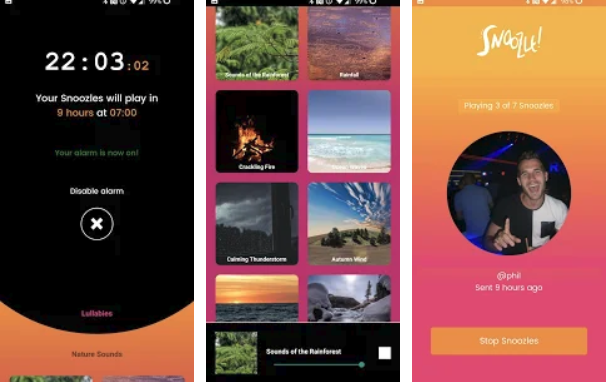 I set my alarm clock last night and this morning I was greeted by some white noise thanks to the terrible FM reception of my bedside alarm clock. A lot of people tend to use their phone instead, and they'll get a tune waking them up.
If, however, you want something a bit different, you can try Snoozle. It's billed as a "social alarm clock" and it lets you swap your alarm tone for voice notes from your friends. You still get to control the time your alarm goes off, but it's your mates who control what you hear when you wake up. Once you've installed the app, you can record a message and send it off to your friends. It creates personalised "wake-ups" – love notes, reminders from your work mates, funny messages, whatever.
So, imagine you're asleep and you've set your alarm to wake up. Then, boom! You hear your mate's voice shouting some banter about not being lazy.

The sleep-happy app allows friends, family and influencers to send 12-second, self-deleting voice messages to their contacts – replacing yawn-inducing and ear-splitting mobile phone alarm tones with personalised, entertaining audio newsfeeds.
The app became a reality after a crowdfunding campaign in 2017 achieved a £100,000 target in less than ten hours. There's also talk of Snoozle becoming available via smart speakers, such as Amazon Echo, and smart watches.
Try it out now at SnoozleApp.com