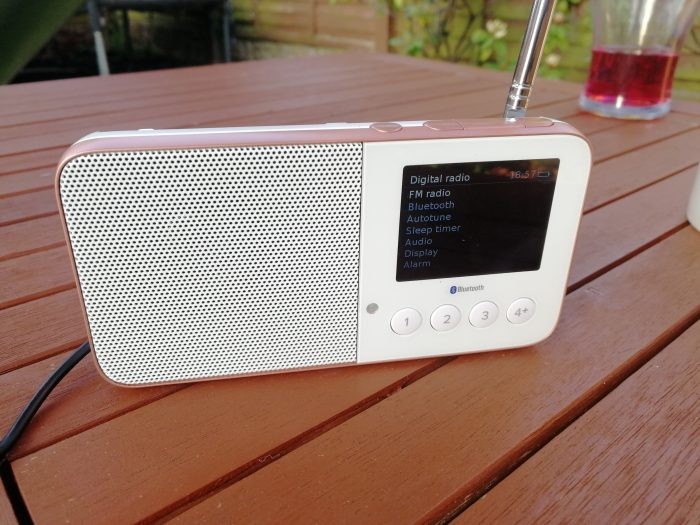 Morning people. I've just aged. I took this one out of the box and asked my son to guess what it is. We've not really got a radio in the house. There's an alarm clock but I use an old Android phone with a Bluetooth speaker in the kitchen as our "kitchen radio" and, with the help of iPlayer radio, Spotify and a radio streaming app, we've never really needed a "normal" radio.
"Is it a Bluetooth speaker, with a screen?", he said.
Well close. Yes, yes it is. It'll connect easily to your phone and it'll be your Bluetooth speaker. It's a great quality sound too, being more powerful and better quality than a lot of the "kitchen radio" kit you'll see on sale. My son isn't familiar with the old school "radio" and hasn't seen one in a kitchen lately.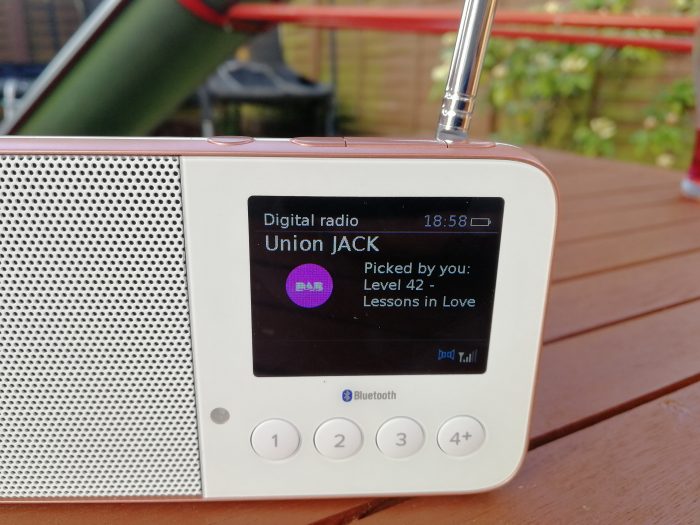 So are these things needed any more?
Well, putting the Bluetooth speaker element into the mix is definitely interesting and means you get more tech in one box.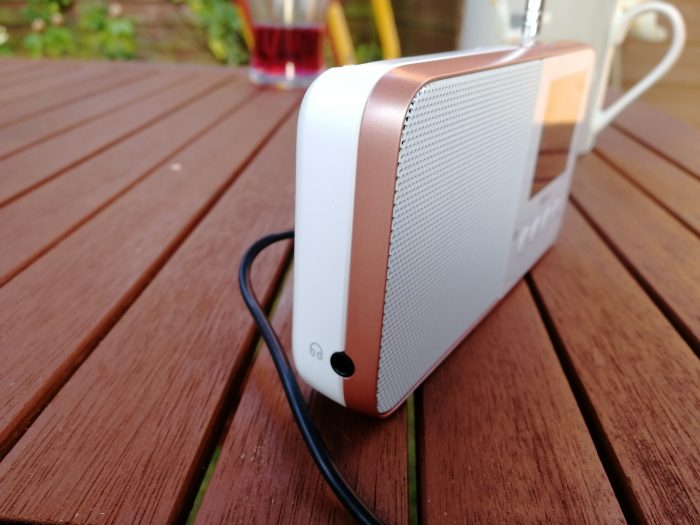 Here in the UK everything feels like it's going "full-on DAB", but many, many cars still have FM receivers and there's a lot of radios out there which sit in houses up and down the country receiving AM and FM only. Our big "switch over" to DAB may be dragging a little, but it is happening and, if you have a DAB radio like this, you can get a huge selection of stations which are a world away from the frankly terrible and narrow FM choices. Here in Staffordshire we used to have quite a choice on FM, but now a lot of the old local commercial stations have merged and the remaining three or four choices sound very similar.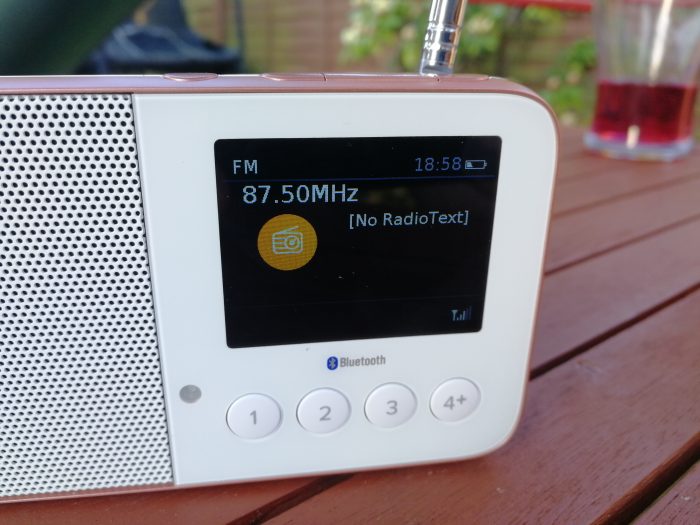 On DAB there's a much larger mix, and a lot more categories too. Not only that, but the audio quality is clearer and there's less variability in the signal. It's either there or it's not, there's no in-between.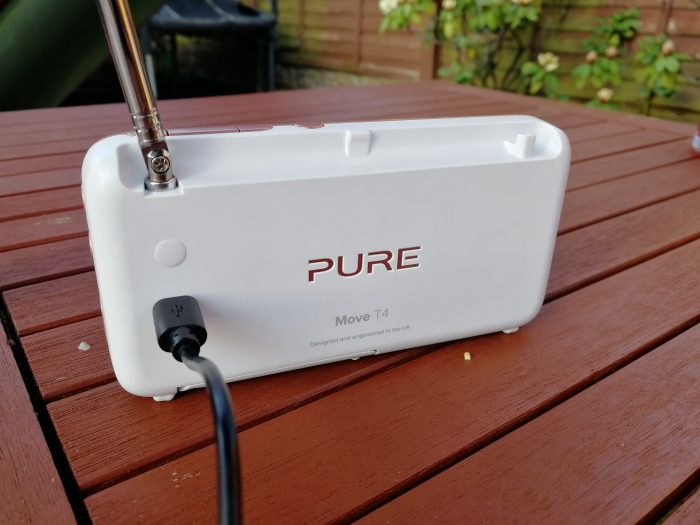 The radio itself is a great size but, once you put that extendable aerial up, it can lose balance easily – especially in the wind. I didn't find this a problem in the kitchen, but on a table during a quick trip to Cyprus it needed some help. This is where the rear "leg", which flips out, helps a great deal. Oh, and while I'm here – small point – there's absolutely no DAB in Cyprus. Not that I could find anyway. Luckily you can switch modes to FM easily and it'll let you know what's being broadcast via the display.
Perhaps the best way for me to show you around this device is via a video…
The display itself isn't overly bright in direct sunlight and, like your phone screen, it'll quickly go off (unless you change the settings) the conserve battery life. However, it is very detailed and has a lovely colour to it. The light sensor up front increased or decreased brightness depending on the surroundings. There's also a simply and easy-to-understand interface. I certainly didn't need the manual.
This is the first time I've used a DAB radio of this size, and despite that screen going off fairly quickly, I was still a bit worried that the battery would be going flat fast. Not so though. Instead it kept going for around 20+ hours, even when cranked up quite loud. It was easy to recharge too – just grab any microUSB cable and whack it in the back. You can also use the cable to upgrade the firmware of the device when it becomes available.

That sound, which I've touched on before, really is good. There's a few preset equaliser settings and you can also add your own personal setting. This latter option means that you can crank up the bass and treble then save your settings. However, I'd recommend using the default ones as they're louder (for some odd reason) and generally sound better. The out-of-the-box "tabletop" setting worked very well and the audio quality generally was top notch. It's got a 4W RMS speaker inside with digital amplification.
The top of the unit has the navigation keys so that you can get around the menu system. There's a clock, sleep timer and alarms too, so you can use it as a bedside alarm clock or a smoothing night-time speaker.
Although there's only 4 preset buttons on the front, you can actually set 20 DAB / FM presets. The volume control sits on the right, as does the power button and a "lock" so that you can prevent accidental key presses.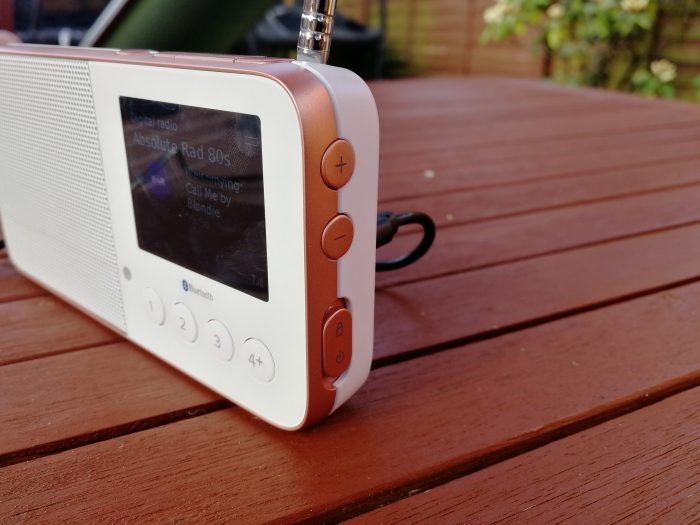 As I mentioned before, this is really portable. The PR guys don't know yet, but I've taken this across Europe in the last few days and it's so easy to slip into a bag or coat. Weighing in at 190g and measuring 65 mm (H) x 130 mm (W) x 20 mm (D) this is slim and lightweight. Although the aerial pops up and extends out to help achieve a better reception, you can also plug your heaphones in and they will be used as an aerial instead. Nice touch.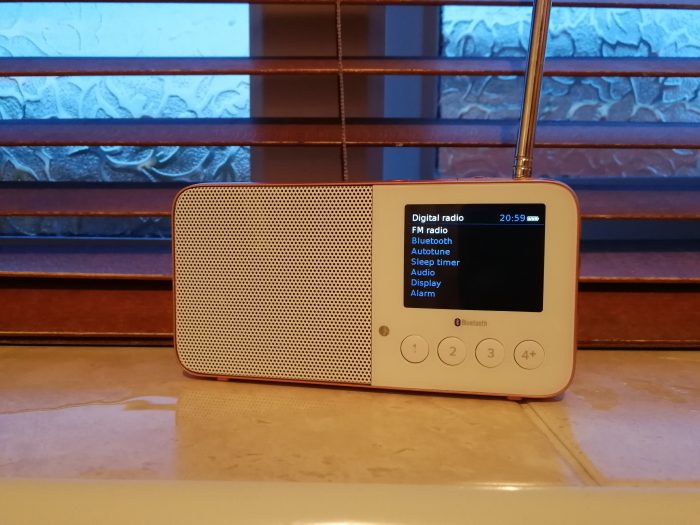 Right now this is selling for £89.99 from the Pure website but it's also available via Amazon, John Lewis and elsewhere. The sound quality, depth and it's ability to "fill a room" is without question. This is a fantastic and very polished bit of kit. It's well designed and engineered right here in the UK and, even though I'm a bit biased, I have to admit that Pure have done a fantastic job with this one. It's a brilliant Bluetooth speaker, a perfect FM radio and a stunning DAB radio all in one. This really is the one to get. Go buy one right now.
Pure Move T4 DAB/FM Radio and Bluetooth Speaker Review
Sound quality - 100%
Build quality - 100%
Interface / usability - 100%
Portability / design - 100%
Just. Just.. just go and buy one. Brilliant.