Yesterday Amazon bid and won the rights to show 20 Premier League matches a season for three years from 2019. Another 20 games were purchased by BT Sport for £90m, whilst Sky Sports shows 128 of them.
I'll start at the top of this story by stating that all three of the companies mentioned here want you to buy into their other services in order to keep costs down. If you're a Sky Broadband customer, you can get Sky TV bundled in cheaper. Likewise, if you're a BT Broadband customer, you'll get the BT Sport channels cheaper and – if you decide to go with Amazon – you get free delivery and other fringe benefits.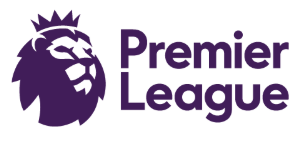 However, with Ofcom having a rather strange idea what "competition" means, the new Premier League TV "broadcast packages" have done nothing but make things more expensive for ardent football fans. Why? Well, this isn't "competition" according to my interpretation. All three companies aren't showing the same games. You can't shop around for the best deal. Each company is showing a certain selection of matches, so if you want to watch all the Premier League matches next year, you'll need to subscribe to Amazon Prime, Sky Sports and BT Sport.
Let's see how expensive that'll be shall we?
I'll state again, if you have broadband or another "bolt on" then you may be able to get a slightly cheaper price. These companies don't just want you to take one service from them. They want you to take a chunky package with other services.
Sky Sports
Right now they have an offer on. It's normally £48 per month for the Entertainment and Sky Sports package. The "Entertainment" package includes channels like Sky One etc. I've had a look around to see how much it would cost for just Sky Sports and found that NOW TV do a Sky Sports Month Pass for £33.99 a month. You can go with Sky direct and apparently pay a bit less – £28 for all the channels – although I couldn't find a way to add it without the Entertainment Pack going on too..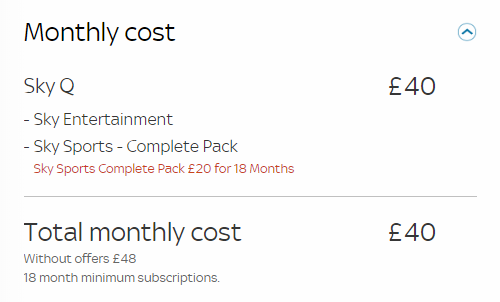 BT Sport
Again, you can get deals with BT (just as you can with Sky) if you have your mobile or broadband with them, but here's the prices if you don't..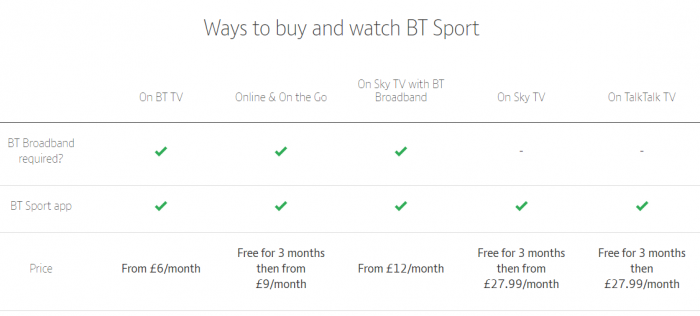 Amazon
It looks like you can just have the Prime Video for £5.99 and get the football, but otherwise the best deal is £79 per year.


So, as an extreme example, if you go for the Sky Sports "Complete" pack to get the HD and all the coverage via a Sky Q box, you're looking at £40 per month. You can perhaps knock that down to £33.99 with NOW TV if you want. For BT Sport, you can get that via that same Sky box for £27.99 extra. Then, if you want the remaining football fixtures, you'll have another £6.58 per month to pay. The total monthly then? £74.57 for all the Premier League matches, and that's without any other associated costs like line rental or whatever.
I don't know about you, but that's a whole truck-load of cash.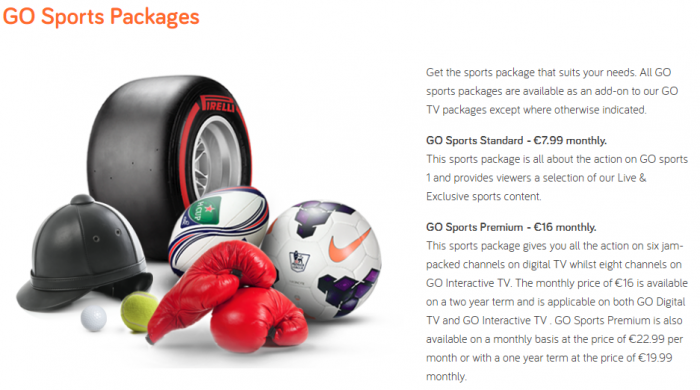 I find all this quite interesting because I've just come back from Malta and, after speaking to the locals, residents can actually get their GO Sports Premium package for just €16 monthly on a two-year deal. GO is the exclusive rights holder for Premier League broadcast rights in the Maltese territory. It's important to note that Malta is the only other European Economic Area (EEA) country (outside the UK and Ireland) to be granted English language rights.
So, in Malta they're getting English language Premier League coverage for just €16 per month (which is a £14.07 at the moment) while, in the UK, we can be paying up to £74.57 (€84.86) per month.
That's not what I'd call fair. Perhaps I should move to Malta eh?
Is it any wonder that people are searching Twitter for illegal streams?