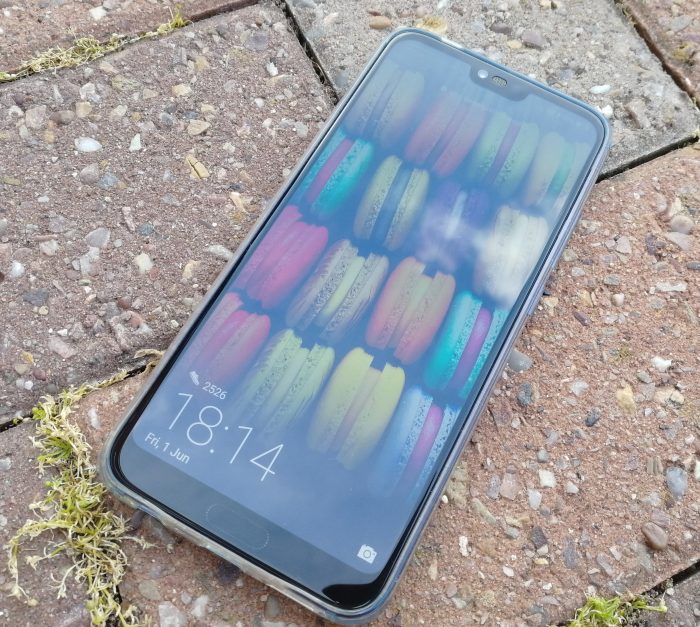 This is a confusing one, but it's confusing in a good way. The price of this, and possibly the brand, should scream "mid-range" at you. It really should. We're kinda hard-wired to see phones costing less than £400 as perhaps sub-standard. Perhaps it's because those really high-end, top-of-the-range devices from the likes of Samsung, Sony and Huawei are scorched into our conciousness by massive marketing flame-throwers. Perhaps, even, they are better phones.
But wait, I mentioned Huawei there. That's a company I've seen in the flesh. I've been to see their colossal factories, educational facilities, research centres and offices in China. They're simply massive, and they're the people behind the Honor brand.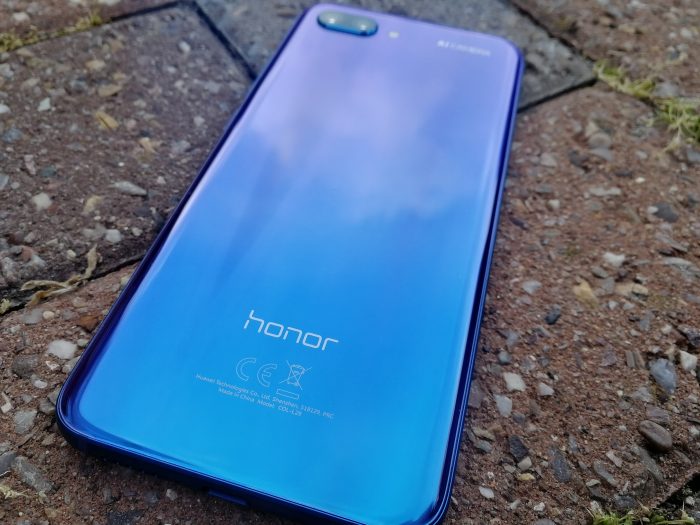 This phone, the Honor 10, can draw some questions and comments on the street. Those I've shown it to will instantly tell you how beautiful it is. The rear panel seems to shine in a variety of colours, and I've tried my hardest to show that in these photos. There's blue, but then a purple, perhaps a red, some orange, it's a reflective rainbow of dazzling colours.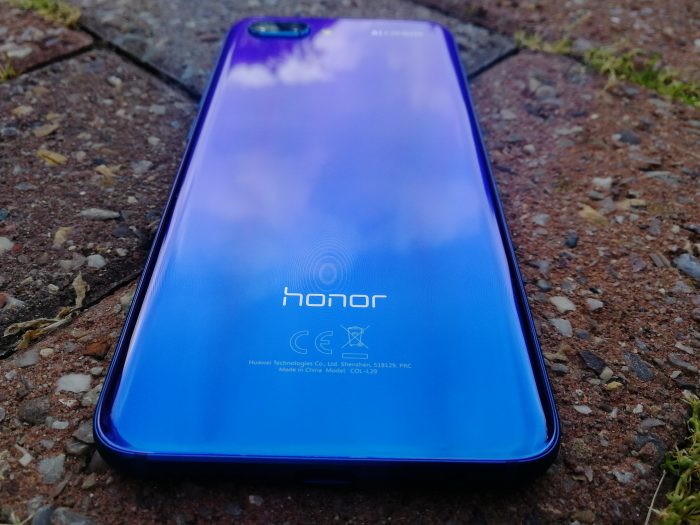 The next comment is usually how much the screen "looks like that notch thing on the iPhone X". Well yes, yes it does. In all fairness though, Honor aren't the only company copying the notch idea, many other smartphone manufacturers are doing the same. It does actually make sense, but if you don't like it there's the option to "hide" that notch by colouring the top bar in black so it blends together.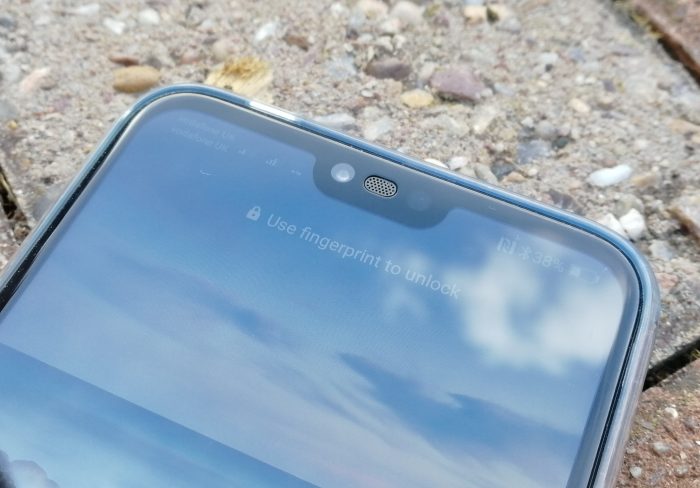 The various bits of information at the top (SIM details, signal, NFC, battery, headphones etc) sit neatly around this notch. This was even the case when I travelled and connected to a foreign network with a crazy-long name – it scrolled across so that it didn't bump into the notch.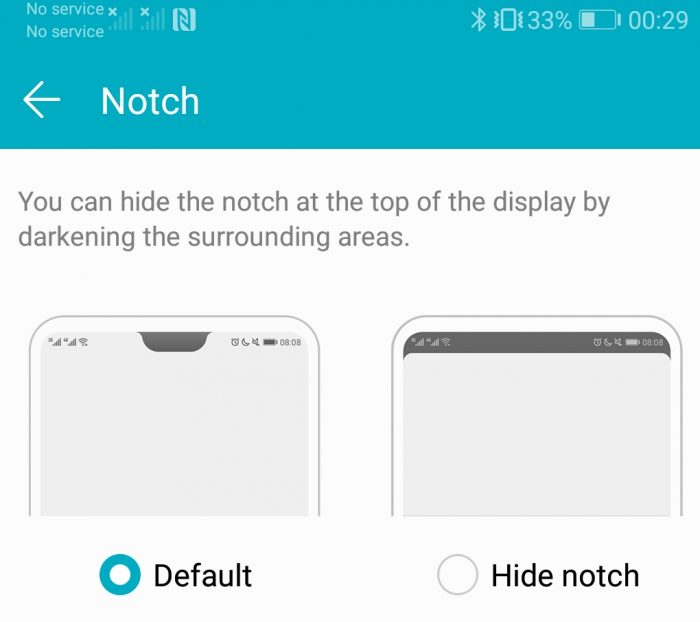 The final comment though, and there's no getting away from it, is "Who's Honor?" and possibly, "Why don't they spell it 'Honour' like it should be?". It reminds me when I used to carry a HTC device around many years ago and nobody had ever heard of them.
I'm actually writing this part of the review on the plane and, no word of a lie, I've just been asked what this phone is by the guy opposite. The gentleman has a battered iPhone and he's just confessed that he really doesn't want to pay the big asking price for a new Apple handset. He's never heard of Honor and looked confused when I showed the logo on the back. He's never heard of Huawei either (despite the P20 adverts that are on TV), but he's instantly impressed with the look of the Honor 10 and, after I gave it to him to play with, he's amazed that the thing costs less than £400. Oh, and I've not even told him the specs.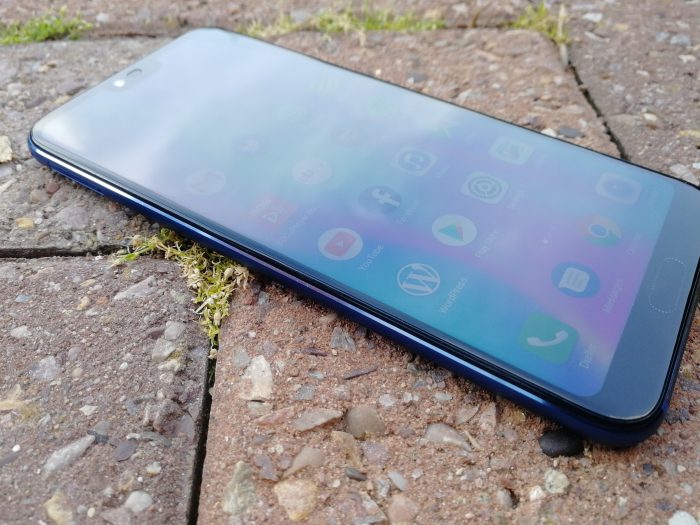 Specs
Dimensions – 149.6 x 71.2 x 7.7 mm
Weight – 153 g
SIM – Dual SIM
Screen – 5.84″ / 1080 x 2280 pixel / 19:9 ratio (~432 ppi density)
OS – Android 8.1 / EMUI 8.1
CPU – Hisilicon Kirin 970 – Octa-core (4×2.4 GHz Cortex-A73 & 4×1.8 GHz Cortex-A53)
GPU – Mali-G72 MP12
Review model – 128 GB RAM, 4GB RAM
Cameras – Rear dual: 16 MP (f/1.8) + 24 MP B/W (f/1.8) with phase detection autofocus, LED flash
– Front : 24 MP, f/2.0, 1080p
Other specs…
3.5mm jack
Active noise cancellation
IR blaster
Dual-band WiFi
Bluetooth 4.2 with A2DP and aptX HD (this is very bloody good, let me tell you)



GPS, A-GPS, GLONASS, BDS
NFC
3400 mAh battery
So where am I going with this rambling introduction exactly? Well, I've had the Honor 9 for quite some time now and I'm mightily impressed with the thing. It's astonishing value for money and, going on that alone, the Honor 10 is amazingly good. The screen takes a huge amount of the front panel and is just gorgeous to look at and use. The paintwork, the fit and the finish are all top quality and, although Honor will tell you all about the many layers of super-brilliant reflective transmorphic ionic polybright swishyshiny colouring (I made all that up). I'll simply tell you that you won't tire of looking at the trance-inducing shape-shifting colour-changing reflective rear plate.
That lovely rear-end does give you an instant nervous twitch though, as a slight scratch would definitely ruin the beautiful illusion. I was glad to find a very nice see-through cover in the box. Definitely put this on, because you can still appreciate the colouring of the phone whilst keeping it in tip-top condition.
I'll get this out of the way right now, the fingerprint sensor isn't as good on this Honor 10 as it is on the Honor 9. I've used the 10 as my default handset for two weeks now and, try as I might, it's not as successful at recognising my fingerprint. The positioning is slightly awkward too, because it's really far down on that front display, and you'll find your thumb trying to hit the sensor whilst at the same time not going too close to the bottom edge so that your drop the entire thing.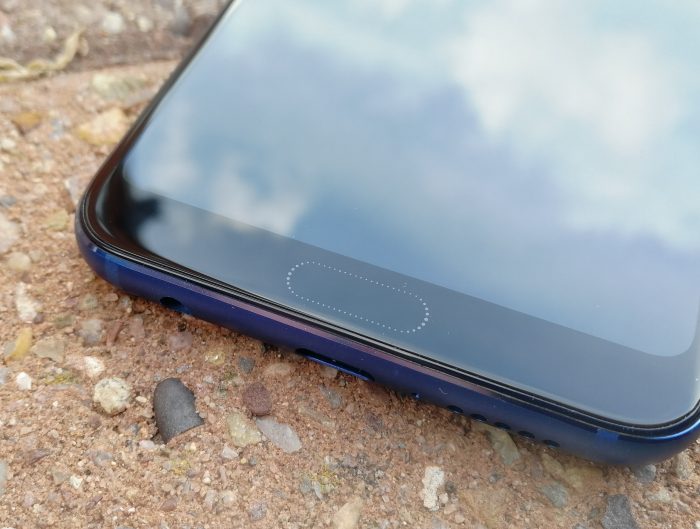 I ended up using my back-up passcode a lot more. I thought that initially this was because I just wasn't used to the sensor size (it is quite thin) and position, but it just purely isn't as reliable as the Honor 9. The lip of that cover can also cause a minor amount of grief too. I tried Face Unlock but ended up going back to the standard PIN-entry for security.
The big difference for me was the lack of a microSD card. There I was, like a lot of people upgrading, taking out my old SIM card and my old microSD. The latter stuffed with photos, videos and all that important / not important "stuff" that I simply had to carry across to my new shiny Honor 10. Here you're going to have to ditch the microSD as there's simply no slot for it on the 10. Instead you get 128GB of internal storage, so you'll need to copy your microSD card stuff into Google Drive, Google Photos or some other type of cloud storage location, then back down to your Honor 10 if you want to keep those files locally on your phone.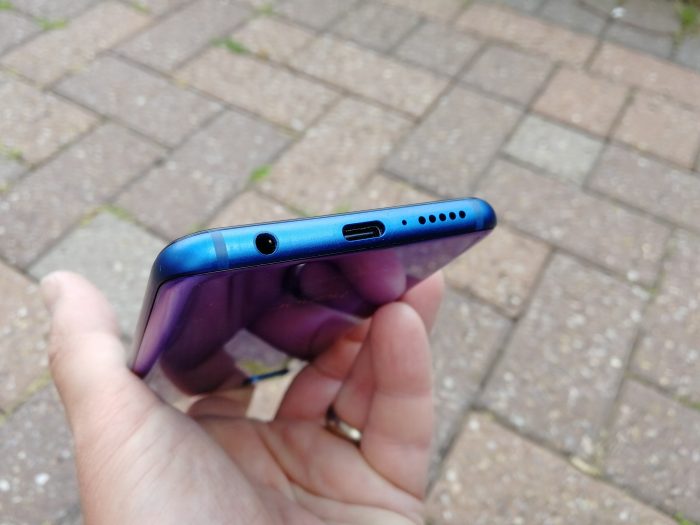 You can also use the data transfer system when you first set this phone up. It's a gear change. Not a big gear change though, and let's admit that 128GB of on-board storage is better than buying another phone with 32GB and then having to buy a microSD card to boost the storage because you'd invariably run out. Oh, and before people start drawing parallels with the iPhone, yes, yes, Apple have done this for years, but you're getting that on-board storage for a lot less money than Apple would charge.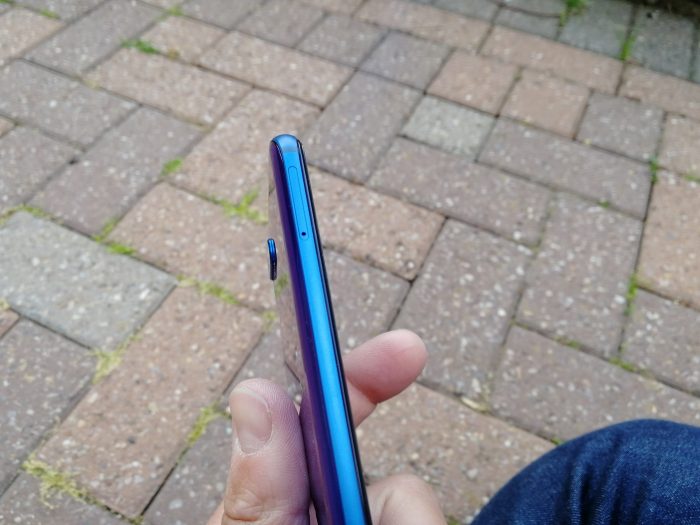 So on the left you have the tray but, instead of a microSD card and a SIM card, there's space for two SIM cards. Thus, you can bin your work phone. I stuck my normal SIM and my work SIM in here and, although I do try and keep my two "lives" separate, it was good to only be carrying one phone around. Also, I have to applaud the dual SIM settings on this thing. It's easy to understand, easy to use and you can simply turn off that "Work SIM" when you don't want to be disturbed. I also loved the Dual SIM 4G feature and the fact that you could flop data over to the other SIM while you're on a call.
To show off the speed of the CPU, there's a lot of graphic-heavy games installed, so you get Asphalt Nitro, Spider Man, Assassins Creed and more..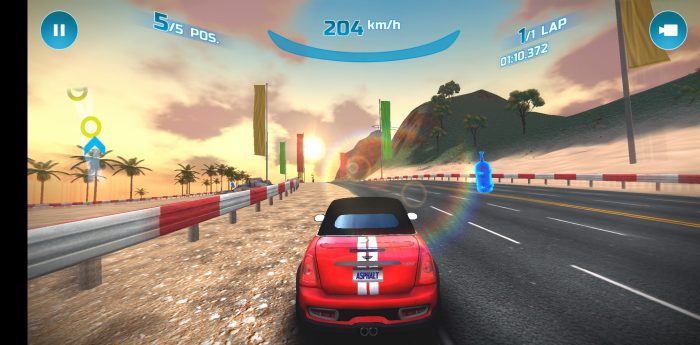 While I'm "in" the settings I also have to mentioned the eye comfort mode, the home screen style switcher (either with or without an app drawer), the Smart resolution setting which can be activated to save power, the Full screen display system (for stretching out apps which aren't running in the 19:9 screen setup) and the storage status screen, which shows you exactly where your space is being used up.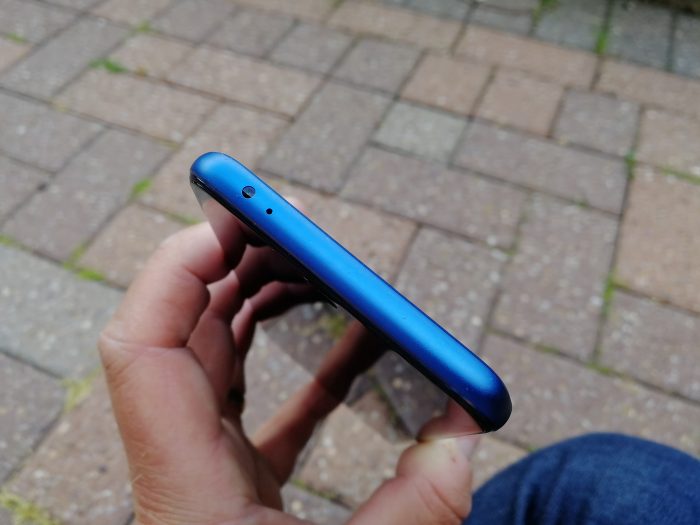 On the top is an IR blaster and an additional microphone for noise cancellation. On the right side, your audio controls and a power button to wake – although you can use that fingerprint sensor to wake the device too.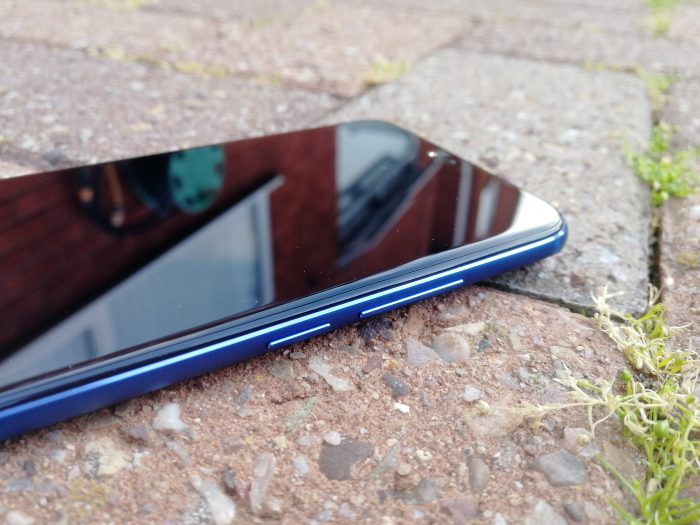 Out of the box I wanted to alter the way that the Honor 10 is operated. On the Honor 9 I've got used to the fingerprint sensor being a trackpad of sorts – you can use it that way and it becomes very familiar. Here it wasn't set as default and I had to dig around in the Settings (it's under System->System Navigation if you need it) to switch it on. Whilst I was looking through I also spotted the voice control settings, the smart cover settings, scheduled power on / off, the many notification and status bar options (don't forget, if you're ever envious that your mate has his iPhone light up when a notification is received, you can do that here) and much more. The plethora of options, toggle-switches and tweaks that you can do in Android 8.1 and within this phone is nothing short of stunning. Your really can setup the phone exactly as you'd like.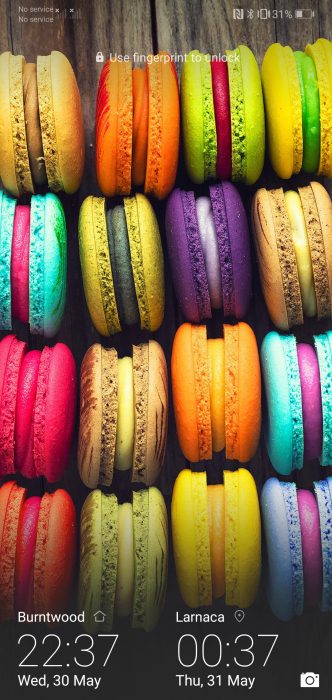 By the way, a totally unnecessary comment here, but I do enjoy how the lock screen changes the image every now and then. I know other phones do this, but it's cool.
Apps include a memory and storage cleaner to keep your phone running smoothly. You get 128GB to play with and, even after I'd shoved all my apps and music on there, there was still over 100GB available for photos and videos. The entire Google Android suite of apps is on board, plus Huawei / Honor have put their own apps in – Health, Files and an AppGallery so that you can get more apps direct. Either that or use Google Play.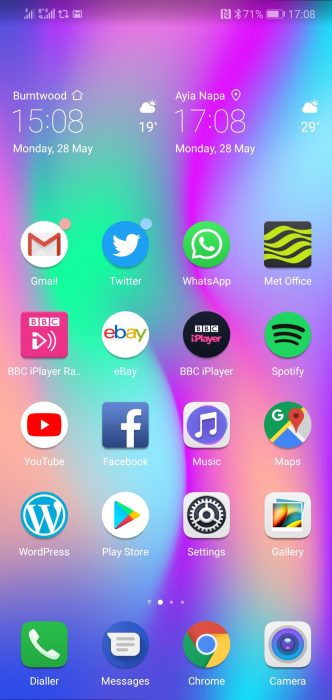 The 4GB of RAM and the HiSilicon Kirin 970 CPU means that the phone positively flies. You'll see from these screenshots that I've rammed my usual apps onto the phone and it worked perfectly. That screen, which runs at 2280×1080 out of the box, is really good, and as usual with the wider orientation on phones now, you can stretch out video so that it uses all of your screen. It's quite satisfying doing that.
With a lot of apps you'll need to click an on-screen prompt to fill the entire screen, but you only do this once. With videos, you can pull the screen "apart" to get the entire screen filled….
I changed the on-board keyboard (I installed Gboard which suits me better) and switched the navigation out of the box, but other than that the phone didn't really require a whole lot of changes to suit my needs..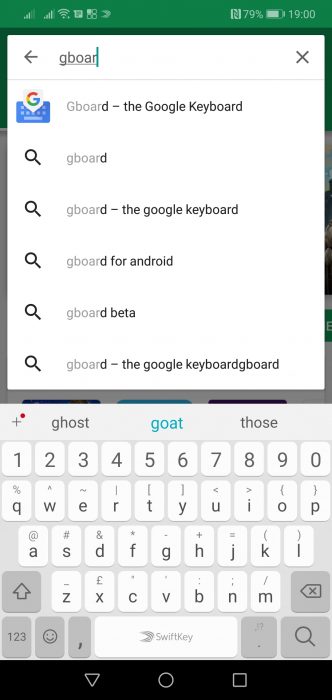 Believe me though. You'll see people calling this "mid range" purely because of the price point. It should actually be called "mid price-point" to be honest, because there's nothing mid-range about this phone. You're getting high-end specs, a fantastic screen and a great camera for a lot less money.
Ah yes, the camera.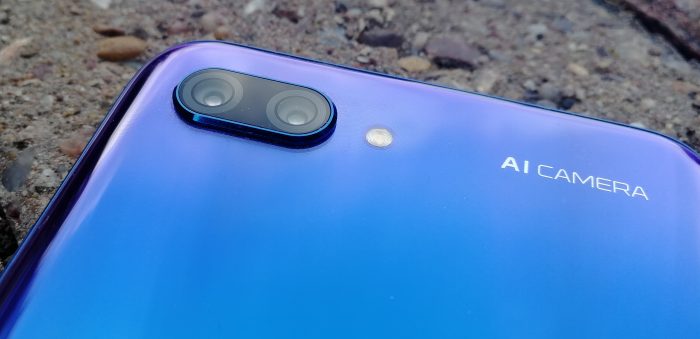 Camera
The whole AI thing, if I'm honest, feels like an attempt to get the Leica quality without the Leica tech. It is good, don't get me wrong, and I've taken some gorgeous photos with it. The AI cleverness will detect if you're snapping a document, a flower, some scenery or a person and so on. If, let's say, you're taking a photo of your wife or girlfriend, it'll blur the background in a bokeh-style effect so that you get a very beautiful shot. However, if you wave the phone around a little or you move it from your wife / girlfriend to a tree behind, that blurry-background will quickly switch off and I did get some odd glitching every now and then. You do have to give it a brief second to decide what mode it wants to switch to if you're moving the viewfinder around a bit.
I took a few more comparison shots with the AI turned on and off, just so you can see the difference..
Taking shots in "AI" mode is preferred though, because you get to review the photo after and, if you wish, disable to AI effect. In some shots – for example a shot of my family sitting around a circular table – it decided to blur the people in the foreground and focus on the people in the background. Whilst this looked nice in a photographic sense, it meant that I couldn't see their faces, so there's the option there to turn it off. You can see in the gallery which shots have the AI mode and which don't …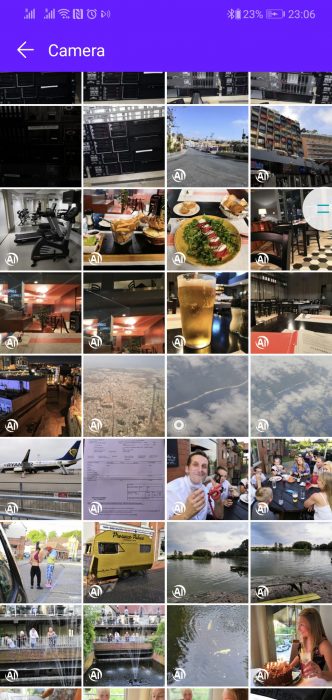 Other options include a Moving Picture setting and a shopping / QR code option. This means that you can point the phone at an object you're thinking of buying or a QR code and it'll go off and get information about it. Quite clever that.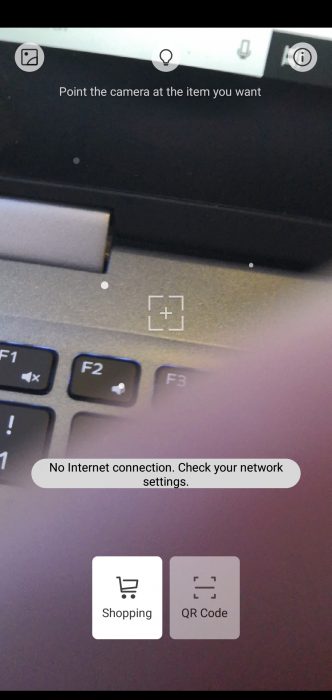 As default it'll snap shots in 16 megapixel 4:3 "square" at 4608×3456 but you can switch this down to 10 megapixels to get the 18:9 format or switch it up to 24 megapixels for the full-fat 5632×4224 resolution.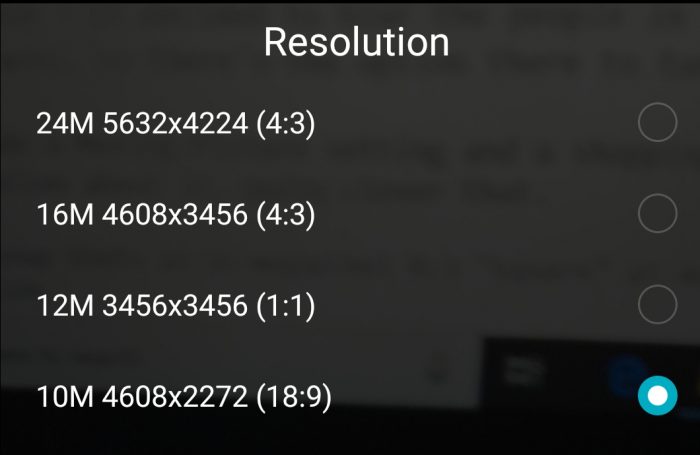 You get a timer, an assistive grid if you need it, audio control, a smile capture, object tracking and you can put GPS tagging or add watermarks. I liked little additions like the fact that you can mirror your reflection when you're using the front camera. This means that selfie shots aren't all back-to-front. No more photos where all the letters on your T-shirt are the wrong way round.
Alongside video and photo you've got a portait mode with 3D, a beautification mode and bokeh effects. There's also a wide aperture mode where you can fit more people in up-close. There's then a big range of other shooting modes, including a slow-mo, panorama, monochrome, 3D panorama, filter, time-lapse, HDR, artist mobde and a document scanner. In addition there's an insane AR lens option which was like stepping into a world of insanity. You can put different backgrounds, add faces, ears and all sorts of additional stuff onto your face.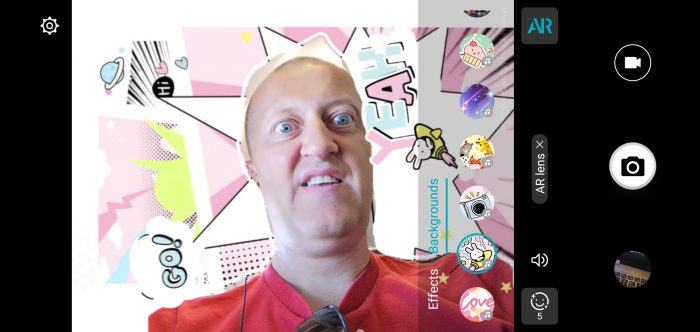 Another cool little thing was the "3D Creator" where you sweep the phone around whilst taking a photo of your face. This creates a model "head" and again, it's all a bit bizarre but fun.
Here though, is a rather massive gallery showing what the camera can do. First, with AI mode on we point it at some food. The phone cleverly recognises, even in low light, that it's food, and shows me a little image to let me know. Then the camera does some magic to make it look all lovely. Bear in mind that all these shots were taken in restaurants with very low light. I'm going to leave the image tags in because I think it's quite cool. "Nfd", in my head, "stands for Nice Food" 🙂
Next, some generic shots…
Here's some random photos…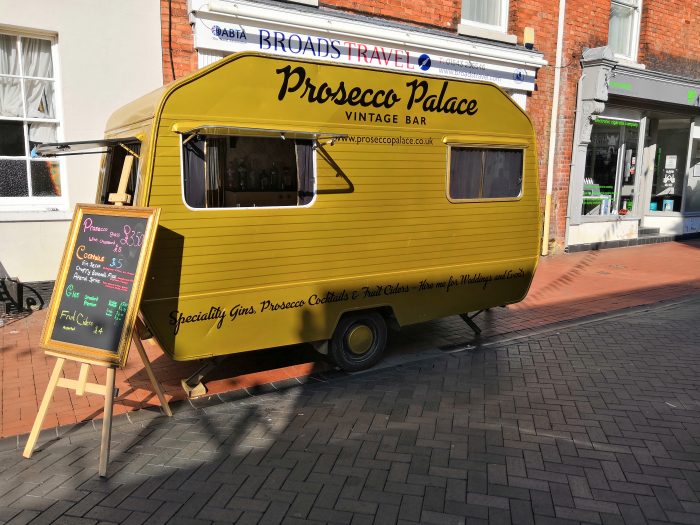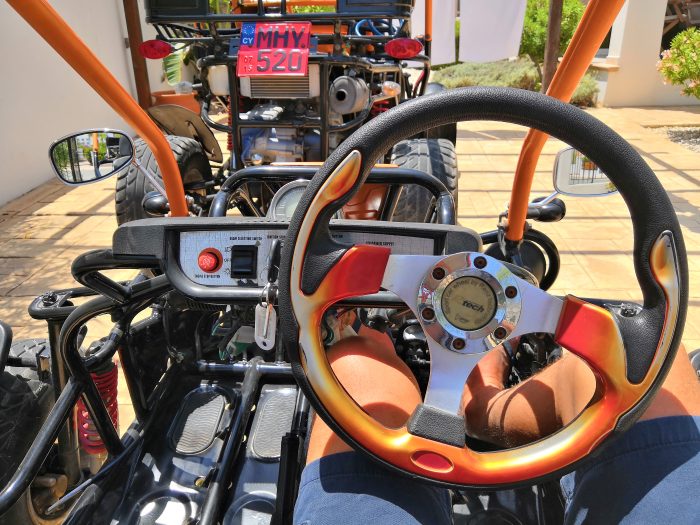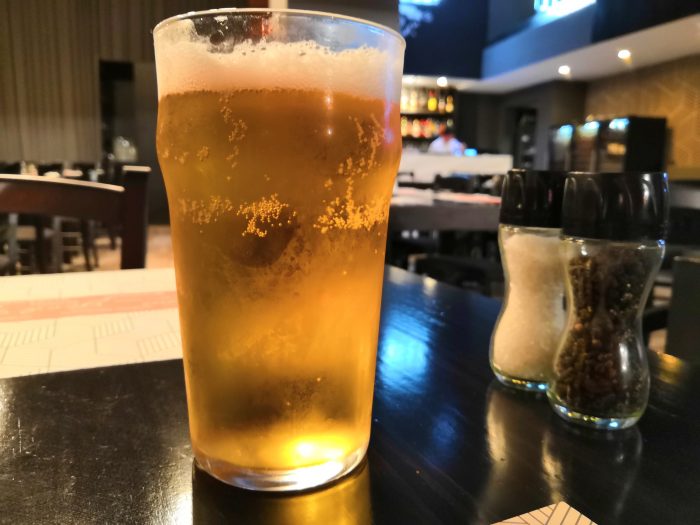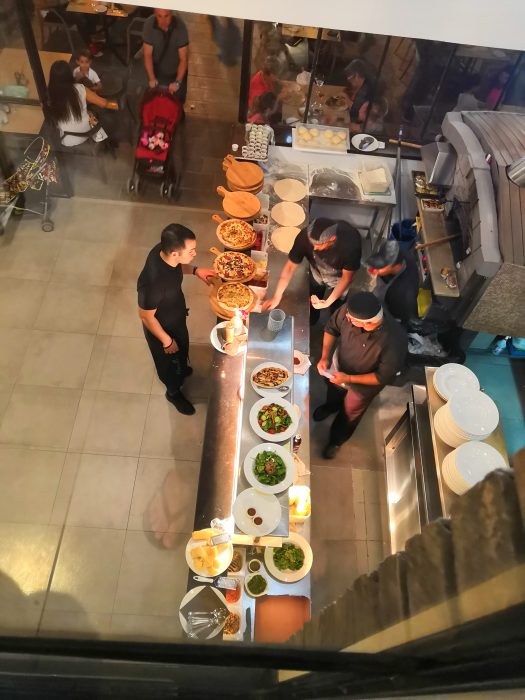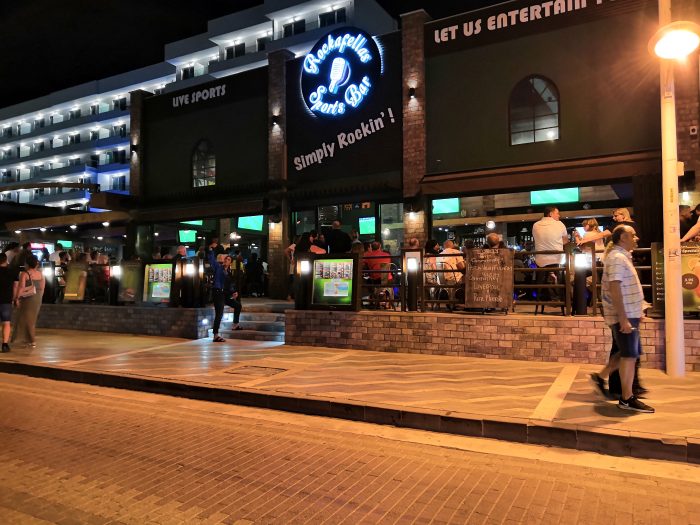 Here's that "bokeh" effect, which kicks in when you're snapping pictures of people or… a rubber chicken and a cat..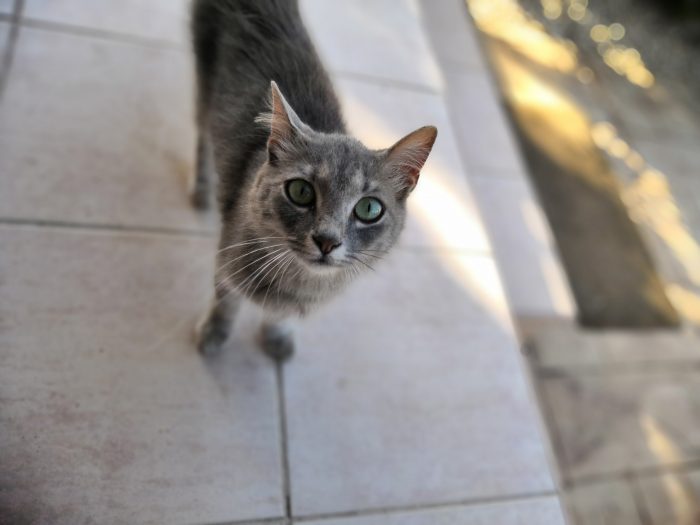 Overall
OK, so we've got no microSD card. We've also got a fingerprint sensor which is less reliable than the one on the Honor 9. Strava still inexplicably crashes too. However, what we do have is Honor yet again pushing the boundaries. In one sense it's all very strange. Huawei have created this brand and the brand is producing handsets which are, in a lot of ways, just as good as the top-end Huawei phones. However, the Honor handsets cost a lot less.
In my head it's all a little confusing. I'm imagining a bar-chart where the actual cost of the phone is "x", and then there's an amount added for distribution and etc. I'm calling that bit "y". In my fuzzy brain, x+y = the Honor 10 price. However, for those go-to phones that people head for in most mobile stores (iPhone, Samsung, Sony – perhaps also Huawei too), there's another variable, and it's "z". This, and bear with me, is a massive chunk. It's a huge dollop of jam on top of the smartphone cake. In "z" is the massive marketing cost for getting the brand "known" and "trusted" and "cool". Within "z" is also perhaps some additional profiteering. Who knows. So yes, if you're still with me…
x+y+z = Flagship, well-known and "go to" smartphones
x+y = Honor smartphones.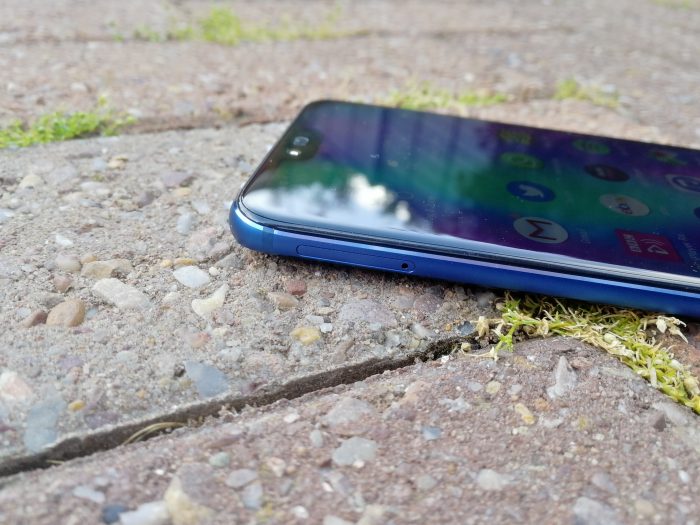 Overall though, for £399, this is a flagship. You shouldn't see a £600, £700 or £800 price-tag as necessary in order to get a flagship smartphone. You're effectively paying for that brand, perhaps for access to the wide range of accessories that the "well known" smartphone will no doubt have. But there's really no need. You can order covers and cases easily enough online – sure, they might not be sold by that bloke in the local shopping mall, but you can get them and …. hey, you get a case free in the box anyway.
This is where it gets a bit tricky though, because that guy on the plane – the one I showed this phone to just an hour or so ago – he wants one of these. He told me he's going to get one. What happens if Honor starts getting really popular? What if they explode like HTC did back in the day? Will we start seeing prices inflating?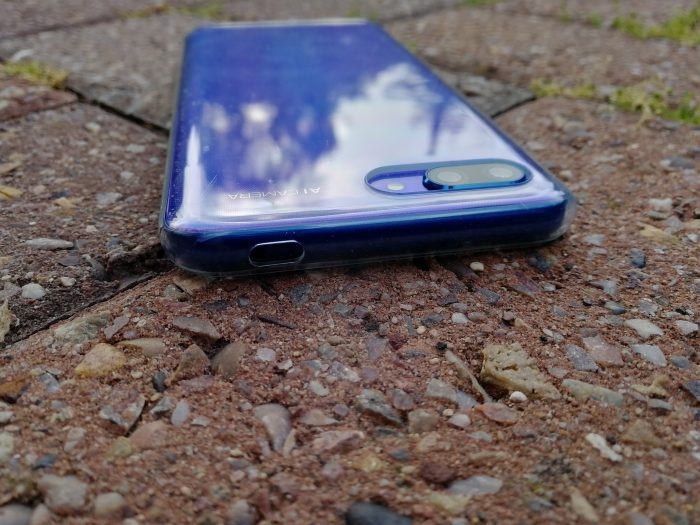 I hope not, because this is how much we SHOULD be paying for a top-spec smartphone. I'm sorry, I've written about phones for 16 years now and I'll let you in on a secret – there's simply NO NEED to pay an insane amount for a smartphone. Go get yourself a SIM-free deal, get an Honor 10 on a 12-month finance deal or something. Heck, get the Honor 10 on a contract if you want. It'll cost a whole lot less than a Samsung and you won't be paying £300 for a replacement screen or hundreds more just to get one in the first place. Don't think, don't think for a minute or a second that you're short-changing yourself by getting a phone from a company you may not be aware of, because this rocks. This phone rocks. Get this phone. Get this phone right now. Buy one. Go.
You can get the Honor 10 from HiHonor.com for £399.99 in blue or grey. It's also available from Carphone Warehouse, Argos, Amazon, Very and AO. However, you can also get it from just £26 per month with Three. Trust me, you won't be disappointed.
Update – Literally hours after posting this review and an update has been delivered to the handset which looks to address fingerprint sensor issues and adds even more functionality and features. Sadly I'm unable to test these fully as the phone has to go back but it's good news…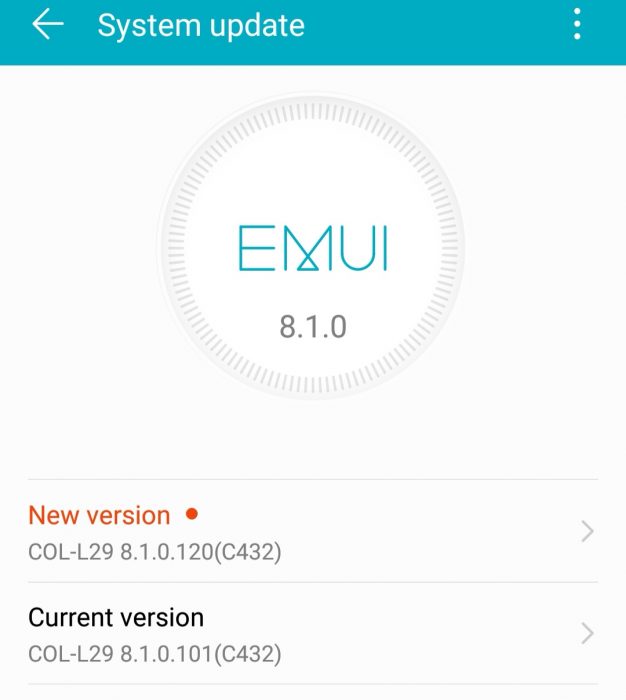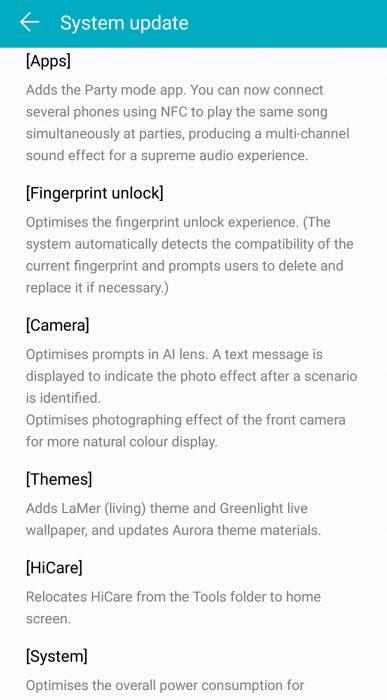 Honor 10 Review
Value for money - 100%
Camera - 92%
Build and design - 91%
Performance - 94%
Storage - 93%
At last. A flagship smartphone without the insane price tag. Go out and buy this right now.