The introduction
OnePlus are the company who set a goal of making high-end smartphones with a mid-range price tag that everyone could afford.
The OnePlus 6 is the latest from the company and yet again lives by their `Never Settle' slogan. It's here to bring future-proofed specs with a custom Android skin which should add some useful benefits.
We were in London recently to see the launch and have we're lucky enough to have a review model to see just how good it really is.
Just to be open and honest, the first week we had the device it was using pre release software and this was updated to final version on the day of the announcement.
It is important to state this so readers know the full picture of my time with the device.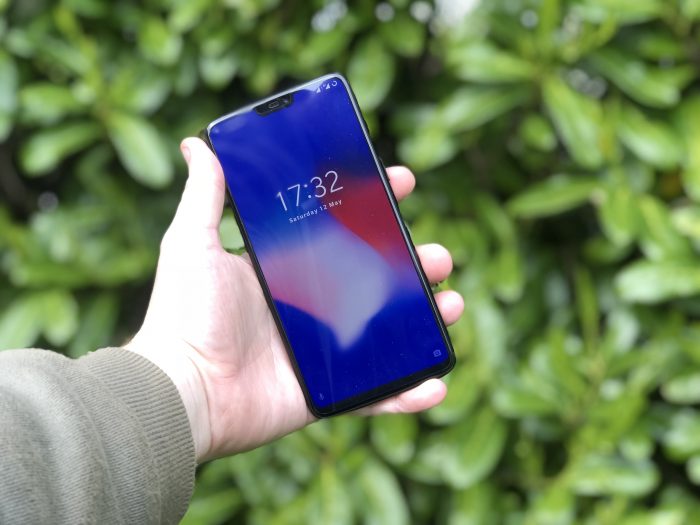 Considering the fact that devices such as the S8 and P20 Pro can cost you anywhere between £650 and £799, the fact the OnePlus 6 starts at £469 could lead some to think the the more expensive phones could perhaps offer an improved experience
By the end of this review you may think differently.
The OnePlus 6 is a dual SIM device and during the two weeks with it I used both SIM cards in the device. They were mostly connected to 4G when out and WiFi when back in the house. It's powered by a Qualcomm SDM845 Snapdragon 845 octa-core (4×2.8 GHz & 4×1.7 GHz) CPU with an Adreno 630 GPU. There's NFC, GPS, dual-band WiFi and Bluetooth 5.0.
---
Video Unboxing
Design and display
The metal back with glass finish on the 5T made it one of the best designed phones the company sold, so for the company to try to improve the design whilst keeping it slim and light was going to be tough.
Thankfully they were up to the challenge and the OnePlus 6 is gorgeous. It has an all-glass front and a glass back, making it shine and catch the light.
OnePlus went with a larger screen than their previous 5T model. Its now 6.28 inches instead of 6, yet it's been put it in the same sized chassis as the 5T thanks to having the now-famous (or infamous) notch.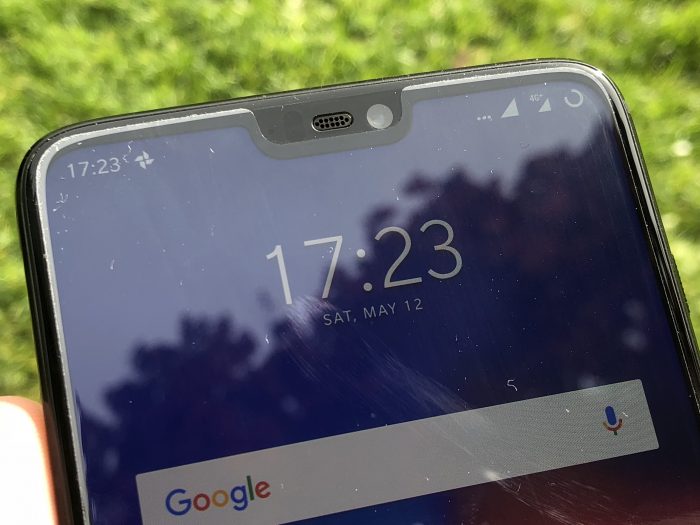 As far as 1080p screens go, this is one of the best, with bright clear colours thanks to the AMOLED technology. The 19:9 aspect ratio gives you more screen space for content and less bezel than ever before.
Gorilla Glass 5 covers both the front and back, making this a tough phone but also a slippery one. A case is really recommended as you will not want to scratch or crack anything. Thankfully you get a clear one in the box free of charge.
OnePlus also made the decision to include a factory fitted screen proctor which I love, it is quite thick and premium feeling and will at least protect your screen until you go for a more premium glass version costing £17.
Weighing in at 177 grams, the OnePlus 6 is heavier than the S9 we covered recently (that was 165 grams), but lighter than the Sony Xperia XZ2 which was just short of the 200 gram mark.
Whilst the OnePlus 6 lacks an official 'IP Rating', it is splash proof and perfectly fine to use in the rain, just don't go swimming with it or dunk it in your friends drink to show off.
As mentioned before, the front display is made from Gorilla Glass 5 which makes it more resistant to cracks and scratches, but if you are worried you do get that pre-installed screen protector which will take the first lot of bumps and scrapes.
Up top, there is a front-facing 16 megapixel camera with f2.0 lens. It also features EIS for getting great selfie shots as well as when recording video to 1080p if you want to vlog your day. We have been told that portrait mode on the selfie camera is coming as a software update shortly.
The screen lights up to act as a flash if you need to boost the brightness of your surroundings. This helps to get a great selfie too. Many people are doing this now and it can make the difference between a blurry mess and a memory of a great time.
Whilst the OnePlus 6 does have a notch, it is smaller than the one found on the iPhone X and does not really get in the way from the overall experiance.
The OnePlus 6 has one of the best displays I have used on a phone but there is no HDR display technology which is a shame, especially with the increase in HDR content online from YouTube and Netflix. Hopefully we'll get that in the next model, however this is not a dealbreaker and something only a few people will care about anyway.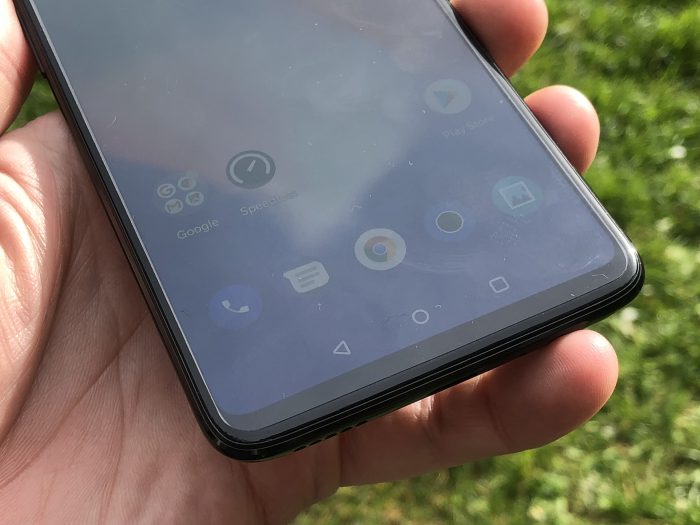 Navigation is very interesting on the OnePlus 6, not only do you get the normal bottom bar, but there is also a mode to hide this and maximise the space when navigation is not needed.
There is also a new gesture mode for getting around too. This is where you swipe on the right part of the screen to go back a page or screen, swipe from the middle to go home and swipe up and hold to open the multitasking window.
This takes some getting used to but is a nice way to navigate without having space used on the bottom for buttons that may not be needed all the time.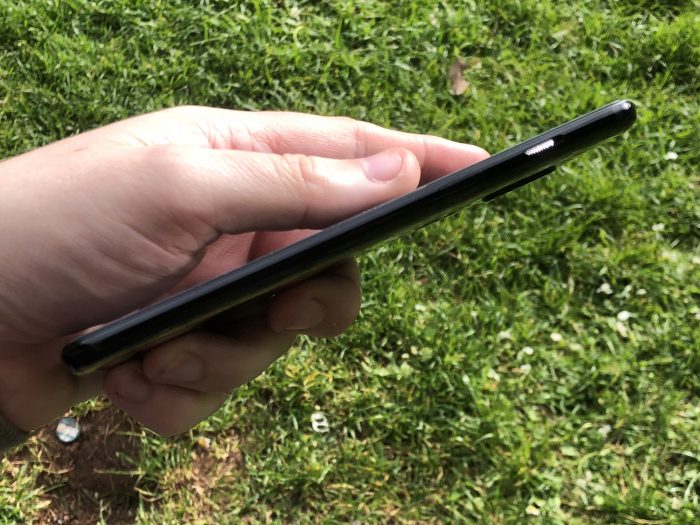 Turning over to the right side you get the famous 2 way switch up top used to switch modes between Silent, Normal and Vibrate. Just a quick switch to move between these is very handy snd something iPhone users have had for a while, although theirs is just for silent and normal profiles.
The right side is also where you find the power button which does not really need any explaining.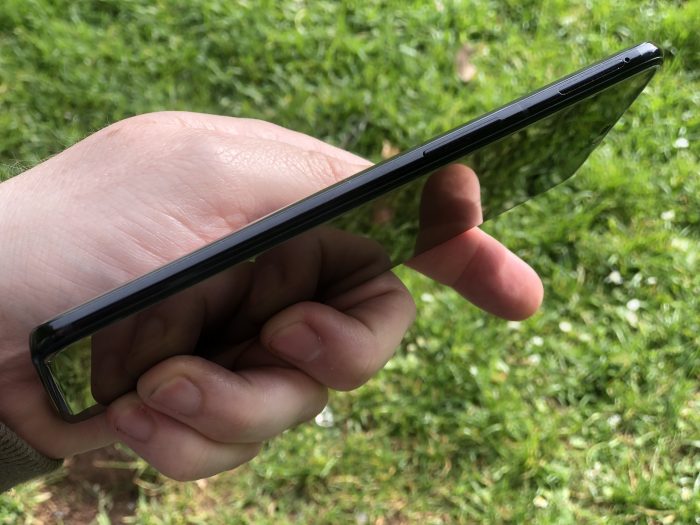 Over on the left you have the SIM card tray, and this is one of the key selling points for OnePlus devices because it allows two SIM cards at the same time. On this latest model both the SIM cards can be connected to a 4G networks to allow for VoLTE and better signal.
Below this you have the volume up and down buttons which, just like the power button, does not need explaining really.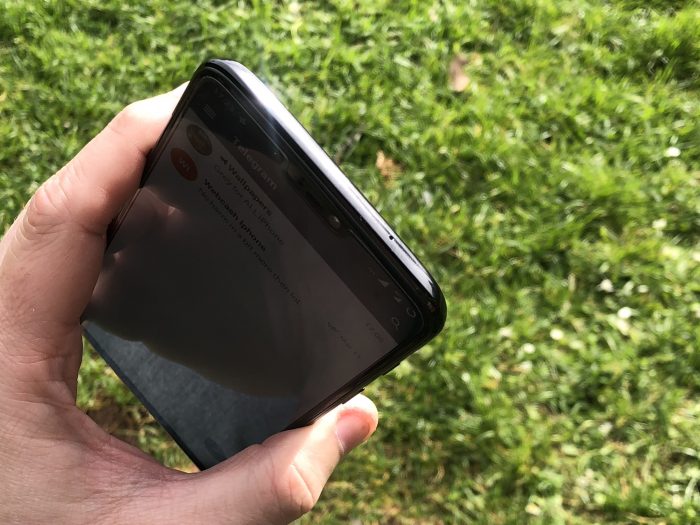 Up top, you just have one of the dual microphones used for noise cancelation. It's also for recording clear audio in video recording as for the audio recording app that comes pre-installed for voice notes.
On the bottom, you have another microphone used in voice calls as well as the USB-C charging port which can also be used for transferring data to a computer.
There is also a speakerphone which is VERY loud and clear, great for listening to music or watching videos.
Then came the part everyone wanted, the headset jack. During the announcement Co-Founder Carl Pei teased everyone about now the company has wireless headphones no one needs the headset jack?
Thankfully this was just some clever way of making us wait to see the final design, and the OnePlus 6 does include this key selling point for many customers.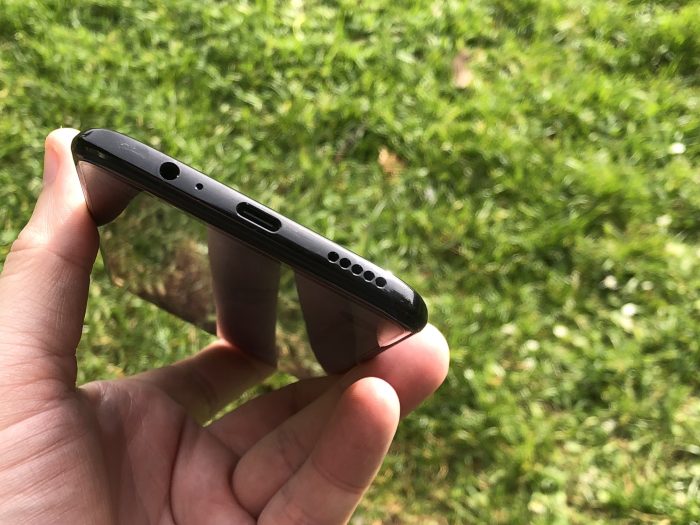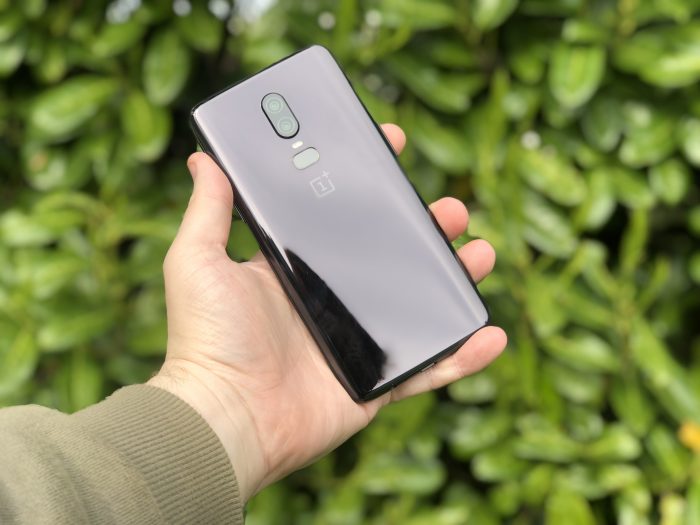 Turn over to the back and you can see one of the new design features, a beautiful piece of glass that reflects the light. It really does show off just how good this phone looks, plus it also shows how many fingerprints the mirrored back attracts.
At the top you have the repositioned dual camera system which will be covered in more detail down in the camera section. The company switched from a landscape layout in the corner to a portrait design nearer the middle, the idea was this is the best location when holding the phone for taking photos.
Below this is the dual-LED flash which can be used as torch in the dropdown navigation bar, but its main use will be to help take photos in the evening or in poor lighting conditions.
Lastly is the new redesigned fingerprint sensor which has changed from a circle to a more oval shape. The company say that this is more suited to the shape of your finger and can be used to unlock the phone (although using the face ID in software is so much cooler and faster). You can also use to authorise payments on Google Pay.
Cameras
OnePlus have had a good history when it comes to their mobile camera's and whilst older models performed well enough in good lighting conditions, it was always the dreaded low light situation that caused the problems when compared to rival devices.
This year the company has lisened to customer feedback and not only made the main sensor 19 percent larger to let in more light, they have also included OIS to help keep your photo blur free even in the tricky night conditions.
There is a dual LED flash on the back should you want to use that to help boost lighting, but it is the larger sensor and OIS that makes the biggest improvement in the camera here.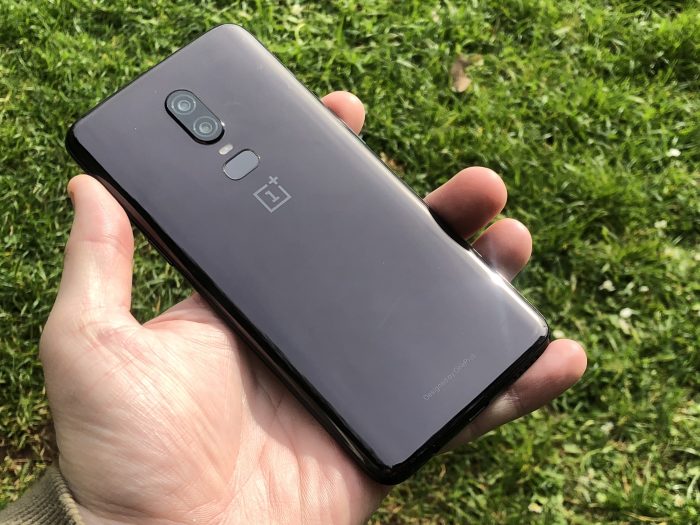 The dual cameras on the back include a 16 megapixel main shooter paired with a 20 megapixel camera to help capture depth information which allows that rather cool bokeh feature we are seeing on a lot of devices these days.
Video recording is also a bit special here with 4K capture at even 60 frames per second if you like, however it is the new slow motion mode that has got a lot of the attention, and in the case of the OnePlus 6 you can record 1080p at 240fps and also 720p at 480fps.
Whilst the frames per second rate may not be as high as the new 960fps we are finding on other flagships, the resolution on here is plenty good enough for capturing some great footage, and the added trick over the competition is being able to record up to 1 minute of slow motion instea of a few seconds.
The other new feature is the built in video editor which lets you set which parts are slower, background music and more, then upload to your social media account or share in an email with friends or family.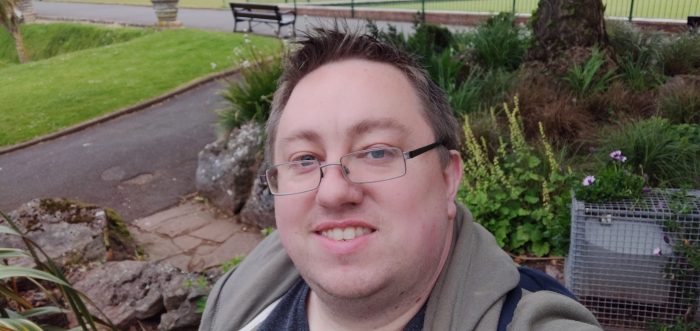 Selfie mode is decent enough thanks to the 16 megapixel camera based within the notch, it also uses the screen as a flash if you are in a poorly lit area and need that extra lighting.
The good news is portrait mode is also coming to the selfie camera in a software update due shortly, this will be great for anyone who loves sharing their selfie snaps on social media to show off what they are doing.
Video recording on the selfie camera goes to a max of 1080p resolution and also has a lower 720p resolution mode if you want to save on storage space.
Quality is OK, as you would expect from a 16 megapixel camera, without being amazing. For a selfie camera the quality is decent enough for most.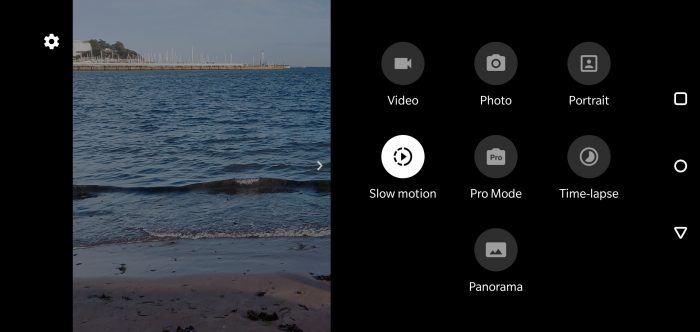 OnePlus have some great experience with camera software on their Oxygen OS software, the layout is quite simple to understand and get to grips with even if you have not used one before from the company.
On opening the camera the left side of the display is for settings such as Flash, Camera Ratio, HDR and Timer for putting a slight delay on taking a photo.
The middle is just the area to see what you are looking at for taking your photo, tapping an area here sets the focus and also has a brightness slider so you can quickly adjust on the go. Over on the right you have a slider for Photo and Video, this slides out giving you even more modes, these are Portrait, Slow Motion, Pro Mode, Time-Lapse and Panorama.
Finally on the far right you have a preview of your last taken photo with a large white circle shutter button in the middle and a camera rotate button at the bottom to switch between front and rear cameras.
Anyone who loves their mobile photography will enjoy the Pro Mode especially, this is because you have full control over things such as ISO, White Balance, Focus as well as the added bonus of being able to capture in RAW format so you can edit them later on.
Portrait mode is becoming important to many people purchasing a smartphone, some companies went with a single camera and use software such as the Pixel, where as other flagships like the iPhone X and Samsung Galaxy S9 use dual lenses to get the most amount of information captured for better results.
Portrait mode on the OnePlus 6 is very good…. most of the time, it does seem to struggle with being compared to the Pixel 2 which right now offers the best solution of portrait photography, but considering the price and performance, the OnePlus 6 does a great job.
Performance and battery
Performance is an area OnePlus are well known for and make a big impact in the market, for example the model we have in to review had 8GB of RAM and 128GB storage. There's also a 6GB RAM version with 64GB storage for less money, and is hardly lacking on specs.
All models run the latest Snapdragon 845 processor which, when paired with the huge amount of RAM, makes this one of the most smoothly performing devices I have ever had the pleasure of using.
Network performance has also been improved with the jump to 4×4 MIMO which allows Gigabit LTE connectivity, and some very impressive speeds when using a network that supports this, for example in London on Vodafone I hit over 200Mbps in Victoria Station.
The OnePlus 6 also is one of the most popular dual-SIM devices on sale today, this time both slots support 4G and have VoLTE and VoWiFi On test using an EE SIM we had both options available.
The battery comes in at a 3300mAh fixed capacity so non-removable and, even though it has a glass back, does not have wireless charging. This may be a let down to many, however the Dash Charge technology allows a 30 minute charge to get you half a day additional use.
Audio quality is really great with very loud speakers for playing back multimedia like videos or music, and speakerphone quality is also up there with the best of them.
Software
Whilst most people will concentrate on the hardware and specs, do not underestimate how software can make a huge difference to your overall experience.
OnePlus have taken Android 8.1 and added their twist called Oxygen OS.
This near-stock experience is what has allowed them to be part of the recent Android P beta program. If you wanted to take a look for yourself, it does also add some handy features such as the customizable shelf on the side of the screen and the Gaming Mode option. Also theres something many Android fans have been asking for, a dark mode for the OS.
Gaming mode is a handy addition for anyone who wants to take the power this smartphone has for some heavy gaming.
Not only does it stop notifications coming through, it also gives priority to the game in question instead of having to share resources with other apps.
OnePlus also have included handy gestures navigation into this latest update for quick launching of apps from the lock screen, but also so you can hide the bottom navigation bar and use swipes to browse as you will have seen on the iPhone X.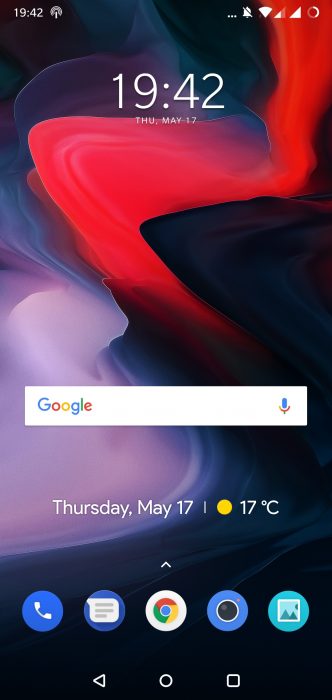 When it comes to a flagship smartphone, many people get concerned over the speed of future updates, this is one of the big reasons the Pixel range sell well.
Thankfully as mentioned this should ease any concerns, the OnePlus 6 is part of the Android P Beta and means you should get the final version not long after it gets launched later in the year.
This is a huge move and one in the right direction for software development
One other area to point out is the excellent Face Unlock which in less than 0.2 seconds, can unlock your device by just looking at it.
Conclusion
OnePlus are a company that have interested me due to their range of mid-priced high-spec flagships. They're a market disruptor.
From the front you have the large screen with hardly any bezel thanks to the notch up top. This is how a smartphone should be. You may hate the notch craze going around but it does have its advantages.
The camera is a nice upgrade from the 5T thanks to the new larger sensor and software improvements, and this is something many customers will appreciate, especially the improved low light photography it allows you to capture.
We were sent the Midnight Black model, which is a real fingerprint magnet and will have many people rushing for a case or l a cleaning cloth. The other option is using a skin from a company such as Xtremeskins and really customise it to your taste.
The other colours are a nice matte black-looking colour, however looks can be deceiving as this is still glass like the shiny version. It just has a different look to it. There's also a limited edition Silk White which looks beautiful.
There is not really much OnePlus have left out of this impressive flagship. Apart from wireless charging it has pretty much every feature you would hope for in a flagship device and, with the improved networking support, large battery, impressive screen and great dual camera setup, this really is the all-round perfect package.
OnePlus are a company that actually listens to what customers want and they take on board suggestions. They have a huge online community of users talking about products and often arrange open forums for face to face meetings, just to make sure they are giving customers the device they want.
The big question for many of customers out there is…
Should you pay out nearly £500 for a phone from a company you may not know too much about? Or should you go for a more established brand such as Samsung or Sony?
Well, in my opinion the OnePlus 6 is one of the best devices there is on sale right now, and it's far better value than some of the £650+ other flagships out there.
The OnePlus 6 is a spec-heads ultimate dream, with only a few little things needing to be added in order to make it the best smartphone out there today. The company have done a great job here and the OnePlus 6 is a device both you and they can be he proud of.
If you are looking for a high-spec smartphone with an amazing software experience,it would be hard not to suggest getting a OnePlus 6 straight away.
The company have done a great job with the 6, all we ask is they do not launch a 6T in a few months with wireless charging and work on software enhancements to make the experience even better.
Without doubt, this is the best device you can get under £500
OnePlus 6
Screen - 85%
Build - 90%
Software - 95%
Camera - 90%
The best mid range smartphone out right now