The introduction
Samsung is one of the largest players in the Android arena, and their Galaxy handsets have become iconic around the world.
This year at MWC, the company announced their latest versions – the Galaxy S9 and S9+. Both of these are on sale now.
We were lucky enough to have friends of the site, Three UK, come to the rescue with a loan device. I've used it for quite some time now so I can tell you just how good it really is.
Whilst you may look at the photos of the S9 and think it is no different to the S8 it is replacing, it's not all about looks. There is a lot going on under the hood to make it worthy of the upgrade.
Our S9 was used on the Three UK network so we also had SuperVoice 4G calling along with WiFi Calling.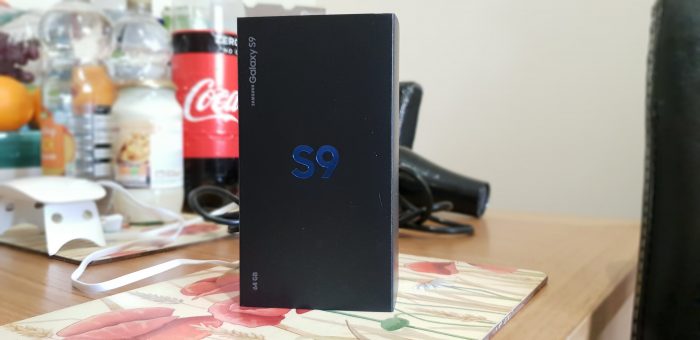 ---
Design and display
If you took the older Galaxy S8 and put it next to the newer S9, you would find it hard to tell them apart from just looking at the front. This is because apart from a very slightly thinner bezel area, the design is the same – a curved piece of glass with no buttons anywhere to be seen.
Samsung takes a lot of pride in their display technology. Their 'Infinity Display' consists of dual curved glass which makes the wallpaper almost fall off the edges due to the lack of side bezels. This is great. They also set the bar high when it comes to their AMOLED technology. With the QHD resolution, the display is simply stunning.
Gorilla Glass 5 covers both the front and back, making this a tough phone but also a slippery one. A case is really recommended as you will not want to scratch or crack anything.
For a screen protector, I had used a WhiteStone Dome Glass which right now is the best there is for sale, but does come in at a rather pricey £40. Also you will need to be patient when installing it, as it has to be applied just right. Once applied you get to see the display in crystal clear quality with the added protection you need.
Weighing in at 163 grams, the Galaxy S9 is actually very light to use, this considering the Sony Xperia XZ2 I just reviewed came in at a hefty 198 grams. So, whilst not as light as the iPhone 8 it goes head to head in competition with, the S9 does not feel a heavy device whatsoever.
Anyone who appreciated the IP68 rating of the S8 will be happy to know it carries over to the S9.
Now whilst we do not suggest you go jumping in a swimming pool with your phone trying to capture underwater selfies, you are safe using in the rain or snow.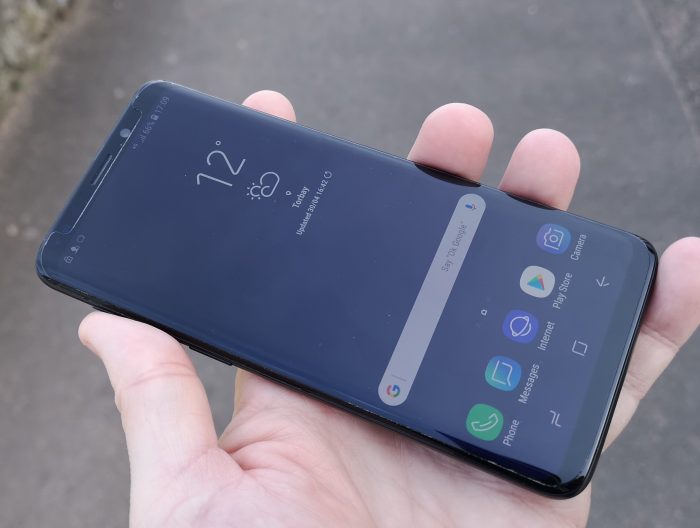 As mentioned before, the front display is made from Gorilla Glass 5 which makes it more resistant to cracks and scratches than ever before, but many of you will want to install a screen protector as this screen does scratch.
Up top, there is a front-facing 8 megapixel camera with f1.7 aperture that allows for decent selfies and video calls, video recording is 1440p and 30 frames a second. It also captures decent quality to share on social media or if you record a vlog.
The front-facing camera also uses Auto HDR to help boost the brightness and colours to produce a much better more detailed photo.
There is no dedicated front camera flash, but with the screen bright enough this helps boost brightness and does a decent job.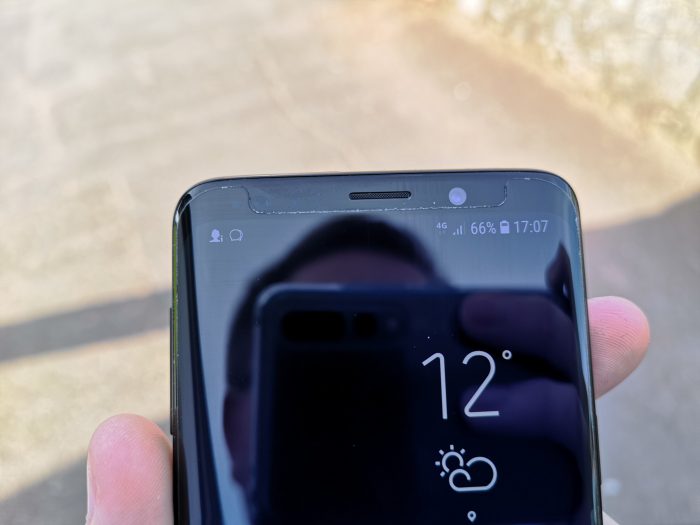 The S9 has a 5.8 inch AMOLED screen with impressive 570 ppi and a Quad HD resolution, this put together makes it one of the best displays on a smartphone today.
That display has the same 18.5:8 aspect ratio seen on the S8. However, on the S9 it also features HDR playback which is great for watching video content from sites such as Netflix who now offer content in HDR.
Up top, you have the earpiece for voice calls and the front-facing camera, which as said earlier is 8 megapixels and able to record 1440p videos.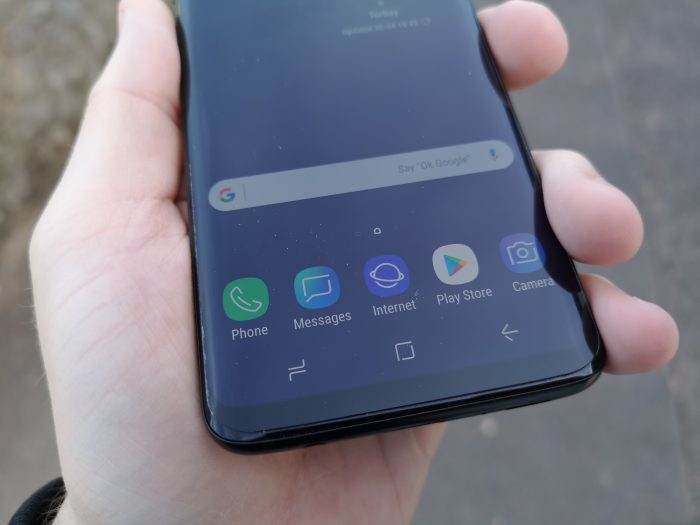 Navigation is done on screen as expected. You get the typical back, home and multitasking options. However there is also a small dot on the side which lets you hide the navigation bar when not needed, and a quick swipe up brings it back again.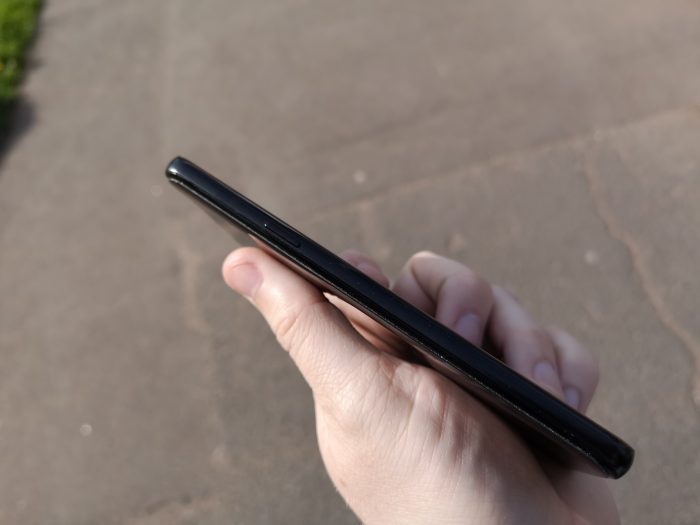 Turning over to the right side, you get a single button which is used for powering the S9 on and off, and of course for putting into standby.
You can also quickly double press it to load the camera if you want this as a shortcut.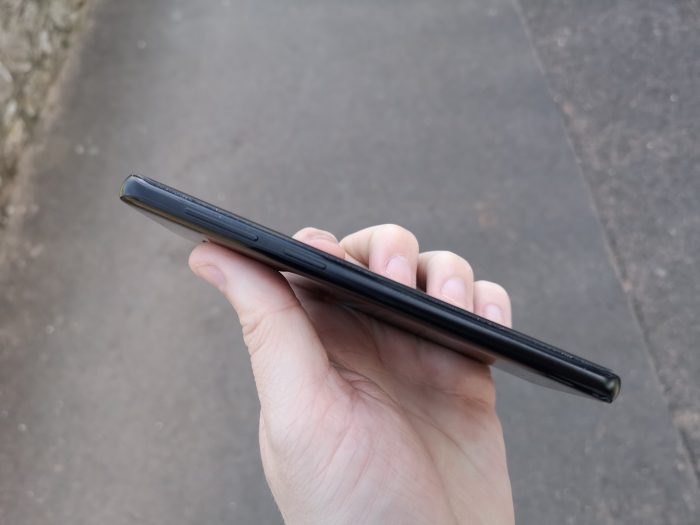 On the right-hand side, you get a volume up and down area, which also can be used as a camera shutter button for taking photos which is handy. It is a good workaround for anyone who prefers a dedicated camera button like the one seen on the Xperia XZ2. Just below this is the dedicated Bixby button, which you will either love or hate. In fact, there were a lot of people who tried changing this to load the Google Assistant instead, but this hole was blocked quickly.
Tapping the button lets you see the Bixby screen with all the commands possible, and holding on will let you use your voice instead. How handy this is will depend if you want to use Bixby or not. It is worth trying out to see if you enjoy the service, and if you do, great. If you don't then you will have to learn to ignore this button.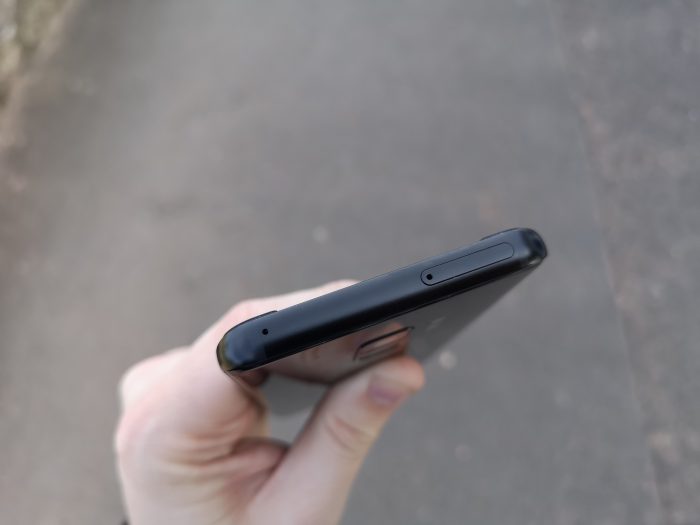 Up top, you have one of the microphones used for noice cancellation as well as when recording videos, you also have a pull out tray which is where you put your Nano SIM and Micro SD card if you have one. Thankfully there is no need to go hunting around turning rooms upside down to get a pin to push out the tray if you want to swap memory cards or SIM cards, all you need to do is use your nail to slide it out.
On the bottom, you have another microphone used in voice calls as well as the USB-C charging port which can also be used for transferring data to a computer. You also get the option to charge wirelessly using the QI standard so if you want to charge easier around the home or office you can always use one of these, especially now prices have dropped a lot.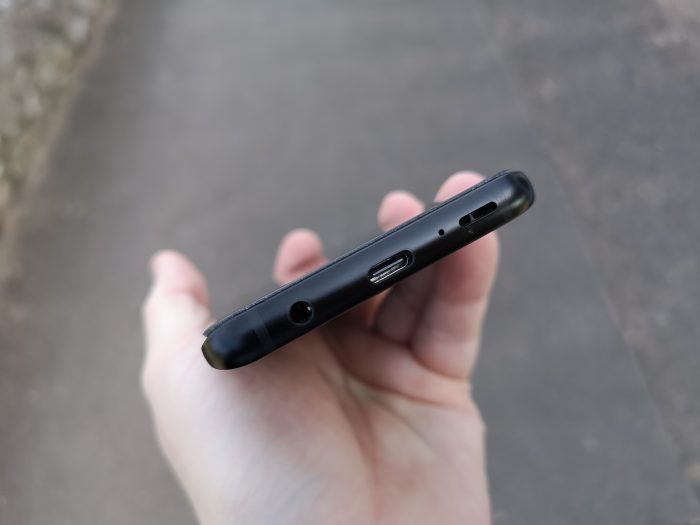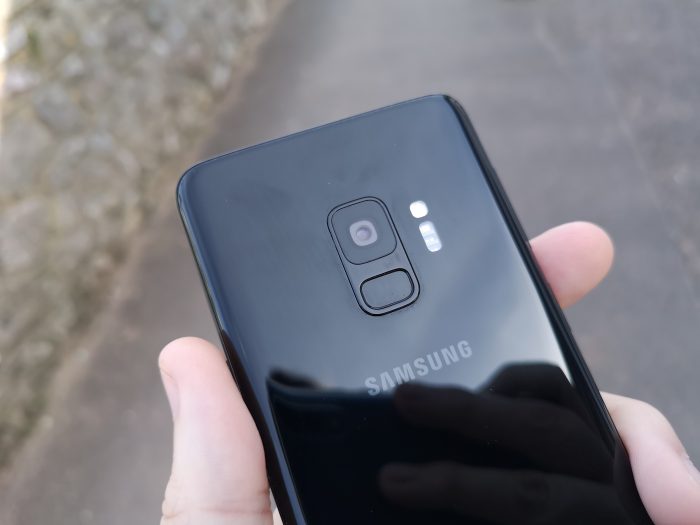 Turn over to the back and you can see Samsung took customer feedback seriously. The biggest annoyance from the S8 has been fixed. This was the location of the fingerprint reader which used to be next to the camera. It often meant you would smudge the lens by thinking the camera was the fingerprint reader by mistake. On the S9 this has moved. The heart rate sensor is now on the side and the fingerprint area is below the camera. Much better.
As mentioned, the heart rate sensor is now at the side and is great if you use the Samsung Health app to keep a track of your fitness needs. Having a heart sensor in your pocket at all times is handy to make sure you are not doing too much and putting strain on your body. It also works great if you are into your fitness.
You will also find the LED flash here too if you want to use as a flashlight or to help with photos in poor lighting conditions. The back is glass so as you would imagine is a total fingerprint magnet, especially the black version we had in to review. If you hate fingerprints on your phone either go for the Lilac Purple option or put the phone in a case.
Cameras
Samsung has a great reputation for photography in their Galaxy range of smartphones. The S9 continues this trend with an impressive 12-megapixel camera that features dual pixels to help capture bokeh-style photos without needing an additional lens. Where Samsung has tried to be different is with the camera lens. This now has a dual aperture setup of f2.4 to f1.5. This allows bright clear photos in the daytime with plenty of detail, and when the lighting drops in the evening or indoors, the f1.5 allows more light to be let in, resulting in a great low-light photo and great using a tripod.
Thankfully Samsung included OIS to help with night photos and this really does make a difference especially in the more challenging conditions. There is a LED flash on the back to help boost lighting in poorly lit conditions, and some sensors which allow super fast focusing of your object.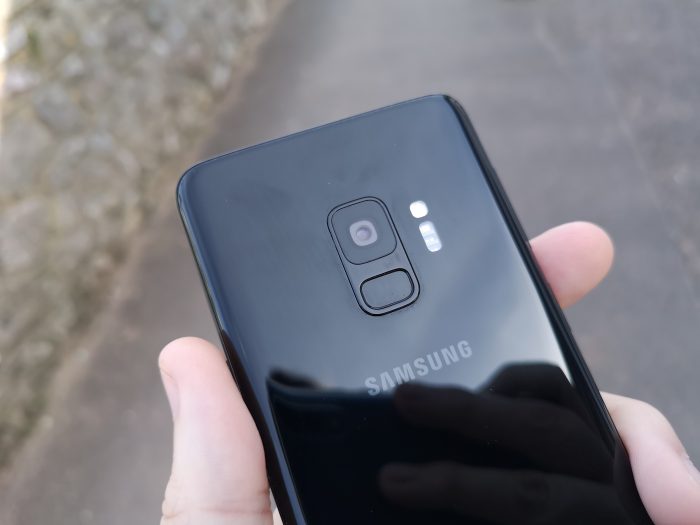 The mistake many of us make is thinking the higher number of megapixels on a camera the better the photo will be, however this is not true. The more megapixels allow for a larger photo if you want to print or share with friends and family. So whilst 12 megapixels is a smaller number than found on some other flagships, the quality of the photos produced on the S9 are outstanding.
As with the previous model, video recording allows for 4K resolution, and with the added feature of recording in 60 frames per second if you needed. We are finding more and more 60 FPS video on YouTube content. One area that people forget to consider is when it comes to the selfie camera. This gets used for video calls as well as a wide range of apps and some people use to vlog their day to share with the world. The selfie camera is 8 megapixels with f1.7 aperture and captures some decent photos in good lighting conditions.


You get different selfie modes to use, including a wide angle selfie option. There's also a selective focus option which, although it works, you start to notice some issues detecting which is the the foreground object and what should be in the background.
Finally in the modes we have AR Emoji which, well, there is no other way to describe it. They're basically trying to copy the Animoji feature of the iPhone X.
Whilst this sounds a good idea and something you might want to try, the experience was disappointing as the emoji version of yourself does not always look realistic. When you try to pull faces for the character to copy, it stutters and has a mind of its own a lot of the time.
Having used the Animoji feature on iPhone, it was a lot smoother and polished than what Samsung has managed here.
Video recording on the selfie camera goes to a max of 1440p resolution and has a lot of detail which was nice to see and will be good for any video bloggers.
Samsung tries to offer the best camera experience possible on their high end devices, and if you are a professional photographer or someone really into understanding camera settings, Samsung have you covered with their 'Pro' mode. This lets you control everything from focus area, ISO, white balance, and so much more. You can turn a decent photo into an amazing one. They also help the everyday "point and shoot" user with a great "Auto" mode which does just that. The clever software does all the work, like understanding what you settings are needed. It does it all for you.
There's also a mode for Food. This helps with the right settings to show off that dinner you just cooked and are so proud of, or to show off to your friends your massive meal in a restaurant.. There is also a Panorama setting if you love taking scenic shots, and there is a Selective Focus mode. This uses the single lens to capture bokeh photos by taking a photo of your object, then another of the background. It then stitches them together for get a depth effect. This works some of the time but is not on par with the amazing Pixel 2 setup, or those phones with a dual lens on the back (which you can find on the larger Galaxy S9+).
You also get Hyperlapse (like those cool Casey Neistat intros on his vlog), Slow Mo in the video and the AR Emoji option which has been talked about already. Samsung has jumped on the super slow motion trend and has a 960fps capture option with a 720p resolution, but here timing is everything. With the slow motion part breaking down a split second of your video into a longer clip, you have to get the timing just right or your video will not have the part you wanted in the right timing.
This is tricky to master as you will see in the sample below of the seagull, but when it comes to continuous objects such as the fire clip, results are very good indeed.
Performance and battery
Performance, as you would expect from the latest flagship, is top of the line. It will give you no slow downs or stuttering at all. The battery is a respectable 3000mAh capacity which should be enough for an average day of use. However, if you do need a quick power top up you have both quick charge and QI wireless charging built-in for fast on-the-go charging. I used the S9 as my daily driver with my own Three SIM card in, mostly connected to the 4G network and WiFi when at home. Even with a lot of camera use and some video playback, I was starting to struggle around 4PM and had to be careful. It was a shame the battery was not a little larger because in my tests it seemed to run down quite quickly.
Samsung has two versions of the Galaxy S9. Whilst the US market got the Snapdragon 845 processor variant, in the UK we get Samsung's own Exynos 9810 Quad Core instead. What differences this will bring in performance and battery we will have to see. Making everything run smoothly is 4GB of RAM and, with Samsung toning down its TouchWiz customisation of Android, users now get a better overall performance with less bloatware taking up speed and space.
Audio quality was very good, mainly down to the new AKG tuned speaker setup which is 1.4 times louder than the S8 was. The Dolby Atmos feature allows for a surround sound like experience. This really comes into its own when blasting out music, but even more so with a high quality movie that has a lot of action on. You really do get the great Dolby sound you would expect from the brand.
Software
So now onto the software experience of the Galaxy S9, and thankfully as just mentioned, the company has put a lot of work into toning down their heavy customised. This now makes it faster and more stable, but does still bring a few handy enhancements to what we've seen on devices like the Pixel. The biggest push in software comes in two different areas. First of all is Knox, a security service which helps make the Galaxy S9 an enterprise-ready smartphone with even large businesses who are strict on device security able to use.
The second, and for some people the more interesting one, is Bixby. Bixby is not new. It was found in the Galaxy S8 last year and got mixed reviews. Some people loved the handy assistant, some on the other hand hated it with a passion, especially the dedicated hardware button that always got accidentally pressed. Personally I actually like Bixby. Being able to set a list of tasks using a simple phrase is really handy, for example I can say 'night Bixby' and the device runs a set of queries I have set such as putting on do not disturb, setting my alarm and turning on the blue light filter.
Bixby is also able to use the camera. This is called Bixby Vision and can do things such as translate a sign in a different language, find an item online to purchase, and scan QR codes just to name a few things. Other great software tweaks include a slide-out sidebar for quick access to different items such as your favourite contacts or apps, which is handy at times. If you are coming from the S8 you will find the double tap of the power button to load the camera and having the screen stay on if you are looking at it still just as handy as ever. If you are new to Samsung you will really appreciate these.
The S9 runs Android 8.0 out of the box with the latest version of Samsung's experience. This gives you updated icons as well as new clock faces plus much more besides. Samsung also has their own payment service called, as you might expect, Samsung Pay. This lets you add your bank cards as well as loyalty cards to a single app and use for contactless payments. You can also use Oyster on the London travel network. However I found using this was not as good as the overall experience I had on Google Pay, so most people will stick to the Google way of paying.
Conclusion
After my time with the S9 I have to admit there is a lot to like, and a few things that could use a little improvement here or there.
From the front, this looks exactly like the older model the S8, and some people will not like the fact their expensive new smartphone looks the same as their friends that is over a year old. Turn over to the back and you start seeing where the design has changed, especially the location of the fingerprint reader. As mentioned before, most of the changes are inside the phone, mainly with the new camera on the back and the new AR selfie camera on the front.
The camera has attracted a lot of media attention with its dual aperture lens which should mean great depth of field for bokeh shots, and superb low light shots in the evening when the sun starts to go down. The S9 may not have the most megapixels when compared to the 19 megapixel XZ2 or the more recent 40 megapixel P20 Pro, but it has one of the best cameras on the market today. Especially now it can record super-slow motion footage at 960fps.
We were sent the Midnight Black colour of the S9, but you can also get in Coral Blue. However it is the new Lilac Purple version that had everyone drooling at the press launch back in February. Connectivity is something Samsung is great at, with CAT18 LTE for blazing fast data speeds, the latest Bluetooth and WiFi standards, NFC for contactless payments and so on. There is nothing the S9 misses out on.
Even more impressive is the updated Dex dock which turns the S9 into a small computer, providing you have a TV or monitor handy and a few cables to get hooked up. Unfortunately, we were not able to test out the new Dex, but a feature like this is perfect for anyone who travels a lot and stays in hotel rooms. I mean who would not love being able to plug your phone into the TV to read some documents, use social media and then sit back watching some Netflix on the big screen (which is even better considering GoBinge from Three offers unlimited Netflix streaming)?
If Samsung continues moving forward with great software improvements and Bixby gets a real push with updates services, then the company will stand out above the rest. By pairing both great hardware and software into a single device, Samsung have yet again excelled.
So the big question is, would we recommend picking up an S9 ? Well if you are coming from an S8 then there are a few improvements in software and camera performance. It'll mean that you get an incremental upgrade from your existing phone, even if the front looks the same. However, if you are coming from a different phone then it would be hard not to recommend the S9.
It has all the great specs you would expect. It has a beautiful design, an impressive camera, a bright and clear display and connectivity options such as Dex to enhance the experience even more.
If you are in the market for a new smartphone, the S9 is well worth considering, but also take a look at the new you can buy one right now here.
Samsung Galaxy S9
Screen - 95%
Battery - 80%
Performance - 95%
Camera - 90%
Software - 85%
89
%
An old design with a few handy improvements