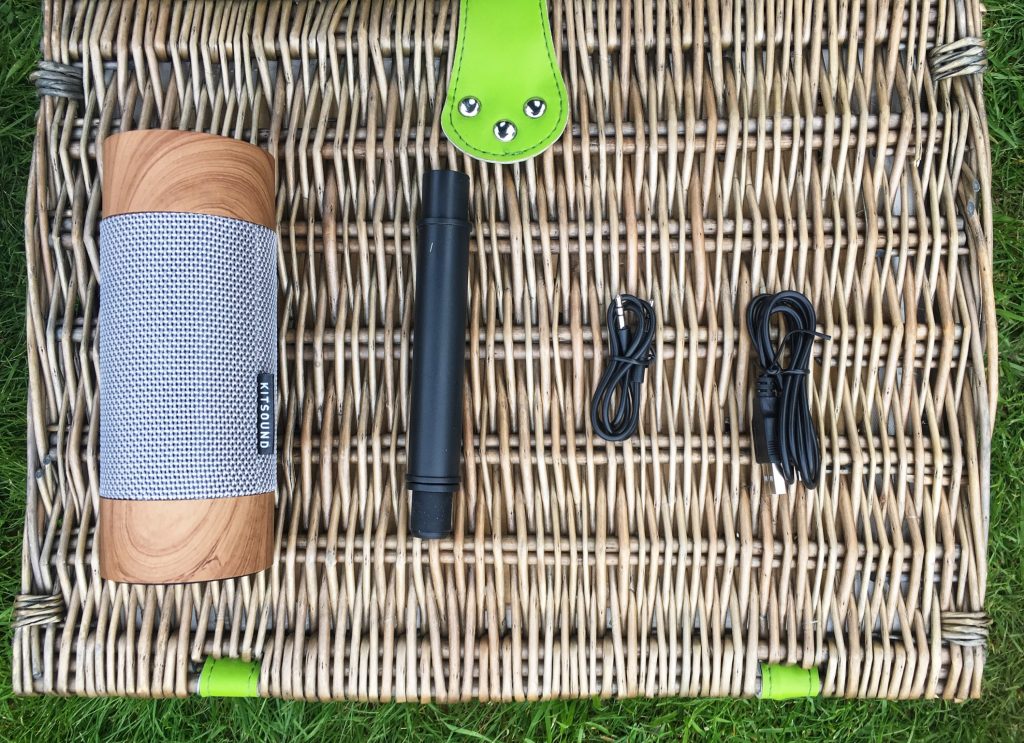 Spring has Sprung, Summer is nearly here, so it's time to spend more time outdoors. And what better way to augment your social gatherings, picnics, family time or even your gardening than with some seasonal music.
Enter then, the KitSound Diggit Outdoor, a speaker designed for outdoor use.
Designed for Outdoor Use
The KitSound Diggit speaker comes with a detachable spike which allows you to securely embed the speaker into the ground. Alternatively, you can remove the spike and sit the Diggit on a flat surface.
Being designed for outdoor use, the KitSound Diggit needs to be able to repel the environment. To ensure this is the case, the Diggit has been built to the IP55 standard, which means that it is dust, sand and water jet resistant – perfect for typical British Summer Weather or even being sat next to the hot tub.
However just because  KitSound Diggits are 'Out Door' proof, they are not unattractive. In fact, they certainly look the part, indeed they are very stylish, and the LED on the top of the speaker looks great as the light fades.
When outdoors you clearly can't be dependant on a power supply, so the Kitsound Diggit speakers have a play time of up to 8 hours from a single charge.
The device features easy to use hardware controls, and can also be used to take calls, so you won't miss that important call when outside.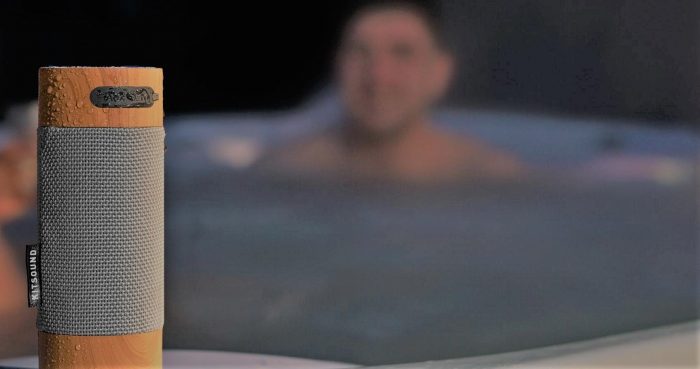 Filling the Space with Sound
Projecting music outdoors is very different to filling a room, which has physical boundaries, with sound. With the Diggit speaker, KitSound has taken a couple of interesting steps to ensure that you can hear your music in the fresh air.
Firstly the speakers are round, and feature mirrored dual 5 watt drivers, meaning that the sound projects outwards across 360 degrees. This means the sound comes towards you no matter where you are sat around the speaker. Having 360 degree sound means everyone gets to have the same experience. which is important at social gatherings – nobody misses out.
Secondly, if you have a pair of Diggit Speakers then you can wirelessly connect them so that they both play the same music at the same time, effectively doubling the volume whilst allowing you to shape the music by moving speakers around.
It took me a couple of attempts to work out how to correctly link the speakers together, but after I got it sussed then there was no turning back. The quality was superb, even when loud.
So it sounds good, then?
The KitSound Diggit Speakers sound incredible, especially when they tag-team, by far the best speakers I've experienced outside, I think it's the 360 degree sound that makes the difference.
These are good looking great sounding speakers designed to sound fab whilst outdoors. They add something extra to any outdoor event and for only £40 per speaker, that represents great value.
The Kitsound Diggit speaker can be bought for £40 from https://www.kitsound.co.uk/product/speakers/bluetooth-speakers/diggit-bluetooth-outdoor-speaker
Gallery
KitSound Diggitt
Sound Quality - 90%
Build Quality - 85%
Value for Money - 85%
Great Speakers for outdoor use