Its a Smart ol' world
Home Automation is becoming a big thing, and rightly so,  as the ability to leave all those mundane tasks to AI gives us less to think about in our stacked lives.
However what about all those dumb appliances which you would like to make a lot smarter, it's not practical to replace them all with smart alternatives, but fortunately here's a solution with Oittm Smart Plugs.
Oittm Smart Plugs fit into your normal power sockets and provide a smart mechanism for controlling the power supply to devices, allowing them to be controlled remotely.
How do Oittm Smart Plugs work?
Connecting Oittm Smart Plugs to your home is simple, download the Oittm Smart App from the App store, connect the plug into a live socket, and then search for the Smart Plug in the app. You can then provide your wifi password and your plug is active.
The Oittm Smart App allows you to rename the plug to help identify it if desired, manually control it, and set automatic rotas, e.g. you can set socket to become active between certain times every day, they are  very simple to set up even if the instructions aren't written in the best English.

Adding Voice Control
As home automation become more popular, voice controlled smart assistants have also come into their own, proving spoken natural language access to a number of wide ranging functions, and Oittm Smart plugs provide full voice support for Amazon Alexa and Google Assistant.
I'm an Alexa user so was keen to see how well it worked, I found that adding the Smart Life Skill was relatively simple although you will need to wait for about 30 mins for your account to be authenticated and linked into the Alexa infrastructure and become available in the Smart Home section of the Alexa App.
You can specify a name that you wish to be associated with an Alexa command (eg. James' Lamp) and you are all set.
Simple to set up and it works very well indeed.
Increasing the Intelligence of the Oittm Smart Plug
One fantastic feature of the Oittm Smart Plug is the compatibility with IFTTT,  which is a free web-based service to create chains of simple conditional statements which allow commands to be activated when certain trigger conditions are met.
For example "If it is Dusk then Turn On my Oittm Smart Plug" could be used to automatically turn on a lamp when it starts to get dark.
The complete scale of support for  services through IFTTT means that devices connected to the Oittm Smart Plugs can become very smart indeed.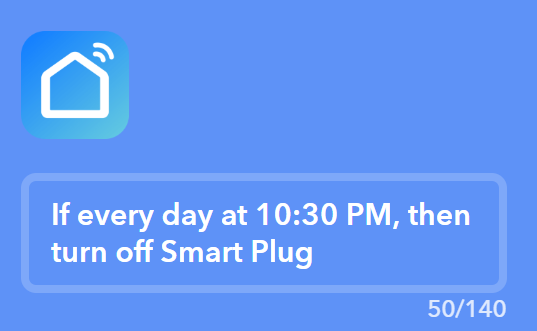 In Conclusion
The Oittm Smart Plug provides a cost effective way of automating mundane everyday tasks and making not-so-smart devices smart
Discount for Coolsmartphone readers
You can purchase the Oittm Smart Plugs from Amazon at: https://www.amazon.co.uk/dp/B076Z9CLPS and the good folk at Oittm have provided discount codes for our readers:
30% OFF code for 1 pack: HWIZ68I6
40% OFF code for 2 packs: D4GS9HKU
So now you can try home automation at a discounted price
Oittm Smart Plug
Design - 80%
Value for Money - 90%
Ease of Use - 80%
A cost effective way of adding home automation