OK, so you're probably going to have to watch the numerous potholes that are about at the moment. Riding one of these things on a road could  be eventful for all the wrong reasons if you don't have your wits about you. I've reported a cluster of around 6 huge potholes in one road and, after two weeks, nobody from Staffordshire County Council has even bothered to go and look at it according to the update I got this morning. Lovely. I've got to get me a job on the council…
"Ooohhh, I'll have to have another cup of tea before I set off and have a look at those craters in Dogshead Lane. I might just be able to fit in an inspection before lunch, then I might have another cup of tea before calling it a day. Too hot y'know.."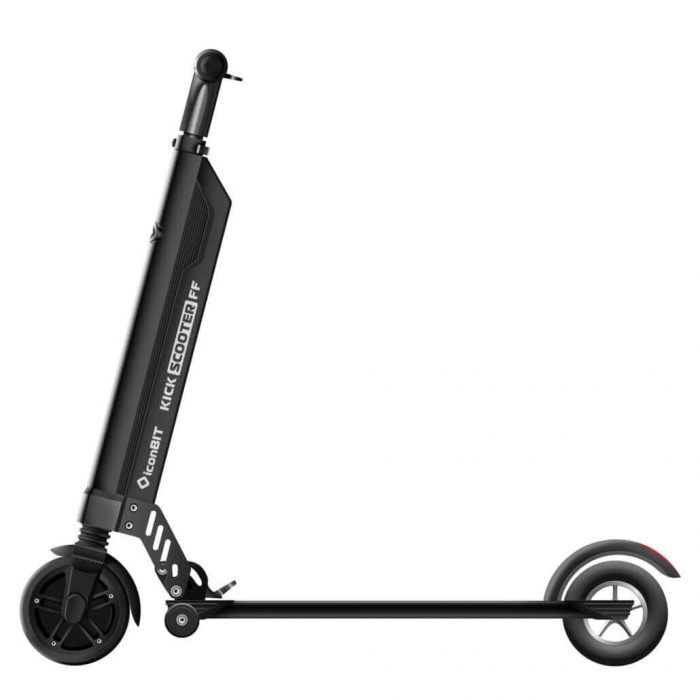 Anyways. The PR people behind these whizzy electric scooters mailed me. They wanted it pimping. You can get a selection of them in your local Currys. I couldn't actually find this iconBIT Kick Scooter FF on the site, but if you have a look on the manufacturer website you'll see that it's £499, it's made from aluminium, has a removable battery and is foldable.
It's also got clever electronic braking which allows the battery to be recharged when you're slowing down. There's also a suspension system with front absorber and 6.5″ tyres. It's powered by a 250W hub-motor with a 36V / 4.4Ah battery and you can even use it as a charger for your smartphone. It'll do three different speed settings – either 8km/h (about 5mph), 16km/h (about 10mph) or 25km/h (about 15mph).
In all honesty I'd love to try one of these. I'm young, hip, cool and definitely don't whinge about potholes when I'm supposed to be writing about a trendy electric scooter.