Way back when this site first started, we had a monstrous downloads section where you could grab MP3 files to plonk onto your phone. In the early 2000's (yes, we've been around a while), it was fairly unusual to have a phone which could get free ringtones. Most people were paying silly money for polyphonic ones. Anyone remember that?
So, after some faffing we found that the early Microsoft Smartphones and Pocket PC's could play MP3 and WAV ringtones. You just had to copy the file across to the phone, then set the text / email / ringtone to suit. The downloads section went crazy, an we had audio clips from South Park, Knight Rider, The Simpsons and so on.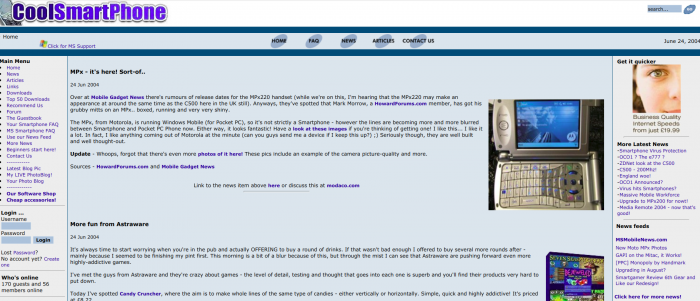 It all started with a hideous Microsoft Frontpage creation before I installed a PHP download script thingy. It all seemed a bit of fun but then, while working in Lancashire, I popped into a corner shop and my phone started ringing with some crazy ringtone. I forgot exactly what it was, but it was from this very site. Anyhoo, the lad serving me said something along the lines of…
Hey great ringtone. You know, if you want more of those there's this site called Coolsmartphone.com…
I was gob-smacked. This was in 2004 or 2005. Way before social media and everyone having the internet in the palm of their hands.
Sadly the download section got a bit too large in the end, and after a number of copyright notices came in from various places I basically had to bin it.


Sooooooooooooooo……………….. if you want a ringtone for your phone, have a look in the BBC Sound Effects archive instead. There's 16,016 sounds in WAV format to download and use as ringtones, email notifications or whatever. Plus, no copyright problems – they can be used for free for "personal, educational or research purposes".
Head over to the site, do a search and off you go. There's everything here, from ducks, car horns, laughter to explosions and drums…