The Introduction
Sony have had a mixed reaction to their phones. The design has changed very little since the launch of the Xperia Z, and even with a high megapixel numbers in their camera, some people have had varied results.
In comes the Xperia XZ1, which takes the best points of the original XZ but slims the design a little. This makes it easier to use and hold. They've also added the latest range of networking under the hood for faster speeds and more power.
But is it enough to stand out against the rest of the competition and get you to open your wallet?
Check on for all the details on the new Sony Xperia XZ1, with thanks to Vodafone for the loan device.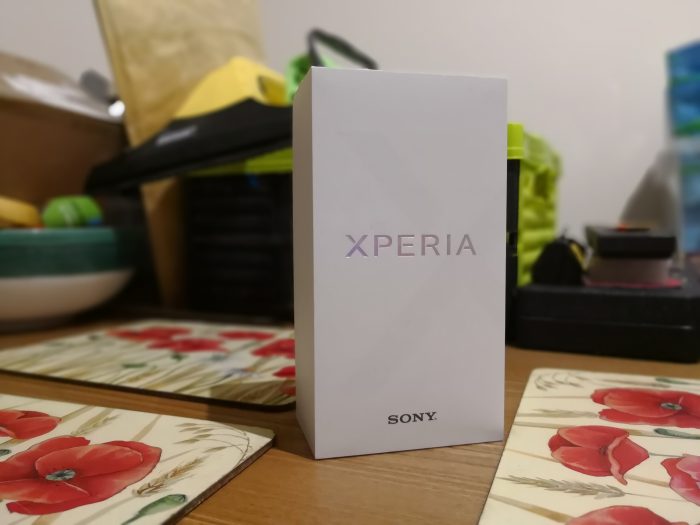 Sony have been making their Z range of devices for years, mainly keeping the same design language each time, but improving on the internals to keep up with the rest of the competition each year.
With the design it almost felt like 'if it's not broken, don't change it' decision, thankfully we have seen a change in the new Xperia XZ2, which is their latest, but more expensive flagship coming out in April.
With a premium design featuring a Gorilla Glass 5 display and a aluminium unibody frame, the XZ1 is well built, yet thin at 7.4mm and light at 155g in weight.
Sony still insist on having HUGE bezels on the top and bottom of the front, this is a shame as it makes the screen feel smaller than it actually is.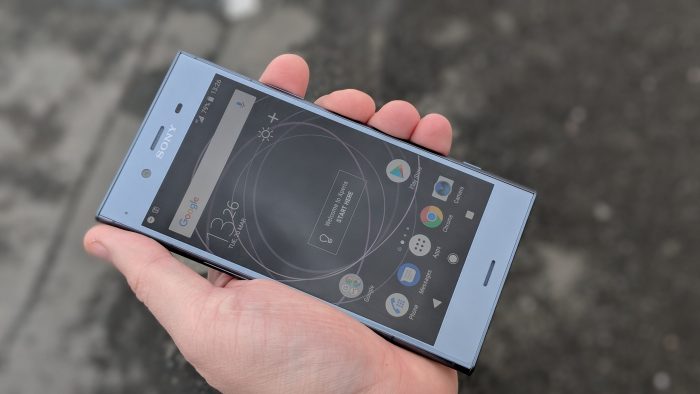 Looking straight at the device, the front facing camera is an impressive 13 megapixel lens and can also record at 1080p quality for video at 30 frames per second.
At 13 megapixels, the XZ1 has one of the best front facing cameras on a smartphone at the moment, helped by using the display as a flash to let you take those late night drunken selfie photos you will regret in the morning.
Up top you also have a small notification light which will flash when you have any unread notifications, it also stays green when fully charged.
Also up at the top is the earpiece and the proximity sensor which detects when your ear is next to the screen and turns off the display to prevent accidental taps, it also helps detect the light and can adjust the screen brightness to get maximum battery life.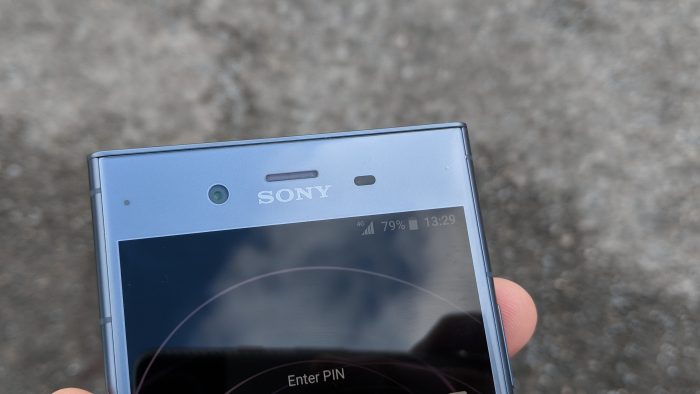 The display comes in at 5.2 inches with a resolution of 1080×1920, making it 1080p and a PPI of 424. This makes it a decent display without being amazing.
The screen itself is IPS LCD which works fairly well, even in bright sunlight conditions, and best of all it features the new HDR10 technology which means you get to watch HDR video content from places such as Amazon and Netflix if you want.
If the screen temperature is not to your liking there is also the option to manually change it in settings. Here you can add more warmth or have a cooler white balance.
Right up top you have one of the dual front facing speakers, which is great for watching videos or playing music back.
Below the screen is where you find the other front facing speaker. This helps a lot when playing games as your finger is not in the way.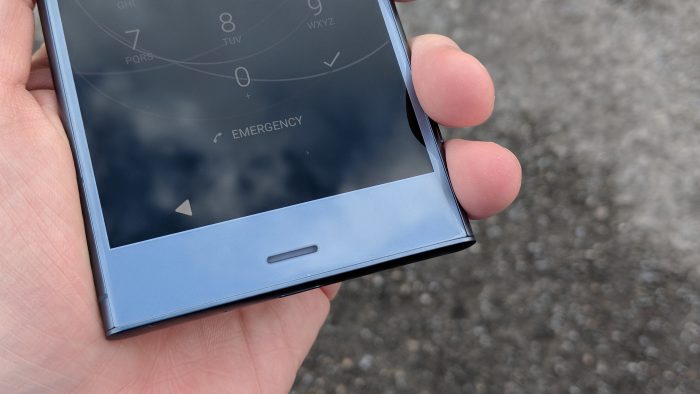 Considering the large chin on the XZ1, you would think there was enough space for some hardware buttons, however all navigation is done via the on-screen controls instead.
Thankfully the layout is pretty simple as it's in keeping with most other Android devices – a back arrow to take you back a screen, a home button in the middle and a multitasking button on the right.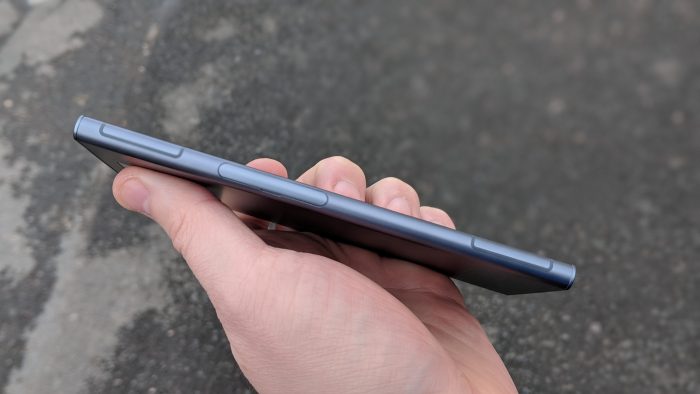 The device has a metal frame running all the way around which makes it strong and sturdy, plus it gives it a premium feel when you pick it up.
Looking over to the left side first you have a removable tray in the middle. This is where you place your Nano SIM and also microSD card if you have one.
A slight annoyance is the tiny awkward SIM tray, which if lost makes your device unusable on a network. That said, this is true for pretty much every device on the market now.
You may be looking at the above photo and wondering what those two rectangle areas are, one up the top, and one down the bottom?
These are for the antenna system and help the XZ1 get a signal where other may struggle at times.
It does not really interfere with the overall look though.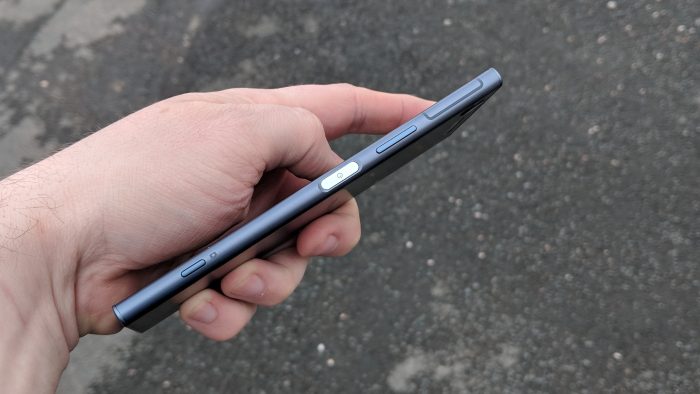 Continuing the metal frame round to the right side you have another set of rectangles for that added signal quality up top.
Below this is an up and down volume switch which as you may expect is used primarily for volume controls, it does also have other uses though such as acting as a zoom button in the camera screen.
Under the volume buttons you have a large silver power button for putting the device into standby mode, however it also has a fingerprint sensor built in for unlocking the phone and for Google Pay to authorise the payment if locked.
Finally at the bottom is something I wish more devices had, especially if their main selling point is the camera – a dedicated camera shutter button.
This small yet vital button lets you hold the phone like a normal digital camera, half press to focus using the laser focus sensor on the back before fully pressing down to capture the photo.
The clever software also captures some photos whilst focussing to predict the photo you want and offer you the best one from a series.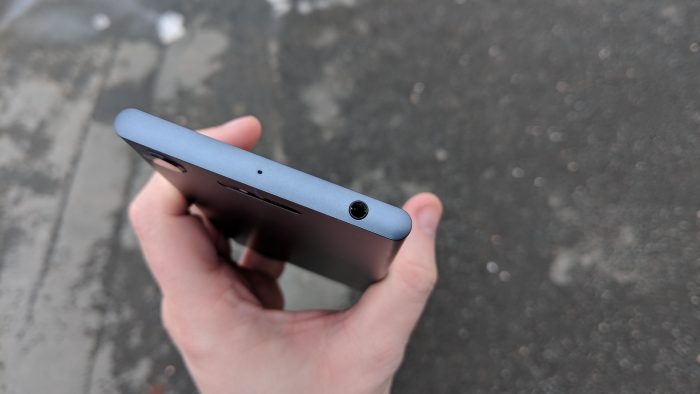 Flipping over to the top you get the 3.5mm headset jack, whilst many take this for granted, many devices these days lack this feature.
The only other interesting part on the top is the small hole which is a noise cancelling mic and is also used for capturing audio when recording video.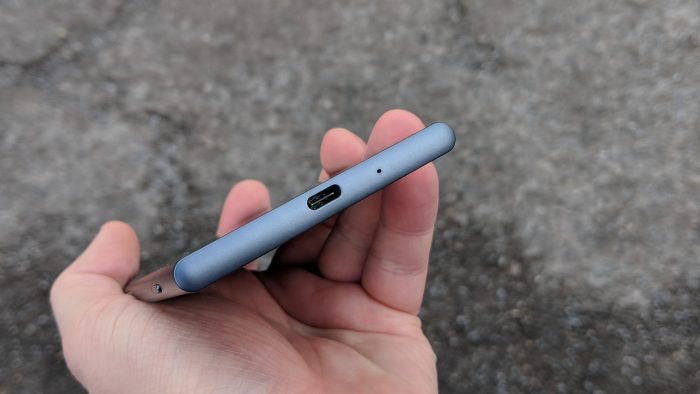 Finally moving down to the bottom you find the USB-C charging port which has now become pretty standard in devices, and much better than the older type as it is reversible….no more breaking chargers by forcing in the wrong way.
Just like up top, there is a small noise cancelling mic at the bottom.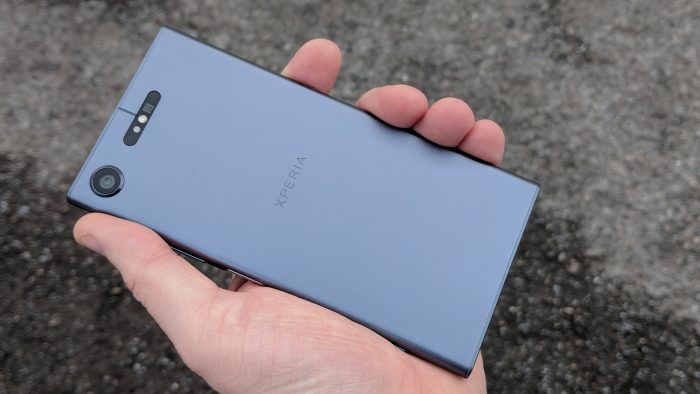 Turn over to the back and will find the metal body with 19 megapixel camera, sensors a plenty as well as the Xperia logo.
The sensors on the back include laser auto-focus for crisp blur-free photos in any conditions. Also a white balance sensor to help with overall quality improvements and the NFC chip for Google Pay or other contactless options.
This really is a well built phone but manages to stay thin and protected at the same time.
Sony are well known for their camera technology, not only do they make some of the best point and shoot cameras there are, they use some of this key technology in their mobile devices and have some great key selling points.
Sony are big on their branding, the XZ1 camera alone has Motion Eye, Exmor RS, Sony Lens G and Bionz for mobile are the main ones, all rather confusing.
That is a lot to take in, but each has a good background to it. The tech helps keep your photos in focus and will start taking photos as you are pressing the camera button. You can then pick the perfect photo and allow that fancy AR and 960fps slow motion video to perform some magic.
The Xperia XZ1 has lowered the resolution from the previous model. It's down from 23 megapixels to 19 megapixels, but this is more than enough for most people unless you are printing something on an A1 poster, and who does that without using a professional DSLR?
Most of the decent camera phones on sale have an aperture of around f1.8, with Samsung pushing the bar on their latest S9 offering f1.5 instead.
The Xperia Xz1 comes in at f2.0 which in theory should mean it struggles to compare with some other devices in low lighting conditions. This is especially true as it also lacks OIS, but thankfully it is not that noticeable thanks to some clever software helping improve the overall photo.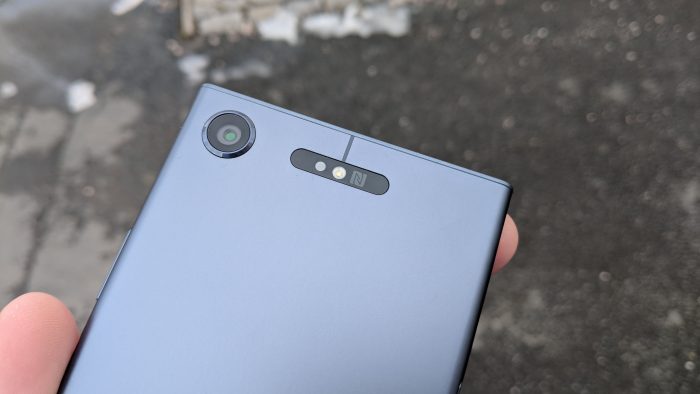 This phone really impresses when it comes to taking photos in sunlight or with great natural lignting, it also captures some great 'bokeh' photos even though it only has a single lens to use.
Low light struggles a little but still produces some acceptable quality shots for sharing on social media. This also means you can still leave your digital camera back at home.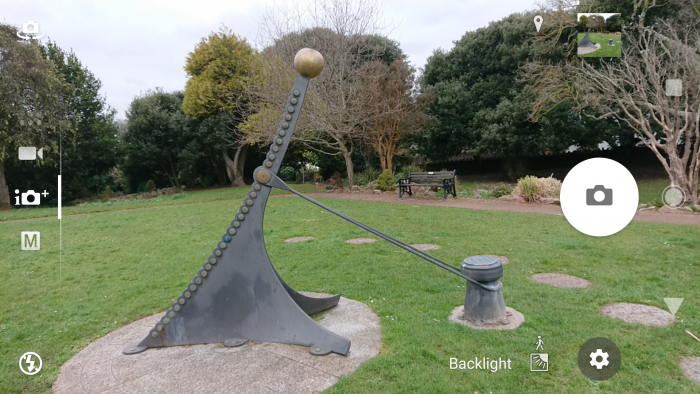 When you load the camera you're met with one of the easiest interfaces when it comes to mobile photography.
Looking at the left side first, up top is the option to switch between the front and back cameras. This obviously lets you switch from a normal photo or a selfie.
Under this you get a slider control which lets you change between video recording, intelligent auto mode and manual mode if you know how to get the best settings for the advanced camera user.
If you are wondering what that !Intelligent Auto" mode is, this is the handy software from Sony which helps to judge what you are taking a photo of, and help get the best settings for you. So all you have to do is point and click.
In practice it works quite well, often changing between modes such as "nighttime" and "macro" when it works out how close you are to your object or what your lighting condition is like.
Lastly on the left is the flash button which lets you change the flash between On, Off and Auto. Personally I leave it on Auto and let the phone work it out for me.
Looking at the right side you get a square preview of your last photo that was taken, and as you would expect, tapping this opens the gallery to browse through all your photos or videos.
Below you find the camera shutter button for taking photos. This switches to video if you are in video recording mode with an extra button above for recording a clip in slow motion if you want, however the XZ1 is one of the few phones that has a dedicated camera button up top, and I found this the best way to take photos.
At the bottom you have the 'gear' icon to change the settings such as resolution, quality and where you want to save the photos (internal or memory card)
Next to this is what mode you are in, in the screenshot above shows "Backlight" which helped boost the lighting as it was a little cloudy outside. This will change to "Macro" when up close or "Night" if you are taking photos in the evening. There are more options of course, these are just a few examples.
Below are some examples, taking in all different locations and conditions. You can see a real world test of what you can expect to get out of this device.
Photos are good quality and detail to use as a standalone camera, and the auto software is great at detecting the scene and getting the most out of the 19 megapixel camera.
Sony are really impressive when it comes to their video recording on their top end devices. Here, not only can you record in 4K, but Sony were the first to offer 960fps slow motion video recording. We're only just starting to see this on more recent competitor devices.
Below are a few examples of normal video clips, plus some slow motion clips. This shows just how cool it is to slow your recording right down.
A word of warning though, make sure you have good lighting if you want the super slow motion mode, this is because indoor lights make the clip look like the lights are flashing and makes the output quite poor.
Sony also have another great feature in the camera which uses AR technology to overlay items onto the real world to add a bit of fun
As you can see in the few examples above, you can add a range of extras to your photo from little people to dinosaurs, and whilst it can't compete with the amazing Pixel AR effects, it does allow a bit of fun to share on social media or with friends.
Performance is a on par with a lot of flagship devices, packing Snapdragon 835 processor with 4GB of RAM. In fact, performance is one area you will not have to worry about. When testing some games out I had no problems, including Pokemon Go which can be trouble on some devices.
I had use of the Sony Xperia XZ1 for about 2 weeks, in that time I was connected to Vodafone 4G most of the time and managed to get a day of use easily, this included social media, 2 email accounts syncing, using the camera as well as lots of speed tests trying out 4G+.
Network performance is an area Sony are never holding back on. The XZ1 features 4×4 MIMO and Gigabit LTE which allows for blazing fast downloads if you're in a covered area.
My home address has just been upgraded to 4G+ and I was seeing speeds of around 150 Mbps download and 30 Mbps upload. Faster results are expected in areas like London and Birmingham, but considering this was in little old Torquay, I was very impressed.
The battery has lowered from the previous model and is now 2700mAh down from 2900mAh on the XZ, but it was still plenty to get me through a day with a good amount of use over the 4G network. Even if you do start running low you have Stamina mode built in to help, or Quick Charge 3.0 for a quick boost if you are near a charger. Sadly though, no wireless charging to be found.
If you are looking to get the XZ1, the camera would be one of the main points of interest, and thankfully the battery can cope through a normal day including taking photos and videos, so you will have no concerns about running out.
The Sony UI, or "skin" as some will call it, is quite heavy when compared to something you'd find on a Google Pixel. However, this is not always a bad thing, and it does add some more customisation options to enjoy, such as themes, transitions, widgets, wallpapers and the grid size for the icons.
One area of the software wherr Sony excels is with their power saving modes. This, as mentioned before, is called "Stamina Mode" and helps cut back the power-heavy tasks to get every bit of battery life possible saved for calls and texts.
"Lounge" is an app pre-installed which gives you access to a load of content from Sony. They have also installed the Playstation app which is great for anyone who loves their gaming or who has a PS account already.
The Xperia XZ1 comes with Android 8.0 Oreo out of the box, which means it has most of the latest improvements from the OS. Android 8.1 should be to rolling out soon and this will be the version you stay on until Android 9 comes out. However, it is worth pointing out that Sony are not the quickest when it comes to updates, so you may be waiting a little while.
The great thing with Android though is, if you don't like what Sony have done with their software, you can always install a third party launcher such as Nova Launcher and get a new feel for the phone whilst getting the impressive hardware still.
Conclusion
Sony make some of the best mobile hardware. They also don't seem to skimp on the network side of things, packing in advanced technology such as Gigabit LTE and 4×4 MIMO (these help network performance and generate super fast speeds).
Processor-wise, the Snapdragon 835 performs well with 4GB of RAM and a 2700Ah battery. You won't notice any slow down or stutter when using this as a daily driver.
Overall the camera is decent enough for most people out there. The main downfall is lack of OIS, which impacts the low light quality unless you have a tripod to steady everything. Daytime shots are good and the super slow motion is really good fun.
Whilst on paper the XZ1 has a lower capacity battery and a lower megapixel camera verses the phone is was replacing, the updated networking speeds and thinner design make up for some of the spec changes. Let's face it, a 19 megapixel camera is hardly something to consider a shortfall.
Costing £520 to buy on PAYG, most people will look towards a Pay Monthly option to get hands on this device, thankfully it starts from £35 a month and comes with minutes, texts and some data.
If you want a smartphone from a big-name brand but want something different from all the Samsung Galaxy devices out there, Sony do make a good alternative, especially with their camera technology bringing some great features at a cheaper price.
A big thank you to Vodafone for providing the Xperia XZ1 for us to review.
Xperia XZ1 Review
Design - 80%
Screen - 85%
Camera - 88%
Battery - 85%
Performance - 90%
An impressive camera but old design with huge bezels