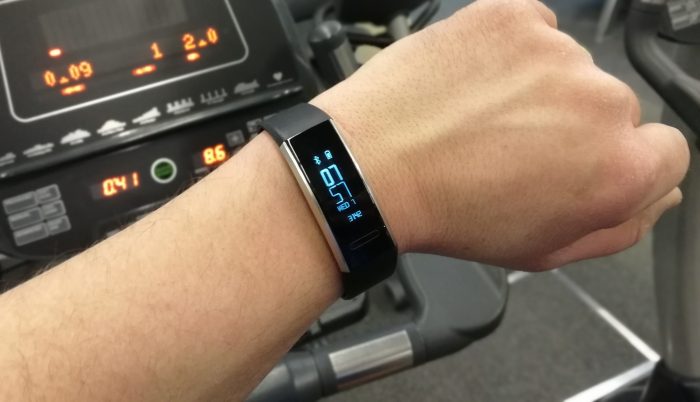 I have a bit of a problem with fitness trackers. Those that I've looked at in the past have inevitably come from the cheaper end of the spectrum and were Chinese imports. Y'know the sort – a brand you don't truly recognise, but it's £10.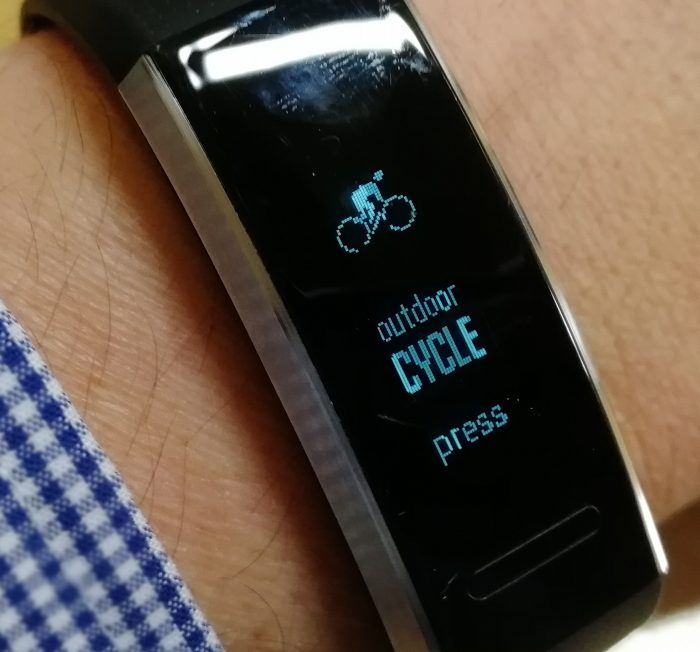 The thing is, you've got to pay a bit more for quality. Here, it's not really a great deal more either. This one is less than £50 on Amazon and it's made by Huawei. It hooks into the Huawei Wear app on your phone and keeps an eye on your exercise. You can see how many steps you've done today. How far you've gone, how many calories you've burned and so on. You can also track your running or cycling.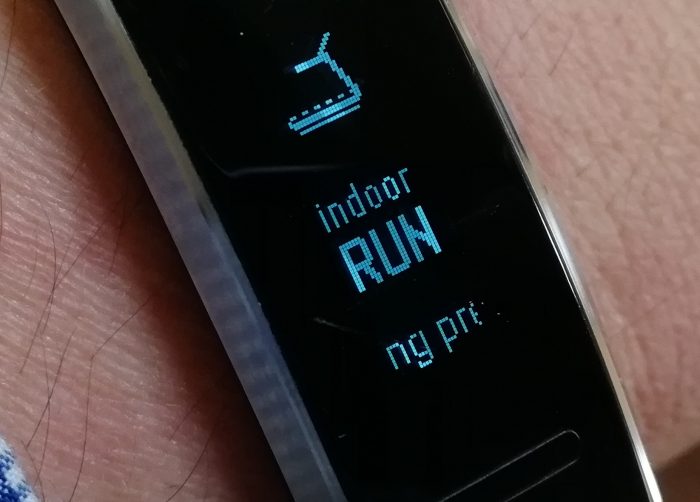 There's also now the ability to track your indoor running on a treadmill in the gym, which I rather liked.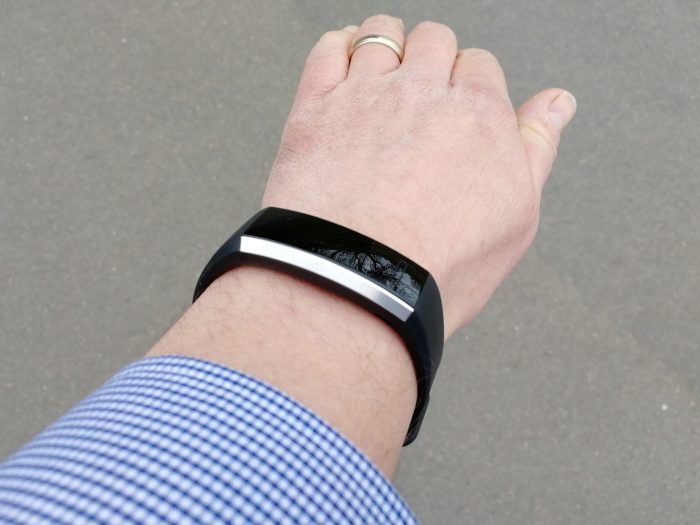 Not only that, but this also tells you the time and shows you the date. Useful bits like that. You can also tie it in with your notifications and have it display the first part of a message – I use it especially for WhatsApp messages, which is particularly useful. You can also hook it into texts, emails and so on.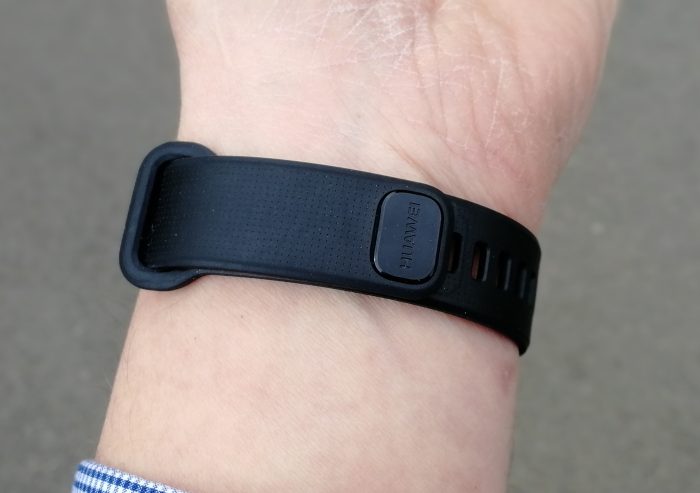 I started off using the Huawei Wear app, but lately the Huawei Health app has become the place to go if you want to get all your health information and pair your Band. To be honest it's good to see this transition, as having two apps was a bit of a faff. Now you just install Huawei Health and off you go.
You also get Training Plans here, although it does seem to be geared towards running rather than cycling. Another little bugbear is the fact that you can't really integrate with popular activity-sharing sites like Strava. Sure, there's the ability to hook into Google Fit, MyFitnessPal and UP by Jawbone. That said, I have seen a number of improvements with the whole Huawei fitness app and the Band itself lately, so I'm hoping it won't be too far off.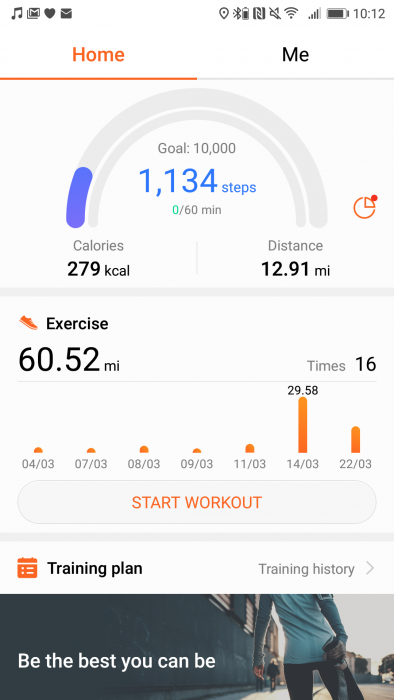 Circling back to my opening comments, I've perhaps been put off by my previous bad experiences with fitness bands. The battery life, in particular, was a pain – especially on bands that had notification and GPS technology built in.
Here, I can honestly say that I've had none of that. I can't honestly remember the last time I charged this, and I've used the GPS quite a bit on cycle rides ad runs. When I saw that the box quoted a "21 day battery life" I laughed my socks off…
..but it's true. It really is. I have to hunt out the little attachment that magically clicks onto the bottom of the band and (via a microUSB) and it charges super quick. That attachment doo-hickey has to go in a "special place" because otherwise I'd honestly forget where the thing was – I use it that infrequently.
In addition to all that, there's Heart Rate Monitoring so that you can see what your heart is doing at rest and during exercise. It'll even tell you off when your heart rate is getting too high, as it did a few times during my runs and cycling. This was useful, and the vibration reassuring, although I could also tell I was pushing quite hard by the level of sweat pouring off my brow.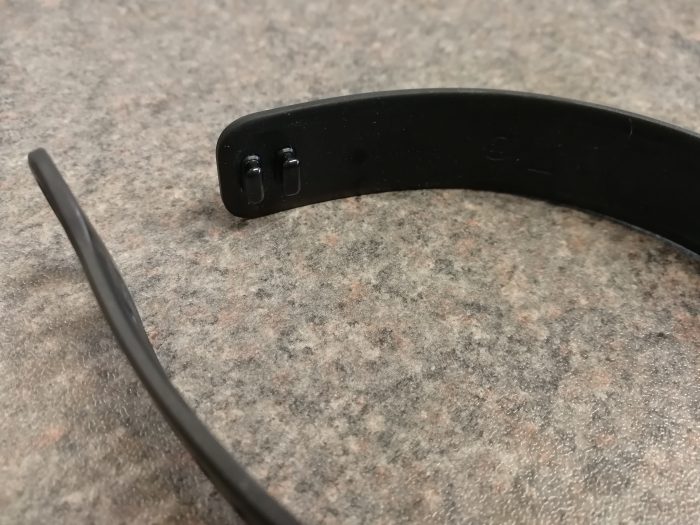 Wait, I'm getting ahead of myself. Is this comfortable? Yes. Yes it is. I've worn this more than any watch or band that I've worn in many years and yes, I can safely say that it's very comfortable indeed. The way it fits and locks in place is neat too. Really easy. It looks and feels great.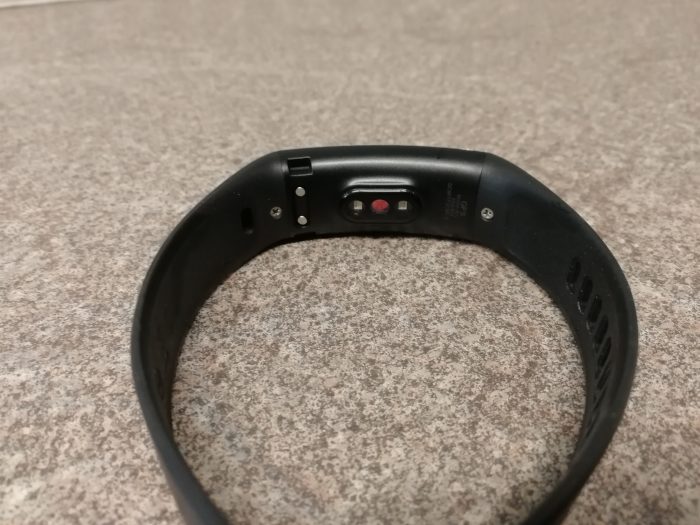 At the bottom of the screen is a small touch-sensitive area / button where you choose what you'd like to do. Anything more advanced than that is accessible through the companion app. Tap once and you can do an indoor run. Tap again for an outdoor cycle and – if you long-press to confirm – it'll crank up the GPS and start tracking you. This is more advanced than just tracking your cycle ride with your phone. Here you get your average heart rate, max, minimum and lots of data about climb, speed, pace, training effect, recovery time, advice and a map of where you went. Likewise with an outdoor run. Oh, and it's also waterproof up to 5ATM so you can track a swim, wear it in the shower and use it in the rain. That "5ATM" means that you can dive down to 50 metres.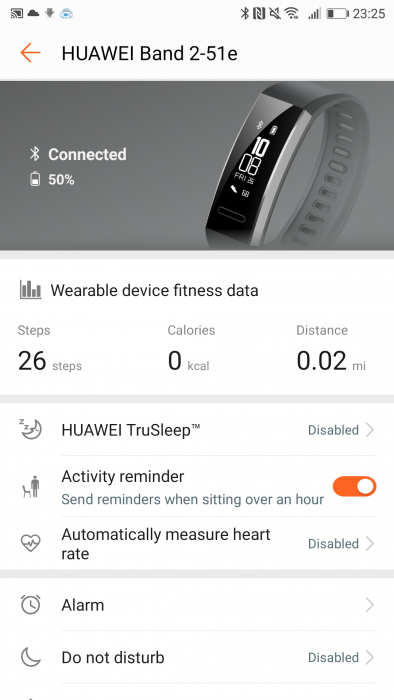 You can take ad-hoc heart-rate readings, plus there's a feature called "Breathe" which seems to try and get you all relaxed by telling you what your breathing is like.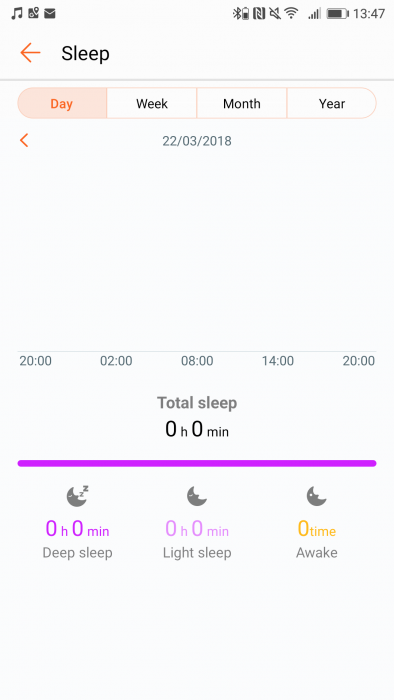 I don't tend to wear things like this at night but it can also report on your sleeping habits and patterns – this is the whole kitchen sink here, honestly. It'll not only track sleep – it also shows how much light, deep and REM sleep you're getting.
When you've woken up and you get to work, it'll also tell you how much sitting you've been doing. It'll remind you to move around and you can alter how often it does this too. There's also the infamous step count and you can check how many calories you've burned and how far you've walked – all from the band itself.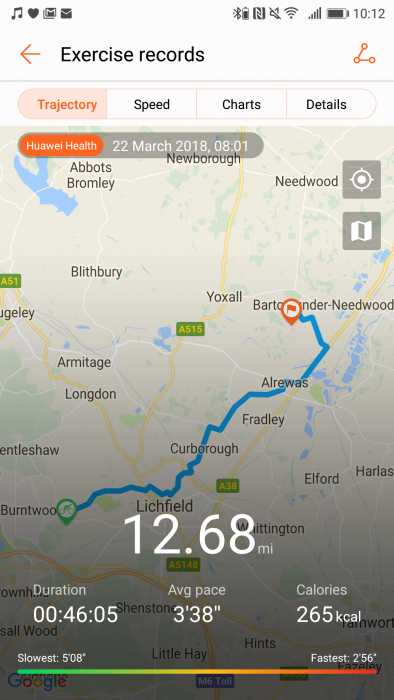 At times I was pretty amazed at the thing. Especially the indoor runs. I couldn't quite figure out how it was measuring my distance so accurately without the aid of GPS, but somehow it mostly got it spot on and it was pretty lined up with the gym equipment. Deep inside the band there's a raft of sensors which help to make this happen – GPS and that heart-rate sensor are of course two, but you also get a 3-axis accelerometer, a detached PPG Cardiotachometer (don't ask me) and an Infrared Wear Sensor.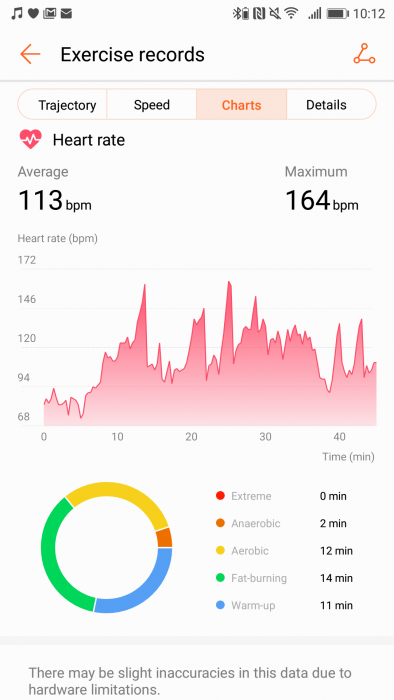 Put all this together and it means that the Band can estimate the VO2 max along with biometric data. The VO2 max basically (and I had to read up on this) is a measurement of how much oxygen your blood can store. Good for stamina I believe. I won't tell you what mine is 🙂
As I mentioned earlier, the app has improved greatly in recent months and I also received an update to the band which added that Indoor Running functionality. Good to see this. There's always a slight smile on my face when I see that developers are nudging a product along and you feel "cared for" in a way.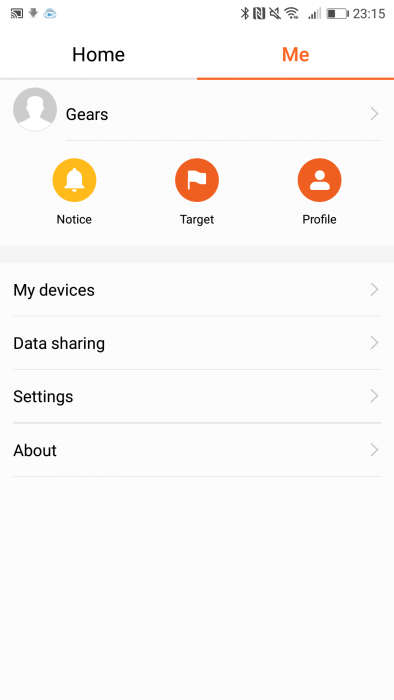 The app has a couple of main tabs. The "Home" one is where you'll mostly be, but you can head into "Me" and set your goals (whether it be weight reduction or steps) and set your profile – your weight, height and date of birth, plus your gender etc. It's good this bit, but here in the UK we use a weird mish-mash of units. The app gives you "Imperial" or "Metric", which means you'll either have to work out your weight and height in kilograms / metres or use "Imperial" and suddenly try and figure out what your weight is in pounds (lb), which we really don't tend to do here.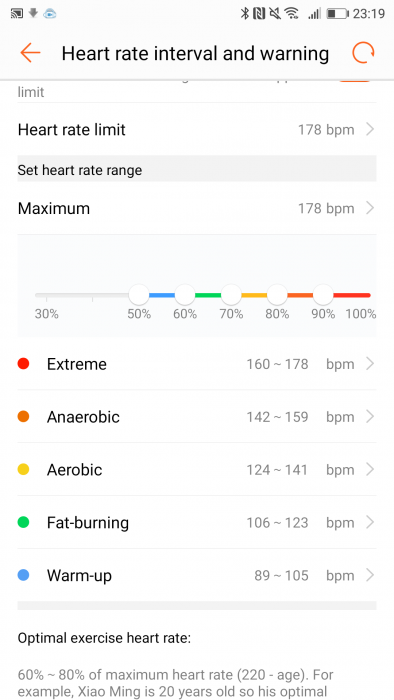 You can also tweak a lot of settings here too, including your heart rate interval and monitoring. It's set to 178 bpm on mine and I've had it alert me a few times for hitting that. You also get sections where you can set warm-up, anaerobic and aerobic bpm's. All very clever stuff this.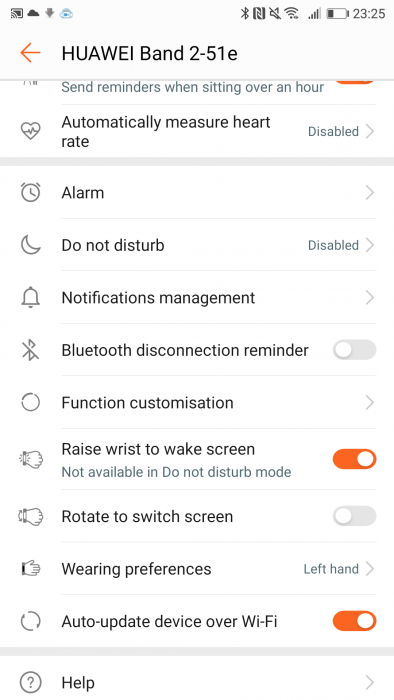 There's a couple more options here, including GPS auto-track (I didn't have this on) and some toggles for step count etc. You can also hop into the all-important device section here and set the Huawei TrueSleep up (this can be activated if you wish), you can enable / disable the activity reminder, set an alarm, a do not disturb and a whole lot more.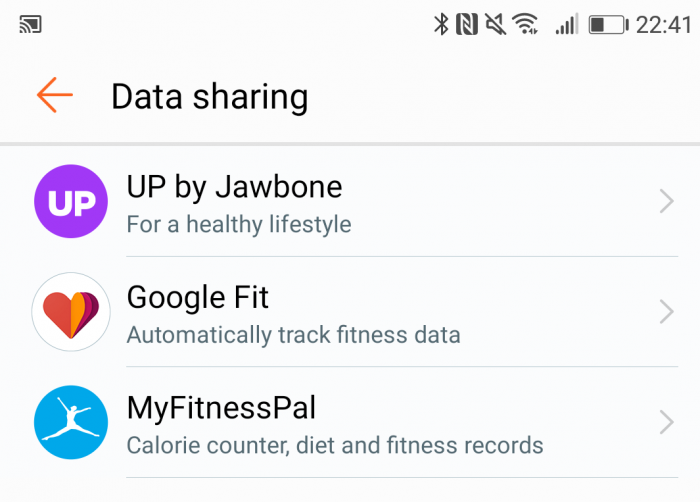 Wear the Band on your other wrist? You can set that. Want to move around the sequence of activity options on the Band? You can do that. Want to select which Android apps you want notifications from? You can do that too.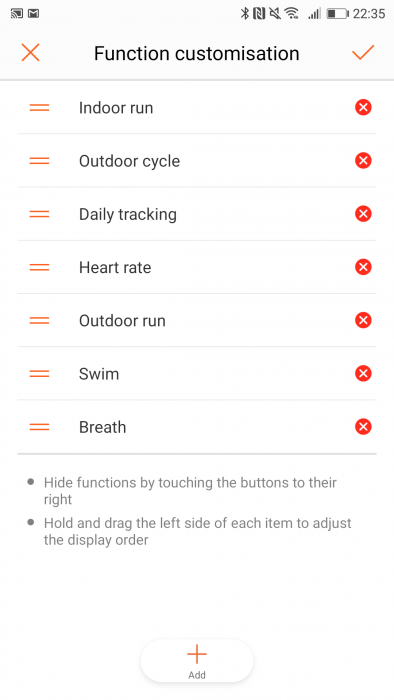 This is really the place to control your Band itself, and there's a lot of options to flick through.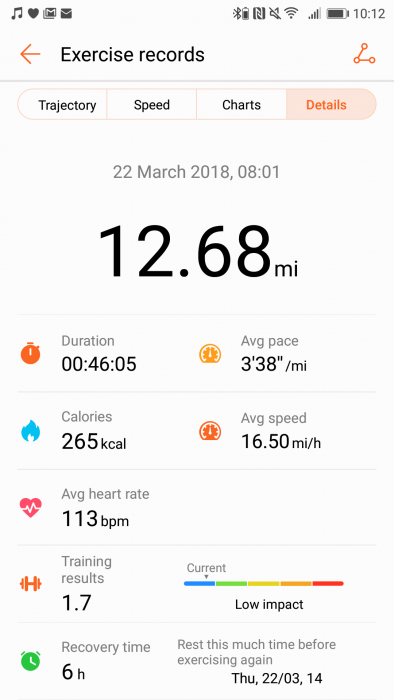 Here you can see the results of my bike ride into the office. I've used 265kcal, which is about half a cup of coffee at Starbucks (based on a tall latte). Not much after pedalling nearly 13 miles is it eh?
You can then see your speed breakdown, your heart rate and it'll all come together to show you how close you are to your target.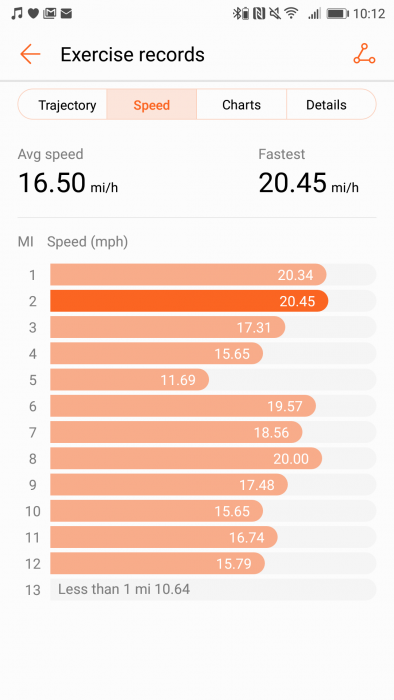 The depth of data that you can get here is very good indeed, and I was constantly surprised at the battery life and the sheer usefulness of the band. It was simple to use, to understand and very comfortable to wear. It'll even do things like merging data from two separate sources – such as getting your step count from your phone and your Huawei Band. A nice little touch that.
Overall
I've got to say, for the money, this is high-class bit of kit. Sure, I've somehow scratched the screen and it won't talk to Strava (I've taken to carrying my phone too, which is kinda daft). Sure, there's probably a way around this by using Google Fit and exporting it, then importing it, but that's a bit of a faff. I'd like to see some more training plans being added too, but I did get a sense that continual improvements were being made, and I'm confident that we'll see further changes.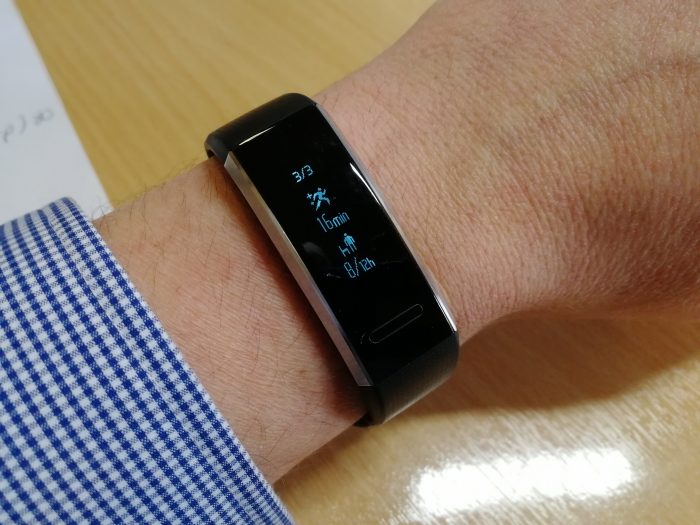 This is far more than just a step counter. This is a mobile notification device, a proper fitness tracker which keeps an eye on your heart rate, your movement, your sleep, speed and overall sports activities. It advises you on how long you should rest between activities. It helps you along, it coaches you in a way and there's some very complicated data shown in a very straightforward way.
For the money it's incredibly comfortable to wear, easy to put on, easy to pair and easy to use. There's now just one accompanying app and it syncs together easily. The battery life, well, that's just epic. Despite the fact that I can't really see the screen a great deal in the daylight, I have to admit that I love the thing, I really do. Get one on Amazon for £49 or get more information from the Huawei website.
Huawei Band 2 Pro Fitness Wristband Activity Tracker Review
Comfort - 94%
Value for money - 89%
Accompanying app - 81%
Ease of use - 92%
Battery life - 100%
Cozy and comfortable to wear. Lots of features, epic battery life and easy to use. I'd like to see a data export functionality but it's still a fantastic fitness band for the money.