So before I get into the HomePod I will say that I brought this out of my own money. I wanted a smart speaker which worked better in the Apple Eco-system than the Amazon and Google alternatives. I've also had this from the release date, so I have been playing quite a bit with it. As with anything new, the novelty has worn off a little. This makes me feel more critical.
First Impressions  
When I first opened the box, as with all Apple products, I find the unboxing "an event". This wasn't to say lack lustre though, it's just not as exciting as a new phone or watch. It was relatively simple and concise and I was left with a "thats it?"-feeling afterwards.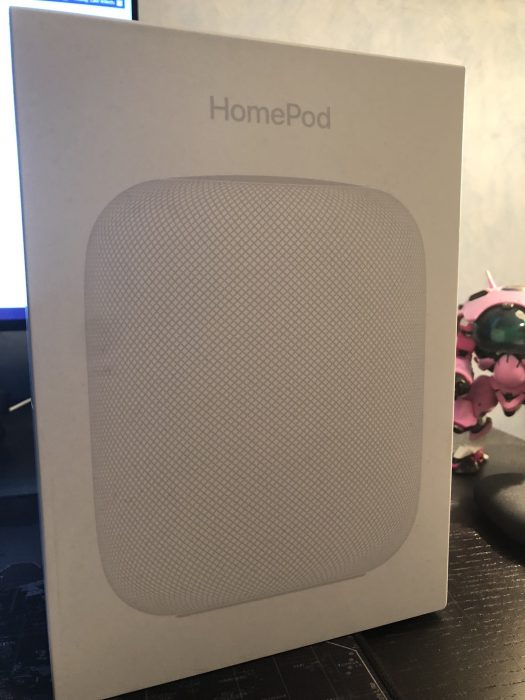 Anyway, onto the meat. Looks-wise the HomePod is very stylish and fits well into a modern room. Its 360 design and mesh weave makes it possibly the best looking speaker I have seen. Despite kind-of-looking like the last redesign of the Mac Pro. The mesh isn't as soft as it looks and it's stiff to the touch, I don't want to dent my HomePod so I won't be pressing hard. Its touchpad-top is relatively fingerprint-proof and in white (I have only seen the black in my local store so I can't judge to much) it's vibrant and stands out. However, looking at it every time I use it isn't what it is for. Also it's super-sensitive and, when rapidly turning up the volume, I've accidentally switched song ("Hey Siri,play the previous song"). The animation is really smooth as well which, as a Video Game student, is a neat little thing I pick up on. The colours are limited but honestly I don't really look at the speaker now that I've got used to it being there.
Setup bothered me a little as it seemed to easy. I just held my phone next to it. Connect. Done. Off you go.
Super easy and simple, but I feel like I wanted to have a few settings to play about with. And there are, but they are hidden in the "Home" app on the iPhone, and they're not very in-depth sound-wise, which I guess is due to the dynamic sound features.


Elephant in the Garden
The walled garden that is. The one Apple wanted me to walk right into, close the barred door and padlock myself in. Well hello, I did it. What will you do?
So with the HomePod I can't natively use Spotify, Deezer or "insert your music streaming service here" unless it's Apple Music. I am okay with that though, as it's built in. I also can never switch completely to an Android device like I was looking to do once upon a time ago (the S8's screen nearly caught me). The walled garden worries me a little bit but, as a I favour the brand, iOS and design in general, I doubt I will be going anywhere for a long time.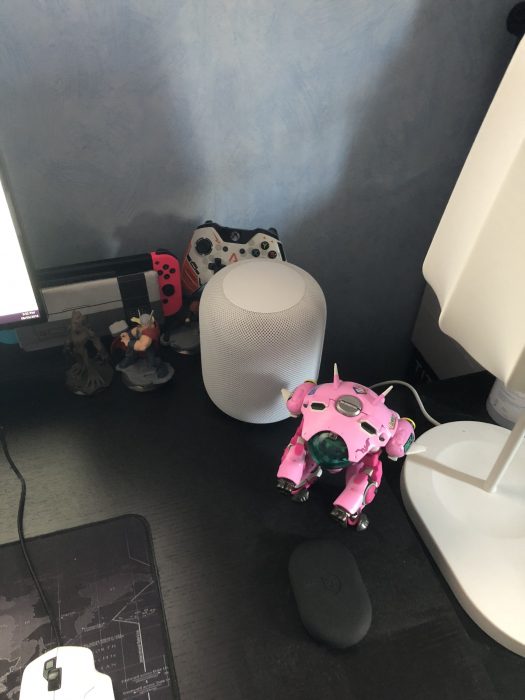 Einstein is that you?
I need to stress that this is a smart speaker. Siri is smart but it is in nursery compared to Alexa, who is on her Master's degree in general trivia and activities. Siri can do basic commands and works really well for them. But, all too often, I am met with "I can't do that on HomePod" and this is really annoying. Why Siri? Why can't you answer said question or open an app on my iPhone for me when I ask you to so?
Then there is the delay.
"Alexa what's in the news"? or "Hey Siri……………..what's in the news?"
Which is more pleasant to a user? I know which I prefer. I will admit that the delay is minor and sometimes I can just roll off in one, especially for things like turning down the volume, but the odd time I do have to repeat myself. In this case I wait for Siri to do the little "hmm?".
The sensitivity of the speaker is amazing. It picks me up at full volume and most of the time when I shout from the bathroom a few meters away and around a corner. The microphone works really well. Also the activation command, "Hey Siri" can be awkward, especially if it's a follow-up question or another command. Why can I not just say "Siri" like Alexa?
I am not saying Siri is useless, I wake up to an alarm that is pleasing rather than aggravating. This keeps me in a good mood and when I say "Siri good morning" and it replies pleasantly. Then I ask what is in the news and am unfortunately reminded I can use LBC or Sky News. I can't seem to stop this prompt, but it gives me the news from BBC anyway. I let Siri DJ for me for a while I get ready. This is where Siri and HomePod comes into its own. After using Apple Music since release I found that it wasn't really learning my tastes. Apple seemed to push Pop and Rap to the front of the platform, but now Siri gets a firm "I don't like this" and then changes to something else. At first I was doing this all the time but now I might just do it once a day, and if I just don't want to listen to Chumbawamba's banging Tubthumping, then I can skip without it falling out of rotation.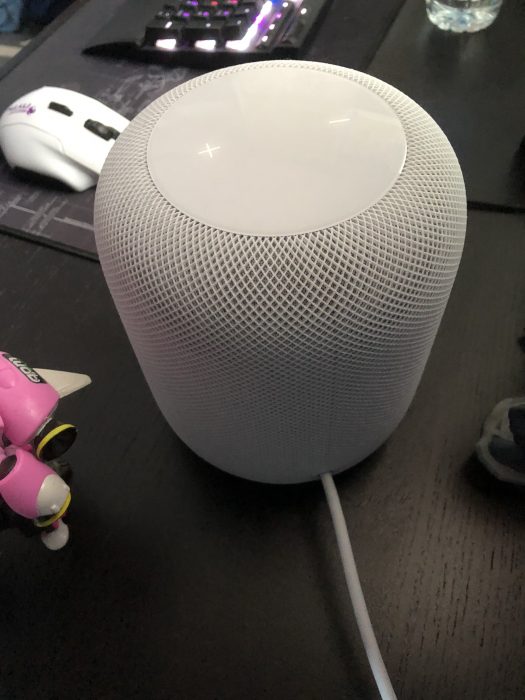 Listen to me!
The HomePod is the best speaker I have ever heard or owned from a consumer standpoint. This despite it not being stereo unless you get two, which by the way is ludicrous considering the price (and the feature isn't out yet, unfinished product according to friends). The speaker blew me away.
Warning – an insight into my music tastes coming up.
I play a few songs every time I get a new speaker. The first test is Pendulum – Dusk part 1 & 2. This captures the bass and output of the woofer. Then Selene by Imagine Dragons as it's my favourite song and I want to hear what it sounds like. So I guess that's a personal test and the same with Panic at the Disco – I Write Sins Not Tragedies. Then I genre shift to Tape Five, Hush Hush Magazine and finally Call me Al by Paul Simon. I feel like all these different types of songs give the best judgement as they are all very different and all have different highs and lows that allow the speaker to perform a high range of motion. HomePod excels with all of these songs.
It truly is a joy, and in conjunction with Apple Music it has 40 Million songs to go at. Spotify as well, despite throwing Siri out of the window. For this I can play songs but then it becomes reliant on my iPhone as a separate device. Then there is the dynamic location scanning the HomePod features. For the first week it lived on the left side of my desk but I moved it to the right and suddenly noticed a seamless transition from how it sounded in its original location to the right side. I note that this wasn't a better quality but actually just a bit of tuning to make it sound its best. The HomePod seven tweeter array throws the sound nicely towards me and navigates my room very well compared to my old Bose SoundLink Mini 2 that I still love dearly as my portable speaker.
Round up
For what it does the HomePod is very expensive (£319 from Apple) and if you're looking for a truly smart speaker then Alexa is your answer. I have played with one of those quite a bit and it is much smarter, plus it can play games.
If you're looking for a speaker however, the HomePod is amazing and a leader in this field. It truly blows Echo out of the water. With a few more months all the features will be on the HomePod and I hope Siri will become smarter too. The thing I think we forget with Siri is, while it maybe be the oldest assistant around, it has always worked with a phone. Now this speaker has a few years of catching up with Alexa before they can be considered on the same level.
The walled-garden philosophy also kills its user base which will hold it back. Unless that problem is sorted I believe we will be waiting for a good long while before HomePod 2.0 is mentioned. This HomePod has to prove itself in Apple's arsenal first. Would I buy one again? I am truly not sure. I love it but the price point rules out the "one in every room" idea, and Siri simply can't do what Alexa can.
I think I would go for a multi platform experience and look more into Echo if I was in the market for another smart speaker. The HomePod is a true Audiophile's speaker.
HomePod
Design - 92%
Ease of use - 80%
Sound Quality - 90%
Value for money - 55%
Intelligence (Smartness) - 25%
An amazing speaker that just needs to go to school