The Introduction
Nokia. They're a brand well known in the mobile industry. Who could forget the 3310? So popular that it came back to life years later here in the UK.
Some of you may remember that I came from my own Nokia dedicated site called World of Nokia all those years ago. I was a die-hard brand fan who and groaned at the news of the Microsoft deal.
When Nokia sold to Microsoft after making their Lumia range of Windows Mobile powered smartphones, many of us were left dreaming of a time when Nokia and Android would be married together. It seemed only a dream.
Well it turns out that dreams can come true. HMD Global now have rights to the Nokia brand. They're making smartphones on the Android OS to the excitement of many.
Read on for all the details on the new Nokia flagship – the Nokia 8.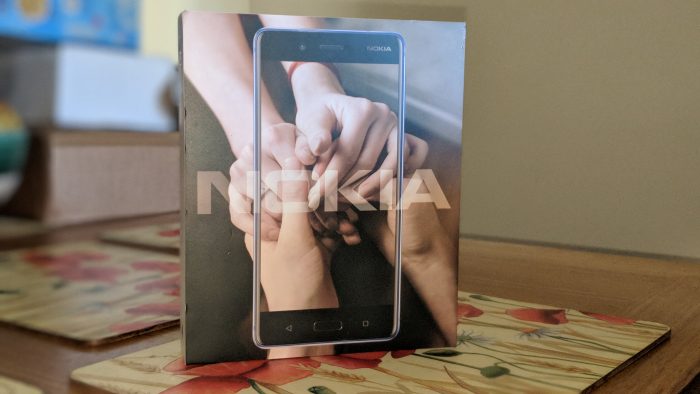 ---
Design and display
You have to admit that the Nokia 8 really stands out when it comes to design. It has a beautifully shiny metal body and comes in either copper or blue. In fact, even the silver model looks good and is less of a fingerprint magnet.
A Gorilla Glass screen and metal body adds to the overall weight, and at 160g the Nokia 8 is not super heavy, but does feel very premium in the hand – as it should for the price.
There is IP58 splash proof protection for the odd splash here and there, but in no way should this be considered as water resistant like, for example, the Samsung S8.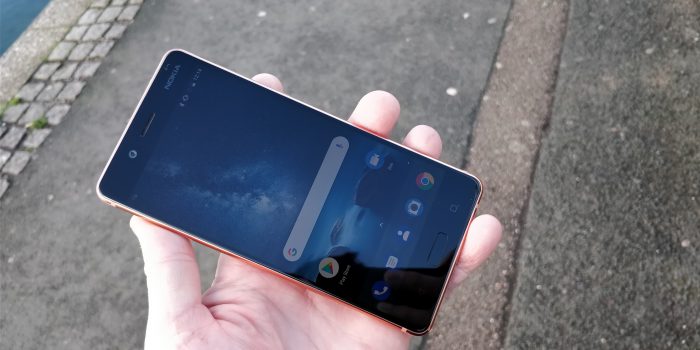 The colour frame runs all the way around so you can a nice glow on your hands. As you can see, I was sent the gorgeous-yet-fingerprint-friendly copper version.
Up top there is a front facing 13 megapixel camera which is one of the key focus areas (excuse the pun) of the Nokia 8. This is because the Nokia 8 has a new feature called 'bothie' built in (yes that is really what it is called). Once switched on you get to take a photo or video of both yourself and what you are looking at. This works even when live streaming on Facebook or YouTube, which some might like.
There is no dedicated front camera flash, but with the screen bright enough this helps boost brightness. Even with that the overall quality in low lighting is quite poor, especially compared to the Samsung S8 and the Pixel 2XL.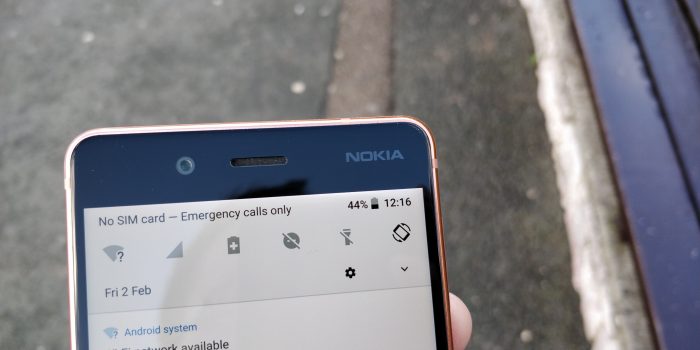 The display is 5.3 inches with a Quad HD resolution and it really is a stunning display. There's bright colours and exceptional detail on photos or high resolution videos.
Up top you obviously have an earpiece for calls and the Nokia logo on the right side. It's great to see them back in the smartphone race running Android.
Below the screen is where you have the two capacitive touch buttons with the fingerprint reader located right in-between them.
The left touch button is to go back a screen with a tap and the right button is to load up the multitasking window and close any apps you want to shut down running.
The fingerprint reader is in a good location but I found that it did not work all the time, maybe 8 out of 10 times. For most people it will be fast enough for your needs, including using it to pay for goods with Android Pay.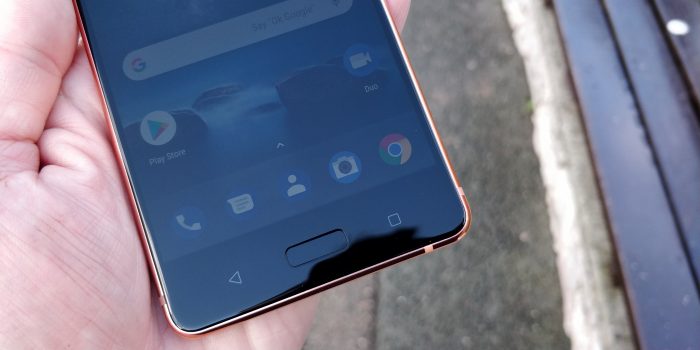 With all the navigation controls sitting on the bottom "chin area", along with the fingerprint reader, it gives more space to the screen to show off your content. This is something you will either love or hate. It is a personal decision depending on which you prefer best. I personally prefer the rear fingerprint sensor to give more screen real-estate.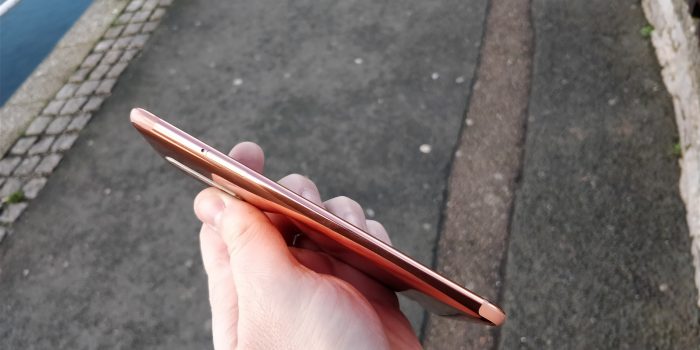 The Nokia 8 has a great feel to it, although I have to say it is the slippiest phone I have EVER used. It slides all around the place when on anything other than a flat surface, and often it feels like it will slip out of my hands.
Turning over to the left side you have a full metal frame in the colour you picked, with only the SIM card slot here. It's accessible using a pin like most other phones these days.
The SIM card used here is a Nano SIM and thankfully there is support for MicroSD card. You've got 64GB built-in too.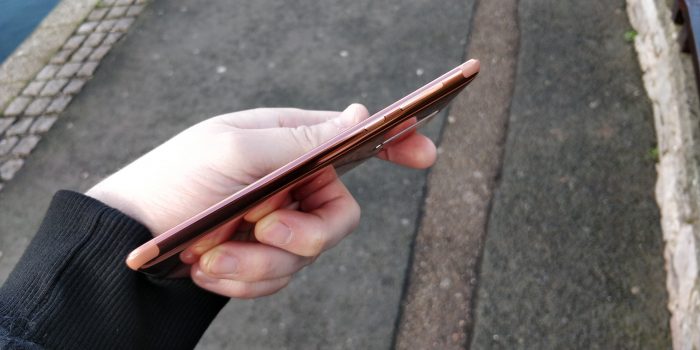 On the right side you have the volume up and down keys used the same way on any other Android phone you have used, with the power button just below
All the buttons do feel the same so there is no special feel on the power key some manufacturers use but the most of the time this was fine.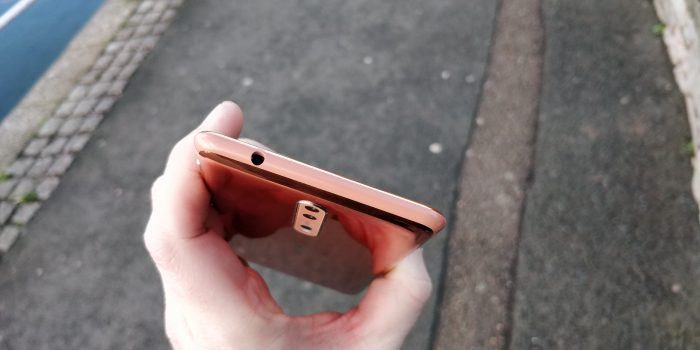 Up top you have the 3.5mm headset port – this is great to see as many flagships are starting to phase these out to save space. However, this is not always convenient if you do not have the adapter with you or have not moved over to Bluetooth yet.
The supplied headset was of decent quality and fit quite nice in my ears, although these are just a standard pair so do not expect anything amazing. If you are into your audio, you will want to invest in a premium pair if you have not already.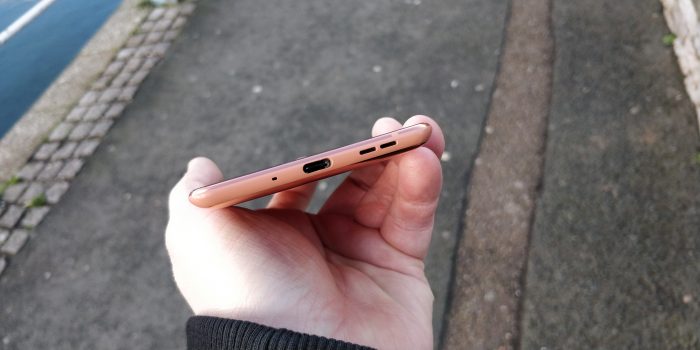 At the bottom you will find a small microphone hole used for voice calls and capturing audio in video mode, you also have a USB-C port for data transfer and for charging the phone. Thankfully with Quick Charge 3 supported (no wireless charging here).
Next to the charging port you will find a speaker which gets quite loud when listening to music or watching video. It also is clear for voice calls if you need to use as a speakerphone or for conference calls.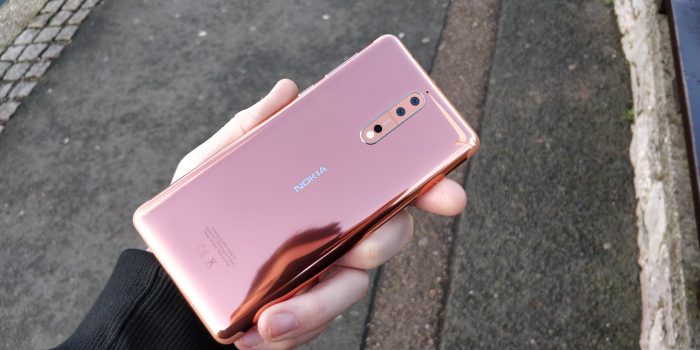 Turn over to the back and you get another microphone which makes up the three used for OZO audio recording. You also have a dual 13 megapixel camera setup with one being colour and the other being the monochrome camera for fancy black and white photos.
Below that is the dual LED flash which gets very bright and can be used to improve night time photos. It also acts very well as a flashlight.
The back is a total fingerprint magnet, especially on the copper version we were sent to review. The same has to be said for the blue version, so if you hate fingerprints on your phone then check out the silver model instead or have a microfibre cloth with you at all times.
Cameras
The camera is what made older Nokia devices stand out from the competition. Remember the superior lens quality and software? Carl Zeiss was a name you may remember and it's still brought to the forefront of our memories when people discuss Nokia cameras.
The Nokia 8 is the first Nokia / Android smartphone to use the lens company. Nokia went with the Huawei approach on the cameras and used one colour 13 megapixel lens and another 13 megapixel monochrome lens. There is a dual LED flash here too which can be used in low light conditions to help boost the light somewhat. It does a good job but would have loved to have seen a return to the old days and had a Xenon flash instead.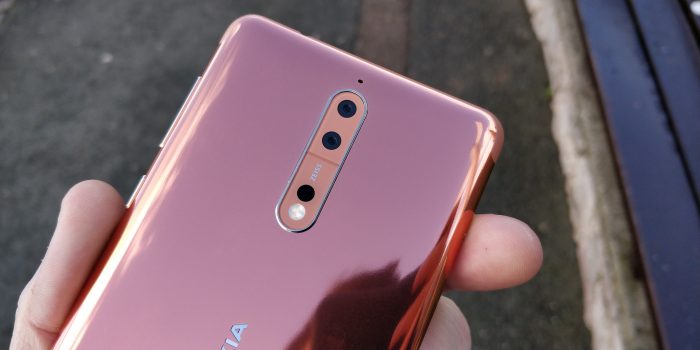 A lot of camera-focused flagships have gone with f1.7 aperture lenses to let in the most light possible, LG even managed to get f1.6 on their V30.
So with that being said, the f2.0 camera on thr Nokia 8 was expected to have a tough time competing with the other more established names out there.
In fact most of the work seems to have gone into the same 13 megapixel selfie shooter on the front, mainly due to the 'bothie' mode where the screen splits into half rear camera and half front so you can take photos and record videos of what you see and your reaction.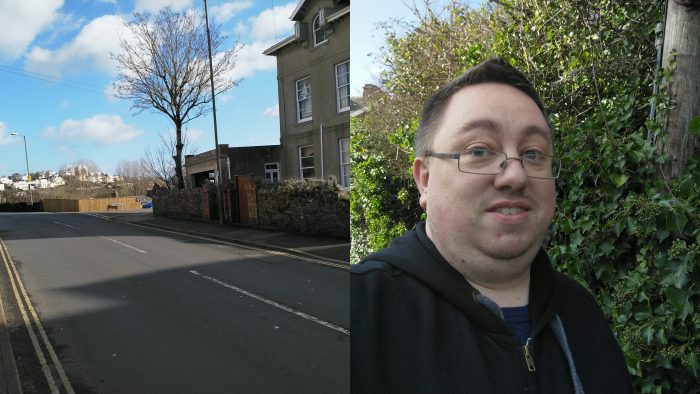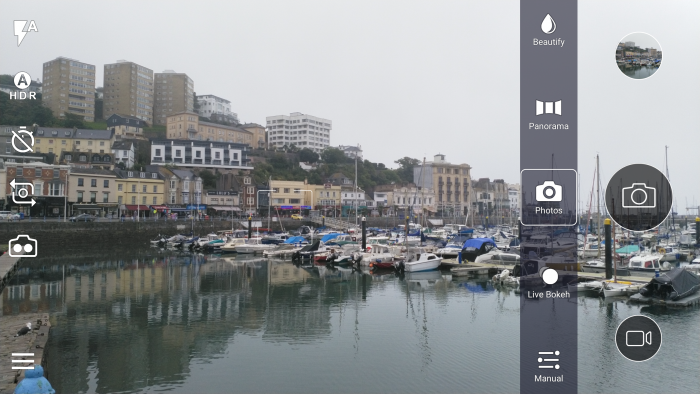 There's quite a complicated interface initiually, but after using the camera a bit more you'll start to learn where each button takes you.
In comparison the Google Camera app is much more user friendly and captures better photos than the built in one. You do lose not being able to take bothie photos with the Google app though.
On the left side you have different options to change the flash, HDR, timer, switching the camera between front and back and finally the on-screen button to change between single lens and twin lens modes.
Looking at the right side you get beautify modes, panorama mode, live bokeh (which is the fancy term for blurring the background of a photo and focusing on an object close up) and finally a manual mode if you are into your photography and want to get extra hands on.
All the way over to the right you have a photo thumbnail of your last taken shot, a camera shutter button and the video recorder just under to switch modes.
Below are some examples, taking in all different locations and situations so you can see what thr Nokia 8 can do.
Performance and battery
Performance is pretty much on par with a lot of other flagships out there, with 64GB storage and 4GB RAM. You get a pretty powerful multitasking device to play around with. Speaking of power, the Nokia 8 comes with a large 3090mAh capacity battery which will last the day, even with quite a lot of multimedia use including taking photos.
A let-down is the lack of wireless charging support, so you are left with the old fashioned cable option. However the good news is the Quick Charge 3 built in so at least you get a fast charge when on the move. Plus it's USB-C.
Helping run everything smoothly is a Snapdragon 835 processor which, when paired with the 4GB of RAM, means you get a lag free phone experience.
Software
The software experience is impressive on the Nokia 8, mainly thanks to the almost untouched version of Android it runs, and that brings benefits for faster upgrades too.
Whilst a lot of phones are still running an older version of the OS, Nokia have just released Android 8.1 for this phone. This takes it in line with the Pixel range of smartphones.
You do get a few little tweaks here and there for Nokia services and of course the camera app to enable the dual camera and bothie mode.
The great thing with Android is, if you do not like the design of the home screen, you can install a new launcher. The same goes for if you do not like the texting app etc..
Kudos to Nokia for leaving the Android experience as close to stock as possible to allow faster updates and improvements.
Conclusion
It must be said Nokia have done a great job with the overall package offered on the Nokia 8. The fancy red, yellow and other bright Lumia colours we loved have gone sadly, but they have been replaced with beautiful shiny blue, copper and silver models that really catch the eye.
The Nokia 8 is stunning to look at. You almost do not want to out a case on, however withouth a case it's super-slippy… so get one.
The software experience was great. Very little had changed from the stock Android experience and it very quick in switching between applications. I also have to say a big well done for the company in keeping up with software upgrades. At time of writing this Android 8.1 was rolling out to users.
Battery and processor power were also decent thanks to the modern processor used and a hefty 3090mAh battery, and the screen was more than decent for daily use, even at Quad HD resolution.
The biggest let down if any was on the camera, and that is a mighty shame. The Nokia of old, when paired with Carl Zeiss optics, produced some of the best shots ever on some of the best camera phones – the Nokia N8 or 808 PureView.
The software on the camera could be a little less confusing, especially considering how many phones I try out – even I got a little confused at times. Low light seems to have taken the biggest hit in quality, with an f2.0 aperture lens compared to the f1.7 used on a lot of other flagships.
When uing the selfie camera to record a video sample for my fiance's vlog channel, the quality was poor and dark, especially compared to the Galaxy S8 and the Pixel 2XL, which just blew it away completely.
Overall though I was impressed with the Nokia 8. It costs around £500 SIM free in the UK. You have a chance to get a stunning looking device that packs a lot of punch. However, you may find it hard to compete with devices such as OnePlus with their 5T considering the better camera, dual SIM, 8GB RAM and 128GB storage for the same price.
A big thank you to Nokia for sending us the Nokia 8 to review.