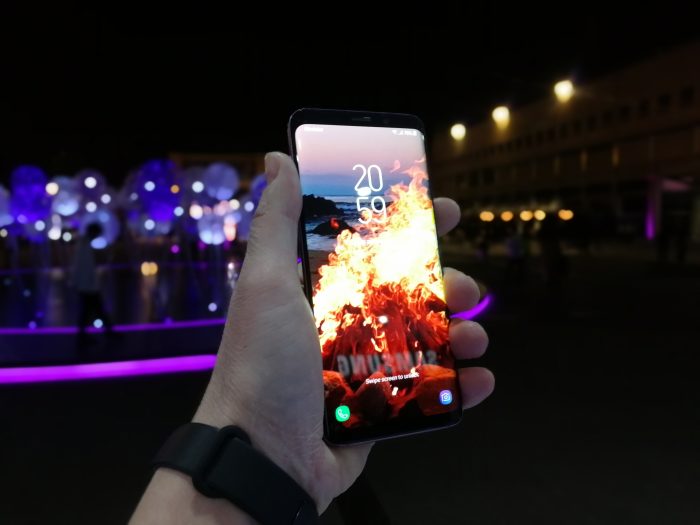 When this handset arrives in store and sits next to the existing Galaxy S8, if we're honest, you won't be able to see a huge amount of difference. In all honesty, like when the iPhone 8 replaced the iPhone 7, that's no bad thing. The design is proven, it's successful and – apart from moving that fingerprint reader – it's going to look pretty similar.
So, it's all about that camera, the software tweaks and that new audio gadgetry.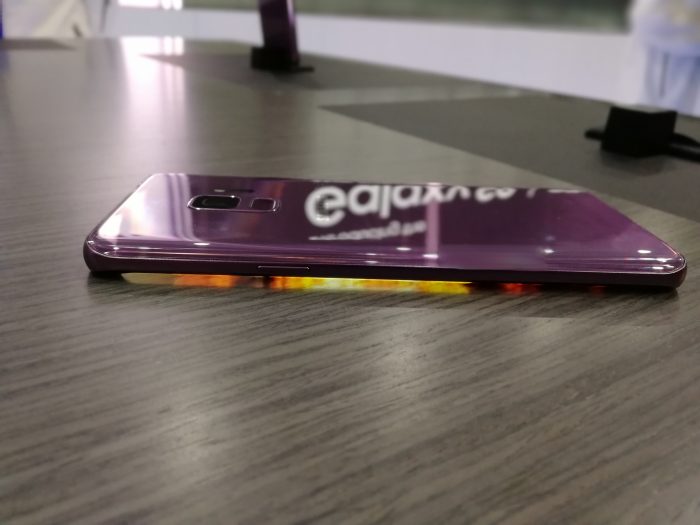 The Camera. Reimagined.
First, the trick camera setup which can let more or less light into the lens – just like the pupil in your eye. Indeed, it works like your eye, albeit mechanically, opening the lens up so that more light can soak into your images. It means that low-light shots are actually not terrible any more. It'll do all this automatically, and you can see how top lens changes in these images..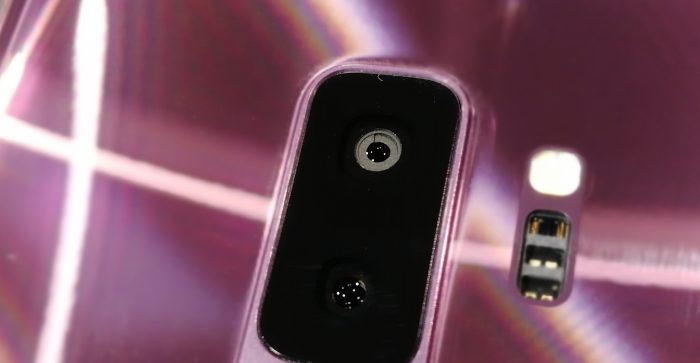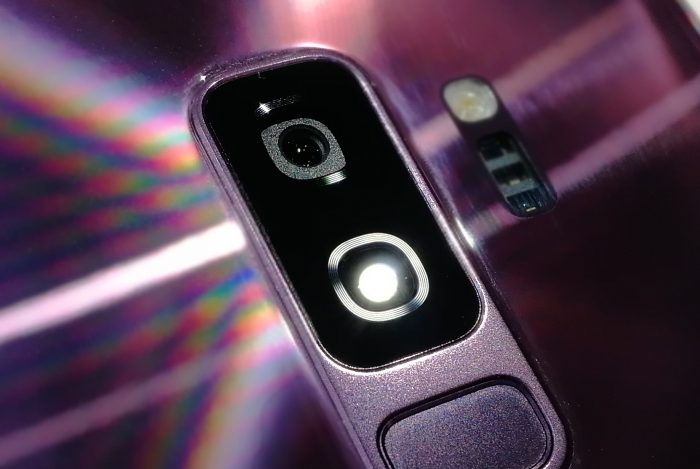 For the photo enthusiasts, this means that you get two f-stop modes. In "Pro" mode you can switch manually too, flicking between f1.5 and f2.4. The dual aperture cleverness then kicks into gear very quickly. It's on the S9 and the wide camera of the S9+.
In f1.5 aperture mode, the lens opens and lets in more light. Change to f2.4 aperture and it will shift to f2.4, creating sharp and clear.
Super Slow-mo
We should point out that the Sony Xperia XZ2 can do this too. It's slow-mo, but taking up a notch. Here you get to slow footage down to 960 frames per second. A "super speed sensor" (that's what they kept calling it) will detect fast moving objects in when you're in the "Motion Detect" option and will then slow down the footage at the right moment.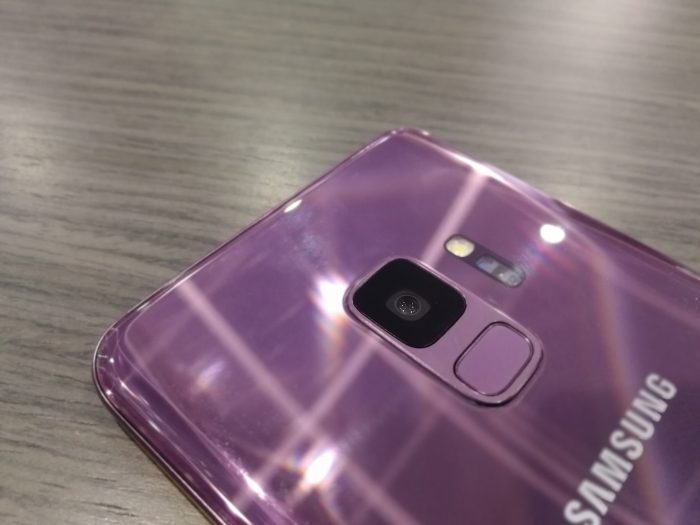 It supports HD version and you can create looped videos or GIF images – even sticking the result on your home screen if you want. Once complete, music can be added or you can have a randomly selected tune added.
Of course, due to me being generally bonkers, every time a Samsung rep said "Super Slow-mo", I couldn't get this Ace Ventura clip out of my head..
There's also something called "Live Focus" where you can adjust the focus of a shot and add bokeh filters, however this is only available on the Galaxy S9+. Strange that, because a lot of cheaper handsets will do this.
You'll also get unlimited storage for your shots via Google Photos, so everything will be backed up.
AR Emojis
I won't lie. As I bump into other journalists here in Barcelona, this has been universally slated. However, what a geeky roving reporter wants and what the general public might want… different thing me-thinks. Yes, you can draw parallels with the recent Apple iPhone launch here, but this clever face-tracking technology will be enjoyed by many.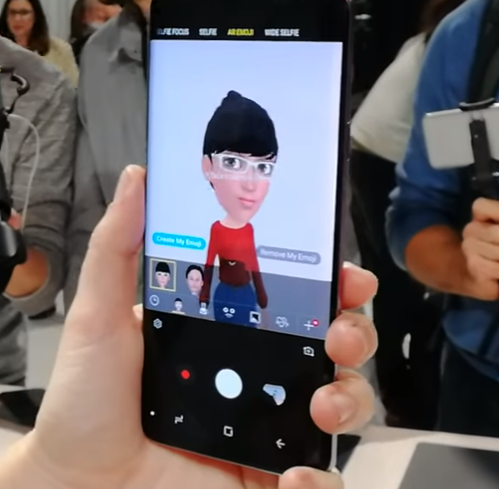 Basically what you do here is take a selfie, and it'll then create a cartoon caricature of your face. You can adjust this with different hair, clothes and such like. Then you can animate your character to create personalised emotional responses to messages from your friends etc. Perhaps send them a "confused" GIF or a "happy" one. It doesn't always get every motion, and arms etc weren't tracked in the demo below, but you're bound to know someone who'll be using this very soon indeed.
Samsung call it "Expressive AR".
Live Translation
To an extent, we've seen this before, it's not exactly new. Download the Google Translate app on your phone right now and you'll be able to do the same thing. However, Samsung are continuing to push Bixby and their real time translation system. You'll need a Samsung Account for this to work and an active internet connection.
Live Make-up
Using the face-tracking feature, you can again do some cool stuff with your moosh. This time, it's all about selling you make-up, but the right make-up. The make-up that looks good on you and suits your skin-tone. Here you can see how easy it is to try on lipstick, eye-liner and then make a purchase direct.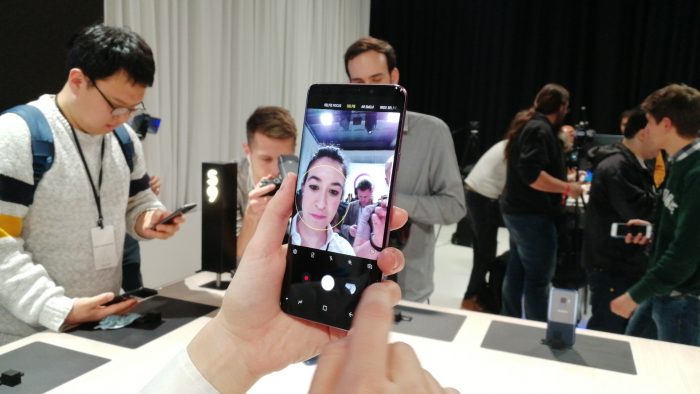 Moving around and jostling for position in such a busy Samsung event did cause the virtual lipstick to move around slightly, and how close of a match it would be to the real thing I'm not entirely sure, but it was an interesting addition.
AKG Sound
Like Sony, Samsung have also concentrated on the sound this year. They've worked with AKG to make the audio "crisper and louder", so we asked our guide to play some music in a very noisy and very busy demonstration area. Amazingly yes, we could here it clearly and yes, it was loud enough. I still don't think it's going to replace your need for a decent Bluetooth speaker, but it does make listening to music in the shower a bit more bearable (both handsets are IP68 water resistant and can be submerged in water for up to 30 metres).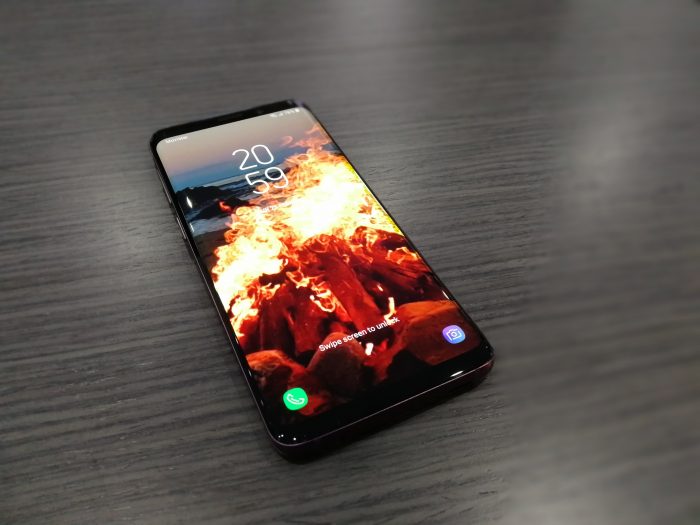 Samsung tell me that the sound is 1.4x more powerful than previous Galaxy phones. The addition of Dolby Atmos should, in effect, "surround you with three-dimensional sound". This was hard to fully appreciate in such a busy environment, but you could definitely hear the stereo sound from the handset.
We'll have a picture special up soon. What I will say about this phone, personally speaking, is that it'll probably have the "iPhone 8 effect". This, as I've learned here, was the marked increase in sales of the iPhone 7 when the iPhone 8 appeared. People judged the newer iPhone 8 to just not be enough of an improvement to justify the price, so they upgraded to the iPhone 7 instead. Here, the Samsung Galaxy S8 might be heading in the same direction, and I think sales of that will increase after people have seen the new Samsung Galaxy S9.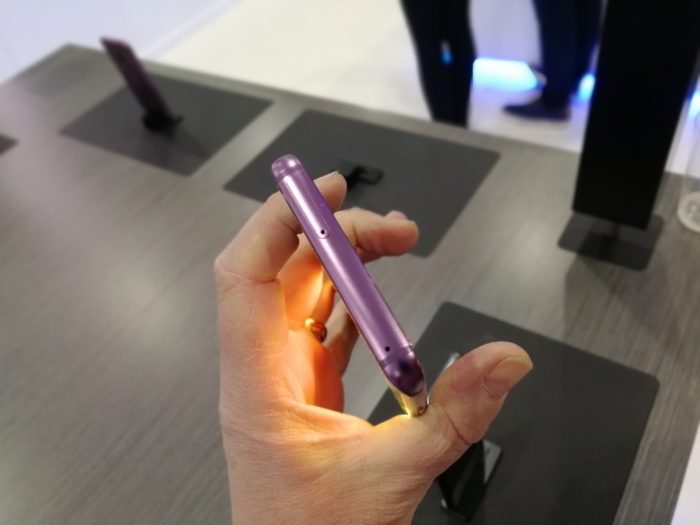 Yes, the S9 is an undeniably brilliant handset. It's beautifully designed and built with some noteble improvements. But is it enough for existing S7 owners to upgrade? Time will tell.