Companies have been trying to combine fitness with smart devices for quite a few years now and there will be plenty of new products at this year's MWC in Barcelona. Hyfit is launching a Kickstarter campaign on the 6th March 2018 for their Wearable Gym, which is sponsored by Reebok. The futuristic exercise equipment that incorporates fitness trackers into portable suspension trainers to let anyone train and track their workouts anytime and anywhere, which is perfect for someone like me whose schedule is constantly changing and working all over the world. The concept is simple, combining suspension trainers with fitness trackers but with the ability to do a wide variety of exercises whenever you want.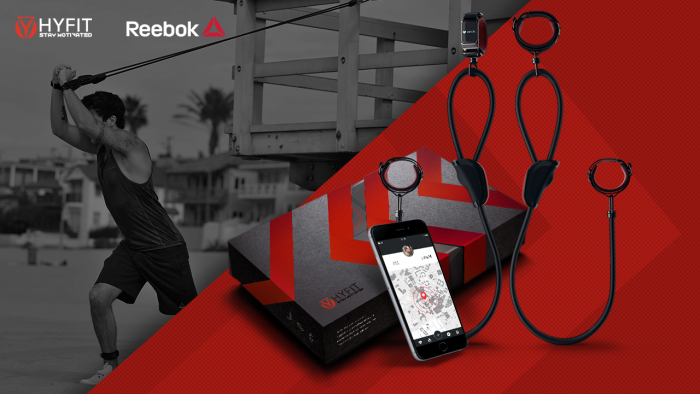 So who are Hyfit? Hyfit was co-founded in 2016 by Guy Bar and Dan Strik. Hyfit created Wearable Gym, to be portable, convenient, and easy-to-use. It features resistance control to customise the training for each individual and delivers real-time feedback on the user's heart pulse, calories burned, resistance detection, and repetition count through the smart wearable device worn around the wrist or ankles.
"Wearable Gym does not only track your workout, it is your workout," says CEO and Founder, Guy Bar. "It's time for a significant advancement in what people see as workout gear. Wearable Gym incorporates IoT into the actual workout equipment, similar to what Tesla did to the auto industry. The concept is to allow users to maintain their workout goals and track their growth through this advanced, connected device."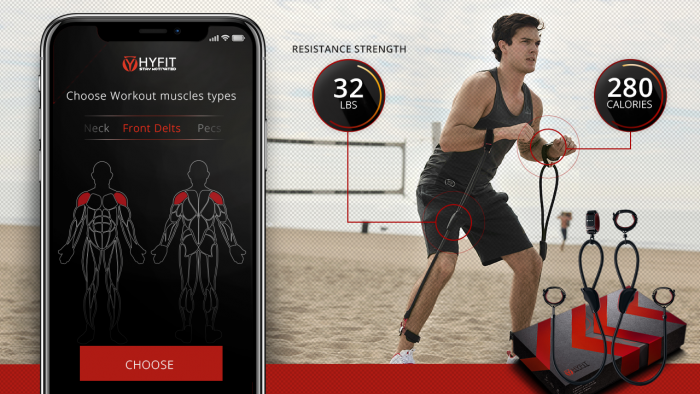 Hyfit stat in their press release that Wearable Gym offers:
Mobility: Wearable Gym provides an all-in-one solution for all of your workout needs. With its portable and compact design, Wearable Gym has the ability to be taken anywhere and used in any environment. As a wearable device, you can upgrade your seemingly low-impact daily walk into an effective workout, bringing the gym to you.
Tracking Ability: Suspension training cords are hooked on to the wearable device worn around your wrist and ankles. This device works as a smart fitness tracker that uses motion sensors to provide real-time feedback on calories burned, resistance detection, heart rate, and resistance count up. Strap resistance is also able to be adjusted based on your own personal preferences.
Durability: Use your surroundings to your advantage. Hyfit's wearable is waterproof, sweat-resistant and can be hooked to any external object. Going for a beach workout? Hook your band around the lifeguard stand and get those biceps curling!
Connectivity: Wearable Gym comes with a connected mobile app that comes with instructional tutorials so you can get the most of your workouts. The app also has over 250 exercise videos to choose from if you're not looking to workout solo. Wearable Gym also has wireless charging capabilities, so you don't need to worry about urgently finding an outlet.
I am personally excited to see this piece of kit, I am not a fan of doing exercises purely jumping up and down in my front room. Remember to visit their Kickstarter page and you can pre-order the Wearable Gym here.