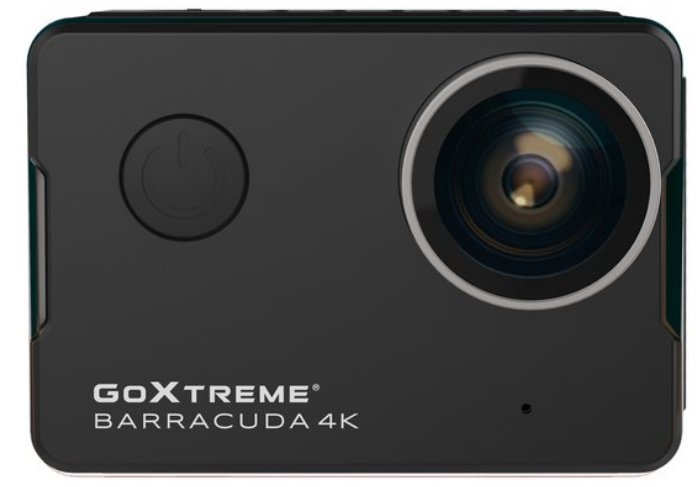 Just before Christmas 17, we introduced the GoXtreme Action Camera Vision 4K and we will be hopefully releasing a video on the unit very soon. In the meantime, GoXtreme has announced the Barracuda 4K Ultra HD Waterproof Action Camera. Featuring a touchscreen (which is missing from the Vision 4K) and waterproof to 10 metres, Barracuda 4K adds a whole new level of functionality and convenience to the GoXtreme range and is available now both online and in-store from UK retailer Argos for £119.99. It promises a high-efficiency chipset and high-speed 16mp Panasonic sensor deliver stunning, ultra-sharp videos at settings up to 4K/25fps and photos up to 20MP resolution, while it's 170º Ultra-wide view.
Technical Specifications
5cm/2.0″ touchscreen*
Waterproof up to 10m (no case needed)
16MP sensor
Video resolution – 4k 25fps, 2.7k 30fps, 1080p 60fps, 30fps, 720p 120fps, 60fps, 30fps
Still image resolution -20M (by interpolation), 16M, 12M, 8M, 5M, 3M
Video with sound
Built-in microphone
External memory: Micro SD card support up to 64GB minimum U3 Class 10 (not included)
170° fixed wide angle
Lens: F=2.5, f=3.0mm
WiFi function
Slow motion
Time Lapse
Self-timer
Burst function
Continuous Shot
Motion detection
PC Cam
Snapshot function
White Balance:   Auto / Daylight / Cloudy / Tungsten / Fluor
Interface – HDMI, USB 2.0
Exchangeable 1050mAh lithium battery
Dimensions: 65 x 46 x 28.5mm
*Under water, you need to use the buttons to operate the camera.
In the box:
Bike mount
Frame Mount
Helmet mount with stickers and belt
Orientation arms
Tripod adaptor
Mount buckles
Battery
USB Cable
User manual