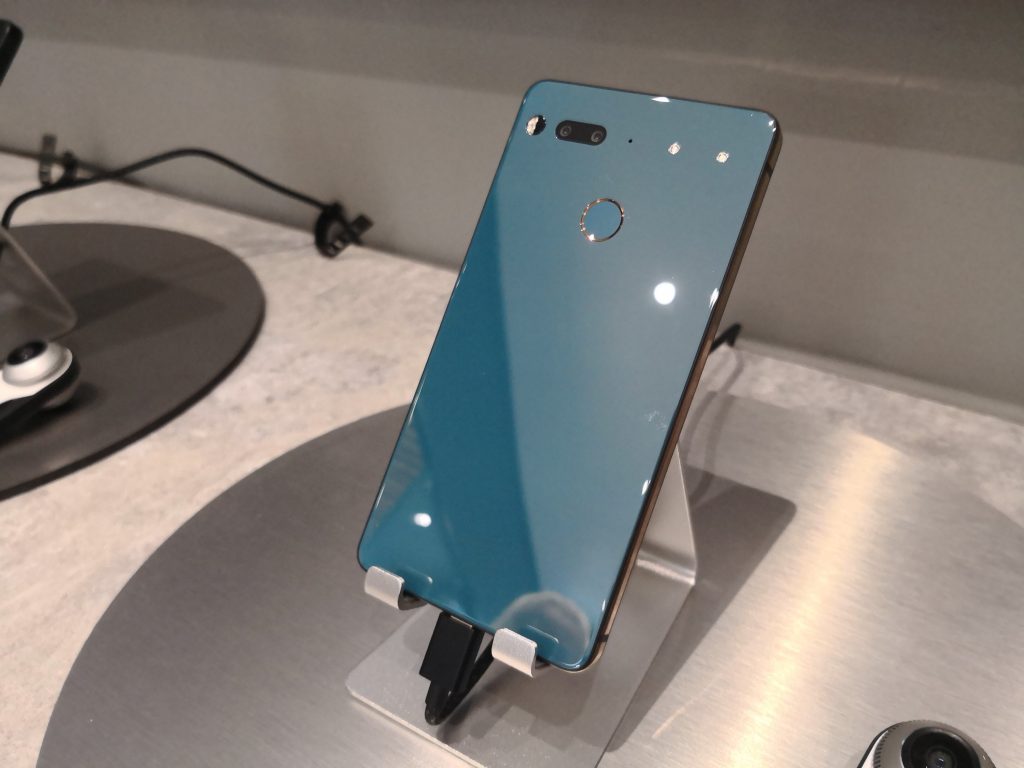 I decided to take a bit of a wander down to the Essential Booth today to go and find out about their phone. Also, the burning question that I wanted to ask. Just when will we will see them in the UK?
Unfortunately, I was unable to get an answer to that one.
However I did not get a firm no, so read into that what you may….
Onto the handset then. The Essential Phone. Now, I know that the phone has been out for a year, but this is the first chance we have had to get hands-on time with it.
What can I say from my limited time with the device? It is a thing of beauty. The body of the phone is comprised of a combination of Gorilla Glass 5 up front for the screen, a titanium mid chassis and a ceramic rear. It has got a nice bit of heft to it too, weighing in at 185g. With its other essential measurements being 141.5 x 71.1 x 7.8mm it is compact but seems to exude a sense of power.
This is backed up by the Snapdragon 835 chipset with an Adreno 540GPU. You also get 4GB of RAM, which puts it on par with some of its rivals. Providing the power to this is a 3040mAh battery with USB Type C fast charge.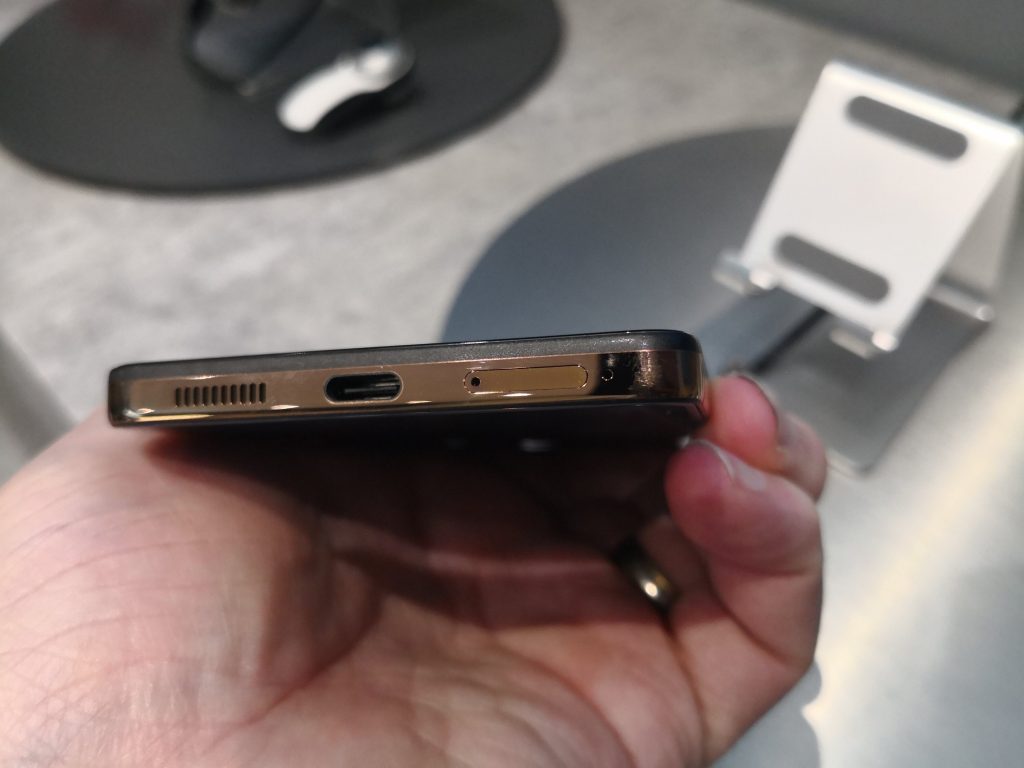 There is no headphone jack with the audio being piped through USB Type C or a single downward firing speaker. There is a nice loud-sounding speaker.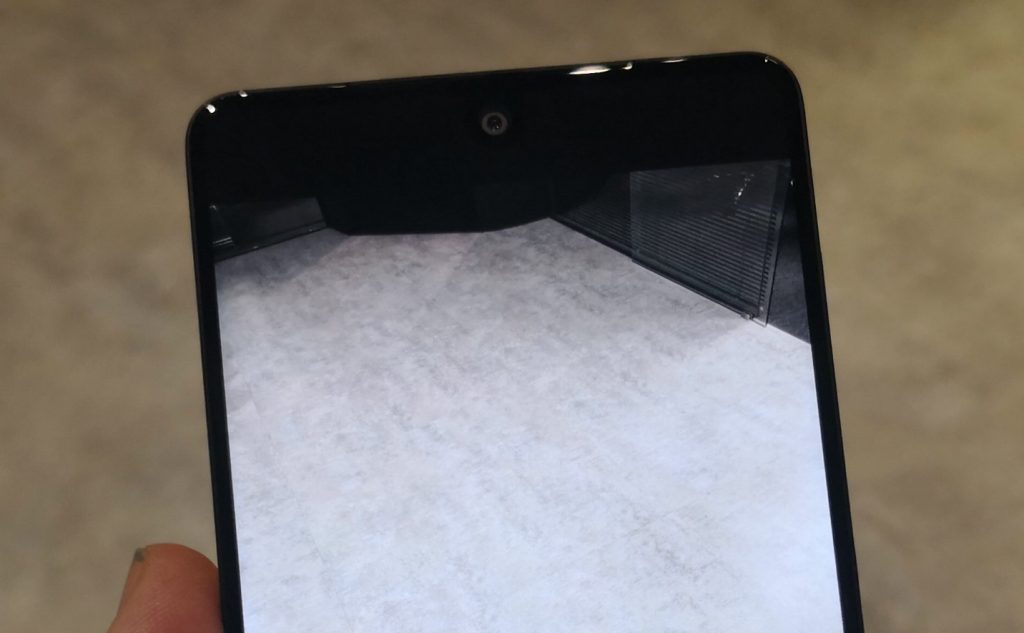 Camera-wise, it sports an 8MP front-facing camera and a dual 13MP camera with a colour sensor and a monochrome sensor. This has now been tweaked to add a Portrait mode, which is reported to be up there with the very best. It is also capable of shooting 4k video at 30fps, 1080p at 60fps and 720p at 120fps.
Around the back, we find similar specs for the rear camera with the addition of phase detection and laser auto-focus.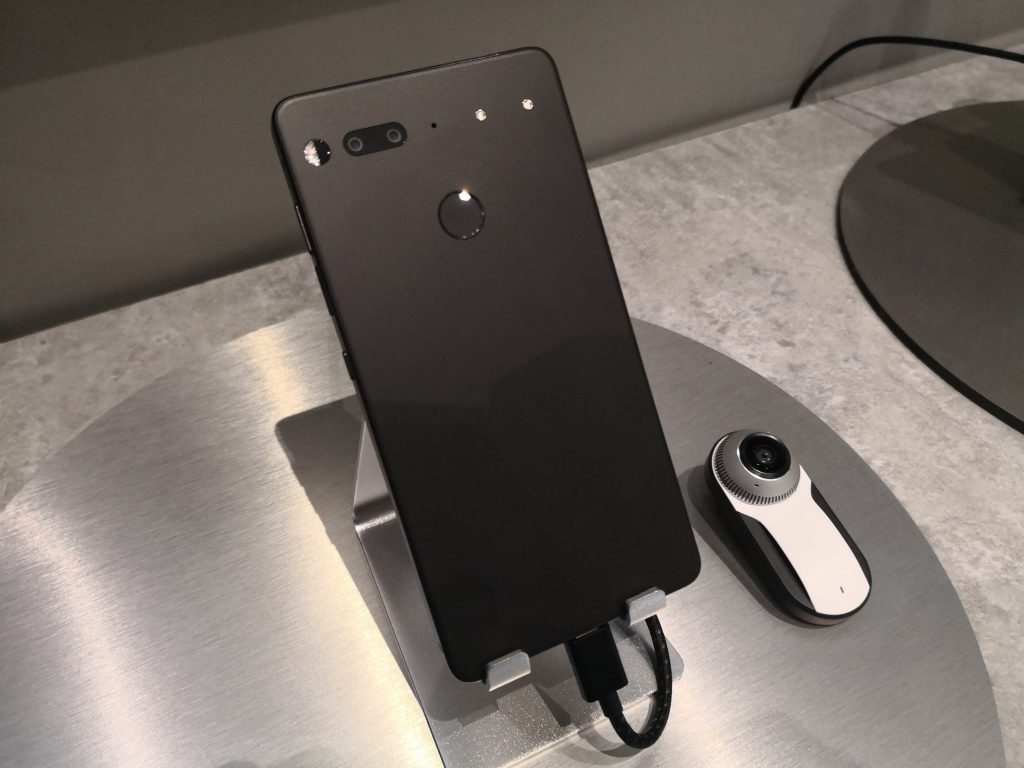 The cameras originally did get a lot of stick when they first came out as they were frankly subpar for the asking price, which was $699 at the time. This has been addressed with around 7 independent updates over the course of the past year. This has vastly improved the performance of the cameras and has brought it back to being close to its rivals (which are now handsets like the OnePlus 5 et al).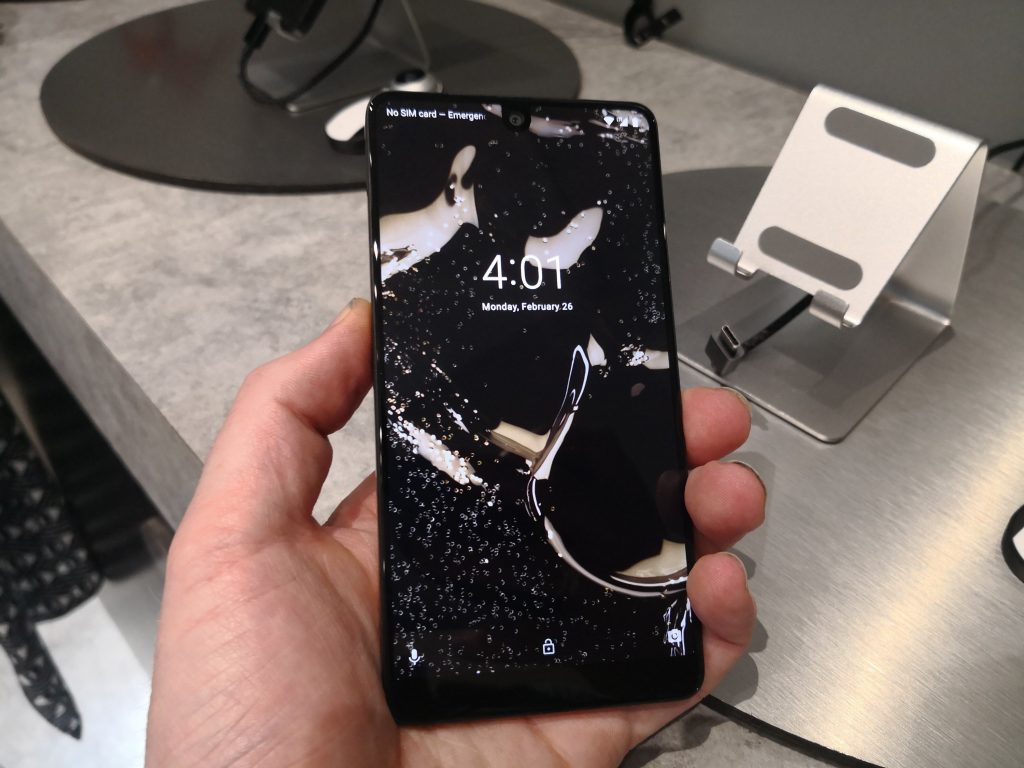 I mentioned the screen and it would be uncouth of me to continue without mentioning the "notch" that is present. Before I talk about that though I want to talk bezels, or the lack of bezels in this case. If you are after a phone with one of the highest bezels-to-body ratios then the Essential phone is the one to go for. The bezels here a damn near imperceptible. That does bring me back to the "notch". With the Bezels being so damn skinny the designers have had to put the camera and other sensors somewhere. So up top in the middle of the phones glorious display, we have the "widow's peak" where there sits the camera. I'll be honest this did not bother me anywhere near as much as I thought it would as the software tends to ignore it for the most part.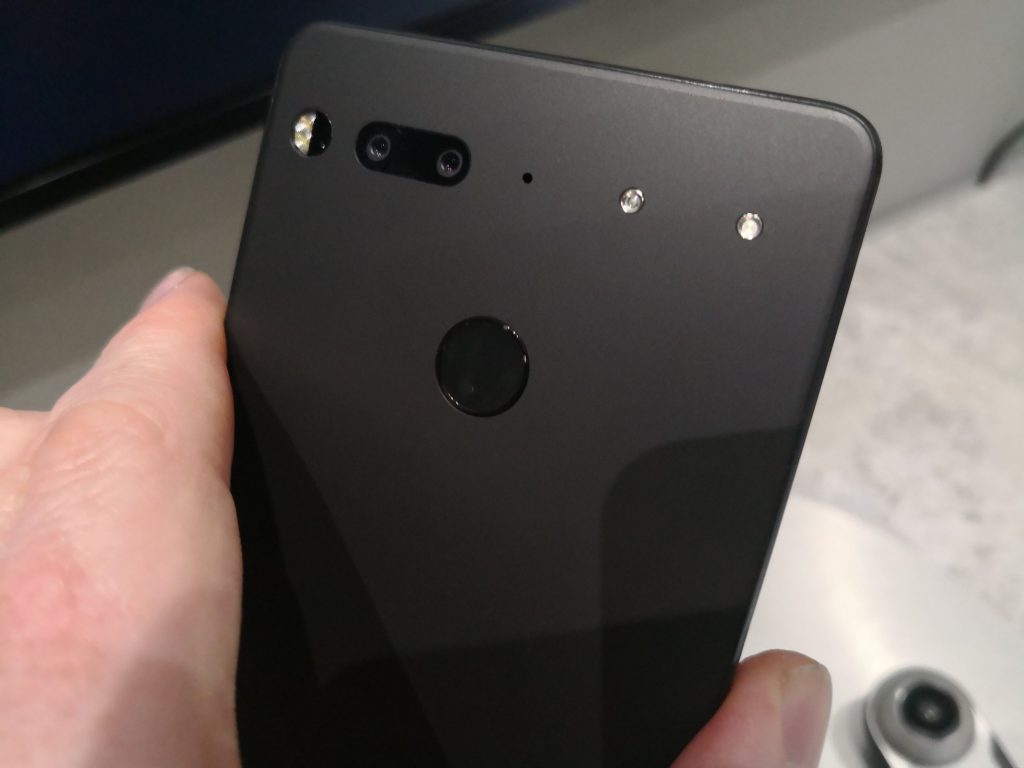 One of the things that makes this device really unique though is these two small pins on the back of the phone next to the camera array. These two pins are there for the expandability of the device. The idea is that there will be add-ons that are able to enhance the phone over time.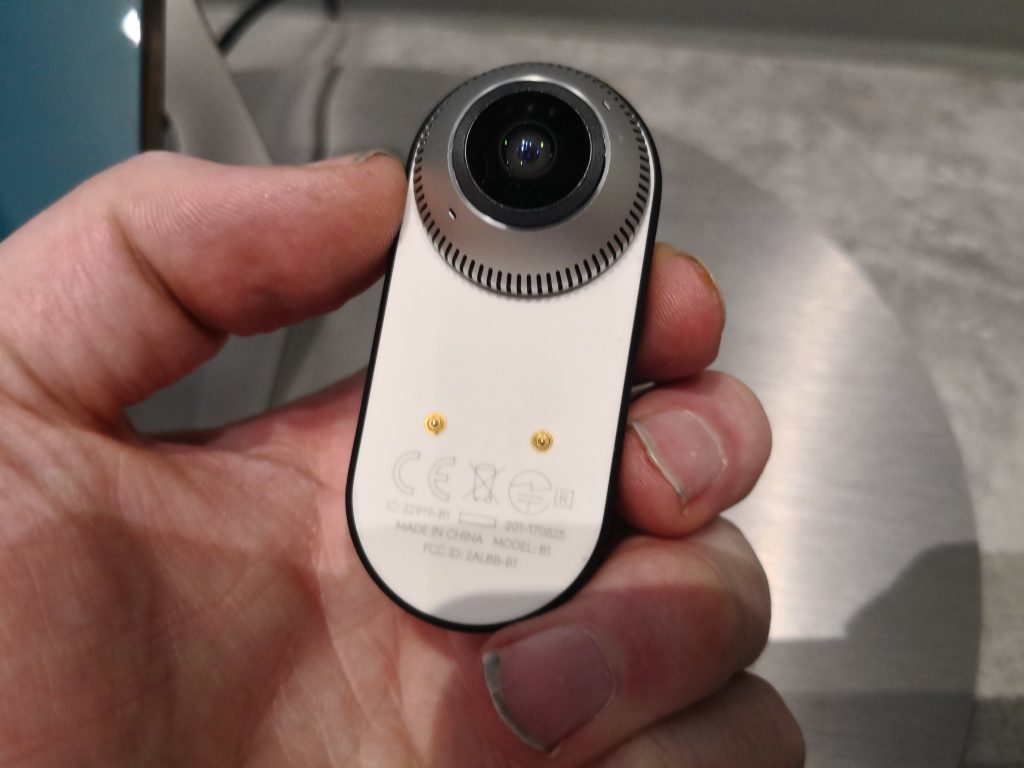 The first of these add-ons is the 360 Camera. Later this year we will also be seeing a charging pad, but when this will happen has yet to be confirmed.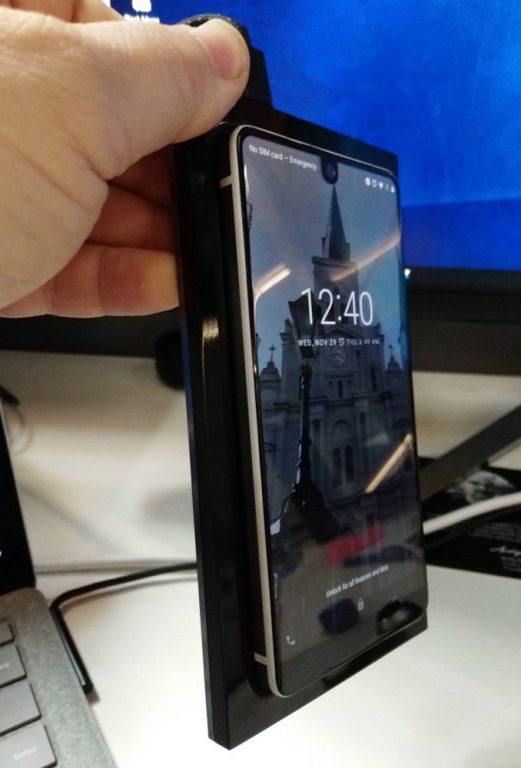 Specs
Operating System
Android 7.1.1
Display
5.7-inch LCD, 2560×1312 (505 ppi)
Corning Gorilla Glass 5
Chipset
Qualcomm Snapdragon 835
2.45GHz octa-core Kryo 280 CPU
Adreno 540 GPU
RAM
4GB
Storage
128GB (UFS 2.1)
Non-expandable
Rear Cameras
Dual 13MP camera (color + monochrome)
f/1.85 lens, phase-detect + laser auto focus
4K video at 30fps, 1080p at 60fps or 720p at 120fps
Front Camera
8MP with f/2.2 lens
4K video at 30fps, 1080p at 60fps or 720p at 120fps
Battery
3040mAh
Non-removable
Charging
USB-C fast charging
Water resistance
No
Connectivity
802.11ac Wi-Fi with MIMO, Bluetooth 5.0 LE
NFC, GPS and GLONASS
Accessory power pins with 6 Gbps wireless data transfer
Security
One-touch rear fingerprint sensor
Audio
Single down-firing speaker
USB-C to 3.5 mm headphone adapter included
Network
LTE Bands 1/2/3/4/5/7/8/11/12/13/17/20/21/25/26/28/29/30/66
TDD-LTE Bands 38/39/40/41/42/43
Dimensions
141.5 x 71.1 x 7.8 mm
185g
Colors
Black Moon, Pure White, Stellar Grey, Ocean Depths
If I am honest I was very impressed with the look and the feel of the Essential Phone, and I can only hope that we see this device in the UK very soon. I can see that people may be interested in buying it as an alternative to the usual Samsung or iPhones, however, I think the crux of all of this will come down to how it is priced and also how it is sold. I feel that for it to truly be successful it needs to be available to carriers and can an appealing price. Do this and Essential may be a compelling competitor.
Bring it on Mr Rubin.
if you would consider buying an Essential Phone please let us know your thoughts in the comments below.