The Introduction
When Apple made their own AirPod wireless headphones a lot of tech fans were waiting for Google to show off their own version.
Using their own Pixel brand, Google announced the Pixel Buds at last year's Google I/O event and the headline feature was  the instant translation system.
Costing £159 though, this is not a cheap purchase. That may be enough to put people off trying them out for themselves. Thankfully Google came to my rescue and agreed to loan me a pair to review.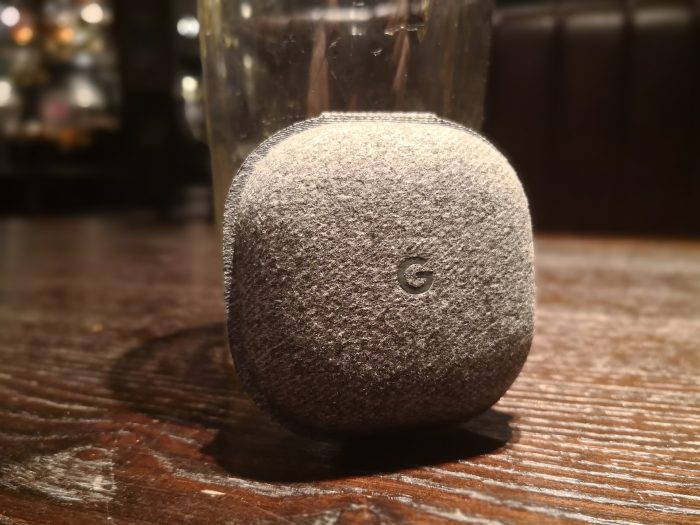 ---
Design and fit
Comfort is always the biggest area to look at. After all ,why have an amazing-looking piece of hardware that feels uncomfortable? You'd never want to use it.
I was interested in the design of the Pixel Buds and how exactly they stay in your ears, especially as I am more used to the full in-ear style that hold themselves in.
What Google have done with their approach is have a little fabric adjustable loop on each bud which you can change to your fit. When placed in your ear, this is what tucks in and holds them in place…..in theory.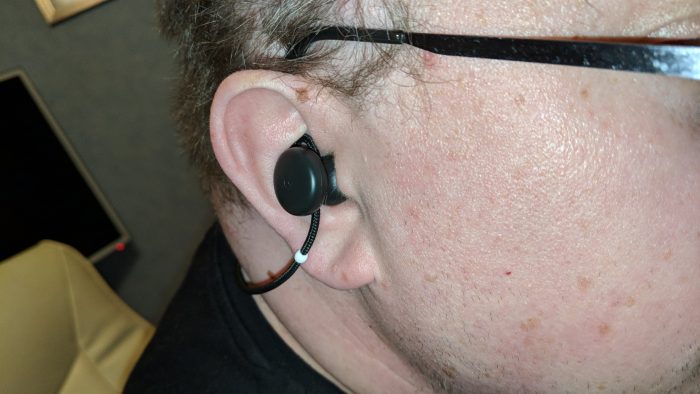 The issue I had though was that, at times, they started to come loose and almost fall out. Then, when trying to push one back in, I often found that I activated the Google Assistant.
The sound is good quality, perhaps only let down by the way the headset sits. It rests in your ear instead of going into the ear canal. If they did that then it would block out external sounds better.
The overall design is nice. The buds come in a different colour options based on their Pixel phone range. The materials used feel premium, which is good considering the £159 price tag.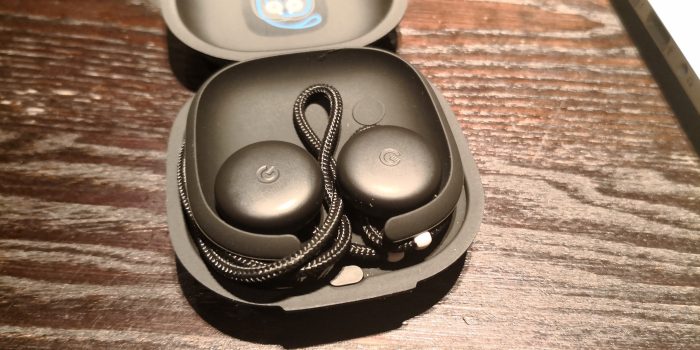 Just like Apple did with their AirPods, connectivity comes via a square fabric case. This also lets you charge via USB-C – just like the Pixel phones.
Inside the case are two holes labelled L and R with tiny dots in each used to connect with the headset. You wind the cable around the outside edge and it tucks nicely up the middle so you can close the lid.
Inside there are also some lights used to show the battery status and a single button you hold on to enable Bluetooth pairing with your devices.
I have seen videos before where all you do is open the lid and your phone pops up with a notification to connect to the headset, but in my testing this took an age to actually happen, so instead I used the old fashioned button to pair.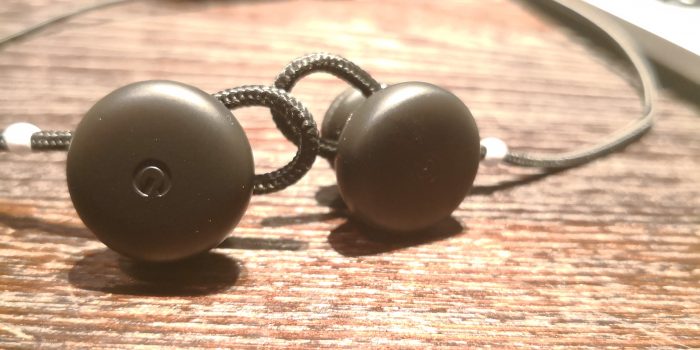 When you look at the Pixel Buds you will notice that there's no buttons. The secret is on the right bud where a touch-sensitive button is located under the G logo.
Holding this loads the Google Assistant on your phone, and when paired to my MacBook Pro it even lets me use Siri. That's handy. It also let me ask questions about the weather as well as skipping music tracks.
A quick tap let's the Assistant know you want to listen to any notifications you have as well as telling the time. This is both useful and great if you are into running.
The only other control is swiping left or right to adjust the volume with a small beep each time so you know you have done it correctly.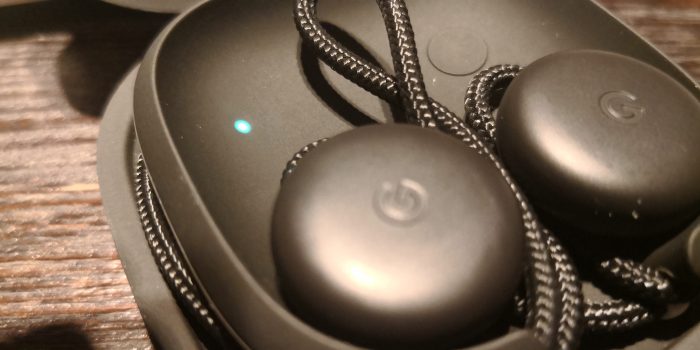 Battery life seemed pretty good. Whilst paired to my laptop I was able to watch quite a lot of Netflix before needing to recharge in the case. This included using the headset for Siri commands too.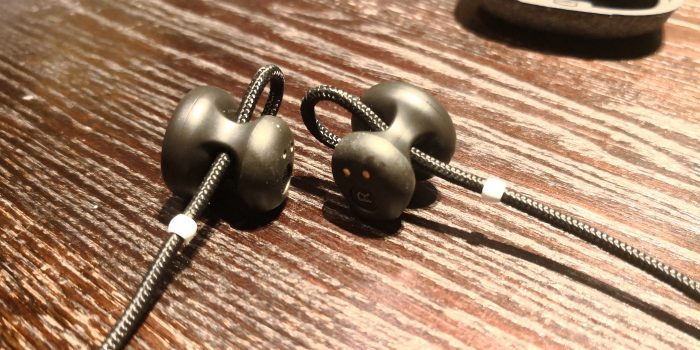 Conclusion
When I saw the Pixel Buds announced at last years I/O event, I was very interested to see just how good they were for music quality. However, most of all I wanted to use the built-in Google Assistant features.
Whilst the instant translation feature wowed many, it was having quick access to answers that I was more interested in and excited to try for myself.
In my two weeks with the Pixel Buds I was pleasantly surprised at the great audio quality and how handy it was having the assistant in my ear instead of having to take out my phone all the time.
The only two real concerns I experienced with the Pixel Buds were the strange way they fit in your ear. They often started to fall out.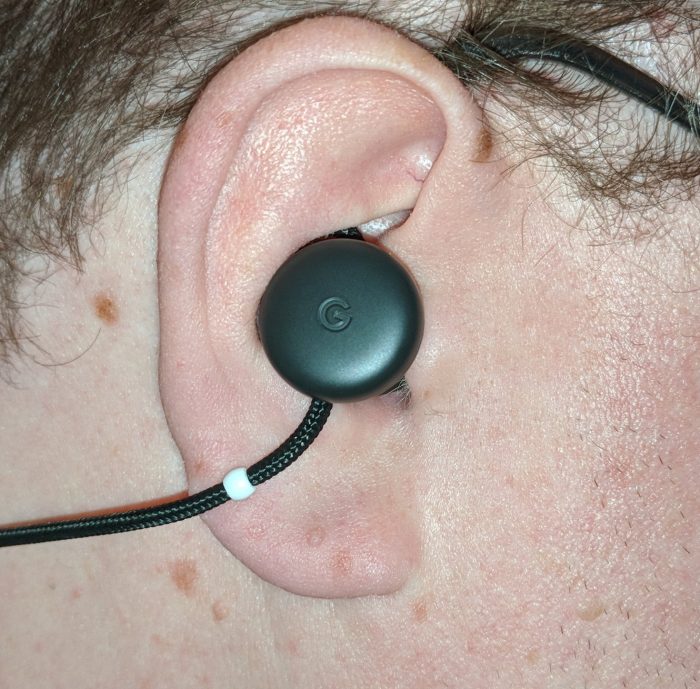 The other concern was needing that square case they come in to be able to pair to devices.
I admit there will not be many people with multiple devices, but I often found that although I had already used my MacBook, I had to put the headset back in the case.
On the flip side, the case does charge the Buds so you won't run out of battery, it's just something you have to get used to keeping with you.
The Pixel Buds are on sale here in the UK for £159 over on the Google Store and are well worth looking at if you love the Google brand and want the Assistant in your ear.
Google Pixel Buds Review
Build - 90%
Comfort - 70%
Price - 75%
Features - 95%
A decent pair of headphones with Google features