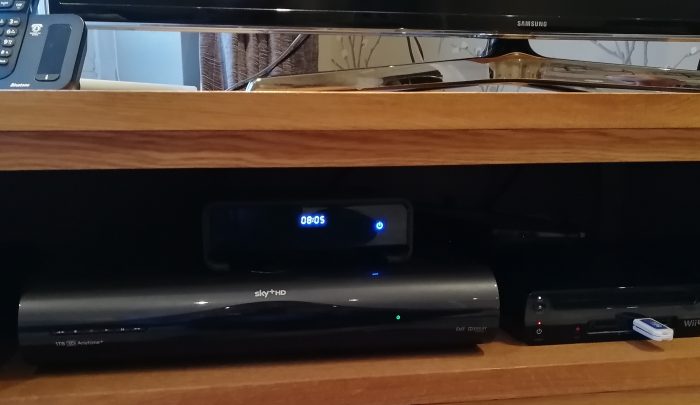 Right, I've first got to apologise to the nice people at Entertainment Box. They sent me this clever Android TV box a good, long while ago and it's taken me far, far, far too long to actually review the thing.
The simple fact is that I've used myself. I've used it a LOT, and I love it. It'll stream media on your network (I use it for watching family videos on a NAS box), from USB sticks or via a hard drive that you can install in the bottom. It's available here and is £94.99. You can also whack SD cards in and the USB ports are high-speed so you don't need to worry – they'll deal with USB drives and anything else you care to throw in there.
Now, I'll be up front here. You're presented with an option for Kodi (branded "EBox Media Center") on the main screen. You'll also find VPN apps and a recommendation that these should be used. Of course, out of the box you can't do anything illegal and there's no suggestion that you should, but with any Kodi installation – whether it be on your smartphone or whatever – there's the potential. Just to be clear, there's NO ADDONS in this Kodi installation, so the box itself is perfectly legal and the Kodi installation, plus the software and OS, is regularly updated. However, if you do decide to go down that road, then a VPN is a must.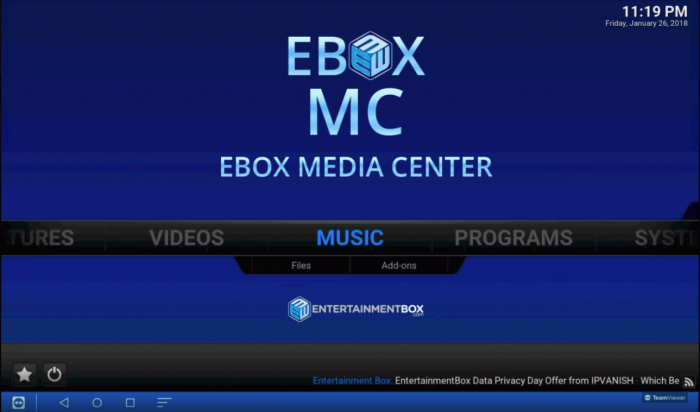 The EBox T8 V box runs a fast octa-core ARM Cortex-A53 CPU and there's 2GB of RAM with 16GB of storage on-board. You also get an SD card slot for even more storage and, if you want a stack-load more, there's a drive bay with a SATA connection underneath. Although you can connect over WiFi, there's also a 1 Gigabit Ethernet port at the back and you'll get over-the-air updates.
The design is quite stylish, with a metal chassis and a plastic front housing a clock / information screen and a power button which let's you know whether the device is on or not. It runs Android 7.1.2 and you control it with one of the two remotes provided. One will let you move left / right / up / down and the other is an "air mouse" that lets you move the cursor around the screen. Some screens, such as when you really dive down into the Android settings, might need the air mouse so that you can glide the cursor around freely. Also there's the QWERTY keyboard on the back, which is really helpful for data entry – this is an area where these Android boxes traditionally fall down, so it's great to have that quick keyboard.
The company selling this also sell additional remote controls which enable voice control. This means you can use Google Now really easily and fire off voice commands without too much of a fuss. Now, with a product like this I figured that videos would be a massive help. Sure, I can talk about the menu system, and the fact that you can use Ethernet and WiFi connectivity, I can also talk about the in-built Speedtest, YouTube, Play Store connectivity and the easy-to-use settings screens, but here's a better overview. Here I'm going to show you the unit in under my TV, where it's sat for quite some time. I do like using it for YouTube videos, browsing the web and plus – if you use TeamViewer – you can control it remotely from your laptop. All good stuff.. and, for added fun, our cat gets involved in this video too…
As I touch upon in the video above, the user interface is the thing you're going to be spending a lot of time using, so here's a tour around it up-close and personal. You'll notice that there's apps available from the in-built store which are at the top of the trending / popularity lists for very obvious reasons (they let you watch TV free). Oh, while I'm here, I should point out that the weird screen artefacts and slow video streaming is due to me recording this over a TeamViewer session (which allows me to remotely control the Android box). The actual footage I was looking at on my TV while I recorded this was smooth as silk.
On board you do feel supported in a way, it's pre-loaded with a lot of apps including an EntertainmentBox App, Google apps, Aptoide apps and much more. It'll do 4K video playback and you hook it into your TV via a HDMU port. Miracast, SPMC, Airplay, Skype, Picasa and – as I mentioned before – YouTube is there too. You can very easily install all the on-demand apps from the likes of Netflix, iPlayer, ITV Player and other streaming services. Heck, you can install games too if you wish or perhaps webcam viewers so that you can look at cameras around your home or whatever.
As this is effectively an Android phone, but with your TV as the screen, you can grab any app or game out of the Google Play store. This includes sports TV apps like I mentioned earlier. You can also whack this through the VPN setup I created to have your internet connection appear anywhere around the world. This gets you international TV and access into "local" channels from around the world, or through geo-restricted locations.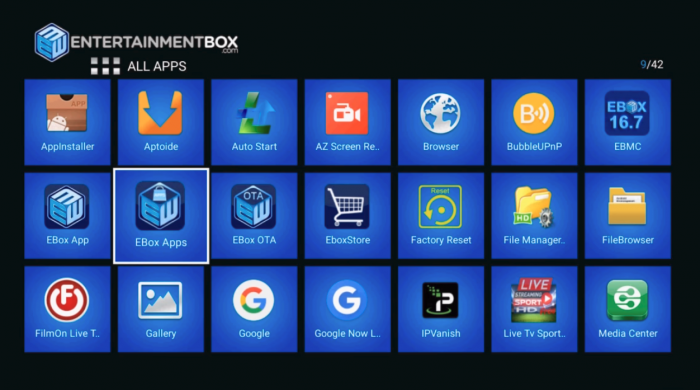 Likewise, you can use Plex or the on-board video player to watch movies across your network or from your phone. Plug your phone into one of the USB ports and grab / display your content that way. You can also plug in SD cards or USB sticks in with content. I've not found anything or any format that this won't play yet – it's proper good. For the Apple fans, you can install AirPlay and then share any movie or photo from the device. It'll also do Miracast DLNA.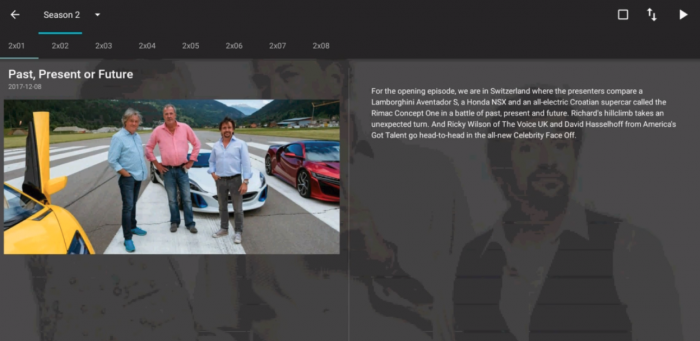 Yes, there's some helpful apps installed on this box, but I wouldn't call it bloatware. There's not too much and you can install your own apps easily via either Google Play or Aptoide.
Performance-wise, thanks to a high-end GPU and fast CPU, there's never been any problems with audio / video lag, and both 4K & HD streaming was smooth. It'll do 4K HDR at 60Hz without an issue.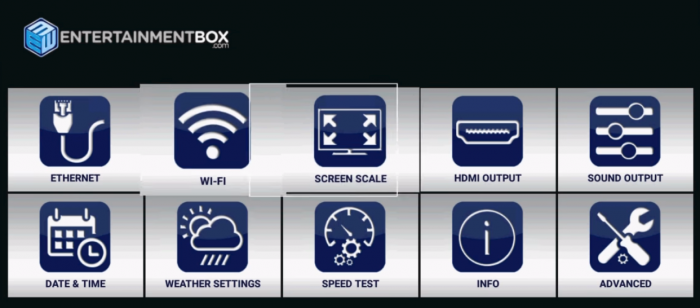 The box is supplied with a 30-day no quibble money back guarantee and there's a full 12-month guarantee too.
Now, yes. Let's be honest, it's easy to get movies and sports on this. Y'know, those movies and sports that ideally you should be paying for. Heck, there's apps on Google Play right now that'll find "streams" of your football, tennis, golf, cricket or the latest cinema blockbuster. It's not just "Kodi boxes" – any laptop or phone in the world can access sports streams or movie streams. Go onto Twitter or Facebook on a Saturday afternoon and do a search for your "Chelsea vs Liverpool stream" (or whatever team is playing) and you'll be met with plenty of choices.
So let's get this straight. Out of the box, this can't do any of that illegal activity. It's perfectly legal, just like your phone, but if you want to download apps or access Kodi plugins that'll do that, well, that's your own choice. All I'd say is, get a VPN. If you don't, you're going to get a knock on the door. Oh, and yes – streaming on VPNs can be a bit of a hit-and-miss affair. Get a good one with a decent amount of bandwidth, else it'll buffer (and that's no fault of this box).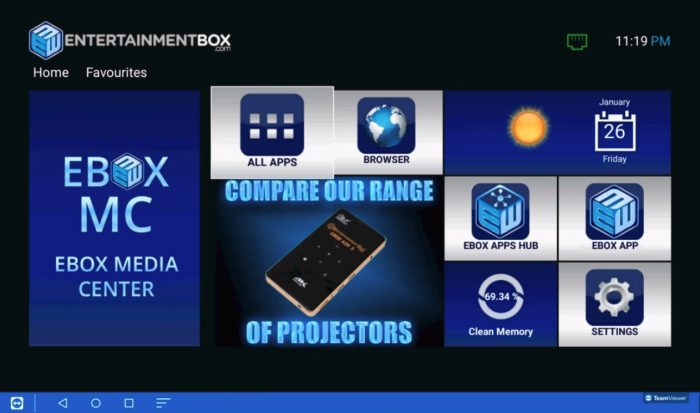 This is a brilliant Android TV box. It's fast, it's very easy to use and it actually feels like someone cares. I've reviewed boxes in the past where there's a very basic layout and there's never any updates or instructions. Here, this is a lovely layout, with an easy and straightforward user interface and it works very quickly – no hanging or glitches. Just a smooth and painless experience with an absolute tonne of options and upgrade possibilities.  The OTA updates mean that the hardware and software is maintained, the Kodi build is constantly updated, Plex and Netflix are on board and you get a store for more add-ons, apps and gadgets from www.entertainmentbox.com 
In addition, the fact that the familiar Google Play store is there – this is reassuring.
Powered by an octa-core CPU and packing a powerful graphics co-processor, the 2GB RAM and the 16GB of memory gives you plenty to play with. Streaming is smooth, apps are smooth, games and videos glide along.
For £94.99 I'd say.. well, just get one. Definitely very highly rated in my book. Very highly rated.
EBox T8 V TV box - Review
Graphics / streaming - 97%
Interface - 95%
Support - 93%
Design / build - 97%
Cool design, well supported, quick and very easy to use with endless possibilities. A top product.