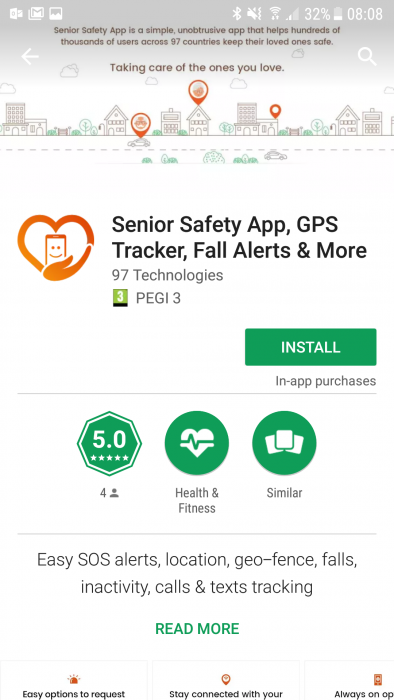 If you have an elderly friend or relative, you're naturally going to worry about them. However, that friend or relative may not necessarily worry. They might be too proud to have alarms or monitoring systems installed in their home and it could be tricky to even approach the subject. So, Senior Safety App is worth looking at.
I've got an elderly relative, so it was definitely something I wanted to try out, so here's a review of the app.
First, grab it from the Google Play store. It's not available for iOS just yet.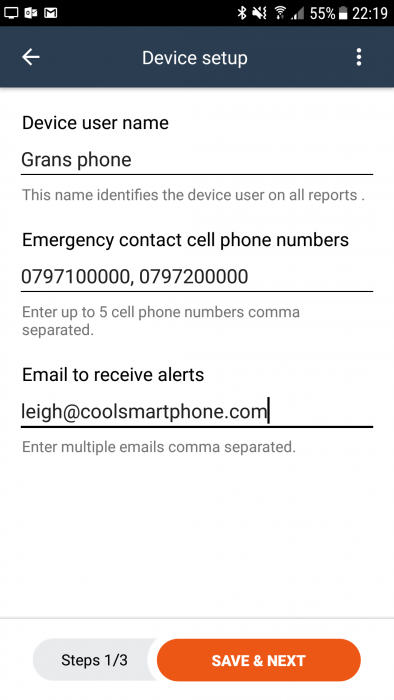 You'll need to accept some terms and conditions and then give the phone a name. You'll also need to enter your email address plus any other email addresses that you'd like contacted if required. The same for mobile numbers, as the app can contact up to 5 numbers in the event of an emergency.
The app will need access into a few system settings just so that it can see if apps are being used and installed. You can see here on the next screen how easy it is to switch on call and text reporting – so you get to see whether everything is OK with your loved one. It's all very easy to setup and you get automated reports sent to you on a schedule you're comfortable with.

During your trial you can also get to try some of the additional features, such as the ability to see whether the owner is inactive, they've fallen or they've entered or left a pre-determined geo-fenced area. Also, for security, you can see if the SIM card has been swapped out. Good if the phone gets pinched. Whether you decide to pay or not, you get the SOS alert option, so those mobile numbers will be contacted if there's a problem.
You can see the costs for upgrading to the "Pro" edition after your 7 day trial, and you get a discount if you pay for a year up-front too. A cost of $45 for the full 12 months means you get a 20% discount, or you can pay $4.50 monthly if you desire.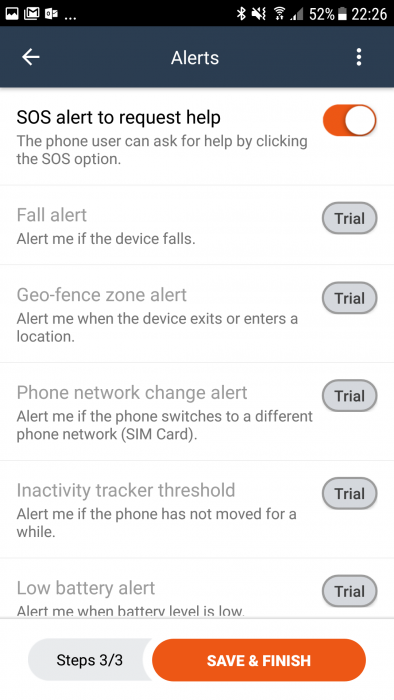 That's about it for the settings screens. As the end user, everything is very easy to understand. If you need immediate help, press the orange "Reach emergency contact" button. You can also press the red "Sound alarm" button, and this will sound your smartphone alarm at full volume whilst also giving the option of getting in touch with your emergency contacts.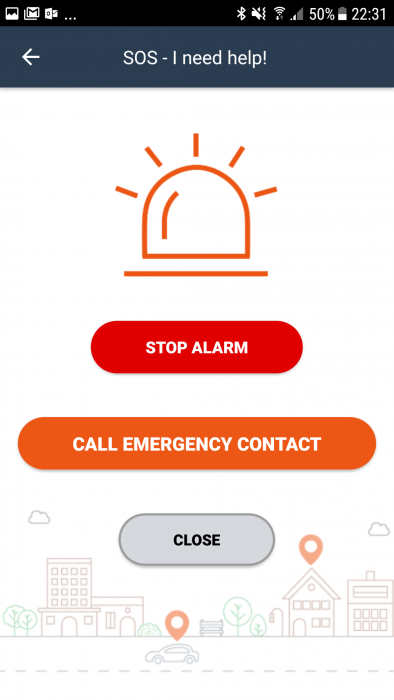 The combination of the two means that anyone in the immediate vicinity can come and help too. Oh, and when it contacts the predefined group of people, it'll send the location of the phone. Great for easily finding the person involved.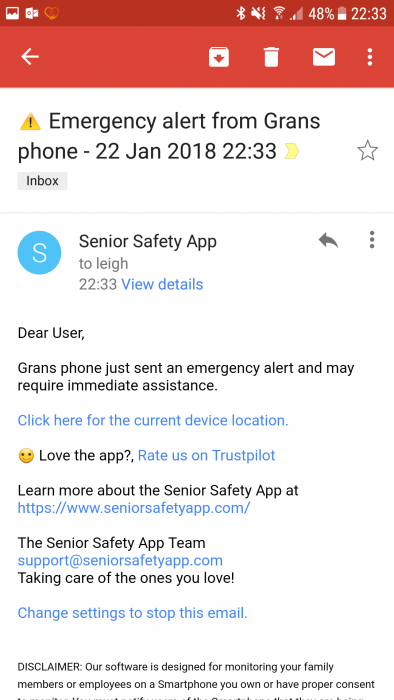 For the concerned relative or carer, you can check on activity and receive email alerts if the person hasn't moved for a while. This is all configurable too, so if your nan doesn't move around much, you can set it to suit.
I performed a test alert and it contacted my test phone and email account with the precise location of the phone in Google Maps. It's then just a matter of hitting "navigate" and you can head off the the correct place. Whether they're at home, at the shops, or perhaps on the way to see you.
Personally, I find this all great idea, and you don't necessarily have to just target the elderly with this. Kids could run the app too, and a lot of the features would equally apply to them. They could hit the "SOS" button if they wanted help, and the settings are really easy to understand.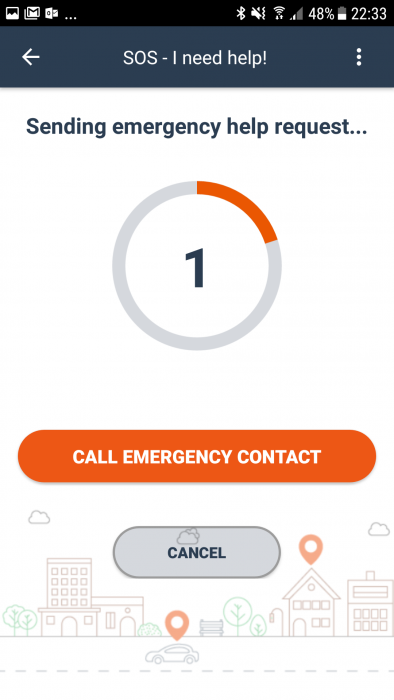 As for pricing, I found it to be very decent and will definitely be paying after the 7 day free trial ends. You also get access into an online control panel with this too, and it's here that you can modify app configuration, check the location of the phone, see the location history and control other phones (you can add more) – all from one place.
Get more information at SeniorSafetyApp.com or download it and give it a try yourself right now. You get a week to try out all the features.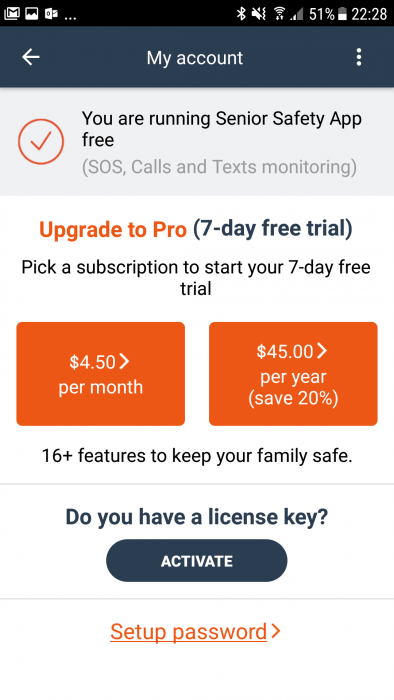 Senior Safety App Review
Design - 93%
Value for money - 89%
A good way to get the peace of mind that elderly relatives are safe and well. Quick and easy to setup and a fair price too.