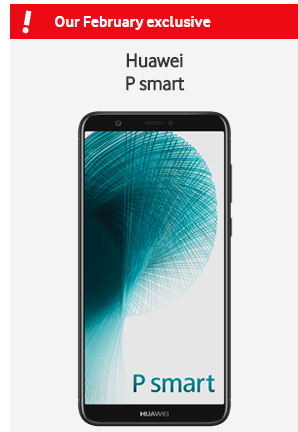 OK. This puts us in a bit of a tricky position. Yesterday Vodafone told us that they're ranging the new Huawei P smart. We said, "That's nice, but we can't find much about it". So, we did some digging and unearthed all this information. It was puzzling because the handset hadn't been announced in the UK.
Ah..
Now look what's dropped into our inbox today. It'a an email from Huawei, announcing a brand new phone. Who'da-thunk it? Guess what the phone is called? Yep, it's the Huawei P smart.
Still, although Voda were a bit trigger-happy with their announcement, we do know that it'll have 32GB of internal memory and an external microSD slot. It's powered by a Kirin 658 octa-core CPU (4 x 2.36GHz and 4 x 1.7GHz) and has an 18:9 edge to edge screen. As for the rest of the specs, check our earlier story.
Huawei tell us that it'll have "afforable pricing" and indeed, Vodafone will be selling it exclusively throughout February for just £17 with a £9 up-front cost. You can also get a 16GB data plan for £29 per month with that up-front £9 charge.
The press release tells us more on the P smart..
Featuring a 13MP lens, the Huawei P smart is equipped with a Dual Camera which captures your world in amazing depth and stunning colour. Delivering excellent smartphone photography features, with Bokeh effect on both the main and selfie lenses to give selfies more style and substance, the P smart will help users take incredible images however they use the device.

Designed to offer a premium and user-friendly photography experience, the Huawei P smart's camera features gesture shooting functionality, giving users total control of the camera and creating endless capture possibilities. And with a number of different camera modes such as Beauty mode, which will give skin a more natural, radiant appearance, the Huawei P smart offers users point and shoot perfection for whatever situation they're in.
Voda have the exclusive from February 1st, then it'll be on general sale from March 1st to non-Vodafone customers. Head to Vodafone.co.uk for more details.