Well, this next bit of kit has got us all excited at Coolsmartphone Towers, Leigh is looking forward to blasting out Spice Girls and Garry loves some Ed Sheeran. Imagine playing music from your phone to a speaker which shows the lyrics for you to sing along to! No, not a karaoke machine but the Cotodama Lyric Speaker.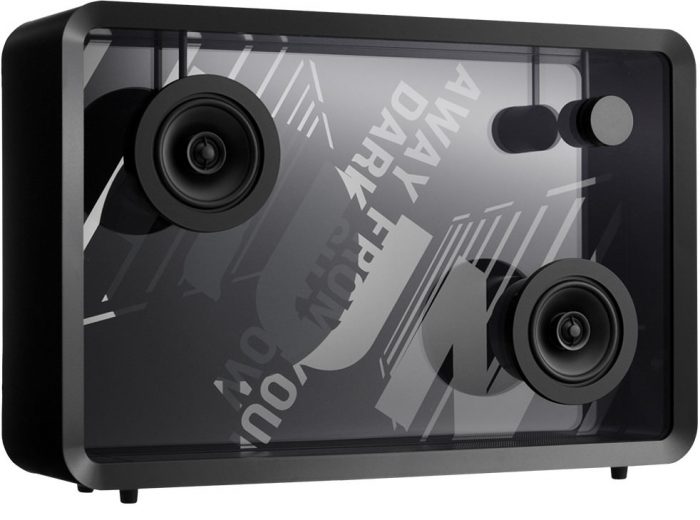 The concept is that you can play a song through their app, and the beautiful looking unit will play it with sublime quality but with the lyrics coming at all angles. As the world's first visualiser speaker, the Lyric speaker has won a handful of notable awards such as Best Bootstrap Company Award at 2015 SXSW Interactive Festival's 7th annual SXSW Accelerator Competition, Japan's Ministry of Economy, Trade and Industry 2015 Innovative Technologies Award and Japan's 2016 Good Design Award.
The speaker contains a new technology called "Lyric Sync Technology", which generates specific fonts and motions to match with the music. Slower the song, slower the lyrics will flow on the screen, personally can't wait to sing Ace of Spades from Motorhead on it! The Lyric Speaker uses WI-FI to connect to the free app which is compatible with Spotify, Apple Music, Deezer, Google Play, SoundCloud, Youtube, and other services. The speaker can play 96khz/24bit FLAC files, has a range of 40Hz to 40kHz, and has two coaxial loudspeakers and two drone cones.
Jin Saito, CEO of COTODAMA and Creative Director of Six Inc, comments, "The evolution of music technology has been developing so rapidly but what about lyrics? Even though lyrics play a crucial role in music composition, I felt there was an opportunity to develop and enhance lyrics using cutting edge technology. I believe music impacts hugely on people's mind; it cheers you up when you are down or can get you in the mood for a big night out. Lyrics are one of the key elements that enable music to change emotions. I hope that more people can enjoy the power of lyrics and learn and appreciate more about their favourite songs through the Lyric speaker."

Saito continued, "In Japan, there is a culture of appreciating words themselves as art such as Shodo (calligraphy) and decorating your favourite words with Kakejiku (hanging scroll).Through making the Lyric speaker's visuals with the artists and the programmers, we have strived to put Japanese aesthetics into our product and contribute to the world's music industry."
Overview
Song lyrics show up on translucent screen via Wi-Fi.
The speaker analyses the mood and structure of the songs and defines specific fonts and motions to match with the music.
The speaker has variety fonts and motions.
Utilising SyncPower Corporation (PetitLyrics), Japan's largest lyrics database company, the speaker can visualise more than 2 million songs.
Spotify Connect is available.
Coaxial loudspeaker x 2, Drone Cone Speaker x 2. 20Wx2 (40W) output
Dual passive radiators.
The COTODAMA Lyric Speaker is available from https://lyric-speaker.com/en/   for £4,320 and $4,500