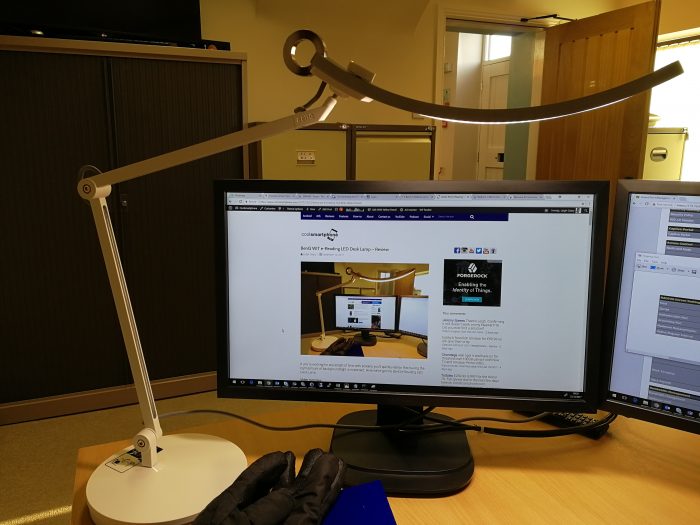 If you're working for any length of time with screens you'll quickly realise that having the right amount of background light is important. Here we've got the BenQ e-Reading LED Desk Lamp.
Video overview
For those without the time, here's my unboxing!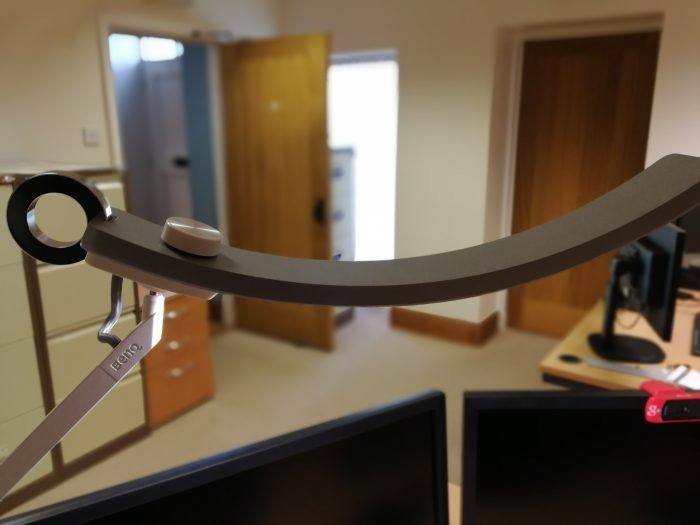 The first thing you've got to know about this is that it's pretty damned large. You can hopefully see on these shots that it easily stretches over two monitors. The main lighting area, which BenQ call a "smile curve" gives a massive coverage and, if you tilt the lamp up, you can actually use this to replace the lights in the ceiling if you're in a dark corner. It's almost 90cm wide and it's very powerful, especially when you adjust the brightness up, and it's so easy to operate too.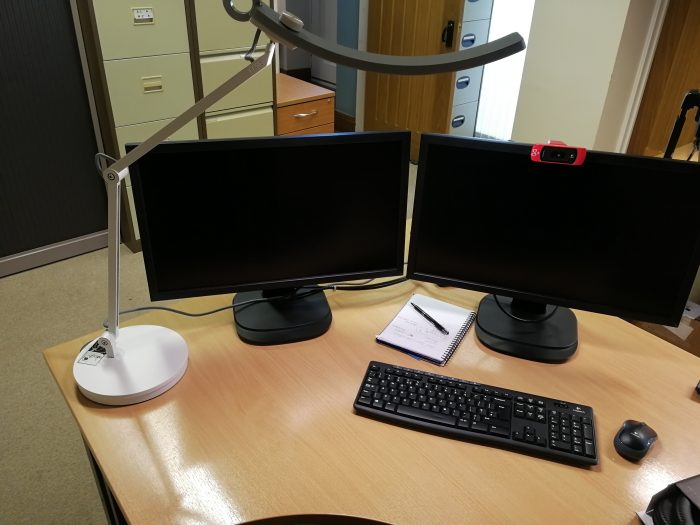 Wait up though, because I need to tell you what this looks like. It arrives in a large box with a handle because it's 4.7Kg in weight. This is mostly due to the base section, and believe me you do need that weight as this a large device. However, despite that it's finely balanced, with no great force or resistance.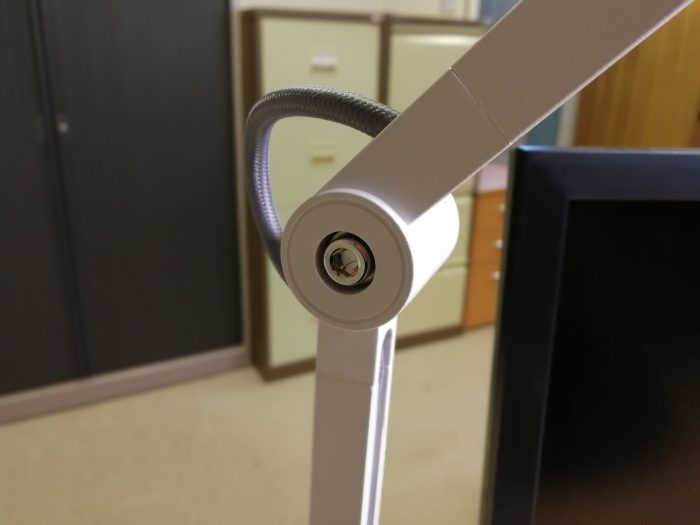 Connecting and constructing this takes mere seconds. The arm section literally sinks gracefully onto the base section and then you're ready to go. A braided cable, which is very long, goes into a power brick and that, let me tell you, is about the only non-beautiful bit.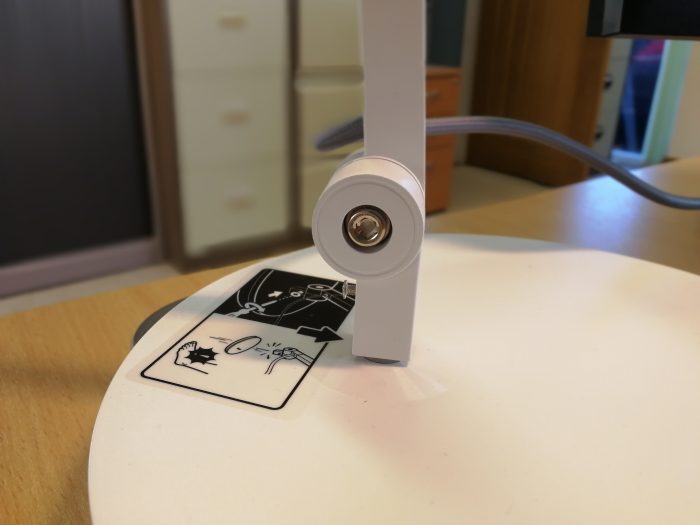 LED's, especially the early ones we've probably seen in the last few years, have a tendency to be cold and sharp in colour. A crystal white or blue-white beam may be good for car headlights, but it isn't really suited to your desk environment all the time, so here on the BenQ you can control the warmth of the lighting with the one control knob up top. Twist it to adjust the brightness, press and twist to control the warmth.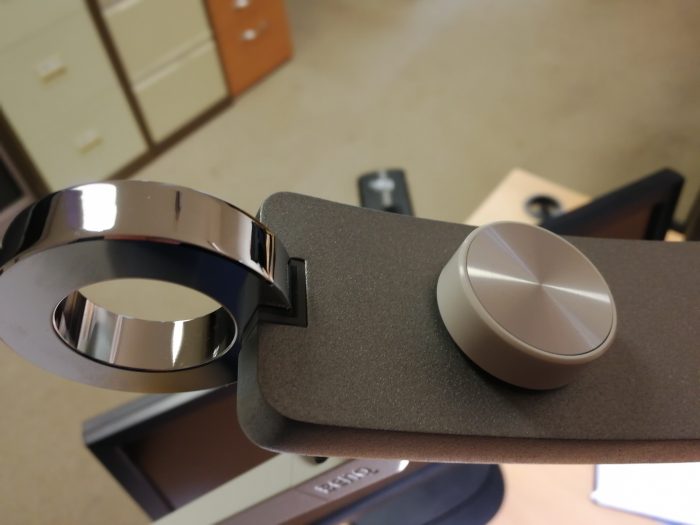 If you look into the light you'll see that there's a row of warm LED's and, next to them, the more traditional crystal white ones. As you turn the knob you'll see the white ones dimming and the warm ones getting brighter. With this, you can accurately adjust the temperature of the light to get the precise shade for your working environment.
Late at night? Reading a book? Set the LED's to warm and dim. A cold early morning? Lots of bright background on your monitor? Set them to a sharper white tone and turn the brightness up.
There's no flicker, and inside there's a clever sensor which detects the ambient lighting in order to delivers optimum illumination for screen reading.
The angles and the ease of positioning is really impressive. It's flexible and there's durable torque springs which let you position and then perfectly hold the lamp at the angle you specify. No droop, no floppiness.
The lamp isn't like any I've used before. They've helped reduce reflection glare on screens and your smartphone too. It takes just gentle tap on the ring at the top to turn it on or off too.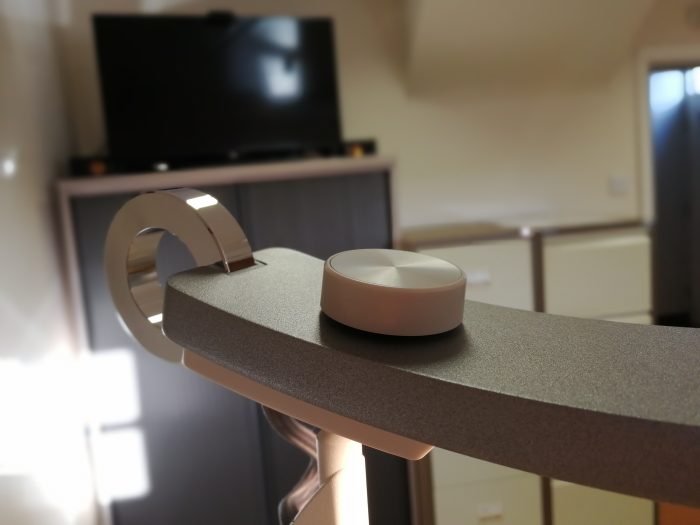 Thanks to the perfectly positioned illumination, I found that my eyes didn't hurt as much at the end of the day. Using the screen was a more comfortable experience and the build quality of the lamp was fantastic. Solid, but poised and smooth.
Want one? Right now you can get one for £142.40 which I know, it's a lot of money, but this really is top quality gear. Oh and don't worry about those LED's, they should last 17 years or more.
BenQ WIT e-Reading LED Desk Lamp Review
Build quality - 100%
Value for money - 88%
Ease of operation - 100%
A little pricey, yes, but this is a real quality product which is the polar opposite of flimsy, plastic lamps. Solid, strong and incredibly well made.