So this is a thing. What caught my eye about this is this simple fact from the Elephant Alarms website..


Your door, especially if you live in an apartment (this is designed with flats, apartments and small offices in mind), can be a huge weak spot and an easy get-in for burglars. Trouble is, alarm systems can be expensive and a bit of a faff to install. Available on Amazon for £199, this is an ultra-loud siren (110+ dB) which detects movement. It'll go nuts if you've activated it and someone opens the door. To turn it on or off, you use an app on your phone.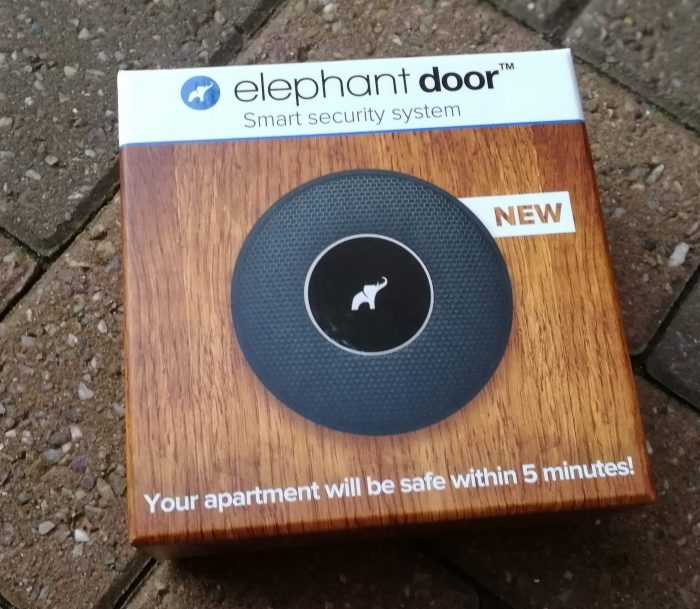 It's designed for an installation on an entrance door. Setting up takes a matter of minutes and then you simply stick it onto the door you'd like to protect with the super-strong (but easily removable) adhesive tape. This means that you can move it around if you wish. Good for moving home etc.
Of course, if you think about it, this doesn't need to be attached to an external door. If you perhaps have a stockroom or a place where high value items are kept, you can pop it on the door to secure that room down. It's only when you (or an approved other user) deactivates the alarm that it'll let them in.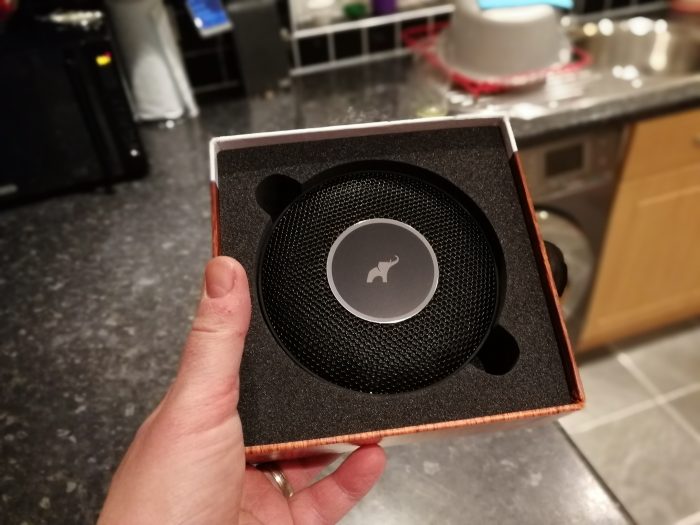 To activate and deactive, you'll need the Elephant mobile app. This communicates using Bluetooth and the alarm itself can let you know when it has been activated via WiFi – it'll connect to your WiFi hotspot as part of the installation steps.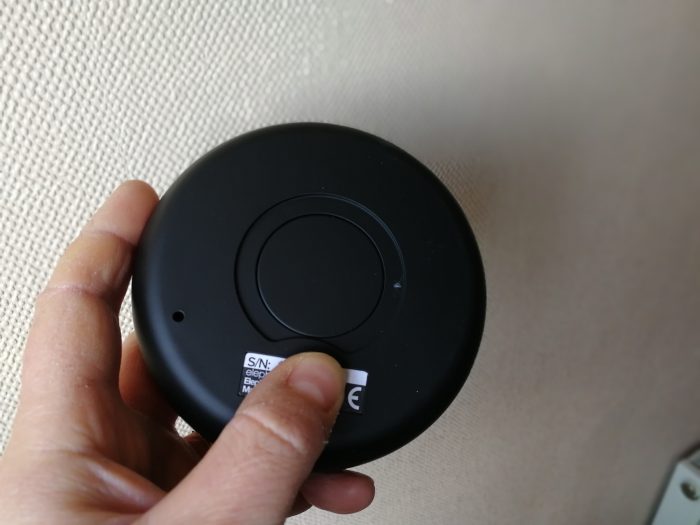 Wait though, because in the very nice box there's a microUSB cable, which means you'll need to charge the thing. This could mean that you'll need to remove the unit from your door at some point, and this is easily done because the adhesive strip actually hold onto a magnet, not the unit itself. This means that you can simply pop the unit off with a bit of a tug, and you only need to charge this unit 9 times every year.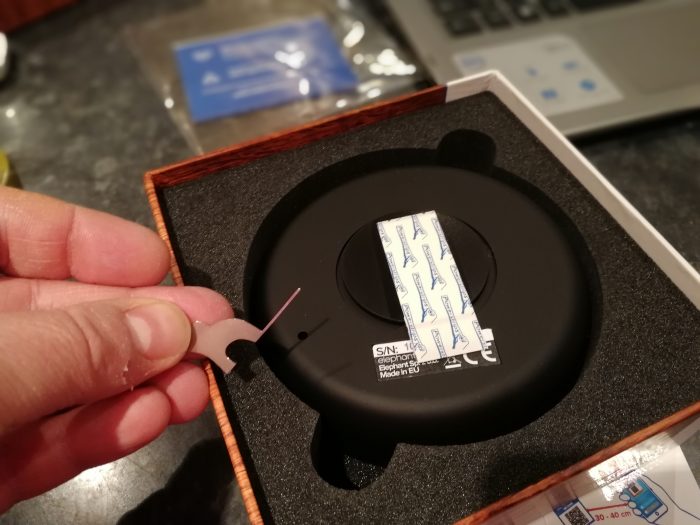 Let's go through the installation process then, and it takes just 5 minutes. First, download the app from the app store. Second, remove the elephant-shaped reset key from the box and pop it into the button on the back. Once you do this, it'll start the pairing process and, by scanning a QR code from a card in the box, your phone gets paired up with the device.
The app itself guides you through the whole process and it's very hard to go wrong to be honest..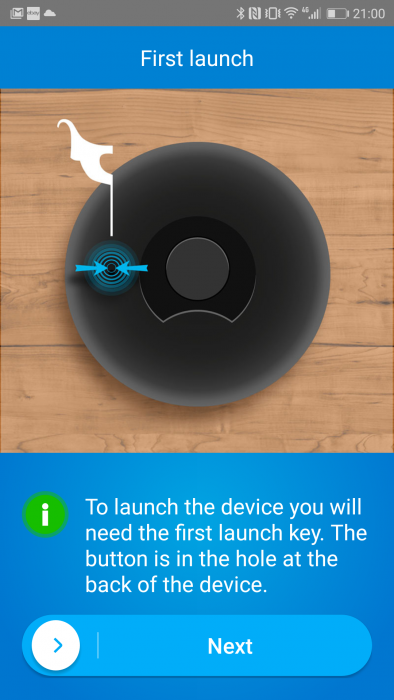 …but they've also included a decent manual which is simple and straightforward to follow..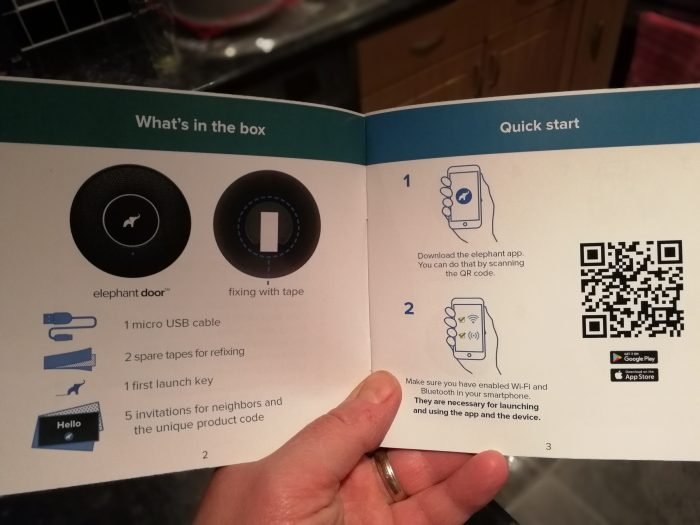 The setup screens guide you through nicely. You register and account, scan that barcode, connect to your WiFi, name the door and then you get the chance of adding a second user in too.
It's then just a matter of you switching the alarm on or off as you wish. The app is available for Android and iOS devices and it's free. The notifications are also free of charge and there are no additional costs.
Each time an action is detected, you get a notification and the ear-piercing siren goes off. You can see the alarm in situ below..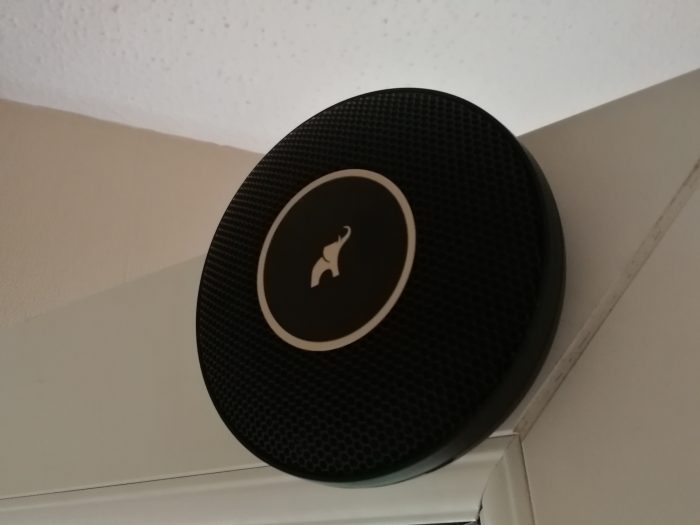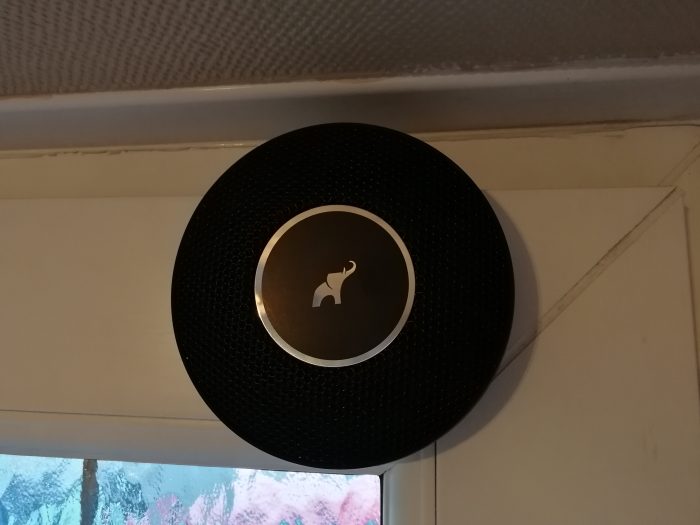 The alarm, which believe me, is very loud indeed, is enough to probably hurt the ears of a potential burglar and will definitely spook them. A specific door vibration first sets off a short burst of that alarm and a notification is sent. If the door is opened then the alarm gets louder and longer, with a red notification now getting sent to your phone.
This is a simple and effective solution for those renting or living in flats, apartments, caravans or working from small offices and lock-ups. In time I'd love to see this develop so that perhaps there's the option of having the system auto-activate based on your GPS position on your phone (perhaps when you're a present distance away, it activates, then deactivates when you approach again).
It's presumably due to the size of the siren, but the unit is also around the same size of a traditional school bell, so it's quite prominent on your door. You also have to get in the habit of turning it off before you open your front door. There's no delay between you opening it and it going off, so ensure that it's the first thing you do before you even put the key in the door. You also need to make sure that your phone has enough charge left or you've setup a second account. There's no backup deactivation dongle in the box, so if you've got a flat battery on your phone you're going to have a very noisy welcome home. At £199 from Amazon, it's also a little expensive.
Head to the Elephant website for more details. Don't forget that you can also use this to protect your caravan, trailer, car, garage, shed and much more.
Elephant Door - Review
Value for money - 77%
Ease of installation - 99%
Functionality - 80%
Very easy to install, but could do with a few more features such as a backup deactivation option, a delay between the alarm going off and GPS tracking of your position.