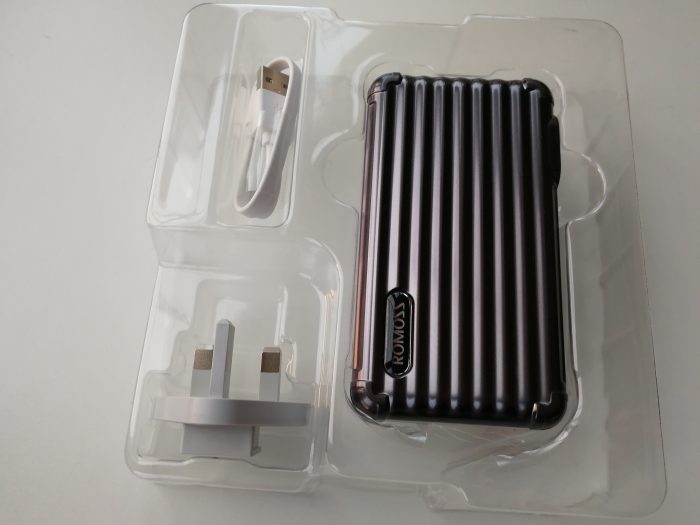 Hey! Want a power bank that looks a bit like a suitcase? Well, that's what we've got right here.
Think of a normal portable battery. When you want to charge the thing up you'll need to get a cable and find a USB wall charger or something similar. With this, the plug is craftily built into the side of the battery. For us Brits, this presents a minor issue. On this ROMOSS unit they've used the US plug. This, as we all know, isn't great because British plugs are the best in the world. However, for a unit like this, if you're in America, this is a perfect fit. What it means for us here in the UK (and Cyprus, and everywhere else using a British plug) is that you'll have to carry around a slide-in adaptor to convert the US bladed "prongs" into. This is a tiny-bit annoying if you're travelling a lot, but keeping it in a cupboard or bag isn't a massively terrible thing to have to do.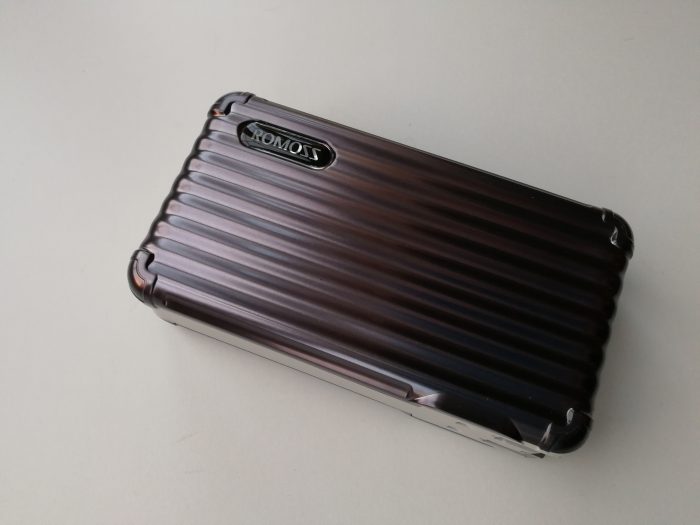 This one is 11.2 x 3 x 6.1 cm, so fits into your trouser pockets easily. It's also quite light at 272 g. Once you've charged it up (just pop out those "prongs" and plug it in or, if you're in the UK, pop out those prongs and put the UK adaptor on), you're ready to go. A full recharge takes around 6 hours and you can use the USB ports whilst it's charging.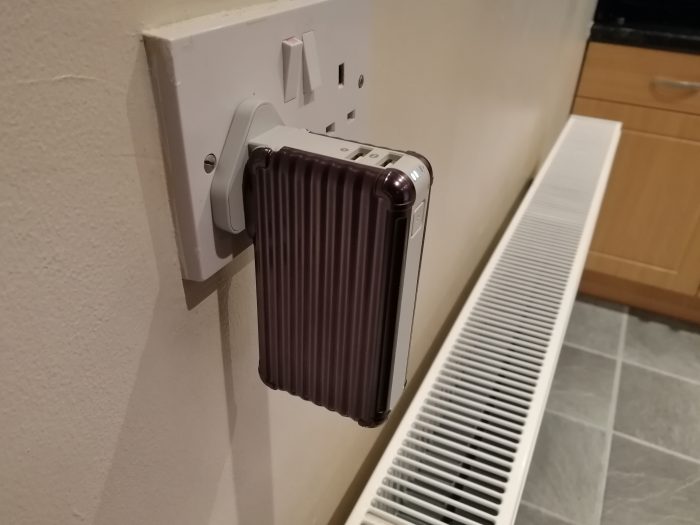 As this is a 10,000mAh unit, you're going to get a typical 3,000mAh smartphone charged up fully from flat three times. With a lot of smartphones, you're not going to be charging from a completely flat situation, so you could find this lasts longer.
There's a built-in intelligent safety mechanism to stop it over-heating, over-charging or short-circuiting. In the box you'll get a microUSB cable, the UK plug adaptor and a 12 month warranty card. You can buy one here for £27 as I speak.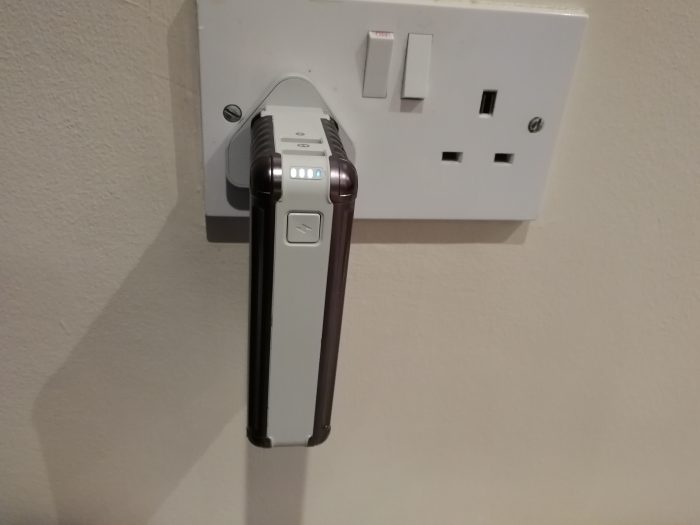 There's two USB outputs on this, so when you remove that adaptor and pop it in your pocket, you can charge with either the "one spark" 5V/1A port or the faster "two spark" 5V/2.1A socket. You can push the power button on the side to see how full the battery is – a 25% charge for each of the four LED's.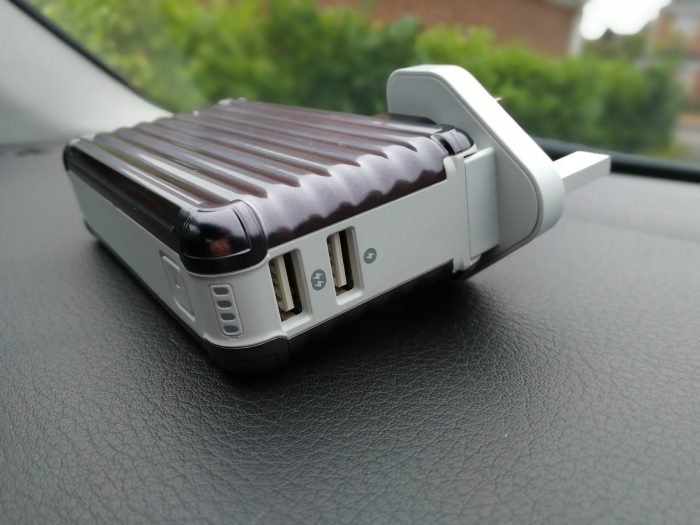 From what I can make out, there's a 2.1A max output, so if you put two devices into these two USB sockets it'll output 2.1A in total.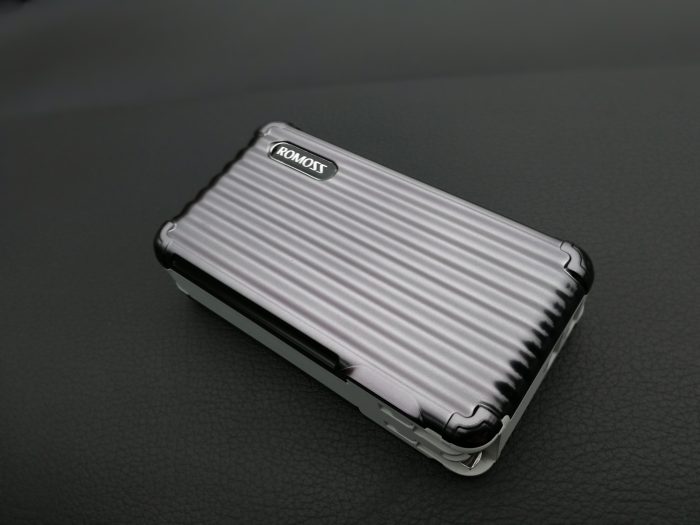 Overall, I liked the design of this one – a natty suitcase effect with a corrugated polished finish, separated around the middle with a high quality smooth plastic and an easy-to-locate power button. It's nice not to have to worry about a separate cable just to charge the thing. For American readers, I'd definitely recommend getting this. For those in the UK, don't forget that little UK plug adaptor. 🙂
Update – If you're quick, we've managed to get a 20% voucher code from ROMOSS. Right now you'll be paying £27 for this, but if you use our exclusive voucher code – UPOWER10 – you'll get it for £21.60. That's £5.40 off the price. Buy one here.
The code is valid from 16:00 today until 31st of October.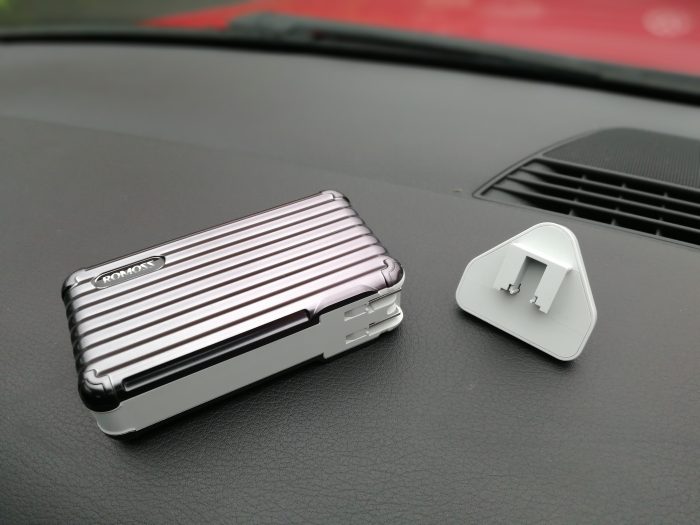 ROMOSS UPower 10,000mAh All-in-One Portable Power Bank Review
Design - 91%
Value for money - 95%
A cool spin on the portable battery design. Slot it straight into an electrical socket, then charge your gadgets on the move.