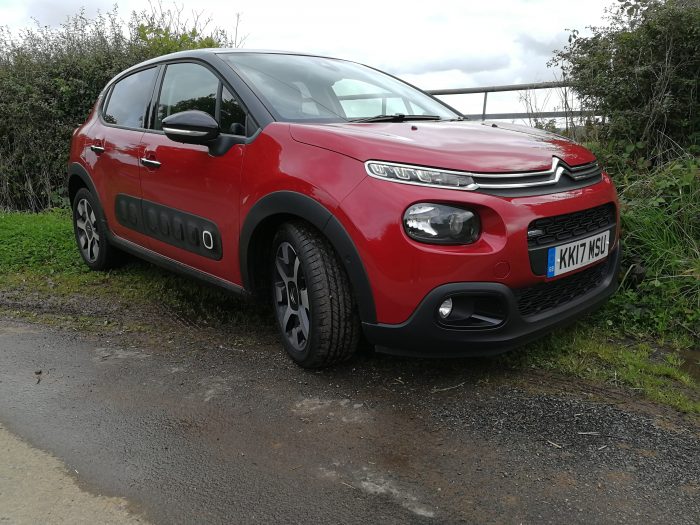 As someone who has Bluetooth speakers, portable chargers and cables thrown across the desk to review, this came as a bit of a surprise.
"Would you like to review our car", came the email. Ermm.. well.. OK then.
The video
You'll need to get comfortable for this one. I'm about to give you a full rundown of the technology in this super mini. It's packed, and puts my elderly Audi to shame gadget-wise.
All the footage was filmed on a Honor 9 and an iPhone for the ConnectedCam demo. It's spliced together using iMovie on an iPad.
So, outside my home, I now have a shiny new Citroën C3 Flair. This is the PureTech 110 S&S manual version which, in new money, kicks out 81 kW (110BHP). It's a petrol, and the moment I heard that it had a 3-cylinder 1.2 litre engine, I doubted it would cope with my daily motorway commute.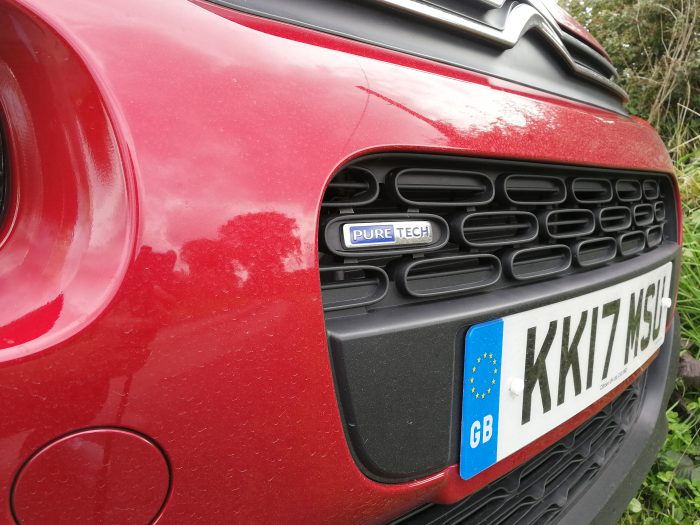 Why? Well, in years past when I borrowed cars with small petrol engines, I've found the transition from my usual low-revving diesel engine to a high-revving "screaming small engined" petrol a bit.. disconcerting. It's usually like driving a washing machine on a fast spin.
Here though, no. That 3-cylinder engine sounds a bit of a growl about it. Give it some welly and, although you get a bit of body roll, it sounds pretty decent and I was actually quite impressed on the motorway.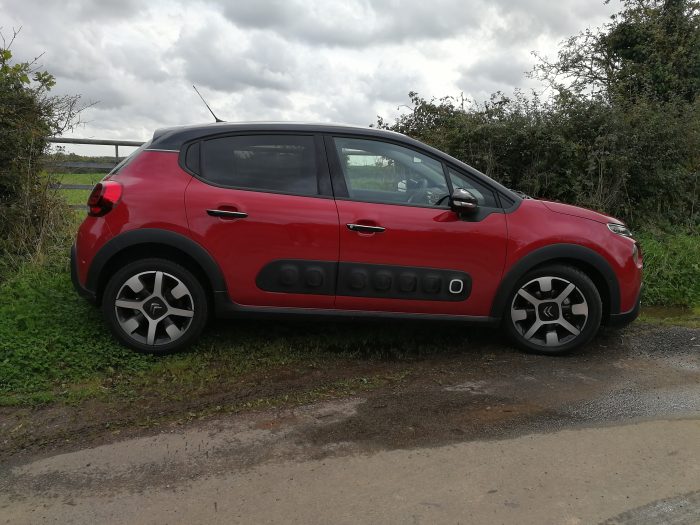 A 0-62 time of 9.3 seconds and a high ride-height means that this is a great city car but not a racer. That said, the acceleration speed is only 1 second off my fat diesel, and that's got an extra 70BHP. It actually turned out to be more efficient too.
This then, brings me onto technology. I've not changed my car for a number of years and it's really good to see how much technology and efficiency is crammed into cars now. This car takes care of you from the get-go. My normal motor has a number of safety features, but here it's definitely cranked up a notch. This particular trim level has some added goodness.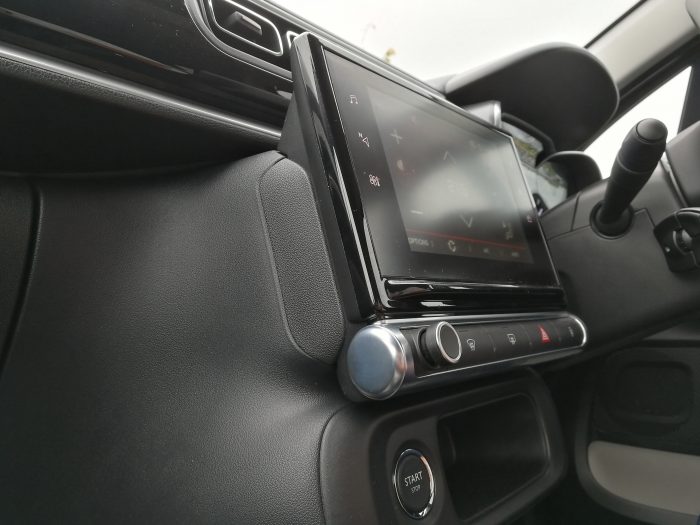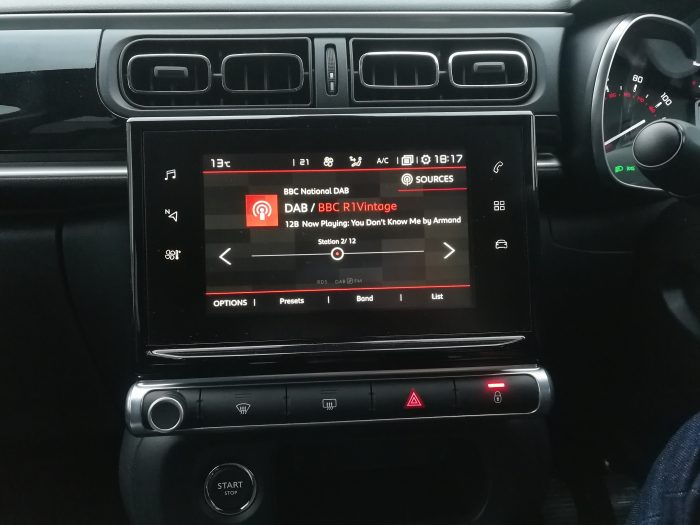 There's a lane departure warning system, a speed limit recognition and recommendation system. Even a coffee break alert. In addition, there's a "Hill Start Assist" feature. This works with the Electronic Stability Control to hold the car stationary for up to two seconds while you take your foot off the brake and move to the accelerator.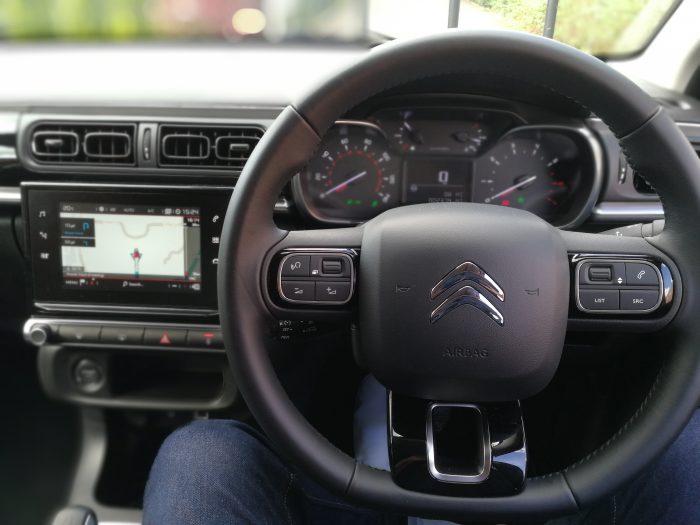 But I'm old school. Sure, I might not seem that way (especially writing about gadgets all day), but I don't often like cars taking control off me or telling me what I should be doing. Especially when I know I should be using clutch control to hold the car on the hill anyway. Right?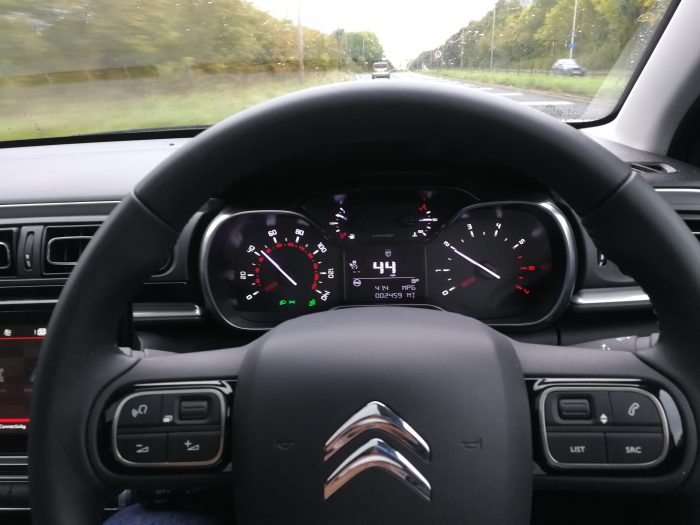 Well yes, absolutely. But I'll confess that, after lots of driving during the working week, little features like this are nice to have when you slip up and don't drive perfectly. It kicked in on a hilly part of my commute when I was waiting at traffic lights and, when you've done that same journey hundreds of times and you're starting to get a bit lazy or you're perhaps a bit tired, that short hold can save you from a low-speed roll backwards into the car behind you.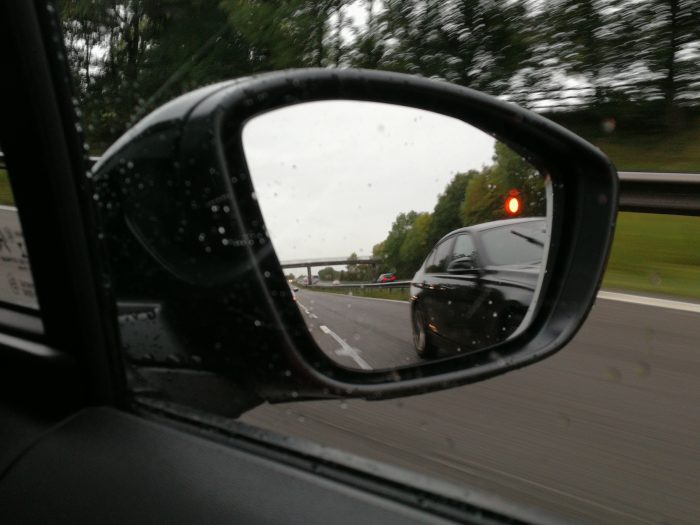 Likewise, the lane departure system reminded me to indicate when changing lanes, and the blind spot monitoring system was something that slid itself into my consciousness without being too abrasive about it. A small orange LED within the mirror pops up when a car is in your blind spot and, although on my regular vehicle I just have a curve at the edge of the mirror which does the same, it did actually add something instead of just being a fanciful feature.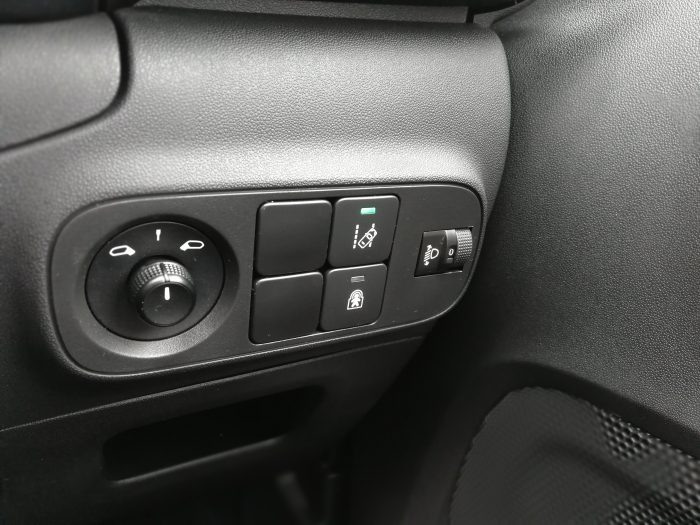 The reversing camera, like all reversing cameras I've ever used, played against my natural and heavily-embedded need to actually look over my shoulder. It beeps and does offer some assistance, but I'd rather be looking backwards. I should admit that it does go nuts when people walk past the car and small children – who I wouldn't necessarily see by looking backwards in this slightly-tall vehicle – would be spotted using this system.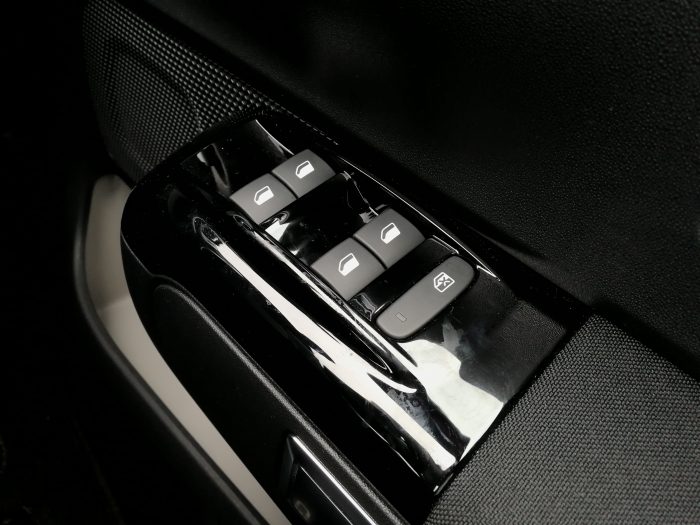 Other gadgets include automatic lights, automatic window wipers and – on this model – a 7″ touchscreen panel for controlling and monitoring the entertainment, climate, connectivity and tech on the car. That stereo is a DAB Radio which, when you go to places like Stoke-on-Trent (where DAB seems to only find 2 stations), also has FM and USB / 3.5mm source options too. The 6 speakers, which you can play with via the 7″ panel, have a decent audio response, although whacking the bass up and turning the volume up pretty loud resulted in a bit of plastic vibration from various parts of the car.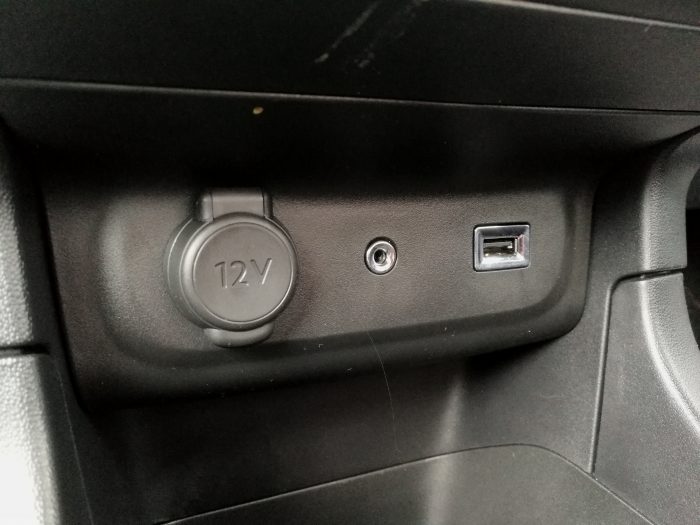 I've covered a lot of the gadgetry in the video, but the ConnectedCam was originally what brought me to this car. It's a feature-rich version of your standard dash cam, and sends out a WiFi hotspot which you can hook into with your phone. This hotspot doesn't have an internet connection, so your phone (if it's like mine) might moan that the WiFi should be changed to allow a web connection. Hit "no" and, using the CnnectedCam app (for iPhone and Android), you can browse the footage that has been automatically stored during your travels.
Like a lot of dash cams, this will automatically save footage if you're in an accident. It'll also save 30 seconds before the accident and up to a minute after. This can be adjusted in the app as you'll have hopefully seen in the video. Great for insurance claims.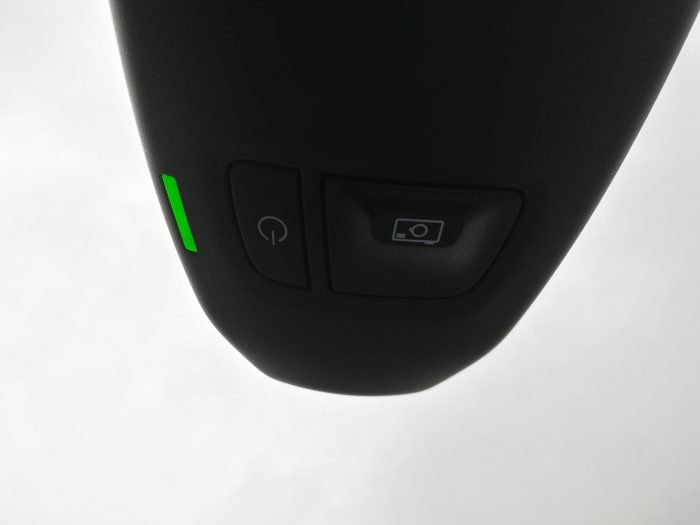 In addition, there's a GPS unit inside so it'll record your speed and location. Working with the app you can also find where you parked your vehicle. The ConnectedCam sits just behind the mirror and has a 120 degree wide-angle HD lens. You can, of course, also hit the button on the bottom to store footage. A single click takes a photo, a long press will record around twenty seconds of video. You can though, if you wish, turn off the camera entirely.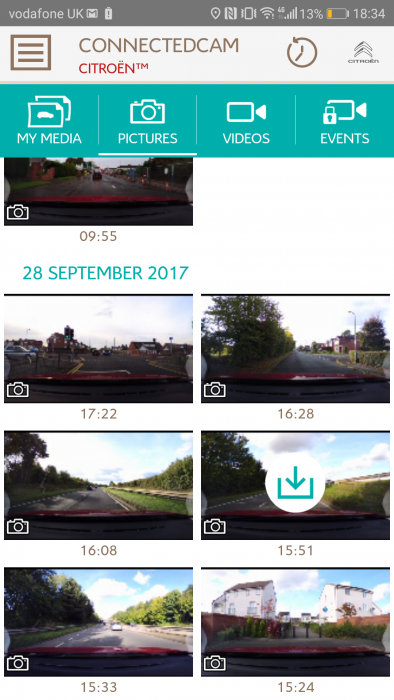 If your phone is connected up to the cam, you can also have it auto-share the footage via Facebook, Twitter or by email. This is good, I guess, if you need to prove that you've arrived somewhere. You can also manually share the footage later if you wish.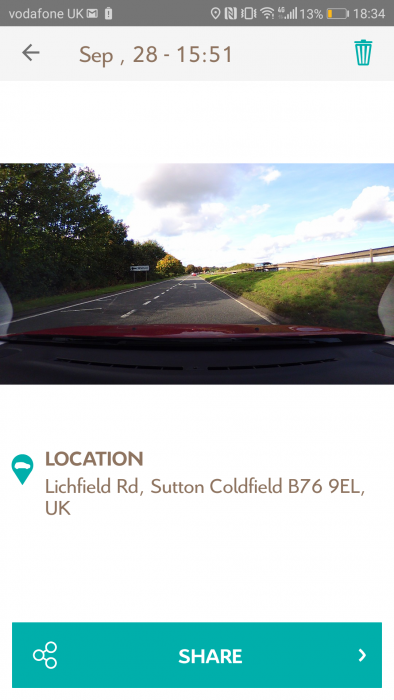 The picture and video quality is extremely good on this and, like all the tech on the car, it's easy to use and simple to understand.
Now, let me go back to the comparisons with my regular car. I drive round in a 10-year-old Audi A4 diesel. I thought it was pretty efficient, especially with all the motorway miles I do. The thing is, after driving the Citroen to and from work a few times, in proper "real world" driving (not that stuff they quote in the manual), I was hitting around 50 mpg. As I mentioned earlier, this actually beat my supposedly efficient 2 litre diesel on faster motorway trips.
My regular car doesn't have the tech either. Sure, it's got automatic air-conditioning and cruise control like this Citroen has, but my kit isn't quite so clever as this new Citroen kit. No. My old car won't magically look at speed signs and tell me what the speed limit is. It won't offer me a single-press button to keep the car at that limit, and it won't warn me when I drift out of a lane either.
My old car also doesn't have a coffee break alert, or three Isofix mounting points. There's no SOS button if I'm in trouble.

The non-tech bits were also pretty impressive. The steering was light and breezy around town, but was more controlled and accurate on the motorway. The road noise wasn't that noticeable and the huge open roof and rear tinted windows did give it a sense of class, even if the jury is out on those "Airbump" additions on the doors. Yes, they're sensible because they'll stop other drivers scratching and denting your doors in car-parks, but it reminds me of those old 1980's US estate cars with wood panels stuck on the side.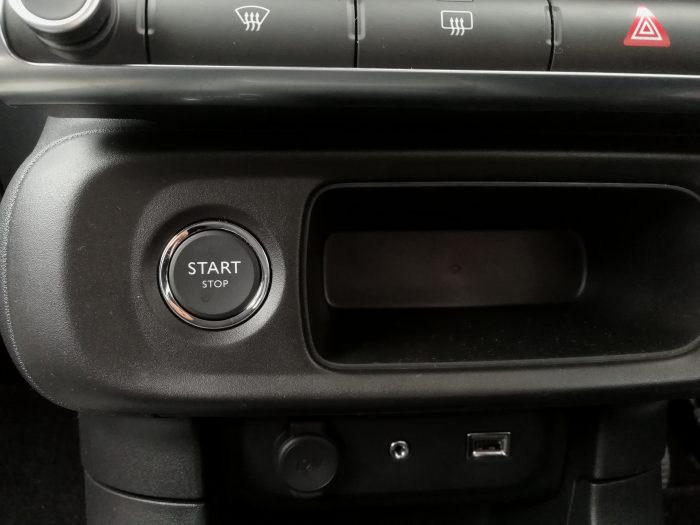 Handling-wise, the thin wheels and the higher ride-height was something I wasn't familiar with. My usual motor has fat tyres and sits quite low down, so tight and quick cornering is perhaps something you shouldn't be doing with this. The body roll was a bit of a shock and, with quite an eager and noisy 3-cylinder engine, it could be easy for inexperienced drivers to overcook a tight bend. This suspension does seem to soak up most speed bumps and potholes relatively well.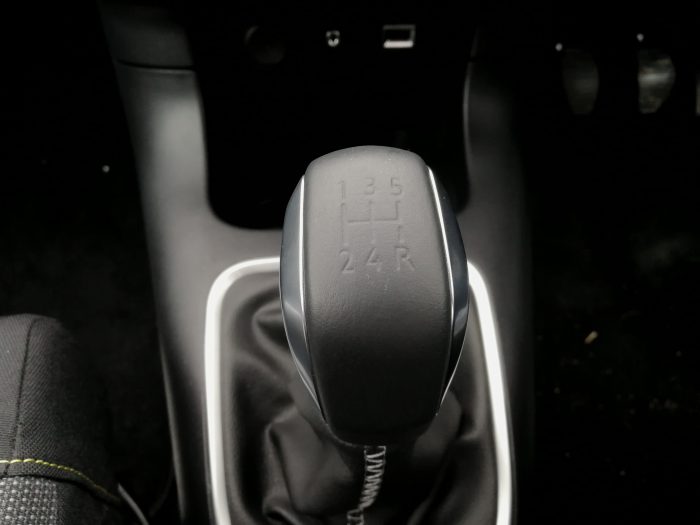 There are two engines to choose from – either this 1.2 PureTech 3-cylinder petrol or a 1.6 BlueHDi diesel. Here I've got the petrol 110BHP model, but there's also a 68BHP and 82BHP unit. The diesel engine comes in either the 75BHP or 100BHP. There's 5 and 6 speed gearboxes (the 5 speed on the review car functioned very well without any clunkiness) and you can also get an automatic gearbox, but only on this 110BHP 1.2 engine I have here. My recommendation? Go for the higher-power engines. The 110BHP petrol I had wasn't a problem when it was just me driving, but with a family and a boot full of "stuff", you're going to struggle if you've got the lower-end 68BHP model.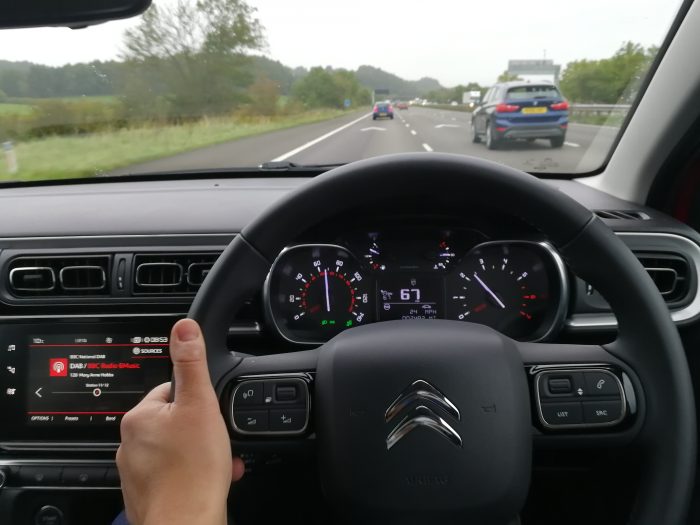 During testing, when I floored the accelerator, there was a noticeable "click" on the pedal. This engaged after a certain amount of travel and it was almost as if someone was telling me that I was perhaps driving in an inefficient way. Without thinking, I only ever pushed the pedal down to a point just before this click. Looking into the manual, this appears to be due to the speed limiter being in operation, and – along with the dashboard notification showing the limit for the road you're on – it helps you drive more safely. Combine this with the notifications which tell you to change up a gear when the revvs are high and you'll end up driving better too.
Despite the height of this car and the "super mini" tag, it's a very decent size inside and can carry a family around easily. The boot gets your weekly shopping in without much difficulty too.
Looks-wise, it's a sporty and styled well, carrying styling points from other Citroen models across the range. This is especially noticeable with that cool headlight arrangement.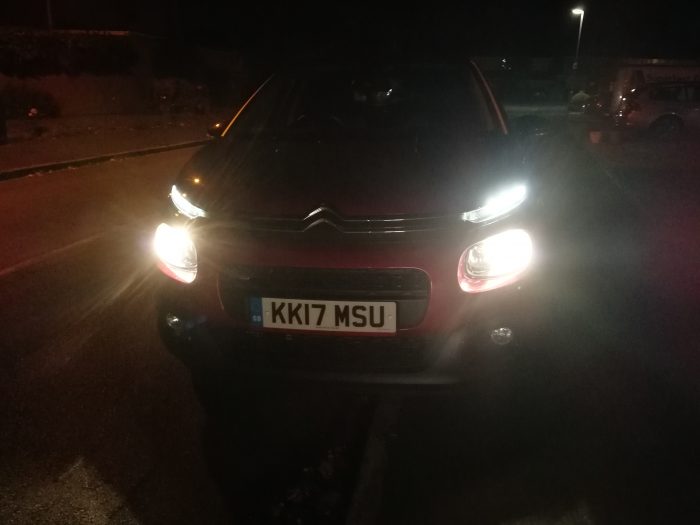 Inside, although there's no overly luxurious materials, the design and the layout of the dashboard and the instruments is very nice and it's certainly very stylish. Likewise, the touch-screen control has a great layout and is thoughtfully designed so that every menu screen follows a similar pattern of operation. The radio system and the way you flick through channels – particularly on DAB – is done well. My only minor concern was that it perhaps lagged a little at times. Not a major slow-down, but still something to note.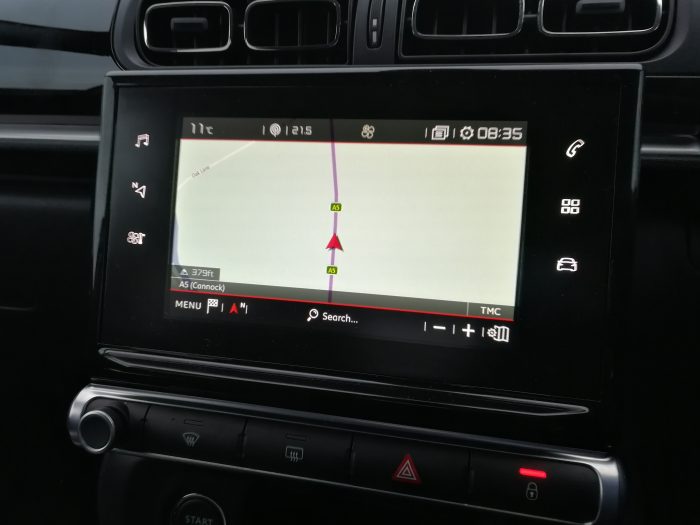 Lastly, I'd rather weirdly like to give you my initial thoughts. When I first got in this car I made an audio recording of my first thoughts of the car, which I'm now going to look back on to see if they're still a concern.
– It's nice to hear a "proper English sat-nav lady".
Yes, this is true. The sat-nav was welcoming, calm and easy to understand. Top marks there.
– The car sits quite high, so you can see almost over the top of other cars. It's a shame that my arm won't rest on the drivers window though.
Yes, both of these points still ring true. 🙂
Overall then, I'd like to give this Citroen C3 Flair the Coolsmartphone Seal of Approval for the on-board tech. Yes, I'd perhaps like to see a bit more, but you could price the car too highly for this category if you added autonomous emergency city braking or other gadgets. It's already well equipped, especially so if you go for the higher-end model I've reviewed here.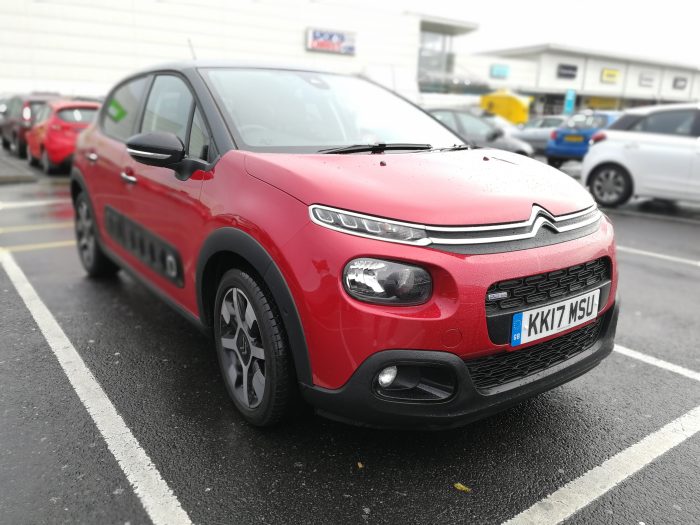 The car is very efficient, and comes with a well designed interior. If you can get this model and the 17″ alloys it'll also look very impressive too. When compared to my sporty Audi, despite my grumbles about the body roll and – when pushed – the growling engine, I wasn't annoyed or upset about the performance and the driving experience of this super mini. It's good on fuel, this model worked perfectly on the motorway and the geeky tech that Citroen have put into the vehicle actually helps your daily commute. It works with you and doesn't annoy or interrupt your driving. Even the automatic start-stop, which has driven me mad on other cars, seemed more natural.
I've got to say, I really quite liked this. Well done Citroen. Well done indeed.
Citroen C3 Review
Efficiency - 91%
Tech - 93%
Handling - 76%
Design (External) - 84%
Design (Interal) - 91%
A super mini full of helpful, thoughtful, useful gadgets which work without you having to think or twiddle.