Just last week we told you that the new Motorola Z2 play was about to arrive on the Vodafone UK network. So, just like clockwork, here it is.
If you want to be a bit different or try something that isn't a Samsung or an iPhone, the modular Moto Z2 Play delivers a bright 5.5″ 1080×1920 screen and is powered by a Qualcomm MSM8953-Pro Snapdragon 626 octa-core CPU running at 2.2 GHz.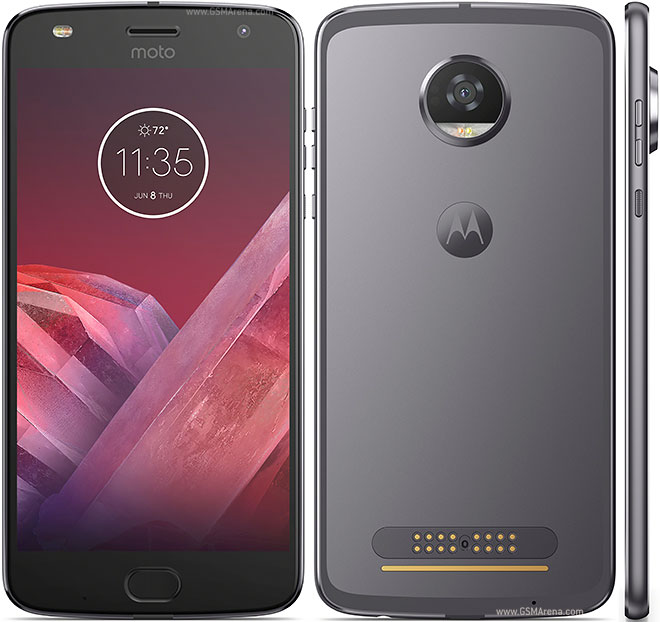 Other details include the 64GB storage, a microSD slot, 4GB RAM, 12 megapixel dual autofocus rear camera, 5 megapixel front, Android 7, 3000mAh battery, NFC, 3.5mm audio port, GPS, WiFi and…
.. wait a minute. I said "modular", right? Ah yes, because, with the aid of that connector on the back, there's a range of additional components available. Clip on speakers, cameras and battery packs called "Moto mods".
Like the Honor / Huawei handsets, you can find your way around the phone with a one-button navigation system, and there's a fast-charge battery too.
Vodafone customers can pick up the Motorola Moto Z2 Play for just £28 per month with no upfront cost. That gets you unlimited minutes, unlimited texts and 1GB of data. If that's not enough data, you can ramp it up to 8GB data for £40 per month. That's going to also get you Sky Sports Mobile TV, Spotify Premium or NOW TV for 24 months.