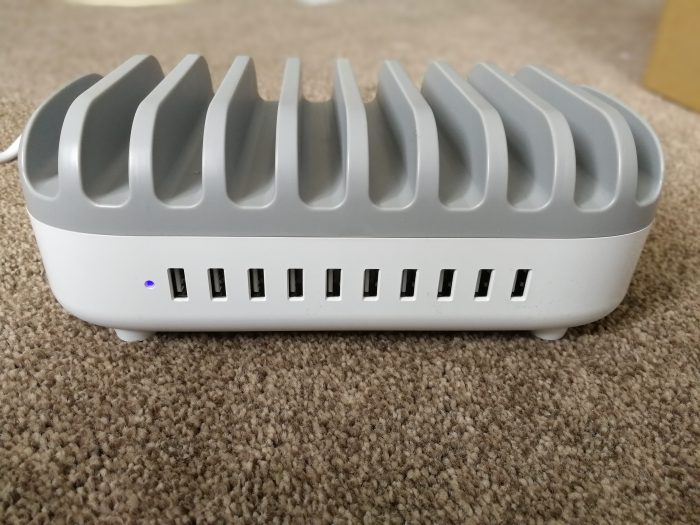 Having lots of gadgets is seemingly the norm nowadays. Likewise, we're seeing more and more solutions for charging them. Most of you will probably have one charger per device, which is great until you start getting a second phone, a tablet or you've got other members of your family in the house with gadgets that need charging too.
Oh, and what happens when they're all on charge at once? It's a cabling nightmare, and keeping it all looking neat is a never ending battle.
I've tried a number of ways of doing it, and have now resorted to having a "charging cupboard" in the kitchen which has a charging station inside. That way the cabling is hidden 🙂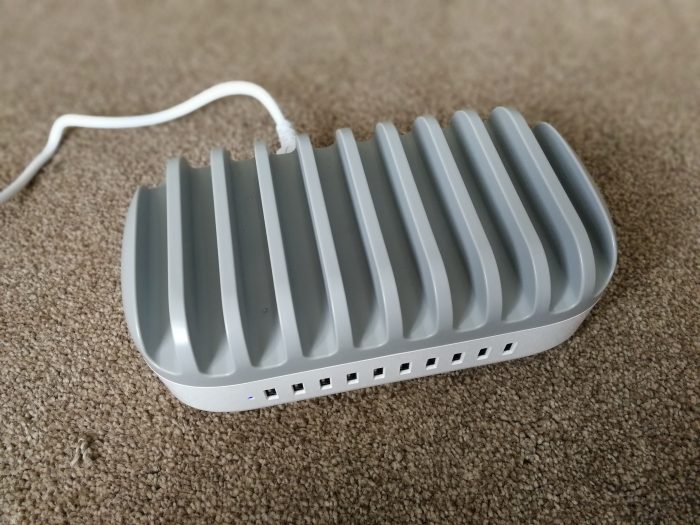 Today we've got another solution and this, for £69.99, has 10 USB charging ports and stylish slots up top where you can position your phones and tablets. It should make for a neater solution when you're charging several gadgets at once.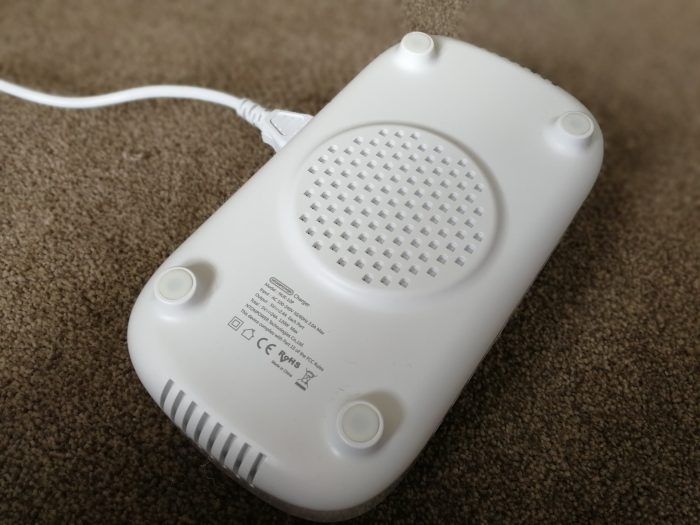 First up, the things you need to know. It's got a 120W power output, which means that each USB port gets up to 5V 2.4A maximum. All 10 USB ports can deliver full-speed charging to your devices and it's protected against overload, short circuit, lightning strikes and power surges. Inside, when the unit gets warm, a fan will kick in to keep the unit cool. If that temperature goes too high, the whole unit will shut down as a safety precaution.
The chunky build is also fireproof so you can rest easy, even when all 10 ports are in use.
The slots at the top are both stable and smooth, so no real chance of scratching your delicate gadgets unless you're really ham-fisted with it.
Here's my overview video..
As you can see, I have a bit of a cabling issue with this, and I'd definitely recommend getting some fairly short charging cables (none are supplied with this unit).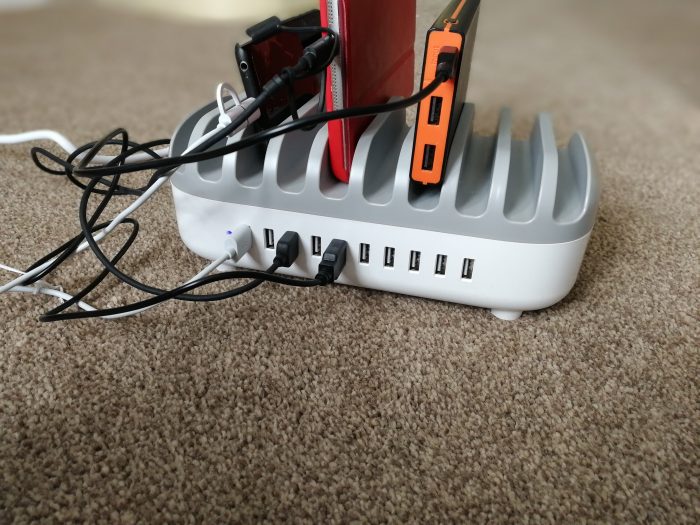 Overall, this did exactly what it's designed to do and I even managed to slot a small portable charger in the top too. It's ideal for shared spaces such as offices etc, but I would recommend getting some fairly short cables or perhaps find a way to hide the cables in a desk somehow so that they don't trail around the unit like spaghetti.
Head to Amazon to buy this one.
NTONPOWER Charging station and organiser review
Build quality - 95%
Safety / intelligence - 93%
Value for money - 77%
A chunky, safe, multiple-charging solution with in-build storage for your devices. Very decent indeed, but get some short charging cables!