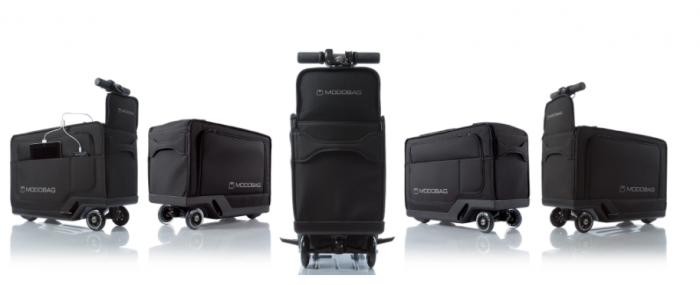 I don't know about you, but having a small carry-on suitcase with wheels on, one that glides effortlessly around an airport, can be a very, very, very, very .. minor irritation.
So, welcome to crowdfunded item number 25251613. The Modobag. A motorized suitcase that'll make you look like a complete dick.
OK, maybe I'm being a little harsh. This will do 5 mph inside and 8 mph outside. It weighs 9.07KG when empty and is around 56cm by 35cm by 23cm, so should fit into the majority of hand luggage compartments. They don't tell us quite how long the battery lasts for, but they do tell us it'll do 6 miles. My maths makes that just over an hour inside an airport, which should be enough time for people to knock into you as you skid around like a lunatic.

Oh, and it also has two USB ports for charging your phone and other gadgets.
If it had a tow-bar then I guess you could drag your other bags through the airport.
The makers tell us that the lithium batteries are compliant with the air travel regulations but… well, we've done some checking. A lot of airlines (including Air France, Flybe, Jet2, Monarch, Ryanair and KLM) have a maximum weight limit per carry-on bag of between 10KG and 12KG. So, with this weighing in at 9KG, for the majority of airlines, you'll only be able to put 930 grams of stuff inside, and that's especially true for the short-haul airlines where you'll be wanting to use carry-on baggage only.
Doah.
You couldn't even stick a bag of sugar in this thing without it being overweight. Want to put your laptop in? Tough luck, my friend.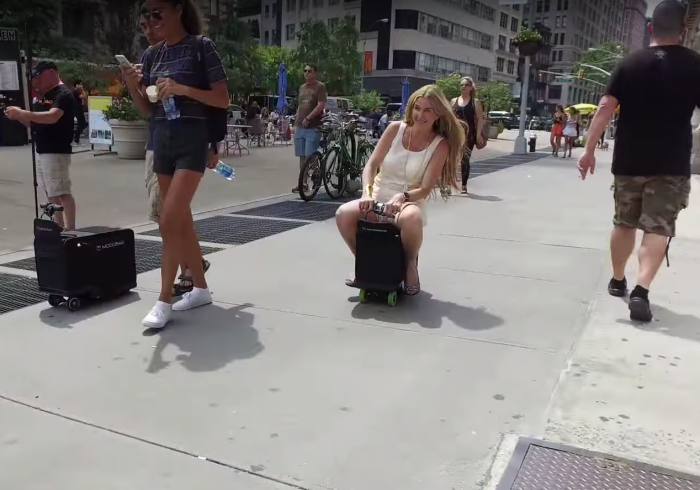 Oh, the retail price is $1,495, which is £1115.87. That's just bloody ridiculous.