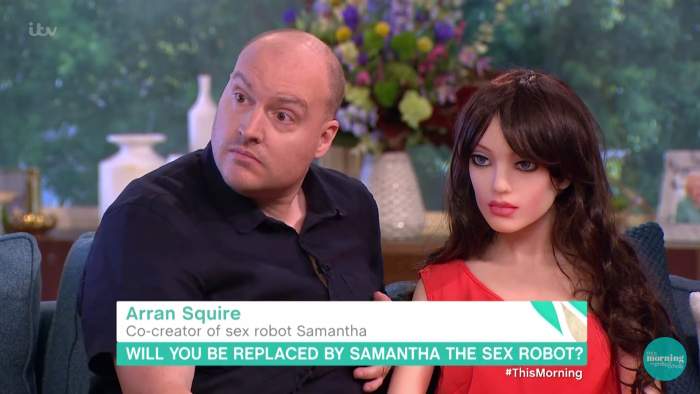 She comes equipped with artificial intelligence and has a stack of sensors embedded inside too. This new sex robot can also listen to you and will reply back. However, the "human feeling skin", as ITV presenters Holly Willoughby and Phillip Schofield comment in the video below, is cold to the touch.
Powered by "a 12 volt battery", inventor Arran Squire says, "the reason we don't heat her up is that this isn't enough. We're working on ways of linking her to a higher power source so that she can be warm".
Yeah, perhaps the full mains power eh? Plug her into the wall, I'm sure that wouldn't cause any issues..
Yes, this robot is a loving machine, but she also has a "family mode". Arran has her sitting on the sofa with his kids at home. She rides in the car when the family go to the shops. Artificial intelligence inside the bot lets her read books and she can tell jokes to the children too. Not at all weird…..
A website called "Synthea Amatus" sells the AI-equipped dolls for £3,750 each, although you can get the "dumb" version for £2,295. Her lips and facial expression won't change or move even with the artificial intelligence.
Now…. do you want to go down the rabbit hole? Yeah? Well, we're not going to link to the shop site directly, but some of the videos on there show just how realistic the skin and the "body" of the doll actually feels. Perhaps the most family-friendly video we could find is below, where the robot talks to Google Assistant. Although it's in no way explicit and it's OK to watch, YouTube does add preview shots of other Synthea Amatus videos at the end. Some of those are a little risque, so you'll have to click our "Press Release" button to watch..