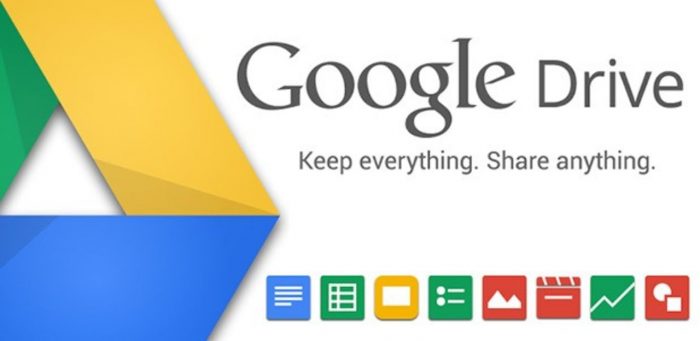 Google has announced via a blog post that the Google Drive app for desktop both PC and Mac will cease to be supported from December 11th this year, and the app will shut down completely on March 12th, 2018.
Users who are still running the Drive app will start seeing notifications in October that it's "going away," and the company will steer customers towards one of two replacements and this will depend on whether they're a consumer or business user.
With this launch, Google Drive for Mac/PC is officially deprecated. It will no longer be supported starting on December 11th, 2017, and it will shut down completely on March 12th, 2018. We encourage you to use Drive File Stream. As an alternative to or in addition to installing Drive File Stream, you can upgrade to the new version of Drive for Mac/PC, called Backup and Sync.
We know that Google has got previous for just withdrawing apps that people use and enjoy, but this doesn't appear to be the case with Google Drive. Google is hoping you'll just make the switch to one of its two other cloud storage options: Backup and Sync or the enterprise-focused Drive File Stream (though G Suite customers can also use Backup & Sync).
Google made this handy chart to explain the difference between the two new options: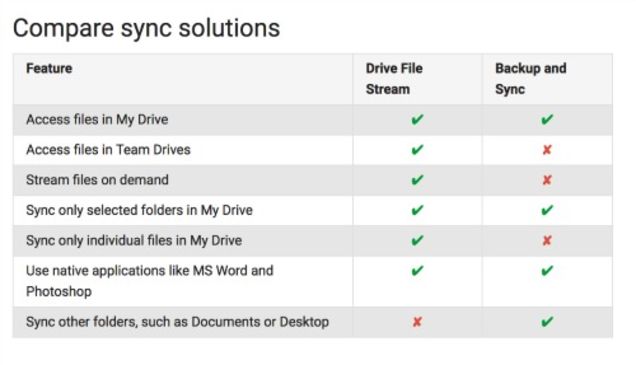 Backup and Sync:
Backup and Sync is essentially the Google Drive and Google Photos uploader apps smashed together. If you've downloaded the latest version of Google Drive, you're likely already using it. It works pretty much exactly the same way Drive did, and offers the same functionality that you've gotten in Drive. Plus, it has cloud photo uploading support built in.
 Essentially, with Backup and Sync you're picking and choosing what files and folders you'd like to backup, while retaining the option to sync a single folder on your computer.
Drive File Stream:
This is targeted at Enterprise users. This service saves space on your computer's hard drive by hosting all your files in the cloud. It also offers access to team drives and syncing individual files.
This means is that you don't have to download files onto your computer in order to access them. For instance, instead of downloading a Word file onto your computer, editing it, and then uploading it to the cloud again, with Drive File Stream you'll be able to just open the file from the cloud and edit it.
It can save you time, and ensure you're always working with the "current" version of a document, something that particularly comes into play when several members of a team are working on the same file. Sound familiar? Anyone use Sharepoint?
When installed on a Mac or PC, Drive File Stream will be listed on your computer as a drive. So you'll be able to interact with it in the same way as if it was an external hard drive connected to your computer. Drive File Stream isn't available just yet, but should be rolling out starting at the end of the month.
source: google blog