The local Audi dealership I recently visited has the usual "showroom stuff" inside. Salesmen wearing sharp suits, mechanics wearing super-clean overalls, a TV, a free coffee machine, a masseur, a steam room and an open bar. It also has cars.
However, as a company called "Daewoo" (remember them?) did back in the 90's, Peugeot have decided to push the idea of buying a car from literally anywhere.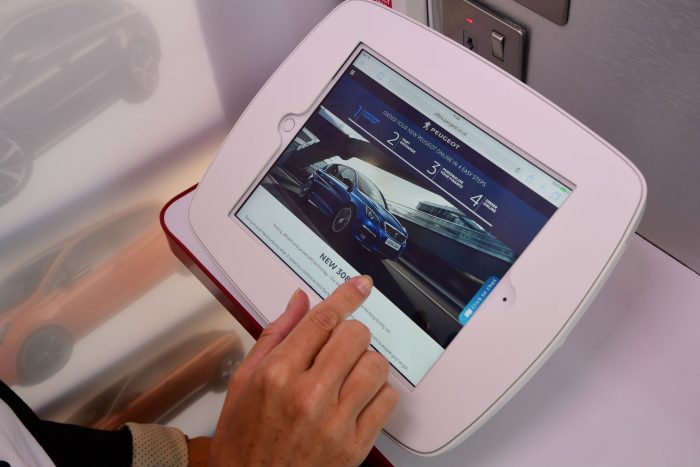 A new Peugeot "Order Online" system lets you pick and purchase your next motor from whereever you are, and they're proving this by setting up their newest car dealership inside… a London phone box. It's the smallest car dealership in the world and opens for business in Russell Square from Tuesday 12th September. On that day you'll be able to gain access via a special code from this Peugeot site. Punch in the code and the door opens to reveal a WiFi-connected iPad which displays the new Peugeot e-commerce portal. Whilst sitting in the box you can browse, configure, finance and order your new car.
No salesmen. No calming music and free coffee. Just you and a tablet. The phone box is open from 7am until midnight until the end of this month.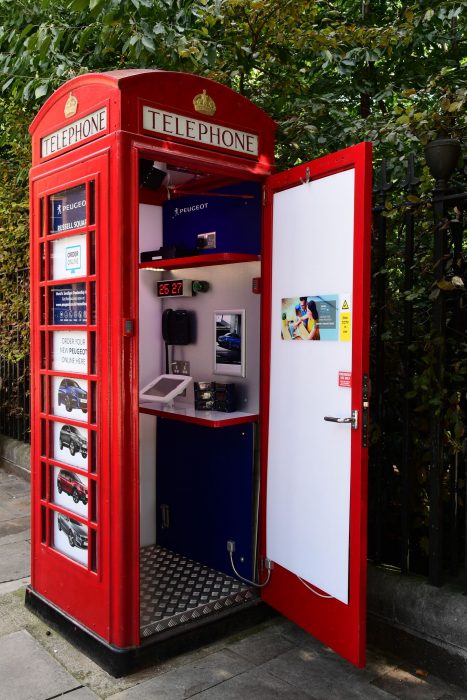 Nearly a million users have already used the site and it's dished up more than 134,000 vehicle configurations so far. The new Peugeot 208 appears to be the most popular model ordered through their site.
David Peel, who's the MD of Peugeot, tells us..
Not that many years ago, the process of buying a new car involved reading lots of printed literature and trawling around Dealerships. Now, despite a car being the second-largest purchase most people make in a lifetime, it can be done from anywhere – even from inside a phone box.
You can still access a "normal-sized" dealership to book a test drive, but whether you use the Peugeot website on the iPad in the phone box, or your own personal mobile, your car configuration and choice will still be stored.