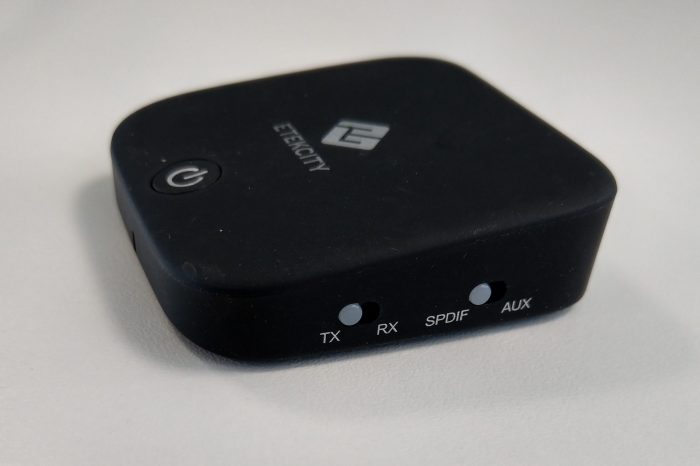 This little gadget is going to be ideal if you have a big hi-fi or speaker system which doesn't have Bluetooth capability. Likewise, it's going to be ideal if you've got a TV or another non-Bluetooth device and you want to push the output to a Bluetooth speaker. It's on Amazon for £30.99.
Confused? Well, don't be. This gadget can accept a 3.5mm audio input or an SPDIF digital optical cable, then it'll send the resulting audio out to a Bluetooth speaker… or two Bluetooth speakers as you'll see in a moment. Before I get started, I'd advise reading the manual. Although there's only one button to operate the thing, it's worth reading the setup instructions, especially if you're going to hook up two Bluetooth speakers.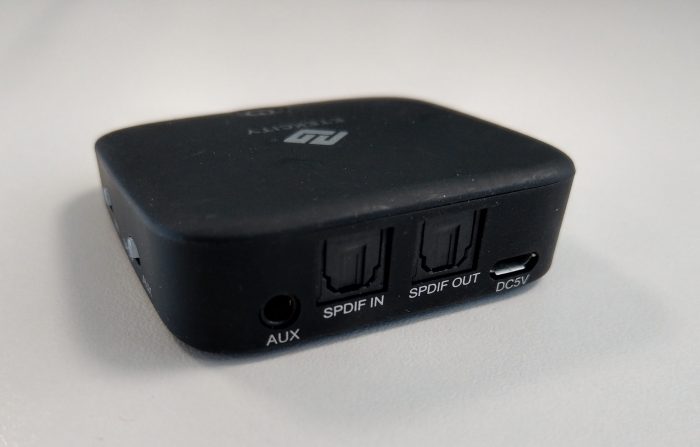 Something else I should point out? Well, below I've taken the optical audio output of my TV and I'm sending it out through two Bluetooth speakers. So far so good, but I should point out that – if you want to turn off the TV, go out and then come back again tomorrow, you'll need to power most Bluetooth speakers on again. It's a bit of a faff and in NO WAY anything to do with this gadget, but most Bluetooth speakers have a power-saving feature which means that they'll shut down when there's no audio going through them.
However, if you want to connect your Bluetooth speakers to your TV and enjoy an orchestra in HD with beautiful sound, just whack the digital audio output (cable supplied) or the 3.5mm output (cable supplied) into the TV, put the other end into the Etekcity gadget and then plug in the USB power (cable supplied, and you can steal the power from your TV).
Here's me trying out that setup with two speakers …
This features aptX Low Latency technology, reducing the lag time, meaning that you can watch TV shows without the lips going out of sync with the sound. Plus, although I mentioned the power requirement, you can charge it up for a couple of hours and then enjoy 15 hours of use, adding to the portability. The device also remembers the devices you paired with previously.
Using the thing is simple enough after you've read the instructions, and there's a couple of switches on the side which are self-explanatory. One will flick between sending the audio out over Bluetooth or receiving Bluetooth (obviously you need to wire the outputs on the back of the device to suit) and the other switches the input / output from SPDIF to AUX.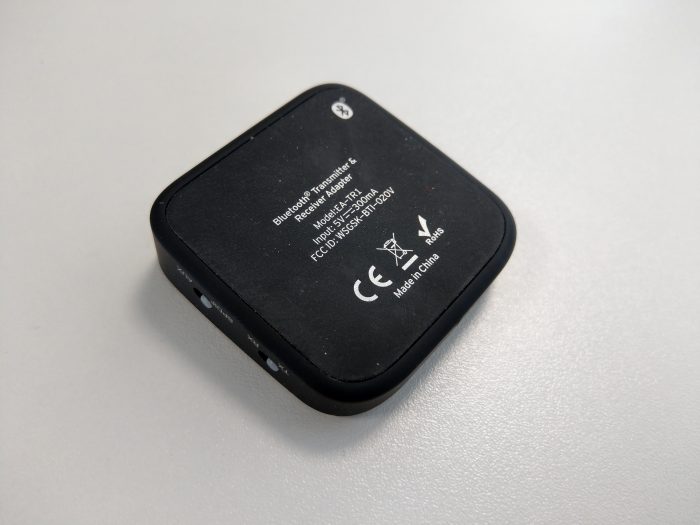 On the back here you'll see the various ports, again pretty self explanatory. If you have a car with a 3.5mm audio input then you can put this gadget in your motor and plug it into a USB outlet. Pop your 3.5mm audio cable in, then simply connect your phone and you get to listen to your music on your car stereo without a problem. It's worth noting though that this device doesn't have a microphone, so no hands-free calling.
Likewise, old stereo systems and your favourite 3.5mm headphones can get in on the Bluetooth action. Just plug in your posh headphones, switch it to "RX" and "AUX", then pair your phone and, with this Etekcity device in your pocket, you can listen to music while your phone sits on a cupboard or table.
Etekcity give a two-year warranty and lifetime support on this one.
Here's me trying it in the car..
Overall
I really couldn't find an issue with this. If you've got two Bluetooth speakers which don't auto-power off then, by pairing with both and not turning the device off, you can instantly have your phone or tablet pumping music out in two different rooms. Likewise, this has a range of uses, and I like the fact that your big and expensive headphones can suddenly be converted into Bluetooth headphones with a rugged and rubberised device which is only around 6cm square. A great little device which does exactly what it says.
Get the Etekcity Bluetooth Sender / Receiver on Amazon.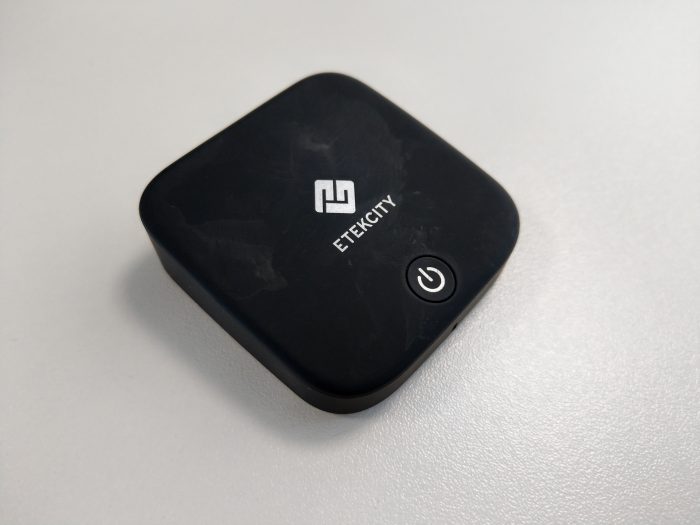 Etekcity Bluetooth Transmitter and Receiver Review
Overall - 83%
This is a great little gadget that does exactly what it says on the tin.