I'm kinda lucky. I don't need too much help getting to sleep as I'm properly worn out by the time I hit the sack. However, for those who want a bit of help getting to sleep and having a more peaceful kip, the new Nox Smart Sleep Light might do the trick. It comes from Sleepace, who already do a number of sleep-gadgets and sleep monitoring stuff, like their RestOn Smart Sleep Monitor that you don't need to actually wear.
This new Nox Smart Sleep Light, shown below, connects to the Sleepace iOS or Android app and gives you a full sleep analysis which should help you "make educated decisions and improve sleep quality". Not only that, but it'll wake you up naturally with 16 million colours of soft LED lighting which, get this….
Bathes you with light and sound programs that adapt to a personal body clock to improve sleep quality with red-light wavelengths, which raise melatonin levels, and delicate sounds to soothe and calm.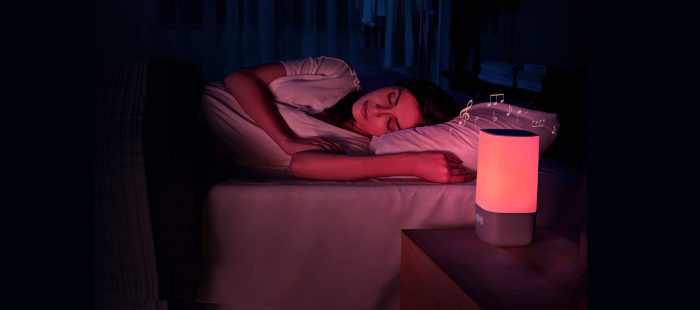 Blimey. I have a 10-year-old alarm clock that cost me £9 from Tesco and blasts out white noise from a badly-tuned FM radio-station every morning. That's a bit of a difference.
It costs $99 from Amazon US or £88.50 from Amazon UK.
There's some really good lines in the press release (below), I have to say, such as..
Wake up feeling more refreshed and ready to tackle the day ahead. The smart alarm eases users naturally out of a deep sleep simulating the colour of the sunrise.
The device is compatible with Alexa too.