All is quiet, nothing is stirring, not even a mouse and you shout "Alexa, is my door locked?". No this isn't the beginning of a weird Internet of Things horror movie but the introduction to Yale's Keyfree Connected and Keyless Connected Smart Locks in conjunction with Samsung's SmartThings.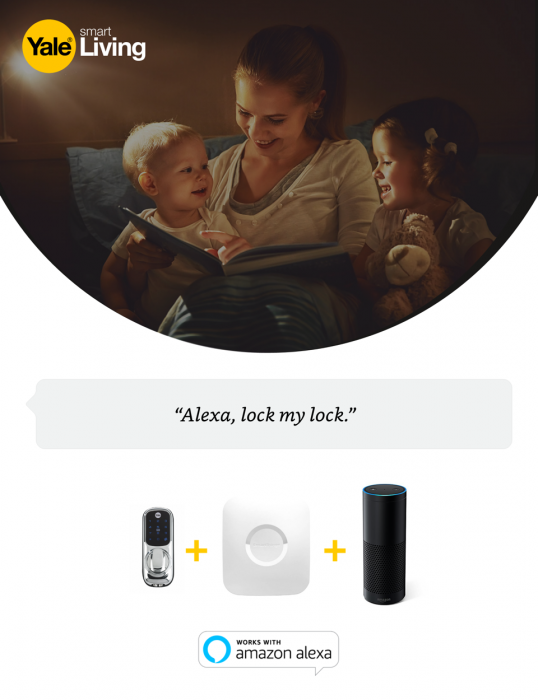 To operate Yale Smart Locks using Alexa users will require a Samsung SmartThings Hub and the SmartThings app, an Amazon Alexa device and a Yale Smart Lock with Z-Wave module fitted.
Yale's Keyfree Connected Smart Lock is suitable for PVC and composite residential doors, whereas the Keyless model is designed for traditional timber doors fitted with a 60mm night-latch.
Stephen Roberts, Marketing Manager for Yale Smart Living said: "We are delighted to partner with Amazon Alexa and Samsung SmartThings to make securing your home even easier and more convenient. The popularity of voice control and Samsung SmartThings will help to educate customers about the benefits that smart door locks can bring to their everyday lives and we look forward to working more closely with them in the future."

"Our goal at SmartThings is to deliver the best and most open smart home solution to users across the globe," said Brett Worthington, Vice President of Global Business Development, Samsung SmartThings. "Partnering with industry leaders like Yale and Amazon Alexa in both the U.S. and now U.K. markets is another step towards ubiquity as we continue to enable the most popular use cases for customers with voice control, smart locks and more."
For more information on Yale's range of smart locks visit www.yale.co.uk/smart-living. For more information on Samsung's SmartThings visit: www.samsung.com/uk/smartthings/