I don't know about you but I love taking photos with my phone. Today we have phone cameras that are really rather excellent. They're right up there with the compact cameras that we used to carry around a few years ago.
There is, however, still the long-standing issue of stability whilst using the digital zoom functions on your phone. Some phones have a built-in stability feature, but others don't. If you're trying to take a shot then this is especially true when the lighting conditions are not perfect.
Quite a lot of the time the photo that I am trying to set up comes out as a bit of a blurry mess. This can be frustrating to the point where you just won't bother anymore.
I had kinda hit this point recently but instead of letting it get me down I decided to do something about it. This is where the Zecti Robot tripod comes in. For the sake of £12 from Amazon I now have a solution that is both light and easy to use as well as being strong.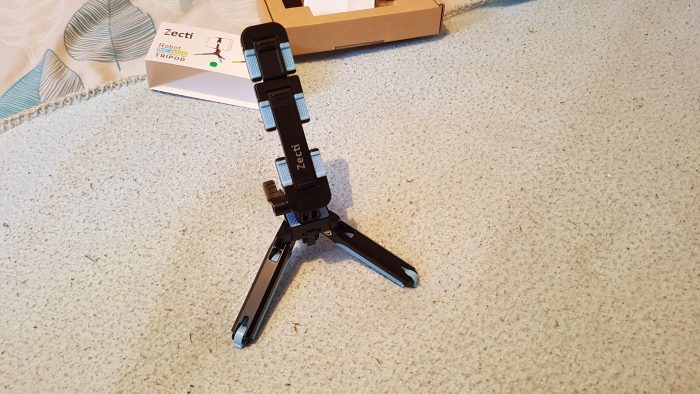 The way this thing is designed is quite clever. It will adopt to many forms and shapes in an effort to meet all your photographic needs. It will even double up as a handy stand for your phone for watching films and TV shows etc.
The tripod is said to be able to hold devices of up to 7″ screen size. Unsurprisingly it coped with my Galaxy S7 Edge without a problem. I haven't been able to try anything with a 7″ screen as I no longer own a device of this size.
It will also support most small digital cameras as it features a standard-size screw thread if you remove the phone clamp.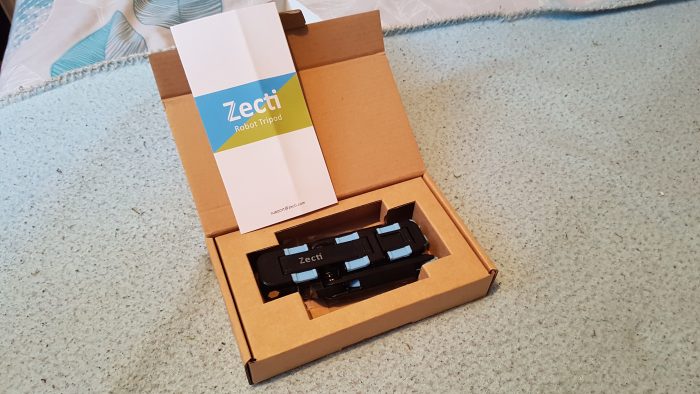 In the box you get the stand and an instruction manual of sorts. It is essentially a set of images showing all the different ways that you can set up the tripod. You also get a very strange looking screwdriver tool to make sure that none of the screws holding it together loosen, a great way to inspire confidence!
The actual phone bracket has two positions that will flip open to allow you to mount the phone. When putting the phone in I would advise that you place the phone on the bottom of the two mounts, then slide the assembly up until the desired gap is achieved. That way you will minimise any damage you the edges of your device.
It is then very simply just a case of getting the fold out legs unfolded and setting the angle up your shot. If you need a bit more height then you can actually double the length of the legs by folding then out again. This is really useful for phones and it will also allow for a bit more stability and load spreading for larger devices.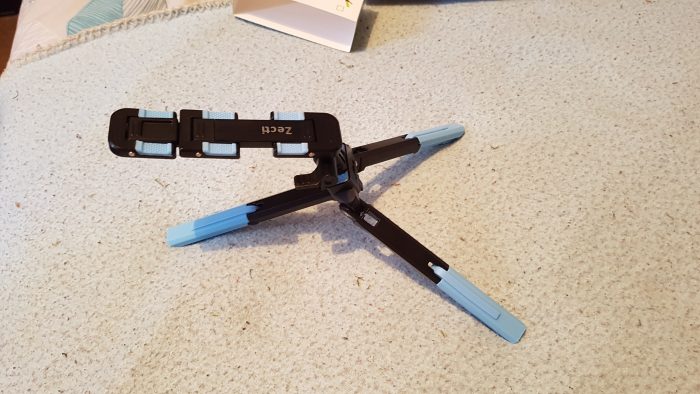 That is about all I can say about this "robot" tripod but in case you want a bit more here is a small YouTube clip about it that I shot on this glorious sunny summers day.
Is it worth having this in your kit bag? I would have to say yes. It folds down to a very small size and is very easy to use. I will be keeping this one nearby whenever I am on the hunt for my next David Bailey moment!
Zecti Robot Tripod mini Review
Overall - 89%
A great way to keep you phone steady when taking images or watching media.