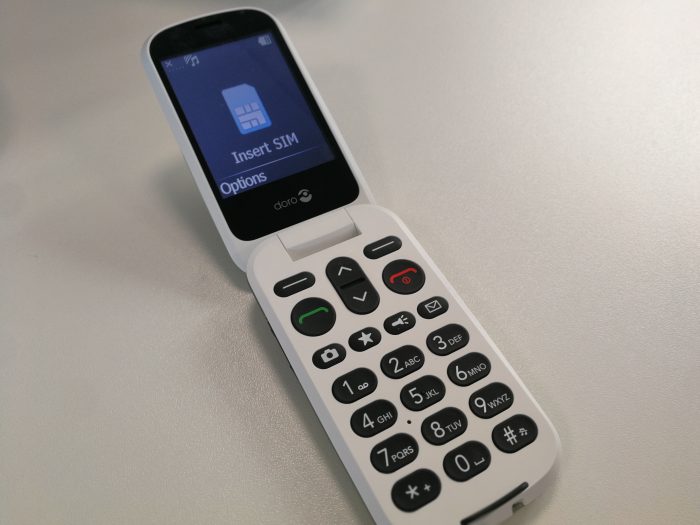 I find myself doing something that I've not done for a long, long time. This, ladies and gentlemen, is a flip phone. The last time I reviewed a flip phone might have been the Motorola MPx200. That was a smartphone and, given that it was launched 2003, a lot of you guys might not even remember it – let alone the form factor.
First though, some things you should know. This is firmly a feature phone. It's also definitely only 2G. Don't go expecting it to work on the Three network because, put simply, they don't have a 2G network. This does 900, 1800 and 1900 Mhz only. I should mention that it's only £90 and you can actually get it cheaper than that if you look around. However, I should also say that this form factor, the design, the extras and the user interface is more geared towards the senior market. It's an area that Doro have excelled in and this particular phone has been awarded the Red Dot Award for Product Design – beating over 5,000 other entries.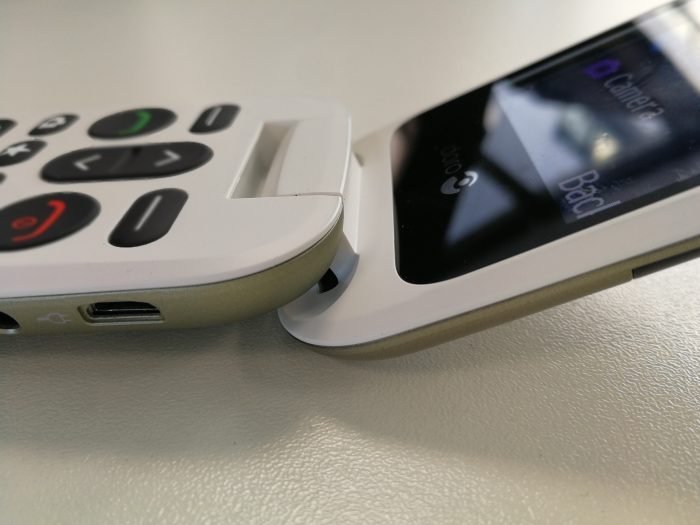 If you need the specs, then there's a 3 megapixel camera, Bluetooth, GPRS (yes, I did say GPRS), microSD storage, 3.5mm audio port and a 320×240 2.8″ display. It's not a smartphone, but definitely benefits the elderly thanks to a really simple UI, hearing-aid compatibility, talking keys, a loud and crisp sound and an external display. Inside there's also an 800mAh battery that should keep you talking for up to 6 hours.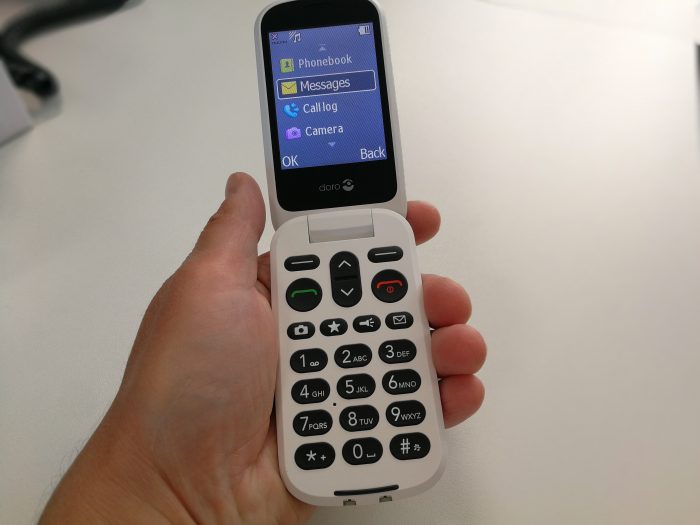 Now, perhaps not you, but there's still a healthy amount of people out there who want a mobile, but they might get put off by all the gadgetry and specifications. This is a phone that will help seniors communicate whilst still having fun. It's a phone where you don't have to read a huge manual.
As an example, there's a number of ways to navigate around the phone. You can either have a large menu list, a normal list or an "action based menu". Choose the one that you feel is right for you.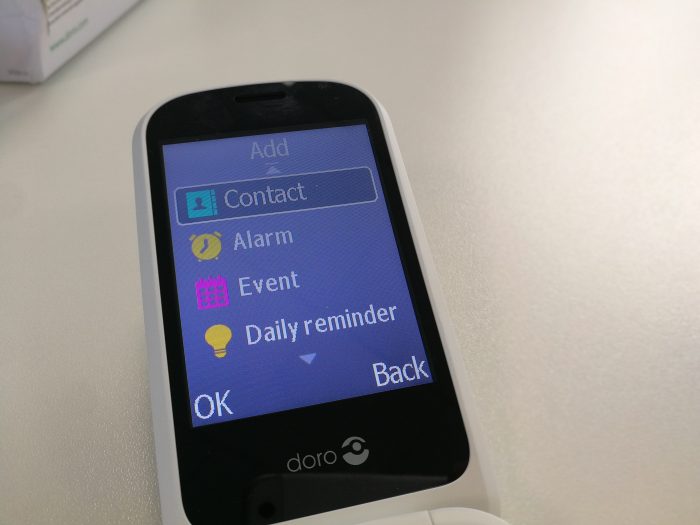 With the "Action based menu" you'll have "Call", "View", "Send", "Listen" options. Click "View" and you'll then get a sub-menu suggesting what you'd like to view. "My Messages", "My gallery", "My contacts" and so on. It's tapping into the way that people actually think about what they want to achieve. So if you want to listen to music, there's an option for "Listen" with "FM Radio" or "Voicemail" underneath.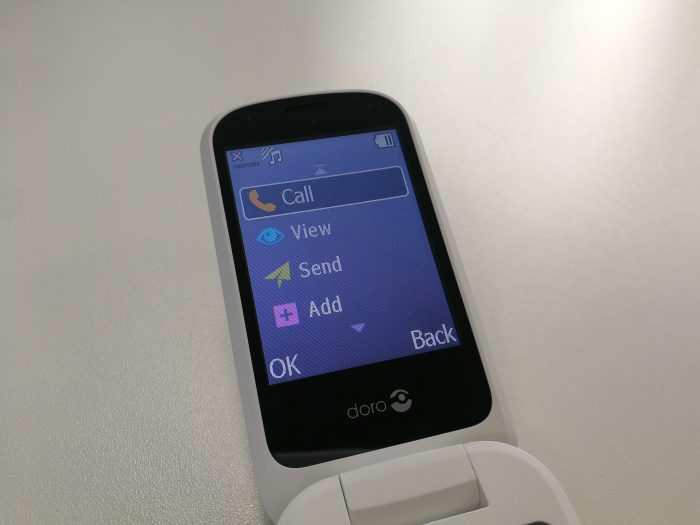 The studies that Doro have used to create this phone suggest that, in addition to texting and calling, a good camera, a big and clear display plus a tactile assistance button are important.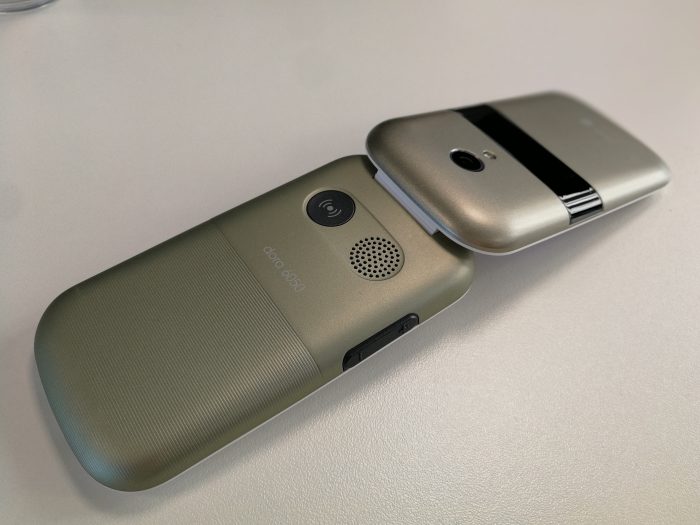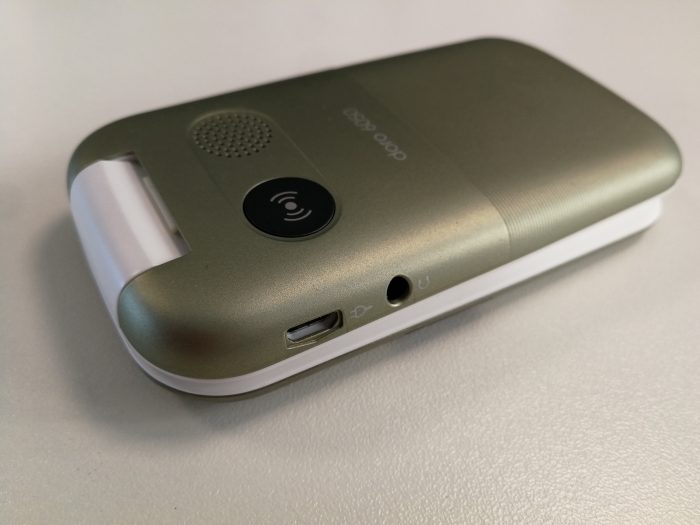 Indeed, round the back – on a very grippy and comfortable rear panel – you'll find that assistance button. You don't necessarily have to use it, but if you do turn it on (accessible via the "Assistance" menu in Settings), you have a range of options. It can either activate and text up to 5 people when you press and hold for 3 seconds or if you press twice within 1 second. You'll also have a 5 second delay if you want to prevent a possible false alarm. In addition to the text, which can be sent to all 5 recipients, the phone also calls the first person on the list. If that call is not answered within 25 seconds, it'll cycle to the next person. This is all repeated 3 times or until a call is answered. You cannot program "999" into the assistance button to prevent unnecessary calls to the emergency services and there's also the ability to use 0 (zero) to confirm, in order to stop the alarm sequence. To be honest it's easy to press that button, so these extra measures are required.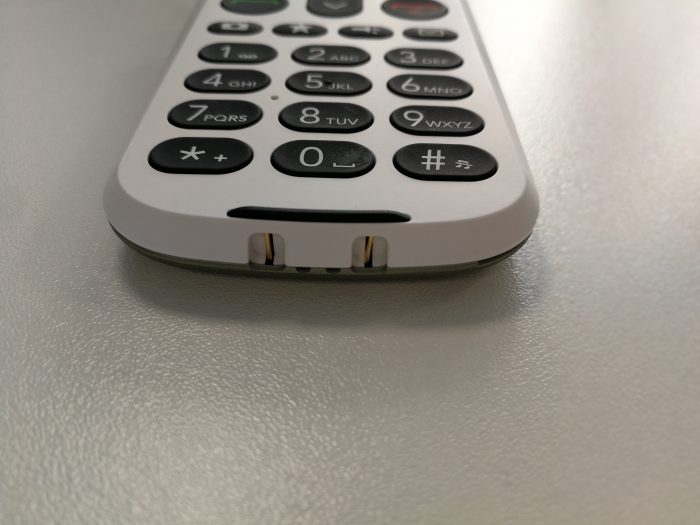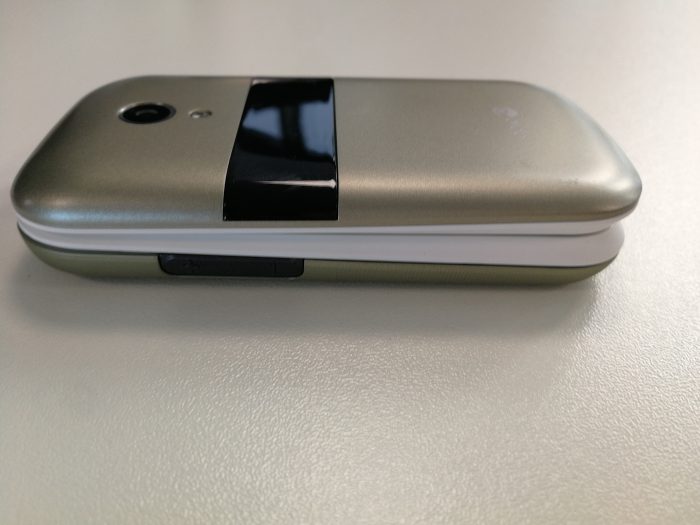 In the hand the flip-phone design does, when opened, feel a little large to me. This is mainly due to the years of smartphone use, and you'll also need a "flip" big enough to cope with that 2.8″ screen, so you'll quickly get used to it. You'll quickly feel the soft-touch surface, especially around the back and sides, to ensure that you have a good hold. It weighs in at 111 grams and the easy-to-locate number keys are clearly marked.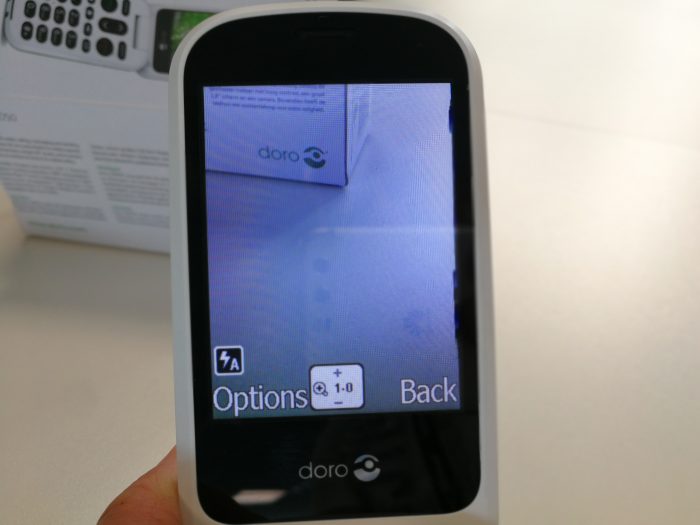 Above these you'll see four shortcut buttons for the camera, your top 10 contacts, the torch and the messaging app.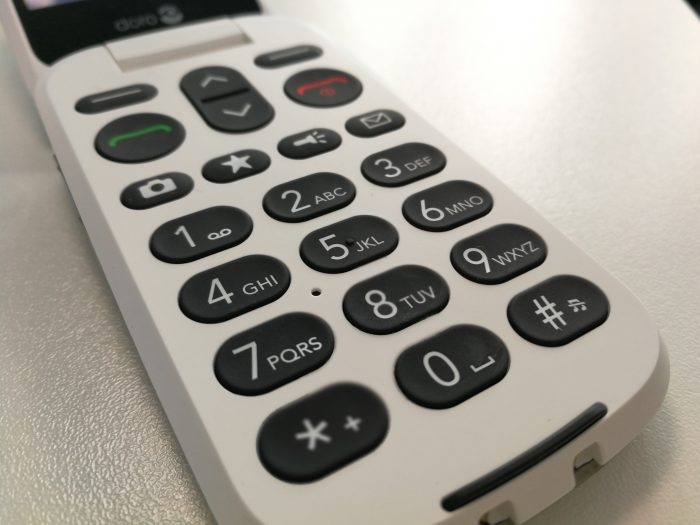 Press that camera button and then press the same key to snap a shot. The image isn't as high as smartphones and the refresh rate isn't as watery smooth, but shots are fairly clear and they're focused well. The 3 megapixel cam allows zooming and exposure level alteration. On the outer shell, next to the cam is the flash which you can use as a torch by pressing the torch button. Additional features include that FM radio I mentioned earlier. You can save stations, adjust the volume, switch the output to the external speaker or do an auto-search of all FM frequencies with stations.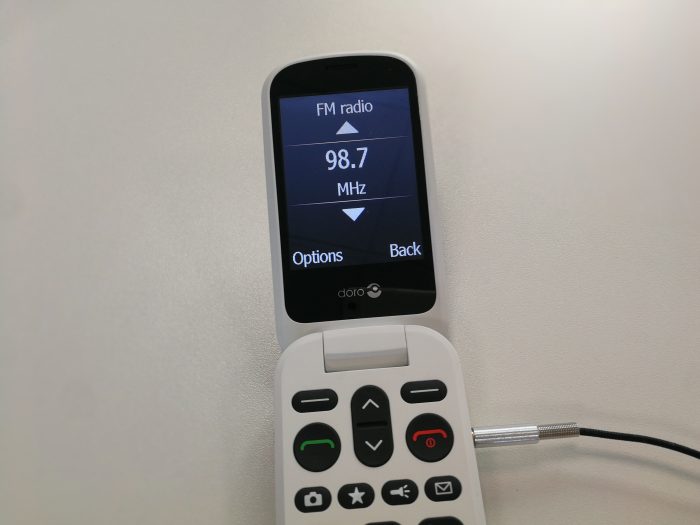 A couple of games are available and you can either dive into the settings and tweak your security lock, file manager, camera and display settings or just use the start-up wizard for a more guided and straightforward method of doing it.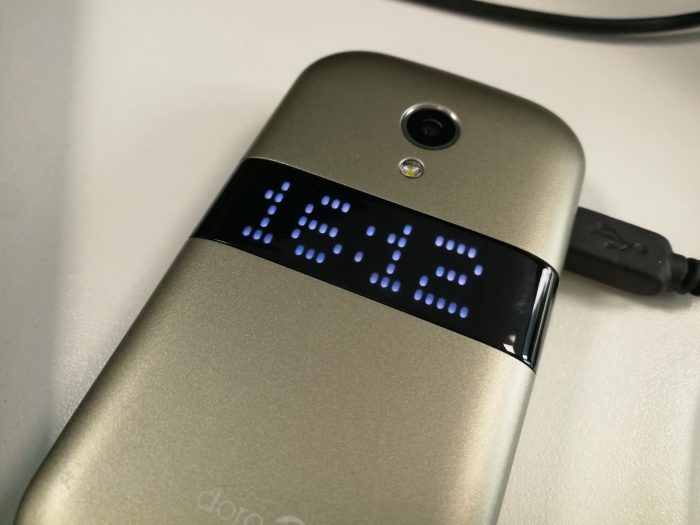 What we should of course mention though is the external 1.3″ LED display. This will show the caller ID, text message notifications, battery information and the time. Some bits of information – the time and battery status, only display when it's on charge or in the cradle which presumably Doro will sell separately at some point (I couldn't find it on their site). I feel that they missed a trick here and could perhaps at least display the time on the external screen if you pressed both volume keys or something like that.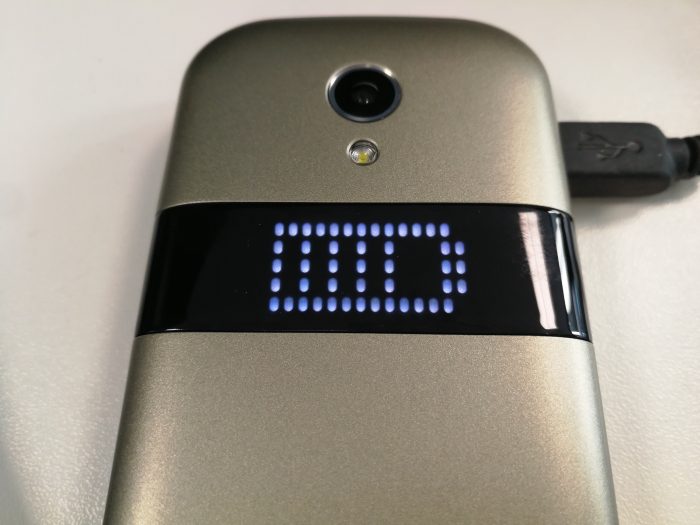 The ringtones and message alerts, plus the alarms and calendar appointments that you can set, are very loud and clear. There's also Hearing Aid Compatibility so that, you can hear the caller even in noisy environments. You can also block unwanted calls via a blacklisting option, which is good. You can also add your "ICE" details (In Case of Emergency) easily.
The Doro 6050 has a really clear and easy-to-understand navigation system which is intuitive.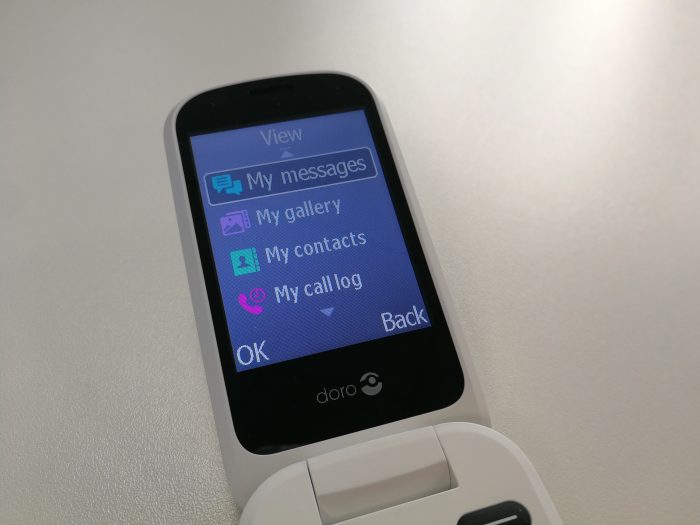 Overall, it's a very well designed bit of kit, but you've got to understand that there's pretty much no data connection here, and none of the remote-help features you may get on the "smarter" Doro handsets we've reviewed in the past. If you want a browser, an internet connection, GPS features and a richer experience, take a look at the Doro smartphones. This is from the Easy Phones range and the 6050 has thoughtful and considered additions to it that are really beneficial in a £90 phone. Do shop around if you want one though, as I've seen it between £69 and £79 on various Google searches.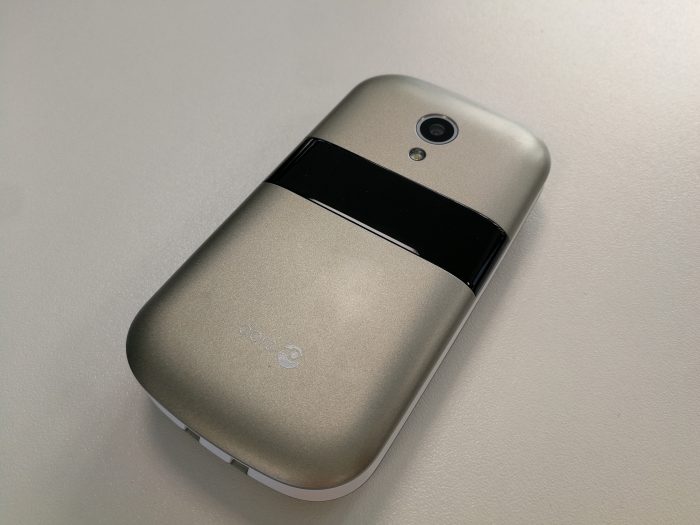 Sure, I would've like to see more use of that external screen, and I couldn't find a charging stand for it so you'll need to use the microUSB port on the side, but it's a nicely designed phone which will be easy to understand and beneficial for the "oldies" or those simply wanting a more straightforward phone which is bereft of social media and online interruptions.
Doro 6050 Review
Hardware - 89%
Camera - 75%
Ease of use - 90%
Not one for the smartphone lovers, but anyone wanting a 2G phone without the social media gubbins and internet interruptions will definitely like that.