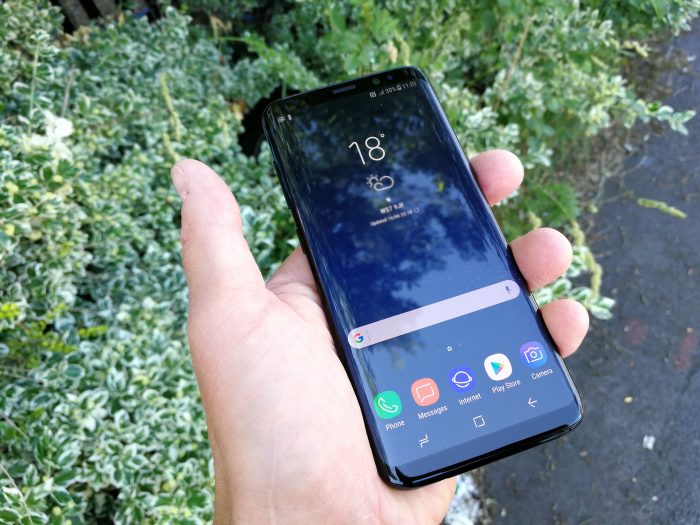 Samsung definitely needed to do something big with the S8 and the larger-screened S8+. They've not had the best time of it recently, and there's been widespread coverage of the infamous exploding battery issue. The S8 needed to be good, and indeed, it is.
The popularity of the brand still seems to be there and, with huge amounts of marketing, buyers instantly think about whether they should buy an iPhone or a Samsung – not always an iPhone or an Android.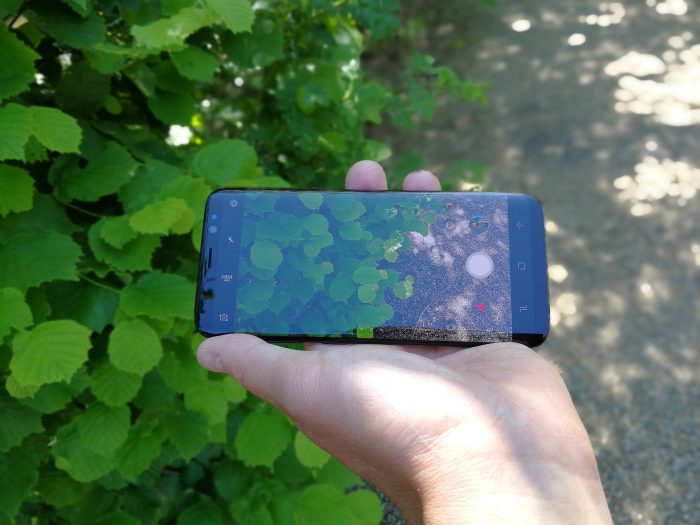 The previous Samsung Galaxy model had two main variants – one with a curved edge (cunningly named the Galaxy S7 edge) and one without. Now, with both the S8 and the S8+, you're getting just a curved screen full stop.
Recently (before the S8 came out) someone in my family wanted a Samsung but didn't want to spend extra for the S7 edge. They went instead for the Galaxy S7, which is still a very good phone, but cheaper.
Here on the S8, you don't get that option. You've got to spend the money if you want the top-end experience.
Out of the box this feels like a more.. "complete" device. The glass and the chassis feel as if they've been created together, rather than separately and then joined together. It's a solid yet lightweight device which is smooth and rollable in the hand.
When you do power it on the screen leaps out at you – it's a gorgeous thing to look at, it really is. No captivate buttons here, it's all on-screen with the black S8 here – you can't see where the phone stops and the screen begins. Lush.
The resolution is nuts – 1440 x 1960 at 570 ppi. That's Quad HD Super AMOLED. The only minor point, no matter whether you go for the 5.8″ screen on the S8 or the 6.2″ on the S8+, is that the "Infinity Display" is similar to that of the LG G6. It's 18:9 – well, 18.5:9 to be precise – and means that the majority of videos and some games you'll be playing will stick black bars either side of the screen. Put a nice Netflix video on, watch it in landscape and there's suddenly a black bar which kinda wastes that aspect ratio and that extra real estate. In some apps, like YouTube, you can adjust this and make full use of the screen.
When you do this it'll tweak the screen and you'll see those lovely curved edges in the four corners of the screen – a bit like the LG G6 has.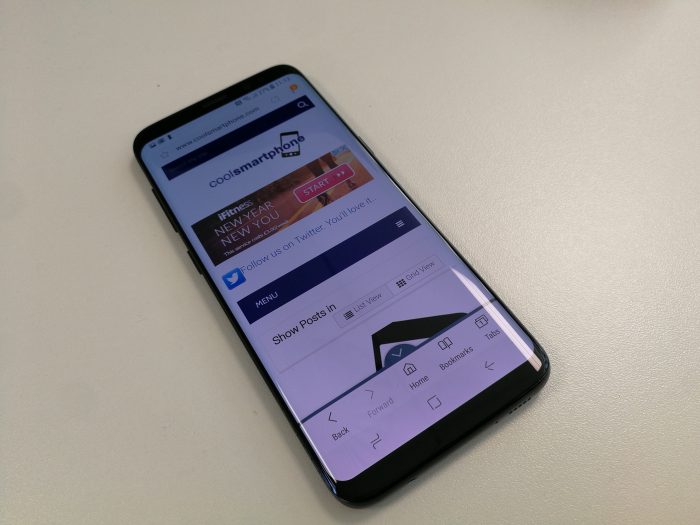 The screen ratio gives the handset a slightly taller, tower-like effect and makes it a little skinnier, but when you add that cheeky extra screen real-estate on the curves, it makes it look pretty amazing. What I did notice on this S8 is that it didn't register quite so many of my mistaken presses on the curved edges as the S7 edge did. This is a good thing.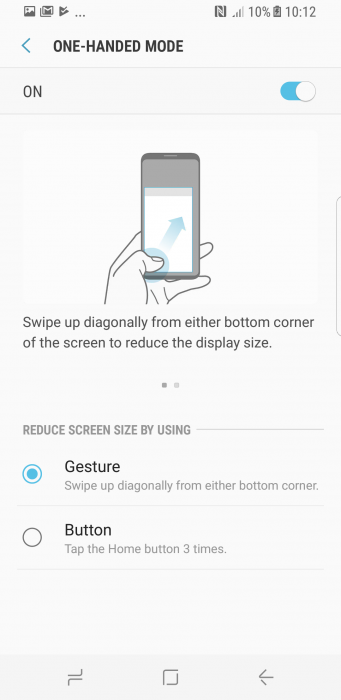 One-handed though, you could have problems. There's a one-handed mode which you can activate to reduce the screen size so that you can do more stuff with your thumb out-stretched but, who wants that eh?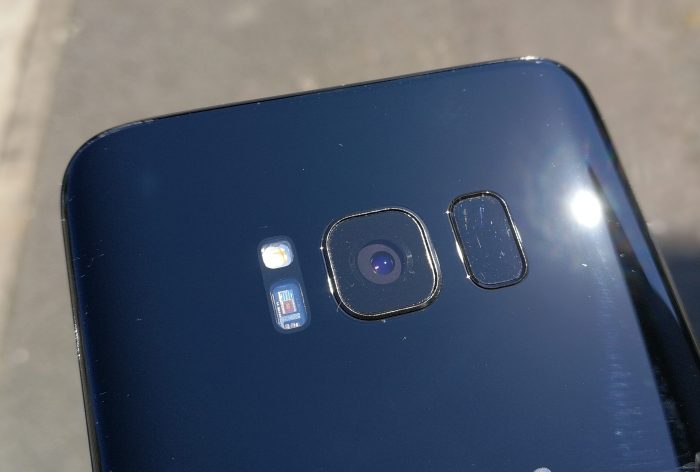 Then there's that rear-mounted fingerprint sensor, which sits flush and next to the camera. It can take more than a bit of getting used to, and although easier for right-handed people, those using their left hand could find it a little awkward. The reason for this is the lack of a front home button. It's all on-screen and Samsung makes these buttons work rather well, but that fingerprint sensor is a bit of a pig to use and I ended up just not activating it. You also end up sticking your sweaty finger on the camera lens by accident, and that then messes up your camera shots.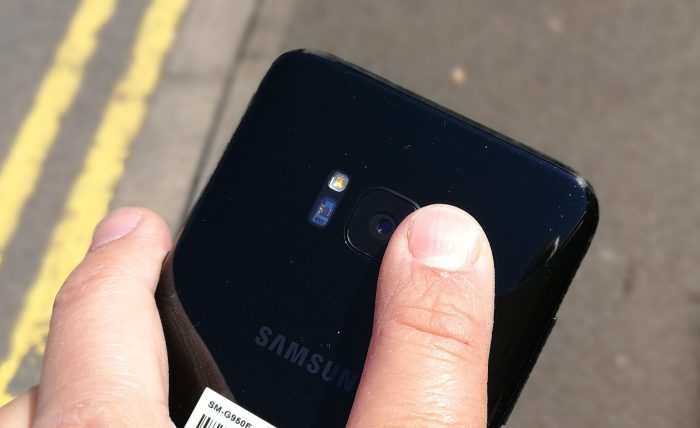 There's alternatives of course, including face and iris detection. How well you'll find these working is another matter, as in direct sunlight or darkness the face recognition tended to struggle somewhat and those wearing glasses will have problems with the iris detection system. You also have to hold the phone quite close to your face and open your eye wide, as if you're having some sort of eye test. I ended up going back to having either no security or the old-fashioned PIN code.
Let's take a look around shall we ?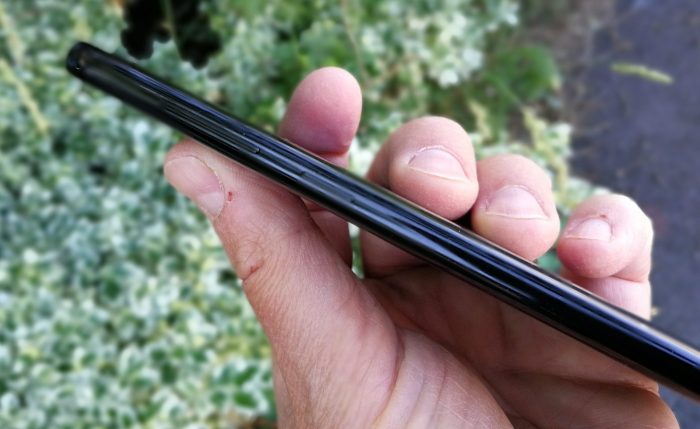 On the left edge there's the volume keys and a button which fires up Bixby – the Samsung Personal Assistant. We live in a world of competing assistants, with Google Now, Siri, Amazon's Alexa and now this in the mix too. You can hardly see them on these shots but they are easy enough to locate.
On the other side there's a power key which you can double-tap to launch the camera too.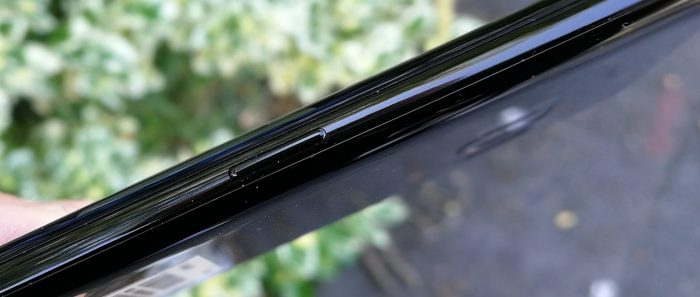 Down the bottom, a USB C charging point, external speaker and a 3.5mm audio connector, because yes, people actually still do use those actually. Samsung have also provided some AKG headphones which, although they look the business, do tend to output pretty average sound quality. That said, they are free and they're still better than the majority of throw-away headphones you'll receive with smartphones.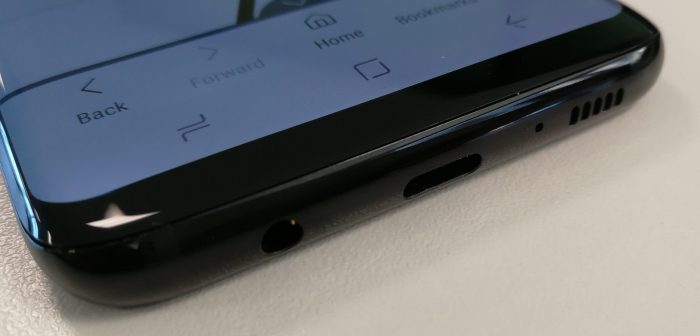 Up top is a second microphone (for noise cancellation) and the SIM / microSD tray.
Despite all these holes, the handset is still waterproof so you'll be OK in the rain or getting plonked in up to 1.5 metres of water for up to 30 minutes.
At the back, a 12 megapixel dual-pixel shooter with OIS.
My major gripes so far then are the iris and face detection plus that fingerprint sensor. All of the major security features, and all very important bits of hardware. However, every other hardware item on here is faultless. The phone positively guns it. Apps speed along thanks to the 4GB of RAM and the octa-core (2.3GHz Quad + 1.7GHz Quad) 64 bit CPU. Here in Europe it's the Samsung Exynos 8895 CPU. In the US you'll get a Snapdragon 835 from Qualcomm.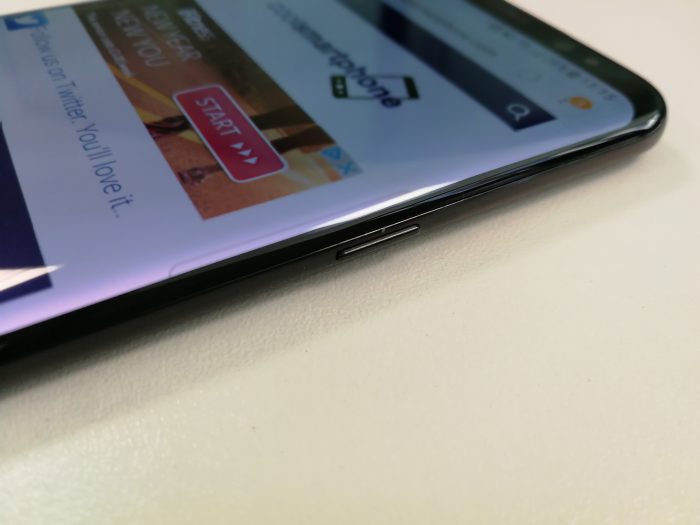 There's a massive 64GB of storage which you can add to if you wish via a microSD card. Inside is the very latest version of Android (7.0) and you get LTE Cat.16 4G speeds, WiFi, Bluetooth 5.0, a 3000mAh battery (3500 in the S8+) plus fast charging on either wired or wireless charging. That new Bluetooth 5.0 promises better range and you can also get Bluetooth audio to two devices at the same time, which is a real bonus.
NFC is in the phone too, so you can use Android Pay to get a coffee in the morning.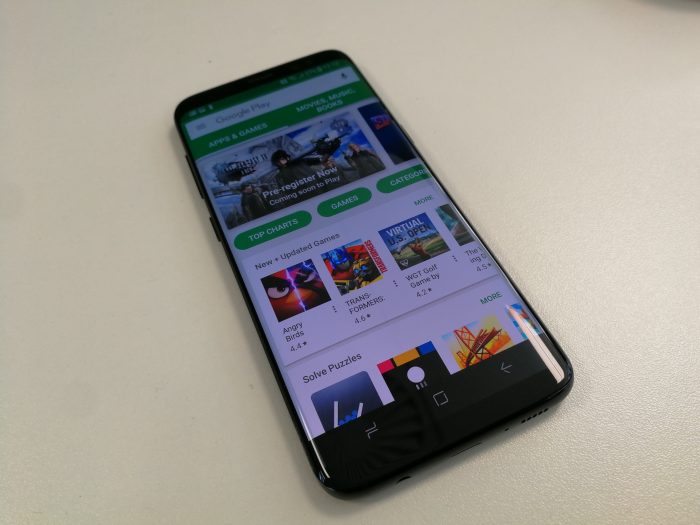 Ah yes, the battery. Strangely it actually took me longer to charge the thing that the S7 edge I was testing it with. It's not a huge difference, but it also seemed to perform slightly worse than the S7 edge too. You can try playing with the screen resolution if you want to get a bit more battery life but… who really wants to adjust the resolution DOWN ?
Software and, as is usual with my reviews, I took a look at the interface first. It's very clear, crisp and a joy to look at. Sure, I know manufacturers (and networks) will add their own "value-added applications" but here, on this O2 version, it's refreshingly clean. Restrained you may say.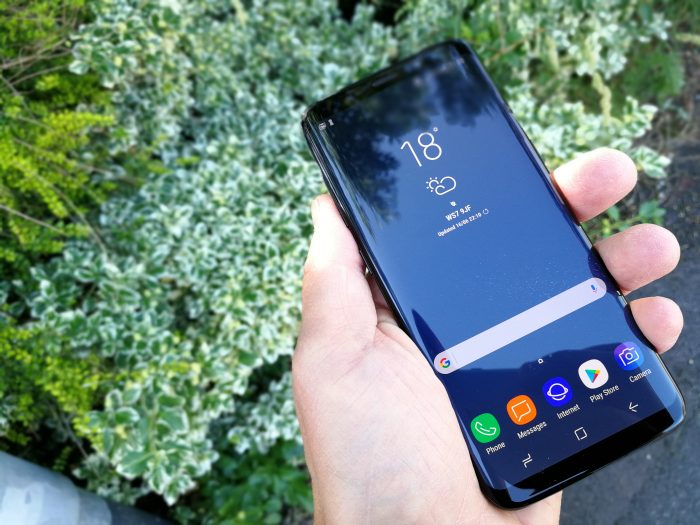 Out of the box there's no cluttered apps and you'll need to swipe down to see your pre-installed applications. You also get the familiar notifications and quick-access tray..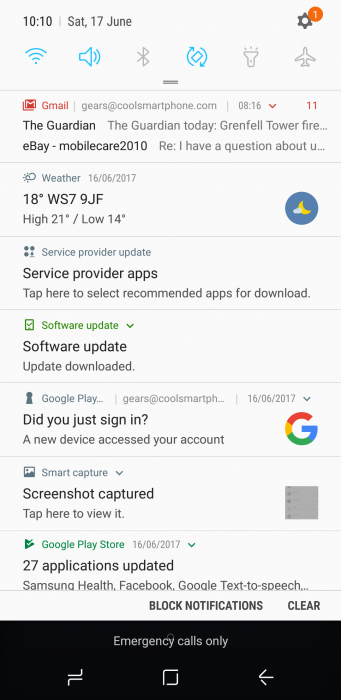 I failed to gel with the keyboard, but you can alter it pretty quickly and choose the Google one or another from the Play Store that will allow swiping etc.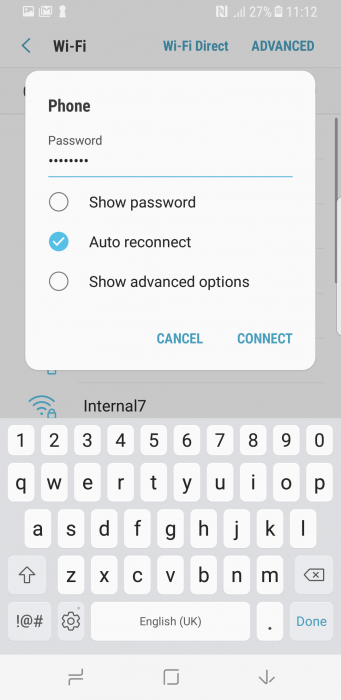 In the settings you could, well, let me tell you, you could spend a whole day in the settings. There's options and toggle switches for nearly everything. You can totally customize it and create (dare I say it) a cool smartphone. You can change the on-screen buttons, you can adjust the appearance, screen resolution, icon formats, sounds, notifications, gestures and that always-on screen, which I did like using.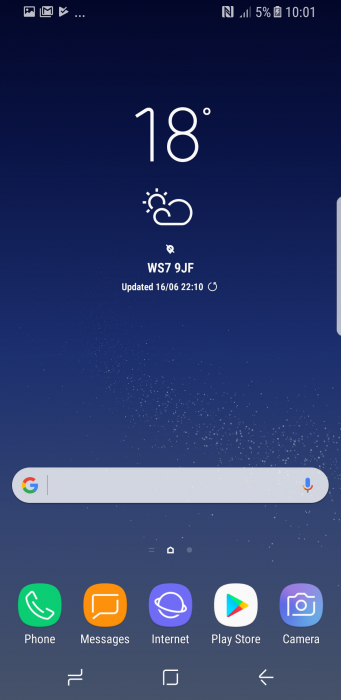 Bixby, well – it's early days yet. Voice control wasn't ready when I tested this and it's definitely work in progress. What does work is the photo recognition, which can be creepy and useful in equal measures. Take a snap of a hat and it'll go off and look up information on it, with shops etc and a tailored list of cards popping up on screen displaying information. You can also display custom information from your Twitter feed and get the latest weather.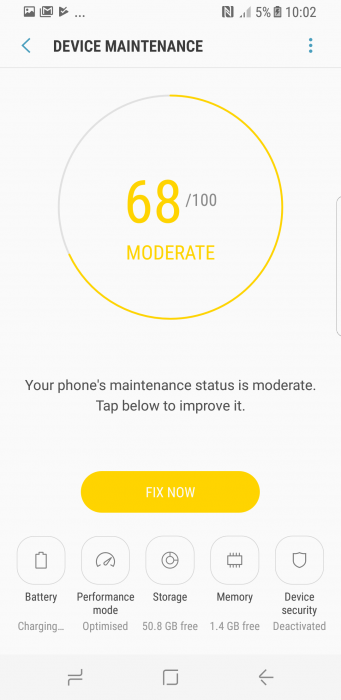 Other features include the "Download booster" that, if you turn it on, combines WiFi with 4G data for blistering download. There's also a maintenance system which ensures that your S8 runs well for longer. No more cluttered apps slowing things down.
To take you through the interface properly, I figured a YouTube video would be in order, so here's a look at the myriad of settings and the apps that you'll find on board.
Note how the screen resolution isn't set to maximum out of the box. It's interesting to note this – although the specs will shout about the 2960×1440 screen, it's actually set to Full HD+ as default, and you'll need to crank it up to Quad HD+ (WQHD+) in the settings if you want the full beans. Mind you, the same can be said about many phone cameras. Here you've got a 12 megapixel rear shooter but, out of the box, it'll do a square shot at that resolution only. If you want a widescreen photo you're going to be looking at 9 megapixels instead.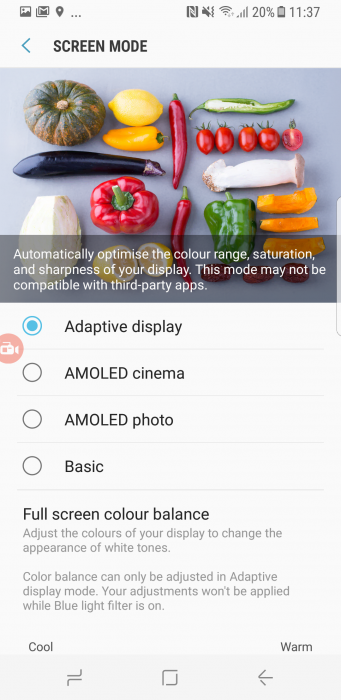 Options like "Sound quality settings" and "Video optimization" help to make this a really customizable device. Additional features which you may not necessarily use (but are "nice to have") include the ability to play separate sounds on a speaker, a blue light feature to help your eyes when it goes a bit dark, multi-window (so that you can split the screen and work on two things at once), smart stay (to keep the screen on if you're looking at it) and even the ability to tweak the sound that it makes when you put it on charge. It's that granular.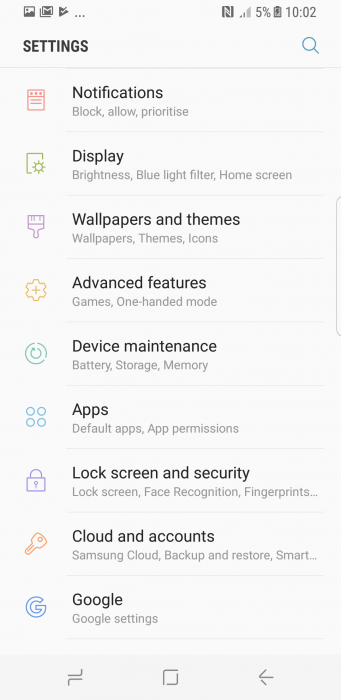 If I'm brutally honest though, I preferred "OK Google" add my digital assistant, and I didn't much like having Bixby force-fed.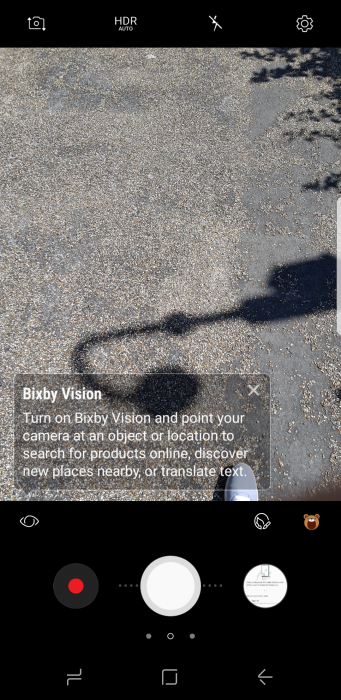 The camera then and, as you may have already noticed, it seems to be the same resolution as the one on the Galaxy S7 edge. Well yes, it.. errr.. actually is. There's a bit of software tweaking and an improvement in the chipset though, so you'll actually have the camera taking three photos every time you press the shutter instead of one. This means that you get the sharpest picture which is combined from the three.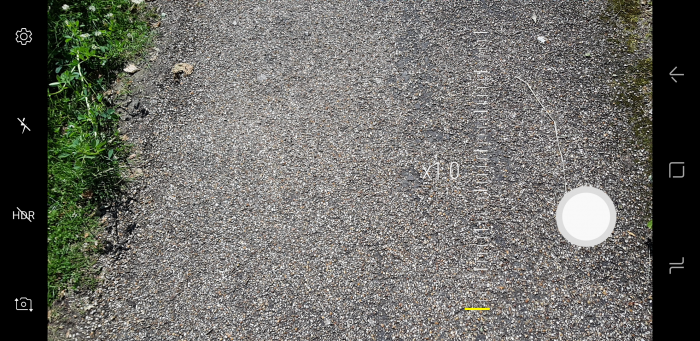 The shots have a sharpness and a better low-light performance because of this.
The camera app is really quite cool, allowing you to move the shutter button up and down the screen to zoom in and out. It's a natural way to use the zoom and it's ridiculously fast at focusing. You can switch cameras with a simple swipe down the screen and you can add a bit of beauty to a shot with filters etc too.
Overall, the looks and the build quality are second to none. Beautiful. Both the S8 and the S8+ can win beauty contests hands down, and they're crazy quick with stunning displays and a top-end camera setup. The level of customization that you can do is, well, fantastic, and you know that the S8 will be widely supported by accessories manufacturers throughout the land.
If you were to ask my opinion, I'd definitely recommend an S8. It's easily one of the best Android phones out there.
But here's the kicker.
Notice how I said it's "one of the best Android phones out there" ? The trouble is, this sexy, gorgeous, powerful Samsung Galaxy S8 is (as I type) £689. That's a lot of money. Competitors like Huawei have handsets like the P10 for £549. On Amazon you can possibly get the P10 for even less and, although it's got a smaller 5.1″ screen which isn't as curvy, it's got an arguably better camera setup. That's a £140 difference, perhaps more if you shop around, and the fingerprint sensor – which doubles as a GUI controller – sits up front.
Whether the S8 is better than the P10, well, that's for another post. However, what I'm trying to say is that Samsung have some admirable rivals producing some equally well-built and well-engineered kit. The S8 is great, really great, with a range of features, a clear and fast camera plus a heap of power and brilliant design, but Samsung need to watch the competition.
We were loaned the Galaxy S8 by O2, so do check the O2 Samsung Galaxy S8 deals!
Samsung Galaxy S8 Review
Camera - 95%
Battery - 88%
Value for money - 79%
Design - 91%
Yet another Samsung barnstormer that totally erases any memories of exploding phones. Sexy, powerful, well-equipped. Pricey though, and with a questionable fingerprint sensor.