Here comes the summer! Yes, it's actually properly .. here!
To celebrate, ARCHOS have sent us a box filled with ice-creams and lollipops revealed a new range of smartphones. There's two "Diamond" handsets and two "Sense" phones.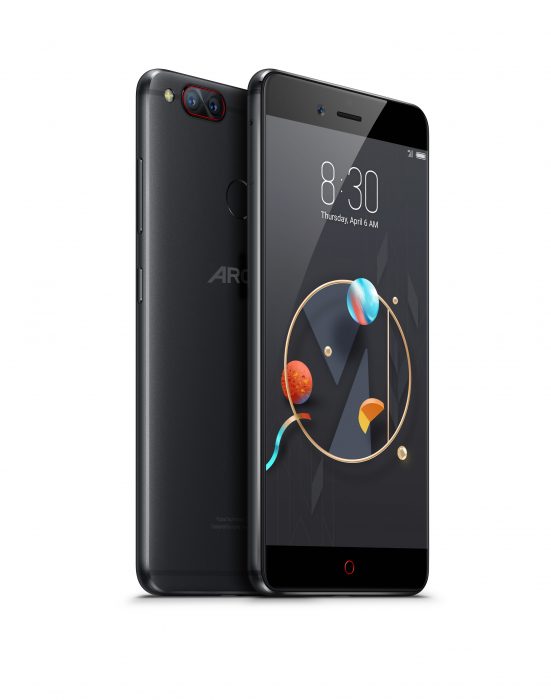 First is the Diamond Alpha, which is, according to the company, a "shining alternative to the Honor" handsets. OOoooo…
It's built with a metal unibody and comes equipped with a 5.2″ Full HD screen with Corning Gorilla Glass to protect it. The CPU is an octa-core Qualcomm Snapdragon 652 and there's a healthy 4GB of RAM with 64GB of storage which can be expanded.
The big selling point on this one is the rear dual 13 megapixel Sony camera sensor arrangement that you can see on the image above. In addition there's a higher-resolution 16 megapixel selfie shooter up front. The cost? It'll be £349, available in July.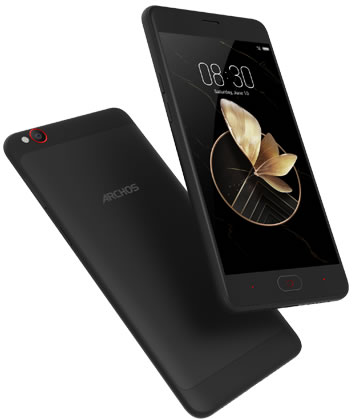 Next, and again I'll need to press the "CAPS LOCK" key down here, is the ARCHOS Diamond Gamma. It's quite a thin handset at less than 8mm thick and has a 5.5″ IPS HD display coupled with a 64-bit octa-core Qualcomm CPU. This model, which is just £199, has 3GB of RAM and 32GB storage plus a microSD slot for more. There's a Samsung camera sensor at the rear which is 13 megapixels and there's a 5 megapixel front shooter. You also get a "slow mo" option on the video camera plus a panorama setting on the normal camera and a clone function for duplicating your subject. It runs Android 7 and will also be available in July.
The "Sense" range will be different because they "deliver pure design and unique sensations". Now, we're not really sure what that means, but I can tell you that the ARCHOS Sense 55s is only £169 and has an "extreme borderless 5.5″ IPS Full HD display". This gives a 78% screen to body ratio.
If it matches this CGI image then, I'll confess, it really looks rather promising.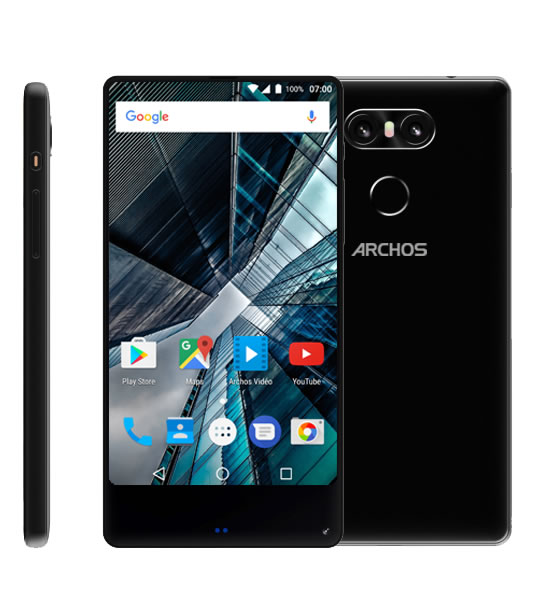 Inside there's a MediaTek quad-core CPU, 2GB RAM and 16GB of internal storage plus a microSD slot. It has a "dual sensor 8 megapixel + 8 megapixe camera" and there's a fingerprint sensor too.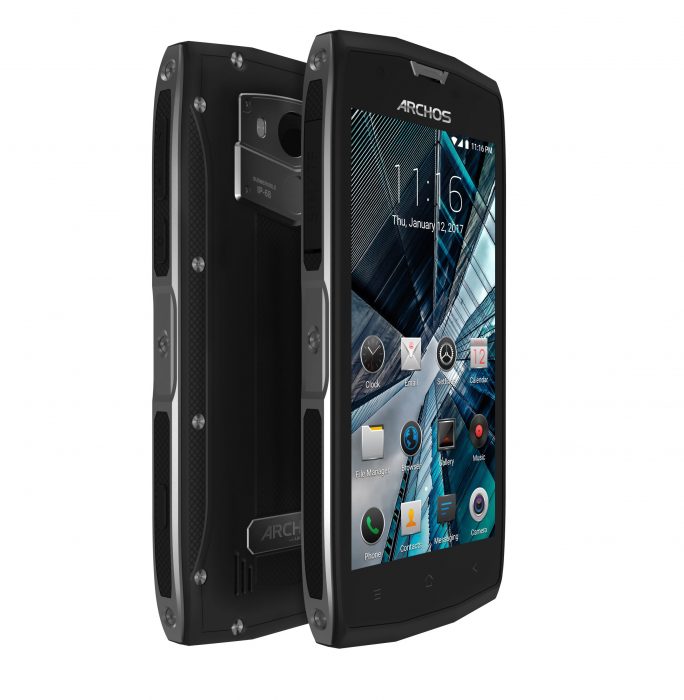 The final handset, again available in July but for £249 this time, is a rugged one. It's the ARCHOS Sense 50x and is compliant with the IP68 standard. That means you can drop it (up to 1 metre) and it'll cope with scratches, dust and water submersion for 30 minutes. If you work in extreme temperatures then this will also handle -20C° to +55C°. Phew. That's definitely hotter than today!
There's a 5″ FHD Gorilla Glass screen and the Android 7 OS runs on a quad-core 1.5GHz Mediatek MT6737T CPU. There's 3GB of RAM, and 32GB of storage, expandable up to 128GB.
Head to the ARCHOS website for more detail, and expect to see these arriving in stores next month.