You have to be a little careful when describing this particular product. They are a pair of sunglasses with a hidden camera at the front.
It sounds a little dodgy if you put it that way.
The camera is noticeable, however many won't spotted on a day-to-day basis.
If I'm honest, a trip to the beach wearing these could be quite a worrying concept for those sunbathing around you. Sure, they're wearing bikinis and shorts, but do they want their bodies uploaded all over the interwebs?
Perhaps next time you see somebody talking to you with a pair of sunglasses on, check above the nose bridge for a small round hole containing a lens.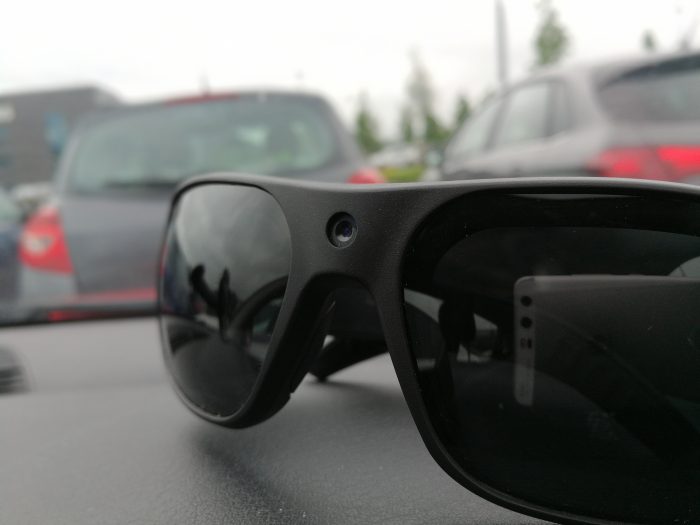 What these are intended for, once you've shelled out £149.99, is to record your extreme adventures. You biking, your jet skiing, your climbing, riding or parachuting. They're the worlds first water resistant HD video glasses with an IP66 rating. This means that you can get them wet but they won't survive a full-on submerging. In this review I'll be bringing you some very dry footage from my drive along a motorway, but I've also featured a quick cycling adventure further down.
Now yes, you get the built-in HD 1080p video camera. You get 16GB of storage and there's a Grilamid TR90 high impact frame. That's all good, but what if they fall off your face while you're cycling or power boating?
Luckily they've thought of that, and there's a safety strap that you can attach easily to the arms of the frame.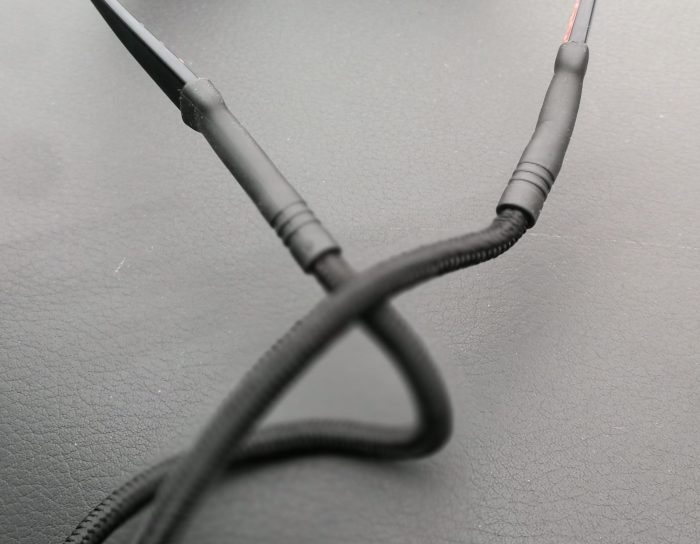 It records in full 1080p and produces MOV files at 30fps. Although there's plenty of space with the 16GB storage, you only get an hour of recording time due to the battery. This can be extended if you plug in a portable battery, but then you'll have a bit of cable hanging off your face which isn't perhaps as nice to look at.
It's incredibly simple to use. Everything is fine via a small, easily-to-locate rubber button on the right arm of the glasses.
First though, you'll need to charge them up via the micro USB port, then simply wear them as you would with any other pair of sunglasses. The charge port sits behind a small rubber flap for water protection.
Although there is an ever-so-slight increase in weight and perhaps width when compared to my normal sunglasses, they're not totally uncomfortable. Stylish? Well, you can't really test that out unless there's one out of the box down at your local Halfords. For me, they were a little wide and the arms down the side of your face had a bit less flexibility that my normal shades. I doubt you'd wear these full-time, and they're not going to replace your normal shades.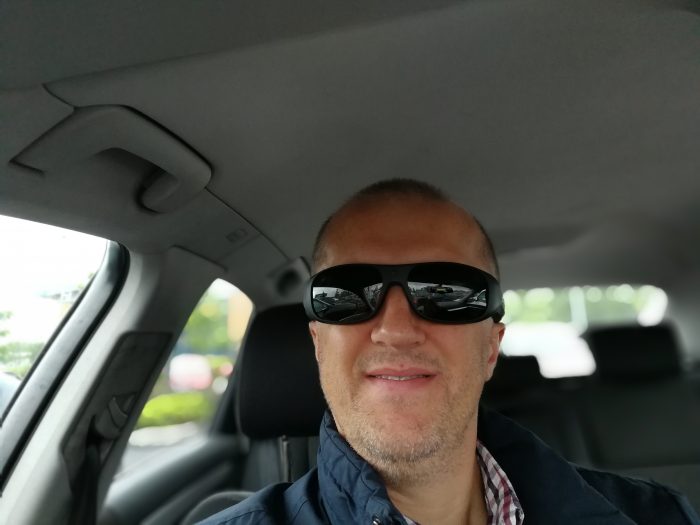 Plus, although you'll see me calling these sunglasses, you can switch out the lenses and use them when the sun isn't out or you just need to see a bit more. Both lenses are very high quality, with the darker lens being polarized triacetate and the clear lens being polycarbonate – both with a UV400 protection from the sun. The darker polarized lens is really good.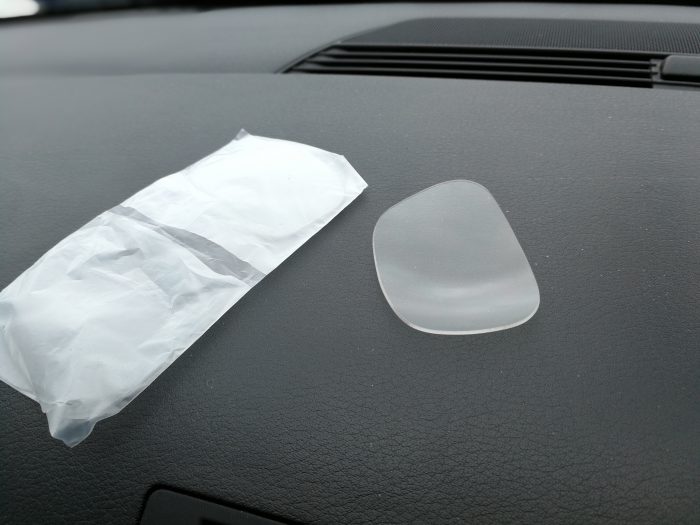 Here's some video examples. First, a bike ride in the rain. It was, to be fair. getting dark when I decided to do this. The little lens coped pretty well..
Here's a 5 minute video of me driving. A bit dull, but hey, it's a test 🙂
And now on the motorway…
Finally, just for kicks, I got my son to wear them on his scooter. To be fair they didn't suit him at all..
Operating the video and photo capabilities is also very easy it is just a matter of locating the small rubber button on the right arm of the sunglasses and pushing it. A quick press will take a photograph and a long dress will start it recording video. Press and hold again to stop recording the video, plus you can take photographs during video capture which I've done here.
The lens has a 67° wide angle view and you get all of this in the box. There's the extra lenses, a microUSB, carry case, lens cleaning cloth and glass safety strap.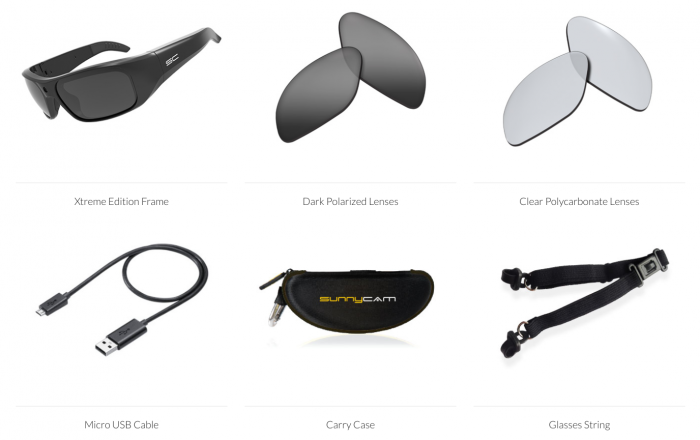 Here's some of the example photos that got snapped with the glasses..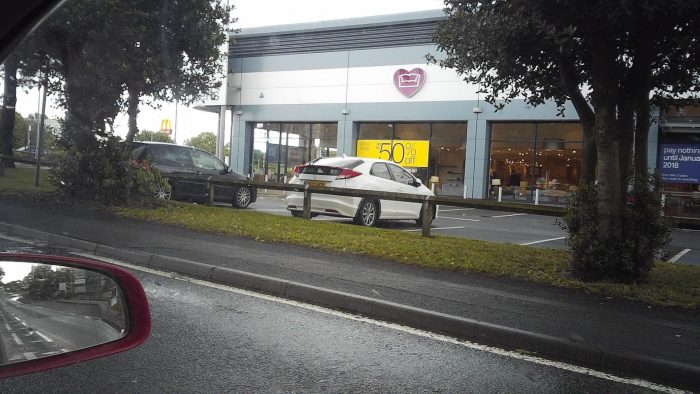 What did I like about these? They're not really vastly different to normal sunglasses and the footage captured isn't too bad at all. You do quickly realise that, by using your head as a camera, there's a lot of jolting around. There's not a great deal you can do about that unless you consciously slow your head movements. Trouble is, if you do that, you could get yourself in trouble.
The pictures are great, especially when you consider the size and weight of this thing. The only minor point I had was that you don't always get to "frame" your shots too well because you don't have a viewfinder.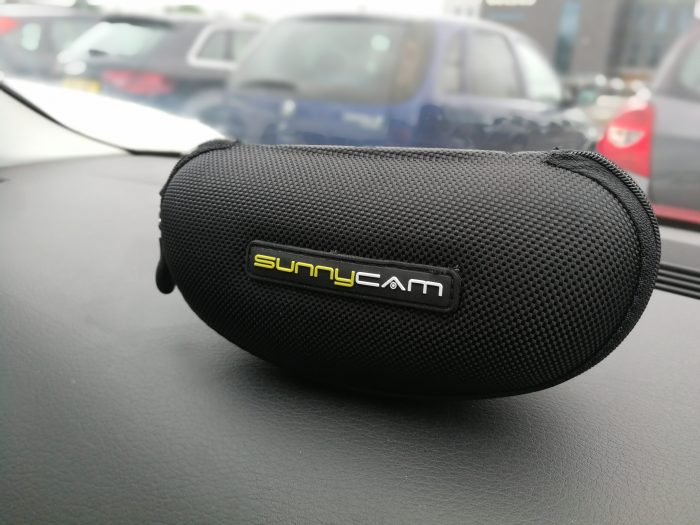 Bad things? Well, the microphone didn't really capture a great deal of my dialogue, but I'm guessing this is intentional as it would otherwise grab a huge amount of wind noise as you cycle around. They also get slightly warm on the nose bridge when you're filming for more than a few minutes. It's not overly hot. Just slightly warm. Quite nice actually 🙂 I also found that the glasses wouldn't "talk" to my Chromebook, and I had to plug them into a Windows PC to get the mass storage to be detected for some reason.
Other than than, I liked the red LED's – one on the arm showing when it's charging and one on the inside of the nose bridge to indicate when it's recording or taking a shot. When these are on your face, even after the gentle vibration tells you that it's snapping a shot or recording video, it's good to slightly push the glasses forward and see a flashing red LED to indicate that footage is being stored.
If you want to get more information, head to the SunnyCam website where you can buy one online. They're also available in the high street, with Halfords selling them for £149.99 too.
Sunnycam Xtreme 1080p HD Video Glasses Review
Build - 90%
Video quality - 89%
Battery life - 78%
Lightweight, very easy to use and good quality video footage. Great photos, a decent amount of storage and a nice looking pair of glasses which protect your eyes too.