Back when I was a lad we had computer games, and if you wanted to play against a second player you needed a Kempston Interface with 2 ports or you ended up sharing a rubber keyed keyboard, but it was fun. A little later on and LAN networks started to become a thing in our student house with cables being chucked down multiple flights of stairs in order for us to enjoy night long beer fueled sessions kicking* arse on  Doom or Total Annihilation. Relatively quickly Internet gaming followed allowing people all over the world to accuse you of cheating when ping times gave you a slight advantage.
*slight exaggeration I wasn't very good
Now eSports are taking over the world, taking multiplayer gaming to the next level proving online leagues, cups & competitions, impressive cash prizes  and packed stadiums of supporters cheering on their heros or at the very least providing a very smooth method for playing seamlessly against players all over the world.
What eSporting goodness is available to iOS gamers though? More than I thought as it turned out, here are 3 of the best.
Hearthstone
For those of you who have been living under a rock for a while, Hearthstone is an extremely popular electronic card game based in the Warcraft universe.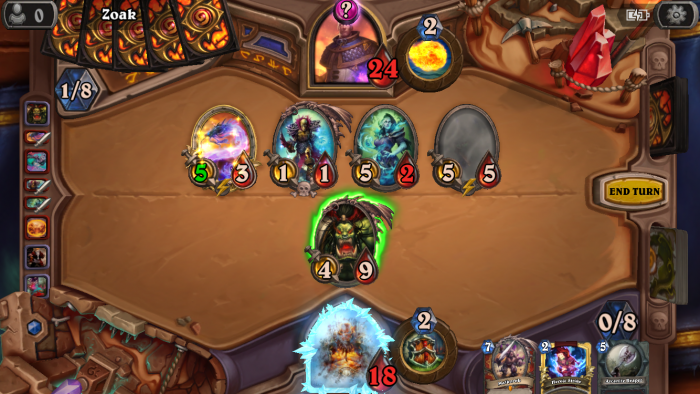 Free to download and available on just about any platform you can mention Hearthstone pits you against a real world player of similar rank and ability as you each try to destroy the other players cards on the virtual table. 
Each player starts with 20 cards in their virtual deck, each having it's own attack rating, defence rating, special abilities and cost. Each round you get more points to play with, do you need to start by playing cheap cards until you have enough mana in the bank to bring out the big hitters. You win the game by reducing your opponent's health score from 30 to 0. 
Of course when you start the game for the first time your hand will be limited but can be improved by purchasing booster packs from the in game store either with in game of real world money. 
It's an extremely well thought out game that has matured into a fabulous multiplayer experience, with well defined seasons and ranking tables it's an eSport that is open to all.
It's popularity has seen Hearthstone rise to the top of the eSport mountain with millions of pounds of tournament prize money being won over recent years.
Hearthstone uses a shared platform between platforms so iPhone users get the full blown Hearthstone experience, and the well defined interface works well on the small screen.
True eSports for the mobile gamer. 
If anyone wishes to add me to their friends list on Hearthstone my user ID is Greyinggeek#2113
Vainglory
Vainglory is a Multiplayer Online Battle Area  (MOBA) in the style of League of Legends, but aimed at mobile touch screen iOS and Android devices.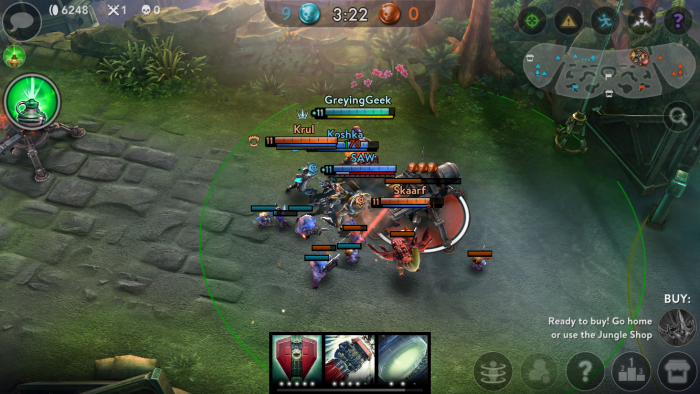 In Vainglory 2 teams of 3 players start at the opposite ends of the map and between teams are a number of friendly and opposition gun turrets. The objective is for you, your team mates, and a small army of CPU controlled minions to destroy the opposition turrets and minions, keep pushing the opposition players back and to eventually destroy a crystal at the opposition HQ.
Different game modes are included which vary the length of battle to best suit your availability, from 5 min Blitz matches to standard matches that last about 30 mins, you can pick and choose your time investment
To assist you various skills can be learnt & upgrades can be used by your champion, and the controls have been specifically designed for touch screen devices so you get a really smooth gameplay experience, although there is a natural advantage of using a larger screen device.
A big thumbs up has to be given to the outstanding soundtrack which accompanies the game as it does a great job of dragging you into the experience, especially when played through good quality headphones
Vainglory should be considered much more than a League of Legends clone, with it's own championship and season structure in place with substantial prize funds, it has taken off in a big way.
For mobile  MOBA fans you are going to be hard pushed to find better then Vainglory.
Critical Ops
The third and final example of eSports for this article is Critical Ops, which could very easily be called Counter Strike for iPhone.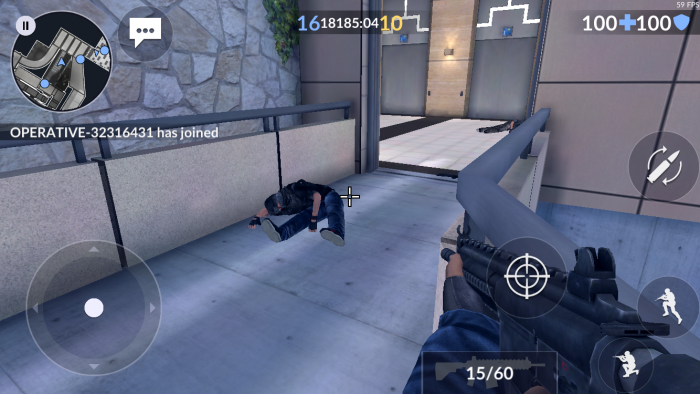 Counter Strike is a long established and popular multiplayer combat game with a huge following where players take a role as either terrorist or a counter terrorist. Combatants in the game have to element other team members or complete other tasks such as stopping the in game terrorists planting the bomb creating one of the most genuinely tense experiences of any competitive game.
There is no official version of Counter Strike for the iPhone but the Critical Ops app is actually as close as you can possibly imagine. Clever maps, familiar looking graphics, instinctive controls and Counter Strike inspired game modes bring its essence, very well indeed, to the mobile screen. Equip yourself with your weapon of choice from an impressive range covering various styles from assault to sniper rifles and enter battle.
Perhaps a little lacking in league, season and tournament modes, Critical Ops does provide simple and effective match making and private game options making it perfect for quick multiplayer online gaming.
In some coolsmartphone podcasts I have been critical of the state of mobile gaming, and it's true there's a lot of rubbish out there, but there are some absolute gems for those wanting to take part in some serious eSports action.