We here at Coolsmartphone love Chromebooks. There's at least 3 of us using them as our main devices, and there's no risk of any ransomware popping up any time soon. They're a great tool for browsing the web and for quickly producing content for this very site. Leigh, our Editor, actually runs the administration of the site from.his Toshiba Chromebook. He picked it up for a steal last year.
I have been using one on and off for about 2 years and, even though I have got a lot of love for the Surface Pro line, I just can't fault the simplicity that Chromebooks offer.
It is for this reason that I got a bit excited when I saw that the new generation of Chromebooks starting to emerge. What makes them even better is that we are now very close to Android apps running natively on these devices. It is with this in mind that I have been scouring the web for the best that Chromebooks can offer. I have narrowed it down to two, and you can buy one of them right now.
The two machines I have chosen are the Asus Chromebook C302C and the Samsung Chromebook Plus/Pro.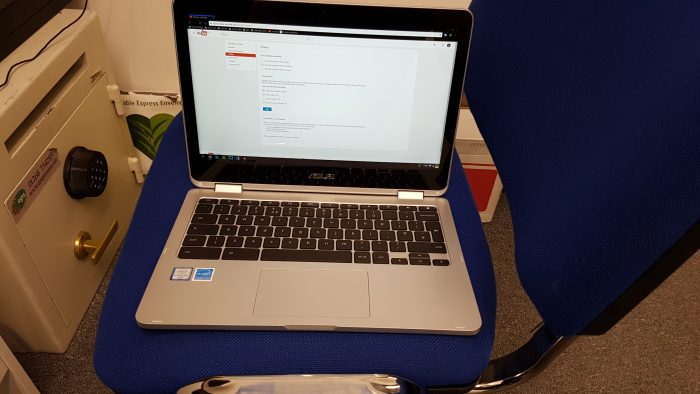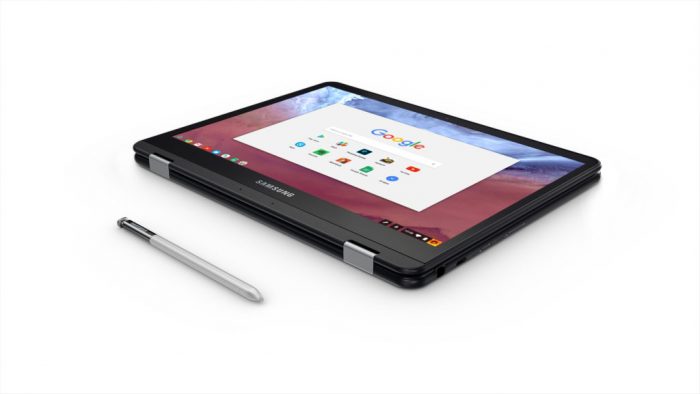 Now just before I go into why I think these are the best on the market, I have got a few things to say…
These are not your cheap Chromebooks of yesteryear.
The build quality and materials used has been stepped up massively
The component choices have also been stepped up as these machines can be now be specified with Core M chips from Intel.
Both devices can run Android apps with some provisos.
Only one of them is available in the UK for now.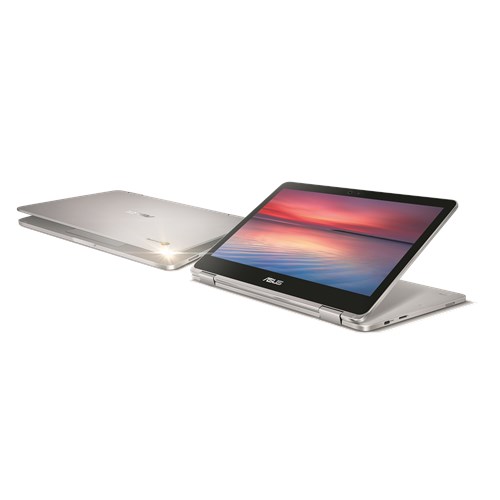 I am lucky enough to have the Asus Chromebook right here and I am very happy to say that I love this bit of kit. It pretty much ticks every box that I was looking for in a Chromebook. It is a gorgeous device and looks great.
The core of the design is based on an aluminium design that looks very much like the older generation of the Macbook Pro. It also feels like the Macbook Pro. That is, of course, until you start pushing the screen back. Unlike a Macbook the screen will just keep on going all the way around until it goes into the "Yoga" style that we are now starting to become more familiar with. It also sports a touch screen that is Full HDand measures in at 12.5″. This gives the Chrome OS more room and it's something I have always felt it needs. This makes it truly possible to be productive. The only thing that is not supported by this laptop is pen input. The Device uses an Intel Core M3 as its brain and has 64GB of storage and 4GB of non replaceable RAM. The device is also going to be available with higher powered chips as well in the future. This unit starts at £599.95 from Amazon for the M3 version and £799.99 for the M7 version.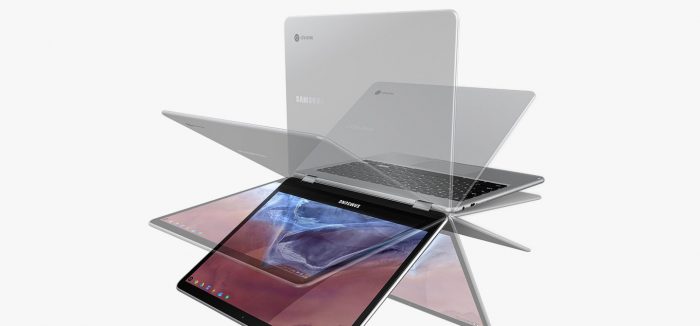 The other machine that is on the horizon is the Samsung Chromebook Plus/Pro. Now, this is actually two variants of the same design, It was the first Chromebook to be announced that had stylus support built into it. If you are familiar with any of the S-Pens from any of the Samsung Note devices then you will be on familiar territory here. The other specs a pretty impressive as well. The screen is 12.3″ LED Display (2400 x 1600) in a 3:2 aspect ratio. This has been done deliberately as this aspect ratio is more conducive to using the device as a tablet. Again like with the Asus this device will support the many modes of 2 in 1 convertibles. The only difference between the Plus model and the pro model is that the Pro model is now using Intel Core M3 whereas the Plus uses a Rockchip brain. both machines have got the same 32GB of EMMC storage and 4 GB of n on replaceable RAM. These machines are not quite ready for release in the UK but if you are really wanting one then you can import one from the US by heading to Amazon US. The Plus comes in at £437.62 including shipping. The Pro is still only on preorder but would cost £520.97. It also seems to be sold out at the point of writing this.
I'd like to hear from you if you're a Chromebook user. Is it just a gap-filler or have you found that your Windows laptop has taken a back seat? Why did you choose one? What challenges have you had? Do let me know via the comments below 🙂