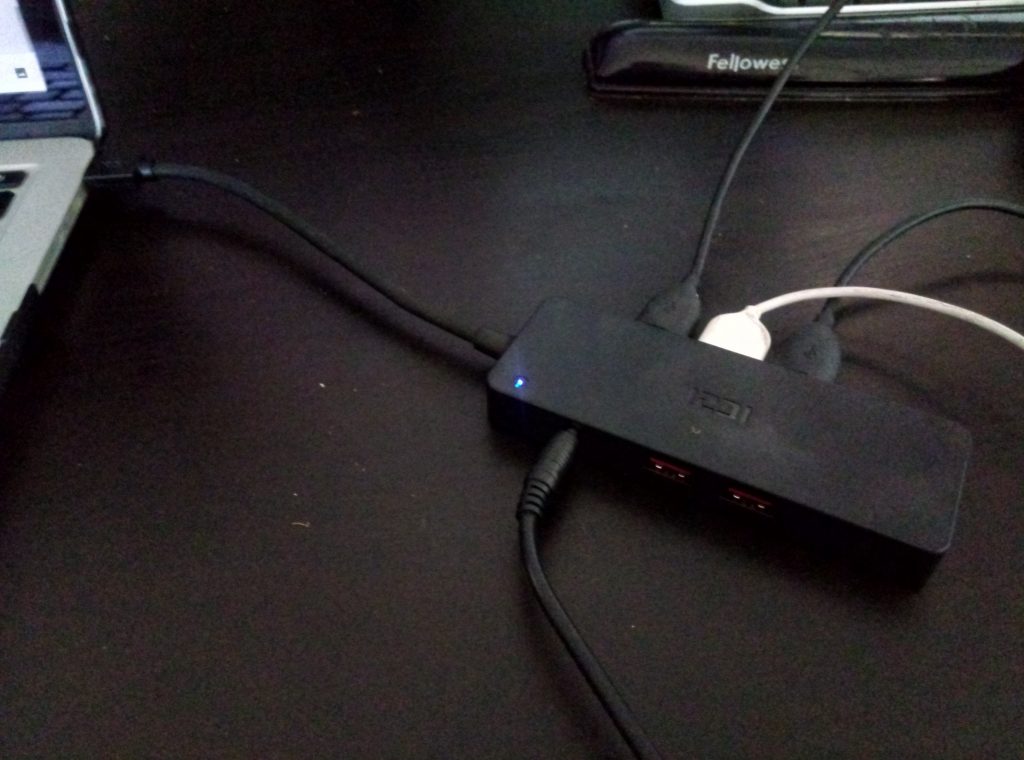 It may be that I'm that sort of person, but I've always had cables hanging around. Even before I was messing about with computers or mobile phones, there were scart leads and coax cables, RCA cables, speaker cable and the list would probably go on if I stopped to think about it. When you add phones into the mix, it's very easy to forget that Sony/Sony Ericsson, Nokia, Samsung and Apple all used different chargers.
Now we're supposed to be making the jump over to USB-C, and that is happening, albeit slowly. I find that there is still a need for 'traditional' USB type A sockets. For a start, most of my phone chargers still have a USB-A socket at their base; whether that's for Micro USB or for a Lightning port, the point is the same. Ubiquity and standardisation rules.
Simply put, with the 'thinning and lightening' of laptops ultrabooks over the last few years, your options for wired connectivity has kinda grown, crazy as it seems. That's why this ICZI 6-Port USB Hub comes in useful.
The package
As usual, ICZI does a good job of wrapping things securely and neatly in a box. Although it's just cardboard, the dimensions are just tight-enough fitting that you almost have to wedge the ICZI USB hub out with a finger. I like that. It is reassuringly tight.
I've had ICZI kit to review before, and found them to be quite reliable. In terms of design, ICZI takes simple things, and makes them well. There's an elegant neatness to it, which carries through to the design. More on that later. Inside the package, the ICZI USB hub is laid out on the top, and the power cord is in the section below, much like the way phone cases are laid out. Apart from a warranty card, and the small user manual, that's it. How much more do you really need?
Specs
188 x 76 x 81 mm

4 USB 3.0 ports and 2 BC 1.2 Charging Ports

Easy for carrying when travelling or mobile working

No additional power adapter needed for hub only use

Has over-current protection built in each port to protect both connected devices and your hub from power surges
In use
The ICZI USB Hub is a powered one, which is something you don't see a lot of these days. That mean's it's easy enough to power everything you want to plug in. I have about five plugs for charging around the room. This is enough for me to have my phones/headsets/kindle plugged in next to the bed for obvious reasons, and I have another couple next to my desk for keeping the phone/headset nearby while I'm typing something up or browsing.
The ICZI USB Hub is not going to replace my home setup. It does, however, come into its own when I am at work. There are times (more often than not), when I have my personal phone, my work phone, a test or secondary phone which may or may not be used for tethering, and possibly a mouse and keyboard that needs to be plugged in. Not everyone has a docking station or dedicated desk. This is where the USB Hub comes into its own. I can keep my phones on charge, and plug everything I need into it. In addition, the cable connecting the Hub is about 15 cm long, which means you can always plug more dongles in on your laptop if you have a couple of side-by-side ports. I couldn't help but with the cable was a little bit longer so I could shove all the junk hanging off of it behind my laptop, but that's probably me being a bit picky.
The only problem, and this is going to happen pretty much with whatever hub, is the cable tangle. You can't get around the fact, but at least you get that they're all in the same place, doing what they need to do, and in easy reach. Its an irritating fact, but all of a sudden you find out that it can be really useful. Just the presence of the two BC powered ports alone means there's one fewer socket that you can use to keep your laptop running.
You can currently find the ICZI 6 Port Hub here on Amazon for £30.99. You'll find you end up using it a lot more than you'd expected, and it makes a small but useful gift for road warriors.
Good Points
Doesn't take up a lot of space in your bag

You can charge a couple of phones off of it without an issue

6 ports!
Bad points
It is still a necessary evil

Moulded connector may wear

No holding clip for the connector

A little pricey, but if you need the powered ports, you'll pay the price
ICZI scores
Design - 8
Ease of Use - 8.7
Build Quality - 7.7
Price - 7.6
8
worth it for those on the move, or who have been afflicted by lack of ports
It will never win any design awards, but the ICZI hub will charge devices, keep you on the move, and give you that extra connectivity for your ultrabook/thin laptop.