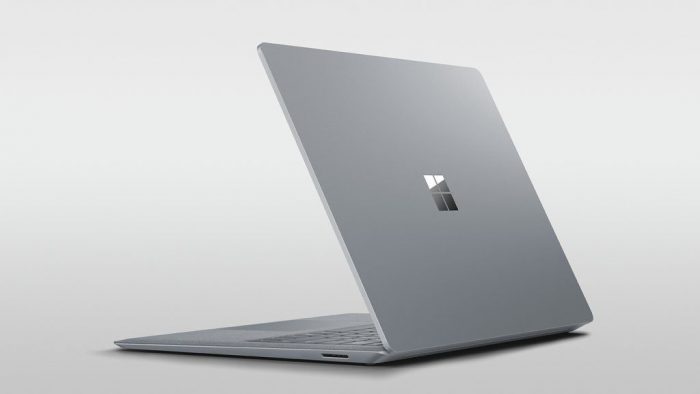 Here at the Coolsmartphone hive of activity, a number of our writers use Chromebooks. I and the editor-in-chief Leigh use them predominately – I must use my Asus Flip easily 95% of the time.
The Chromebook has been a runaway success, with it being an inexpensive device with a quick boot up, safe from viruses, the majority of work being completed in the cloud, and with the lions share of Chromebooks being used in education.
Well, for some time there has been rumours that Microsoft was building their own device to pinch some of the market-share from the conquering Chromebook.
At an event today in New York, Microsoft announced its new piece of hardware that is meant to compete with the Chromebook, the education-focused Surface Laptop. Designed to showcase the new Windows 10 S operating system, the surface laptop as the name suggests is a traditionally styled device, with no flipping mechanism, detaching screen etc.
The specs of the new Surface Laptop are.
13.5-inch, 1080p 'PixelSense' Display
1 USB-A port
2.76 lb
3:2 aspect ratio
Core i5/ Core i7 Kaby Lake processor options
Intel HD 620 (i5) or Iris Plus 640 (i7) graphics
4/8/16 GB RAM
128/256/512 GB SSD
14.5 hours battery life of video playback
Dolby Premium audio
Comes in Cobalt Blue, Burgundy, Platinum, and Graphite Gold (colours only on the i5 256GB model)
The new Surface Laptop comes in four distinctive colours, and the keyboard is covered in the same Alcantara material used on the Surface Pro, which gives this new laptop a warm touch.
According to Microsoft, this new device will have an amazing 14-15 hours of battery life and on the performance front, it will be faster than a 13 inch MacBook Pro.
One of biggest draws to buying and using a Chromebook is how competitively priced they are, and its here the new Surface Laptop has failed. It is priced at $999 (£770) up to $1299 (£1000) for the core i5 model, and $1599 (£1235) up to $2199 (£1699) for the i7 model. It's available for pre-order today for a June 15th delivery, but there's no news on U.K. release dates as yet.
That's a lot cheaper than the Surface Book, but not quite the affordable Chromebook competitor we hoped for.
Source Microsoft