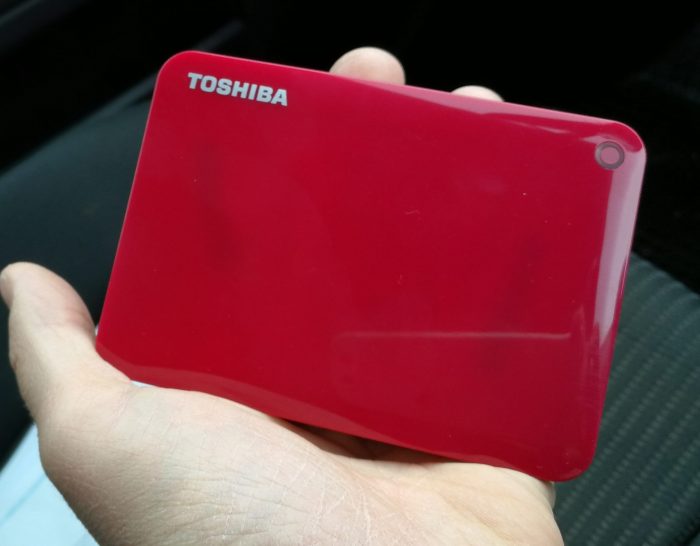 I got me a USB 3.0 Hard Drive, baby. It's red. It looks cool and it's got bucket loads of space for your stuff.
Got lots of pictures and videos on your smartphone? Got a full laptop? How's a big field with 3TB greenery for you eh?
Included with this is some pre-installed software for backup up your files easily. It'll work on Windows and Mac, but I have a few other things I'd like to make it work with (more on that in a minute). Oh, and if you're one of those Mac users then don't worry, there's an NTFS driver in there too.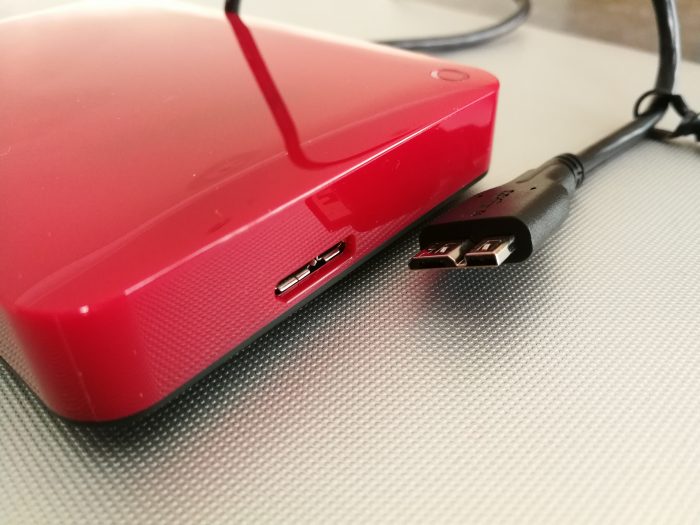 Out of the box, this isn't quite like a normal USB drive. The cable you get with it is something you'll need to keep with you because this isn't a USB-to-MicroUSB connector or anything like that. It's USB 3.0 technology, which means it's super quick at transferring files. Here we've got the lovely red one, but there's also a white, black, blue and satin gold one too.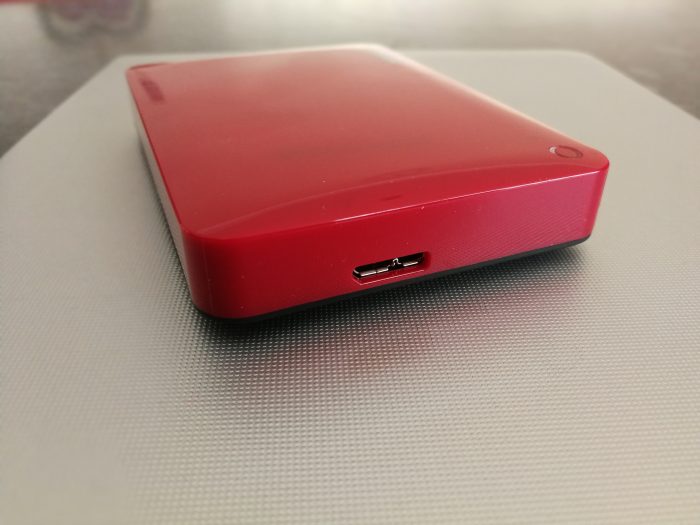 There's a 500GB, 1GB, 2TB, 2.5TB and this – the 3TB one. It's a polished finish and the chassis is well made and pretty lightweight too. When it's in use, there's a white circular light and you can see activity lights appearing behind the casing. As with all 2.5″ hard drives, the spinning disk creates a gyroscopic effect when you're holding it in your hand.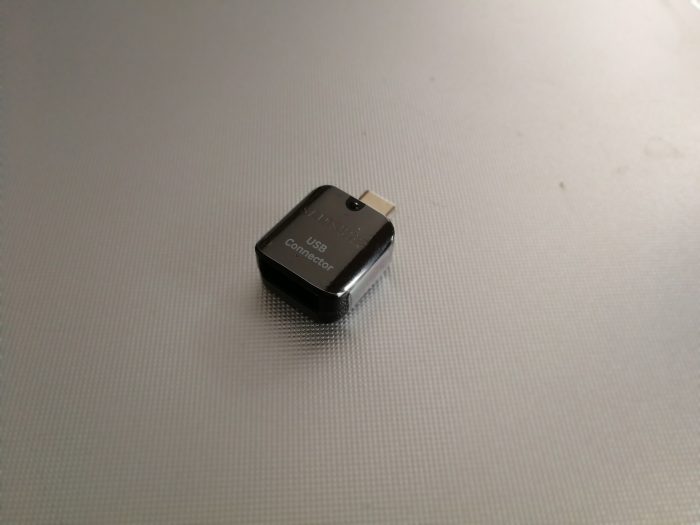 So yes, it works on a PC and a Mac, but never mind all that. Sorry Toshiba, I'm going to slightly dodge the product sheet and stick it into an Android phone. I've found a USB-to-USB-C connector (there's sometimes one in the box when you unbox your phone), and I've plugged this Toshiba Canvio Connect II in. If you don't have one of these adapters to hand, head to eBay where there's plenty of them.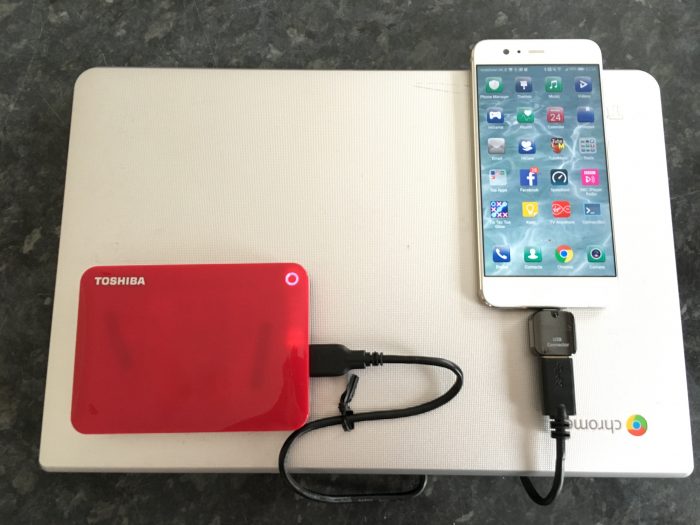 The phone (or your laptop / PC / Mac) will provide the power for the device, so on my phone screen it says, "Charging other device". On my Android 7.0 phone it's then incredibly easy just to hop into the file manager and see what's stored on the portable hard drive.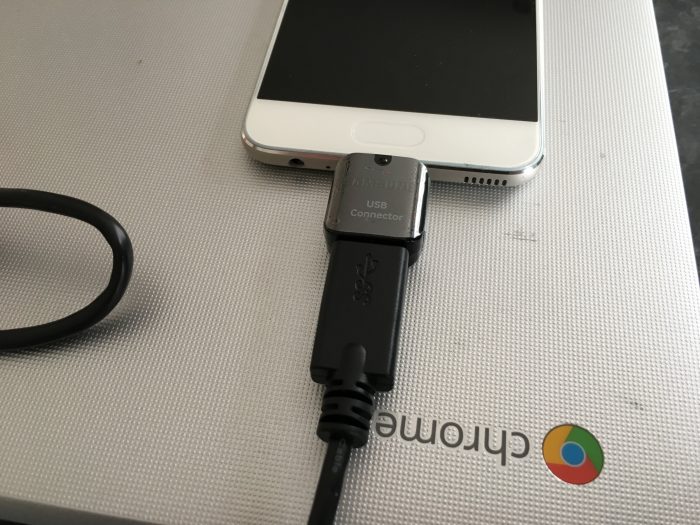 The drive, as you'd expect, has a user manual in PDF format, that backup software, the Mac driver and the Pogoplug software setup, which allows remote access to your files. What this will do is, if you choose to leave your USB drive at home (or forget it) then you can access it remotely. Here it hooks in with some Windows software, and you get a free trial. After that it's a one-time fee for a licence. The web interface let's you download, upload and view pictures or stream music and video. It's all very simple and easy to use if I'm honest.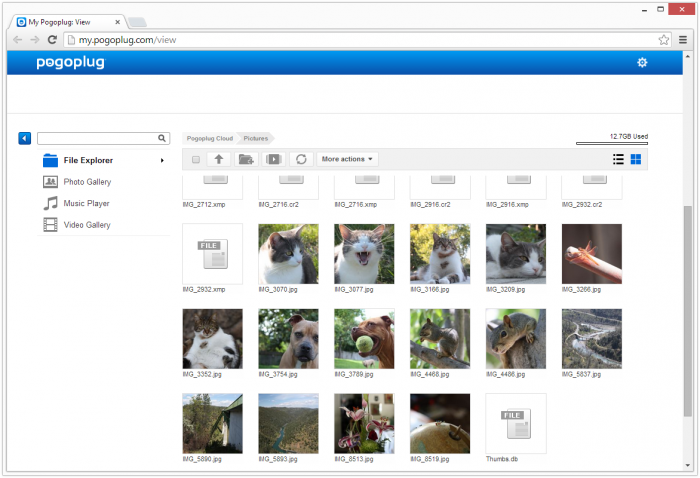 Once you've installed the Pogoplug PC software that is on the Canvio drive. Don't download the software from anywhere else, as the special version inside the USB drive gives you 10GB of Cloud storage once you've registered your online account.
OK, back to my phone, and I'm going to need to backup my pictures and videos. First of all, make sure that your phone has plenty of charge, because at the moment it's powering the USB drive. Although this creates a "pull" on the phone battery, there's a lot of cleverness going on which will mean that your phone stops powering the USB drive when it's no longer needed. Nice.

Now of course, through the file manager I can go into my local (internal) phone storage and I can select the entire "Camera" folder and move it to my nice Toshiba Canvio Connect II if I want. I decided to move 303 video and picture files to the USB drive which, by the way, has a 2.73TB capacity once it's formatted.
With the drive plugged into my phone I effectively get a Huawei P10 with 3TB of storage plus the existing internal and external microSD storage. I guess I could attach them together with some elastic bands and have the most amount of storage of any smartphone ever 🙂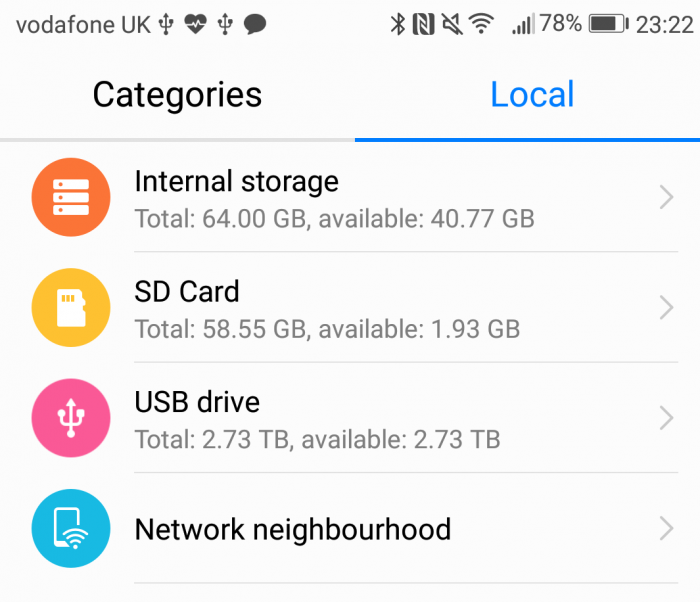 Bear in mind here that I'm transferring 3.12GB of stuff that is chewing through my internal phone storage. Yes, I can back this up to "the cloud" online somewhere, but I can also keep it with me, whether I've got a data connection or whether I haven't. It's there and it's ready and… in the time it's taken my to write this one paragraph, the copy command has completed. Just 2 minutes to copy over 3GB of files from my Android phone via USB-OTG to the Toshiba drive. Not bad going.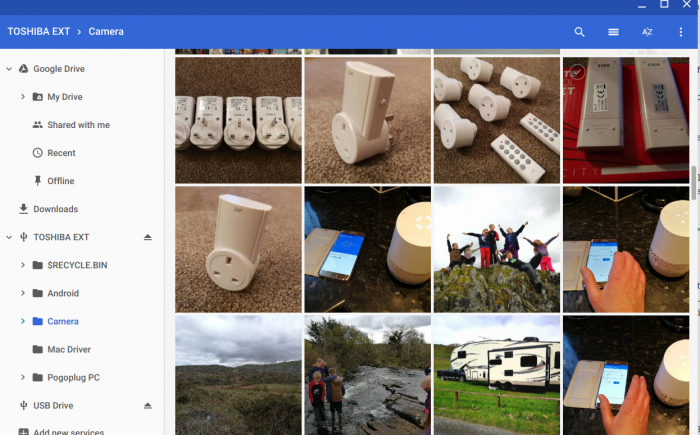 So, I've now unplugged the drive and I've stuck it into my Chromebook. Again, although Toshiba want me to promote the fact that this works on PC and Mac's, it's equally at home on a Chromebook or Android device. I can now see my pictures from my phone on my Chromebook. They load incredibly quickly – I mean incredibly quickly. Despite my efforts to have lightning fast WiFi (on 5GHz and all the bells and whistles), sometimes there's a definite lag when I'm trying to access photos and – in particular – stream videos on web cloud services. Imagine trying to stream a HD video from a cloud service that you backed up. Sometimes it works, sometimes it doesn't. Here, with my locally connected storage on the Canvio Connect II, it's blazing quick without lag or jutter.
I'm recommending this one. Definitely. Head to the Toshiba website for more information or go to your local store to get one of these things. They're available in most big electronics stores and you can pick up a 1TB unit from Currys for £58.99 and the blue one is a bit cheaper at £52.97. Amazon does a 2TB one for £74.99 or this 3TB for £110.50. You can get a 500GB version for £50.47.
Yes, you can get cheaper drives elsewhere, but this is a very simple, very capable, very stylish and easy to use drive which comes highly recommended from me.
Toshiba Canvio Connect II Portable External Hard Drive Review
Build quality - 93%
Ease of use - 94%
Speed - 94%
Fast, well-built, easy to use and you can even whack your smartphone into it.