This week a photography and art exhibition opened at Saatchi Gallery in London. Coolsmartphone was lucky enough to get early access and to spend some time there before the doors opened to the public. "From Selfie To Self-Expression" is an event partnership between Saatchi Gallery and Huawei, and looks at the history of the selfie from the old masters to present day.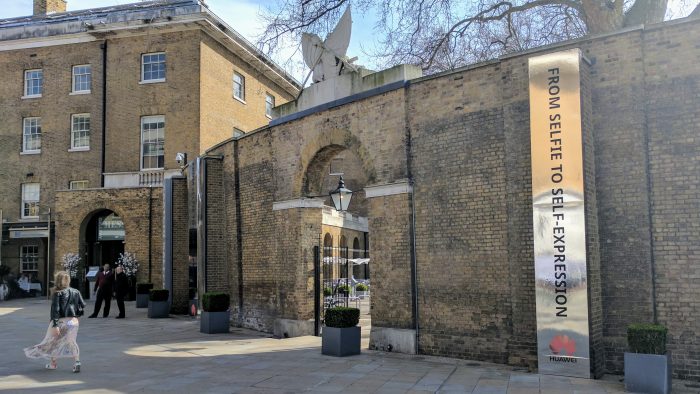 You may remember that we were at the Saatchi Gallery + Huawei + Leica exhibition in Barcelona during MWC this year. This exhibition was a similar partnership, but on a much wider and grander scale: it was spread over multiple galleries and floors of the Saatchi Gallery in Chelsea, and this exhibition was fun and well curated. The galleries were themed to content types and periods, with the old master self-portraits displayed on digital screens which had companion Instagram-like screens. I found this particularly fun: engaging with Rembrandt and Van Gogh as you would with a cat picture or someone's breakfast is probably more appealing to today's digital natives than traditional gallery exhibitions.
While the ground floor looks at the selfie as an art form and its use from the past to present day, the first floor was a bit closer to the funky and cutting-edge tech we love here at Coolsmartphone. One gallery was dedicated to photography captured on Huawei smartphones with a Leica dual-lens cameras (our full review of Huawei's flagship P10 is coming soon). A nice touch which highlights the latest Huawei device was that of the pedestals presenting the commissioned photographers' content on the devices they shot with: Huawei P10s.
Similar to the Barcelona exhibition, some of the photographers and content was the same and I immediately recognised one of Chris Levine's pieces with its distinctive red glow. The 10 commissioned photographers all brought their very different content and approaches to creating the pieces to the exhibition. From Tom Hunter, who photographs his local community in East London, to Alma Haser, who merges collage and paper-folding techniques with portraiture, the spread was wide.
I had a brief chat with Chris Levine about how it was to work with the Huawei P10, and he was very positive about its performance and capabilities. His portrait of Naomi Campbell taken with the monochrome lense is stunning, and highlights that the P10's cameras are definitely "good enough". Chris's portraits weren't his only work on display. Placed between the portraits were some of his pieces in which he is working with light and laser refraction.
The other gallery which caught my attention was one where slightly more out there installations were. The piece I really enjoyed playing around with was one called "Pom Pom Mirror", which uses a Microsoft Xbox Kinect motion sensor, a mac-mini, custom software and a wooden armature to create a mirror made out of pom poms. There are 928 faux fur pom poms driven by 464 electric motors: if you stand in front of the installation, the Pom Pom Mirror creates a moving mirror image of you. Daniel Rozin, creator of the piece was quite open about how the piece was made and the challenges of getting the hardware and software to work.
I really enjoyed the "From Selfie To Self-Expression" exhibition. It is open to the public until May 30th 2017 at Saatchi Gallery in London. Full details in the press release below the fold.